vcita is a popular business management platform. But many vcita alternatives offer increased functionality and brand value.
These may be especially suited to companies in need of:
An online appointment scheduling software
A CRM tool
A payment service
A video meetings room
vcita isn't ideal for everyone. Some user reviews show that Vcita alternatives offer better components and customer support. 
So, it's worth considering vcita alternatives before choosing an appointment scheduling system.
Most scheduling platforms share typical features. Some offer unique benefits and solutions that support your industry.
This article examines the top alternatives to vcita. Before settling for vcita, study the pros and cons of the alternatives outlined below.
Let's dive in and help you find the best CRM solution for your company.
Flexible, Multipurpose Scheduling & CRM Software Options
Trafft: the best vcita alternative
Staying organized has never been easier.
You can now manage your business and grow your brand with a single, powerful software that keeps all of your appointments in line, your clients organized and your business booming.
Trafft is perfect for business owners who need to streamline their booking experience both for their staff and their clients.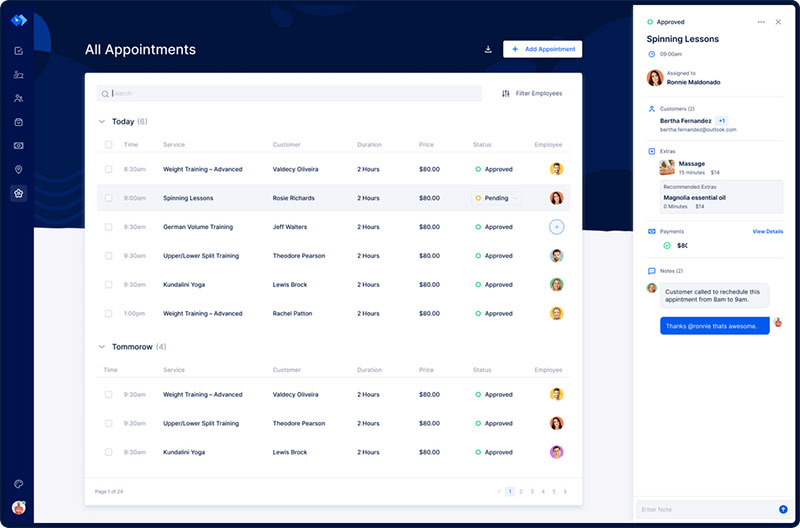 Trafft handles everything for you, even sending automated email or SMS reminders to your clients. No-shows? Not anymore!
The Trafft booking software adapts to different industries for a blissful online booking experience and employee management.
Want to know more? Check out Trafft's awesome features to see what you are missing.
Appointfix
This free app lets you automate your booking page and scheduling process. It also makes it easy to schedule tasks, appointments, and worklists.
With a few simple clicks, you can transfer the accountability for the rest of the work to your team and technicians. Its top features include:
Quick and easy usability
Ease of scheduling appointments
Reduction of no-shows via reminders and alerts
Client self-booking 24/7
Unlimited appointment scheduling
Viewing, creating, and sharing reports
Bookafy
Bookafy helps small organizations offer online booking to their staff and clients. This intuitive system is easy to customize to fit your every need.
You can copy and paste code to integrate your Bookafy page with your website using the IFrame. The Bookafy solution works on various mobile platforms, web browsers, and operating systems.
It features:
Staff access
Custom API
Unlimited users
SMS text alerts
Administrators access
Instant notifications
Staff scheduling, and more
GenBook
This system manages bookings and helps you avoid cancellations, double bookings, and overlaps. Set your availability and let your clients select a convenient time.
GenBook offers customized appointment booking with a tailor-made BookNow website and CTA button. The BookNow site integrates with Facebook, WordPress, Google, and Instagram.
GenBook's built-in POS provides several payment options, such as:
Options for full payment
Options for partial payment
Voucher redemption.
All payment processing is PCI compliant. 
Zoho CRM
As the name suggests, this Vcita alternative is a customer relationship management platform. This cloud-based system caters to the needs of all companies and industries.
Zoho's AI-powered sales assistant, Zia, gives advanced predictions, interpretations, and solutions for salespeople. Your sales team can spend more time selling instead of entering data, thanks to:
Lead scoring
Workflow automation
Real-time notifications
Built-in gamification
Other features of this alternative to Vcita include:
Lead Management
Workflow Automation
Advanced Analytics
Process Management
Marketing Automation
iOS and Android Apps (with business card scanner)
Developer Platform
Appointlet
This appointment booking app helps streamline your daily work schedule. It helps you save time and effort while scheduling day-to-day operations.
You and your team can set availability and create group booking pages. You can also send the details to prospects.
The booking page is automatically added to your calendar. This means you don't have to remember your appointments and service requests.
It integrates into your email address, website, and landing pages with ease.
Ganttic
Ganttic offers the resources to plan and manage your workflow and meetings. It can schedule:
Projects
Facilities
People
Equipment, and more
With Ganttic, you can visually plan everything using a drag and drop feature. The system also provides charts to facilitate the smooth running of your schedule.
Its key features include:
Real-time collaboration with an unlimited number of users
Drag and drop scheduling to create and edit tasks, and add any custom data
ActiveCampaign
This system gives you access to 500+ pre-built automations. These combine email marketing, marketing automation, and CRM for powerful segmentation across:
Social
Email
Messaging
Chat
Text
With ActiveCampaign you can:
Automate personalized experiences across all your customer touchpoints
Track buyer preferences, behavior, and other custom attributes across the entire customer lifecycle
Customize sends based on almost any parameter, to tailor messages to the audience
Use data from the entire customer lifecycle to choose the best send time, content, and delivery channel for each client 
Insightly
This Vcita alternative is available in web and mobile versions for Android and iOS. It also integrates with Microsoft Office 365 and Google Suite.
This system has a reputation for its smooth pipeline integration between CRM features. For instance:
Managing contacts and customer data
Tracking opportunities/leads
Assigning tasks to team members with handy to-do lists
Its business intelligence characteristics are useful to your small business.
It aggregates historical and real-time data within your CRM platform. This allows you to make more informed decisions.
17hats
This business management system helps small-scale organizations and startups automate their functional processes.
It comes with a variety of features that allow organizations to eliminate busywork. Instead, they can focus on optimized delivery of services.
Its organization management facility helps businesses store several categories of contacts. The dashboard scans for tasks and assignments across the workforce.
It then enters this data automatically and blocks out important dates.
It also has a dedicated project page that lets users organize all their projects. Here you can store relevant:
Documents
Communication
To-do's
Tasks for direct assignment to employees
AppointEze
The AppointEze system is particularly designed for small organizations. It displays available appointments to your customers in real-time.
Customers can also self-schedule or reschedule their appointments. This frees you up to focus on the task of providing service.
This system lets you embed its appointment scheduling tool into your website. You can create user-friendly online forms so customers can schedule their meetings.
On your end, you can have bookings synced to Google Calendar to avoid double-bookings. You also get automated reminders so you don't miss a meeting.
Setmore
Setmore offers robust online scheduling solutions for individual entrepreneurs, small businesses, and NGOs. It can streamline different work processes, including:
Payments
Online bookings
Scheduling
Client engagement
The software comes equipped with easy-to-use administrative features that enhance workflow efficiency.
It is compatible with any device including desktops, tablets, and phones. This enables clients to book from anywhere, anytime.
Setmore also sends text reminders to prevent users from missing an appointment.
Appointy
Here is a powerful all-in-one online scheduling solution. It assists users to drive upward business growth.
This software is one of the most preferred choices for small and medium businesses.
Its intuitive user interface is functional and simple. This makes it a great choice for those who are not tech savvy.
It comes with a simple integration that can be set up in a few minutes. Appointy helps organizations implement customer loyalty programs to retain existing customers.
Calendly
This appointment scheduling software helps you to schedule meetings without back-and-forth emails. You can spend time on the more important tasks instead.
This system is flexible and accommodates individual users as well as big teams.
It allows you to share your Calendly links through email, or you can embed them on your website. Other selling points include:
Allows clients to self-schedule meetings
Automated scheduling of tasks
Unified information to keep all employees on the same page
Works well with Google, Office 365, and Outlook calendars
Prioritizes important, urgent, and nonessential meetings
Plutio
Plutio is a business management software designed to assist users to:
Manage projects
Track time
Prepare proposals and invoices
With this system, you can manage multiple projects at the same time. It helps users stay organized and focus on tasks.
You can track your time from anywhere and also keep a tab on the time entries of others through a timesheet. After sending invoices to customers, you can accept payments via PayPal and Stripe.
Thryv
This vcita alternative is an end-to-end client experience platform built for small businesses. This software helps you get the job, manage the job, and get credit all from a single screen.
Thryv makes it easy for customers to find you online via ratings and reviews, social presence, and accurate search results. With Thryv, you can:
Receive reminders
Send texts and emails
Schedule appointments
Get paid effortlessly and securely
Receive receipts straight away
Stay engaged with automated messages and request reviews
Bitrix24
Are you looking for CRM software that doubles as a task management tool? Bitrix24 is the answer!
It is a unified platform for CRM, task and document management, and team collaboration.
In its free version, the software provides basic client management and marketing automation. For a fee, you get access to customer relationship management features and integrations for email marketing.
This vcita substitute also comes with CRM solutions for different teams. These enable them to:
Track their sales pipeline
Automate marketing
Provide customer support through multiple communication channels
10to8
Are you keen on interacting with your clients at every opportunity? If yes, 10to8 is for you. It provides one more valuable channel for gaining customer feedback.
Like other scheduling software, 10to8 allows you to send automated appointment reminders. But, with 10to8, clients can respond to your messages to confirm, cancel, or adjust bookings.
You can send messages via Facebook, SMS, Slack, email, or from 10to8's chat feature. You can accept payments via PayPal, Stripe, and SagePay, without paying an extra fee.
You can assign specific staff and rooms to appointment slots. Also, view custom reports that track your growth.
Acuity Scheduling
This system allows you to access your availability and make appointments in real-time. This software is popular for its high functionality and friendly user interface.
You can monitor your daily schedules and eliminate any kind of miscommunication. Its key selling points include:
Allows you to track revenue based on paid and unpaid appointments
Flag no-shows and take a record of fulfillment plus hours given per appointment
Easy customization options to meet diverse requirements
Calendar sharing on social media 
OnSched
OnSched is an affordable, flexible, and scalable online booking API. It's designed for advanced-level organizations.
It enables you to create workflows and stamp them with your branding. Once integrated with its custom applications, you can launch it to your preferred marketplace.
It helps increase your company's revenues and provides consistent user experiences. The OnSched system also provides you with visibility across your organization.
HoneyBook
CRM is at the core of the HoneyBook appointment scheduling app. It is also helpful to small organizations managing customer relationships.
This includes the first booked meeting, closing the deal, getting paid, and beyond.
For creative entrepreneurs, the system can save a lot of time while keeping costs low. It is an all-in-one system that reduces the number of tools you need to use.
It also helps you to keep track of everything from one place.
HoneyBook's scheduling feature lets you set your availability. Thus, clients can choose the slot they need.
vcita Alternatives For Scheduling & Contact Management
Hubspot CRM
When it comes to B2B marketing and sales, Hubspot is a powerhouse. Its real strength is client management.
This CRM software allows you to schedule sales emails. You can also monitor how contacts behave on your website.
Hubspot might be too much for solo freelancers. But small organizations can use it to create a VIP experience for their customers.
The free version of Hubspot CRM includes:
Client management
Prospect tracking
Pipeline management
Email marketing
Upgrade to its premium plan to unlock other features like live chat and AI bots.
EngageBay
EngageBay is a HubSpot and Vcita alternative. It sells three company process-orientated suites:
Marketing Automation
Live Chat & Helpdesk
CRM & Sales Bay
The CRM & Sales Bay suite provides client management tools designed to aid company growth.
EngageBay offers multi-channel listening, aggregating contact info from across all your customer touchpoints. It also tracks:
Contact activity
Web activity
Email response
Open and click rates, and more
It integrates with Office 365 and Gmail. It also integrates with other IMAP services with two-way sync capabilities.
It can also integrate with SendGrid, Zapier, Xero, Mailgun, and Mandrill. These allow you to connect your CRM with your other company processes and further streamline your operations.
Keap
This vcita alternative is a contact management and sales pipeline platform. It focuses on helping small, self-employed, home-run companies, and e-commerce operations.
It gathers contact info by:
Importing contact lists from other CRMs
Scanning business cards
Converting messy spreadsheets
Manual entry
Setting up a custom form on your page (you can add your custom fields to the contact info)
Online Appointment Scheduling Software For Health & Wellness Services
Square Appointments
Square Appointments is more than a scheduling and booking software. Its point of sale system can take payments, create discounts, and accept tips.
This system is ideal for health and wellness companies. It supports automatic updates of services, schedules, and prices across channels.
It's easy to embed booking buttons and appointment widgets into your website.
If you don't have a company website, you can use Square's free booking website. You can include a variety of features like:
Staff bios
Services
Calendars
Pricing
Cancellation policies
vcita Alternatives For Rental Services
Booqable
This Vcita substitute is a browser-based rental solution for small and mid-size businesses. It helps you plan and manage rentals while keeping track of your inventory.
You can do all of this from your calendar. That makes it easy to view your schedule and available items.
The add-on is easy to install and you can customize it to match your workflow. You can also link it to various payment providers to:
Accept online payments
Use custom checkout fields to gather information from customers
The system's core selling points include:
Online reservations
Online payments
Scheduling and planning
Inventory management
API
Security deposits
Custom database, and more
A Scheduling Solution For Spas And Salons
Vagaro
Do you want to bring your company into the modern world with automated appointment management, scheduling, and more? If yes, this cloud-based system is particularly designed for you.
It enables salons and spas to exhibit their promotional and managerial capabilities. It specializes in promoting salons and spas located in different areas.
It is a web-based solution that acts as a liaison between customers and business owners.
Ending thoughts on the best vcita alternatives
A careful comparison shows that vcita alternatives are ideal for many industries.
Use this article to compare the price, quality, and usefulness of the top vcita alternatives. Then pick the best CRM solution for your needs.
If you enjoyed reading this article about vcita alternatives, you should read this one with Doodle alternatives.
We also wrote about a few related subjects like Booksy vs Vagaro, Calendly vs Setmore, Setmore vs Acuity, Setmore reviews, Simplybook.me reviews, Calendly reviews, and Chili Piper reviews.