The most important aspect of an appointment-based business is the booking process. Making it as easy as possible for clients to book appointments should be your top priority. A complicated or failing booking system results in loss of customers and revenue.
Appointment scheduling software provides online scheduling solutions. And, there are several online booking software available. Analyzing customer reviews will help you decide which software is best for you.
10to8 is one such appointment scheduling software, and it is a cloud-based online scheduling tool. This article will analyze 10to8 reviews to help you see if it is the right scheduling software for you.
10to8 Quick Preview
10to8 is a cloud-based platform that automates booking appointments and manages those appointments. It is available as a SaaS (software as a service) and a mobile application for iOS and Android devices. 10to8 reviews make it clear that it is an intuitive tool packed with time-saving features. Plus, it is a very affordable solution.
Why do clients like the 10to8 appointment scheduling software?
This software comes equipped with an online calendar that allows clients to book specific time slots. It improves customer service by enabling customers to book, manage, cancel, or reschedule at any time.
A payment system adds to its convenience. Clients can prepay for their appointments at the time of booking. Plus, automated reminders prevent clients from missing their appointments.
Why do businesses like 10to8?
10to8 offers scalable services for organizations of all sizes. Fast booking and automatic reminders increase efficiency, increase revenue, and improve customer relations. Businesses worldwide can use this tool to create attractive booking forms. They can also track appointment history and build profitable customer relationships.
Who should use 10to8?
10to8 is perfect for any business wanting to eliminate wasted time, increase efficiency, and reduce no-shows. This software works seamlessly with both small and large companies. In fact, 10to8 lists Yale, Mercedes Benz, US Bank, Expedia, and other prominent enterprises on their client list. It is also a scalable platform, making it ideal for fast-growing businesses.
The long list of industries that can benefit from this tool includes the following:
financial advisors
gym owners
charities
franchises
music teachers, etc
10to8 is also a good option for those in the healthcare industry because it provides tools to remain HIPAA compliant.
10to8 Prices
10to8 has five service plans, including a free plan. Each plan increases in cost and features, but keep in mind that features may vary depending on your location.
Small Business Plan
This is 10to8's free version. It offers a surprising number of valuable features. They include:
SMS text messages
100 appointments per month
Two staff logins
online support
Basic Plan
$9.60 per month
SMS text reminders included
100 appointments per month
Two staff logins
Customizable branding
Online support
Grow Plan
$20 per month
SMS included
300 appointments per month
Three staff logins
Customizable branding
Customizable SMS
Online support
Bigger Business Plan
$40 per month
SMS included
600 appointments per month
Six staff logins
Customizable branding
Customizable SMS
Online support
Enterprise Plan
Tailor-made price
SMS included
customized number of appointments per month
customized number of staff logins
Advanced branding features
Online and phone support
Tools for HIPAA with BAA
Personalized onboarding
Advanced accessibility
The Enterprise plan allows users to personalize this software to their needs, providing a huge advantage to companies that need a customized solution not offered in the first four plans. Many larger businesses choose the Enterprise plan.
Testing the free plan before committing to a paid plan is a fantastic option. Many 10to8 customer reviews say that the free account option allowed them to make sure the software suited their needs. They were more confident after assessing if it had what they required and optimistic that it would work smoothly with their team.
Features
Implementation
10to8 is very easy to implement, primarily because it is cloud-based. Anyone can create a free account and start scheduling online by configuring the calendar and sharing the booking link. The premium plans are also easy to implement.
Online booking calendar
This platform offers a dedicated booking page, where clients can book time slots on the calendar. Users can determine what time slots clients can book and cancel and if group bookings are allowed. They can also manage several rooms and locations. The user-friendly interface ensures that every client can easily book an appointment regardless of technical aptitude.
Client management
Store, manage, and update client data in one centralized area. Then keep track of the following client details:
email address
phone number
postal address
birthdays
anniversaries
appointment history
notes
Team member collaboration
This software provides access to staff members' schedules for better collaboration. Share notes, send messages, and forward reminders for seamless team communication.
Calendar sync
The 10to8 app integrates and regularly syncs with popular calendar systems to ensure your schedule is up-to-date. Instant updates eliminate double appointments so that you don't have to be in two places at the same time.
Automate SMS text messages and email reminders
10to8 sends SMS text reminders or email reminders to clients about upcoming appointments. That ensures hassle-free communication with customers and that they show up on time. The software also allows you to send personalized reminders.
Customization and branding
Add the booking calendar directly to WordPress, Weebly, or any other site with customizable booking buttons. Brand the booking page by uploading a logo, business description, cancellation policy, social media links, privacy notice, and more.
Reporting
View live reports from the dashboard, track appointments, new customers, page visits, and no-shows. Run custom reports to see staff member, service, or customer data. Also, you can view messages and upcoming appointments to plan out the week.
Notes
You can attach notes to each client profile then use them for easy reference, better communication, and follow-up appointments. You can also share notes with clients and team members.
Integrations
Integrate with calendar systems like Google Calendar, iCal, Office 365, Outlook, and Exchange. Integrated payment systems include PayPal, Stripe, and Sage Pay. You can also integrate with Zoom and Salesforce, and many other integrations are available through Zapier.
Client communication
Something that sets 10to8 apart from the competition is its client communication tools. It offers several ways to interact with clients, thus providing better customer service. For example, the booking calendar will automatically send interactive text and email reminders. Customers can respond to these reminders to confirm, modify, or cancel appointments. The updated information then goes straight to your calendar system.
10to8 Reviews
Pros
Versatility
10to8 is a versatile software that provides a scheduling solution for various industries, including health care industries, because it is GDPR and HIPAA compliant.
Better scheduling capability
The platform offers a two-way chat feature that integrates with calendar systems, making communication with clients straightforward. Automated messages remind users and clients of their appointments, and schedule changes are automatically updated.
Complete visibility
Day-to-day availability and staff schedules are completely transparent. Facilitate internal communication by sharing documents, sending messages, and relaying schedule changes. Pinpoint likely cancellations, then send reminder messages to reduce them.
Reporting
Benefit from a 360-degree view of your business by keeping track of resource availability and staff efficiency. The live dashboard provides insight on how to maximize productivity and improve communication.
Integrations
Integrate and connect with over 1,500 business apps through custom API and Zapier plugins. Integrations allow businesses to sync information and manage all operational tasks from a central location.
Payments
Enable fast payments with multiple payment systems to increase revenue and discourage cancellations.
Secure data
10to8 was built for bank-level security servers. It uses encrypted data and complies with the Data Protection Act. Rest assured, only authorized personnel can access the company's data.
Cons
No links in reminders
Reviews have mentioned that users can't insert a Zoom or Microsoft Teams meeting link into an appointment reminder.
Limited time slots
Some customers have reported difficulty in configuring specific time slot allotments.
Paid integrations
Integrating with the Stripe payment processing platform requires a fee.
Customer Support
All 10to8's plans, except Enterprise, limit customer support to email and a dedicated customer support portal, and the portal is only available during office hours. However, Enterprise plan users can access customer support online and by phone. And they also receive personalized onboarding assistance.
Email support: any user can reach out to 10to8 via their email address: contact@10to8.com.
Phone support: only available to Enterprise plan members
Training: Documentation, videos, and webinars train users to use the product. And you can request in-person training.
Support ticket: Users are encouraged to solve their problems through detailed documentation. If, however, you need further assistance, you can submit a ticket to the customer support portal.
What other people are saying
Whenever there's a review page, you always see positive opinions about that app. But, what about the negative opinions?
Let's see what others are saying:
Get an even better app to use
Staying organized has never been easier.
You can now manage your business and grow your brand with a single, powerful software that keeps all of your appointments in line, your clients organized and your business booming.
Trafft is perfect for business owners who need to streamline their booking experience both for their staff and their clients.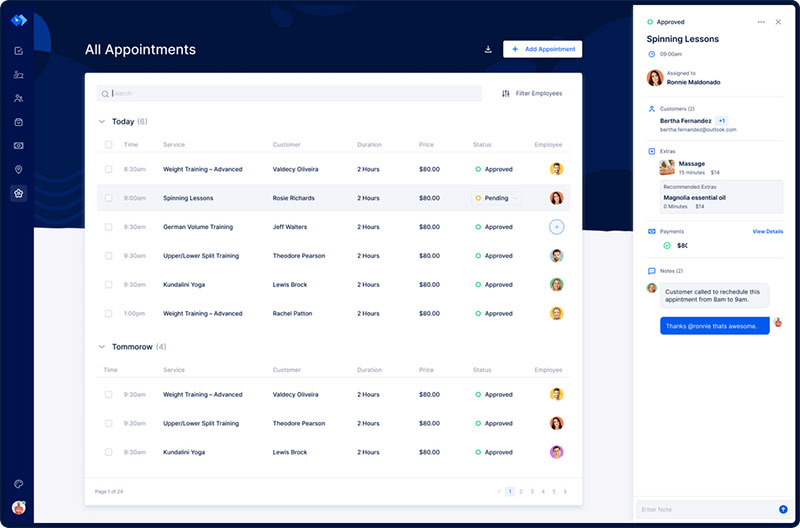 Trafft handles everything for you, even sending automated email or SMS reminders to your clients. No-shows? Not anymore!
The Trafft booking software adapts to different industries for a blissful online booking experience and employee management.
Want to know more? Check out Trafft's awesome features to see what you are missing.
Ending thoughts on these 10to8 Reviews
The 10to8 app focuses on booking appointments and solves scheduling pain points. But it is limited in helping with other administrative tasks. If you are looking for a decent online booking solution, 10to8 is worth consideration.
One of its most significant advantages is the free version, showing that the vendor's main goal is to provide a genuinely good product that helps businesses.
Many 10to8 reviews give this software high marks. We don't If you struggle with booking challenges such as no-shows or scheduling difficulties, give the free version a test drive. We would rather recommend trying Trafft.
If you enjoyed reading this article about 10to8 reviews, you should read this one on Calendly reviews.
We also wrote about a few related subjects like Appointlet vs Calendly, Wix bookings reviews, Housecall Pro alternatives, Square Appointments reviews, vcita reviews, Appointy reviews, and Calendly vs Microsoft bookings.