Housecall Pro automates a company's field service management needs. However, this software isn't perfect for everyone. So finding the best Housecall Pro alternative solutions on the market is critical.
Housecall Pro is a cloud-based solution featuring a mobile app and web portal. It focuses on digital automation, making it useful for a wide range of field service companies, like plumbing, cleaning, and electrical.
On the downside, this software does not include inventory management or franchise support. These and other essential features may motivate you to look for an alternative to Housecall Pro.
If that describes you, you're in the right place. This compilation of the best Housecall Pro alternatives and FSM apps will give you what you need.
Housecall Pro Alternatives for Small & Medium-Sized Companies
Trafft: the best Housecall Pro alternative
Staying organized has never been easier.
You can now manage your business and grow your brand with a single, powerful software that keeps all of your appointments in line, your clients organized and your business booming.
Trafft is perfect for business owners who need to streamline their booking experience both for their staff and their clients.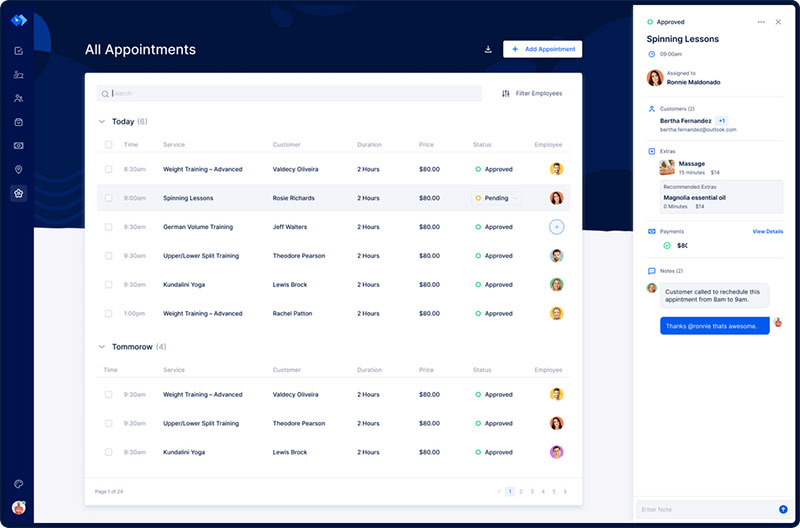 Trafft handles everything for you, even sending automated email or SMS reminders to your clients. No-shows? Not anymore!
The Trafft booking software adapts to different industries for a blissful online booking experience and employee management.
Want to know more? Check out Trafft's awesome features to see what you are missing.
WorkWave Service
WorkWave is a field service management solution for small businesses that is easy to use and has a colorful and intuitive interface.
WorkWave lets your office staff manage schedules, accounts, business development, and billing. You can set up service reviews to collect feedback and generate positive reviews online.
Office staff can access reporting and analytics tools as well. These include pre-built and customizable reports that use service KPIs, reviews, and GPS records.
This software also supports mobile field force management. That means your field technicians can use the mobile app to access and record information from anywhere.
Connecteam
Connecteam is a small business FSM software that helps your team:
Simplify communications
Avoid miscommunications
Avoid delays
Streamline daily operations
Avoid errors
It allows your team to digitally submit their vacation or sick day requests, contributing to quick and easy employee management.
You can also add digital notes to each shift, so employees know what to expect when they get to work. And Connecteam's built-in GPS enables technician tracking. This feature lets you monitor when and where your employees clock in and out. Its live geo-tracking feature uses breadcrumb capabilities to check your employees' location periodically.
Service Fusion
This Housecall Pro alternative is ideal for small and medium-sized field service businesses. It gives you an edge over your competitors by providing you with estimating and job management tools.
It also simplifies your billing and scheduling processes and provides automated text and voice notifications. Service Fusion offers intelligent tools and features for:
Real-time job tracking
Reporting
Detailed workforce analytics
Generating and managing invoices and bills
Digital signatures
Job scheduling
Attendance
Document management
Inventory
ServiceM8
Here is a smart job management software for services and trades. It is ideal for individuals, freelancers, small and medium-sized businesses.
ServiceM8 lets field service companies quickly create professional invoices and clear their payments. It has built-in checklist features that allow owners to stay updated throughout the day.
You can hire the right person for the right job with the right qualifications at the right time. Clients can even use the scheduling and bookings attribute to access their jobs' schedules. They also get automatic alerts regarding their upcoming appointments.
UpKeep
The UpKeep mobile-first CMMS software makes managers' and small business owners' lives easier via a single platform to manage all work orders and histories.
UpKeep's software gives field service companies the tools they need to achieve their businesses' full potential.
It assists in managing your work orders and assets and gives you real-time data to help solve problems on the spot.
Kickserv
Are you on a tight budget? Or do you have a really small team? If yes, Kickserv offers a limited free plan good for one or two users.
Its paid plans are also excellent. As your business and team grow, you can upgrade to a better package.
Kickserv provides a marketing site that connects directly with the Kickserv backend, making it easy for your company to book appointments and market its services. It is provided as an add-on to the standard subscription price. FSM solutions rarely offer this tool, so be sure to grab it.
Kickserv features robust dashboards and customer care modules. It also connects to Quickbooks and Xero accounting software, so you can connect your existing accounting system.
Field Service Management Software for All Business Sizes
Jobber
You can easily collect payments from customers with Jobber. It features mobile payments, payments via the client portal, invoicing, and credit card payments at the job site.
You can scan cards with your mobile device's camera and store the customer's account information for use the next time work is requested—no need to re-enter the same customer's data after each job.
Once you've filled out the client's information on your quote, it will show up in your job details and invoice. Jobber automatically handles it all.
Not only does Jobber auto-generate invoices, but you can also use its drag-and-drop calendar to schedule and assign jobs.
Fluix
This FSM software is great for digitizing field service companies' documents. It reduces human error by automating your tasks, guaranteeing a company-wide boost in productivity.
You can access Fluix on iOS or any web browser. And with Fluix, you can accelerate business cycles, cutting costs.
It is best suited for field service companies with over ten employees and is especially useful for enhancing their business activities.
This software smooths out delivering information from the field team to the office and the end customer.
Oracle Field Service
This field service management software has a unique appeal based on self-learning and predictive technology.
This end-to-end solution for any business takes you from booking to completing the job and scheduling any emergency/maintenance work.
This Housecall Pro alternative comes as a core package, and it provides add-on modules as opposed to a tiered pricing model.
That means instead of paying for an oversized system, you'll only pay for the features you need.
This solution is all-encompassing, from automated routing and multi-language support to resource mapping.
Self-learning and predictive technology allows your business to remain a step ahead of any issue, ensuring you maintain your SLAs.
Loc8
You can take credit card payments and record cash payments while in the field with Loc8. It helps you generate task-based work orders based on location and required maintenance frequency.
This ready-to-use field service software platform also allows you to:
Create and send quotes
Manage jobs and teams
Get thorough financial insights about your operation
Loc8 can also set condition and event-based rules to automate your process.
Do you want to create, generate, and manage invoices from your mobile app? With smart Xero and QuickBooks integrations, you can.
Dispatch
This Housecall Pro alternative is cloud-based dispatch management and appointment scheduling software.
Dispatch helps businesses provide flexible service provider networks, generating customer satisfaction. The following are some of this software's functionalities.
Engage
This feature is a flexible functionalities suite to engage service providers in a business network.
Work
Functionalities in this toolset focus on job and task management, including:
Photo uploading
Job scheduling
Communication
Task assigning
Job status, and more
Communication
This Dispatch feature connects brands, providers, and customers via SMS, chat, and email platforms.
Book
Customers can book appointments whether you're a large brand or independent service provider.
Field Service Lightning by Salesforce
Salesforce typically offers a CRM solution. However, their FSM software allows businesses to quickly handle any issues in the field, creating happy customers.
This platform stands out among Housecall Pro alternatives. It enables employees and technicians to get push notifications via its customizable mobile app.
They can also view their assigned jobs for any given day. So no more wondering what needs to get done and when because this software takes care of that.
Employees can also communicate with each other and dispatch via the mobile app for easy collaboration.
Service Autopilot
Service Autopilot is a cloud-based field service software focusing on effective management and field business activities upgrade. This software includes features like:
Scheduling
Invoicing
Client account history
GPS employee tracking
With this software, scheduling is easy, and you can invoice as many clients as needed. The simple invoicing feature is as easy as a single click.
The client account history feature gives you a broad view of all your clients' previous activities with the company, including:
Jobs
Quotes
Invoices
Important notes and more
The GPS employee tracking feature helps you keep track of your employees whereabouts at all times via the mobile app.
ServiceBridge
This field service and customer management software is an outstanding Housecall Pro alternative. And it was created to fit any sized company.
Any business can benefit from a single location to a franchise or multiple locations. Its specialized features, like territory management and royalty settings, keep all of your locations up to date.
This software has other features that keep your finances in line and ensure your technicians get the right parts for the job on time. These include:
Estimates
Timesheets
Recurring invoicing
Commissions
Scheduling tools
Asset management
Aimsio
Here is another flexible alternative for your service business that allows you to choose which modules to implement. The three main modules are workflows, reporting, and dashboards.
The workflow module's primary function is to take your company from paper to digital. You can create digital forms that look exactly like their paper counterparts.
This feature helps maintain a nearly identical administrative process as you're used to with the paper trail. Job Board is another module that lets your office staff manage scheduling and dispatch crews.
For more complex work, you can implement the project tracking module. This module comes with a budgeting tool for financial management, keeping your company on track during lengthy projects.
Kirona Field Service Management
This field service alternative covers all aspects of businesses' field operations life cycles. It is flexible and supports various industries and sectors, such as:
Central government
Social housing
Facilities management
Retail
Home service providers and more
Kirona bridges the communication gap between field teams and managers via real-time updates visible to all team members.
It offers time-saving solutions, such as providing your field team with information on:
Customers
Route optimization
Other relevant data
This FSM software also offers tools for:
Planning and forecasting
Job management
Scheduling and dispatch management
Mobile tracking and more
mHelpDesk
Like many Housecall Pro alternatives, this field service management software is cloud-based. It offers business field solutions with features such as:
Leads management
This feature makes it easy for contractors to manage leads and create estimates via the mobile app.
End-to-end job management
An integrated workflow defines and tracks each step of the job process.
Mobile app access
You and your team can access schedules from the convenience of your mobile devices.
Customer management tools
Access needed customer information and data.
Billing and payment
Field technicians can record their time and materials for easy conversion on invoices.
FieldCode
This field service and employee management software excels when it comes to pricing.
Most software providers charge a monthly fee. However, FieldCode lets you pay just when you use the software rather than a monthly fee. The pricing structure is simple—$2 for every event. That means you only pay for the volume of work you do. So no need for an ongoing monthly subscription with a fixed fee even when business is slow.
There are no pricing tier limitations either. You get everything you need when you sign up. This Housecall Pro alternative's features allow you to:
Connect and communicate with your entire service team
Automate, optimize, and improve your service processes
Increase customer satisfaction
Consistently deliver great experiences
Create process-based workflows to guide your team
Deliver proactive user guidance and automated instructions
Monitor and analyze all moving parts
Wrike
Wrike is an online ticket management software that grants you full visibility and control over tasks. Its customizable workflows eliminate the need to rely on emails to set meetings, share updates, and more.
Wrike helps you build a productive team using Kanban boards, Gantt charts, and time tracking. Its reporting and analytics tools help you generate accurate reports with actionable insights.
This field service software is for medium to large businesses looking for a solution to deliver multiple projects on time. It can be tailored to fill all your business needs with reports, workflows, and more.
Dataforma
Dataforma is for contractors, and its easy-to-use interface is adaptable. The system manages all basic business functions, like scheduling, dispatching, invoicing, and tracking.
The mobile app notifies technicians when new work orders are added or modified. It also provides a way to organize notes on labor and materials.
Dataforma is available both as a cloud-based product and on-premise. However, only the web-based solution will automatically backup your data each hour.
And while it's most suitable for small businesses, medium and large businesses can also use it. That is ideal if you expect your company to grow and don't want to switch vendors later.
Verizon Connect
Produced by the USA's most popular mobile phone service, Verizon Connect is among the best Housecall Pro alternatives.
This field service management software gives you real-time feedback from in-field technicians and even shows how fast they drive.
It also comes with three-month free trial deals on tools such as a dashcam and asset tracking.
With the Verizon Connect app, you can message your employees on their mobile devices, sending them job assignments and client locations.
Housecall Pro Alternatives for Home Service Businesses
ServiceTrade
Commercial service providers face several challenges. In view of that, they need field service management software that focuses on their specific needs.
From fire protection and food equipment to refrigeration and HVAC companies, ServiceTrade's software suits the needs of a large-scale commercial service team.
You can easily schedule one-time or recurring appointments. Scheduling is optimized to reduce drive time so you can complete more jobs in less time. Its robust dispatching features include:
Advanced search capabilities
Automatic job progress updates
Drag-and-drop scheduling
Automatic notifications
FieldEdge
Do you run a home service business? Do you offer HVAC, plumbing, or electrical services? If so, FieldEdge is for you.
This software helps you make more money by streamlining operations across your entire business so that your team can do more jobs in less time.
This FSM software uses rule-based skill matching to pair technicians' skills with the jobs they do best.
To make the most of each technician's daily route, you can combine the capacity planner with real-time technician GPS tracking. FieldEdge integrates these features with Quickbooks and a mobile CRM.
Workiz
This field service management platform is excellent for communication and customer relationship management. It caters to on-demand service businesses, such as appliance repair, locksmiths, and carpet cleaning.
It allows you to manage all your company's activities in one place. You can monitor every job and organize communication between your clients, technicians, and agents. Workiz comes with exclusive features, like:
Estimates
Scheduling
Customized field
Workflows
Business reports
Scheduling
Extensive service phone system
It also comes with smart tools for:
Inventory management
Team management
Client management
Job scheduling
Online payments
Online booking
BuildOps
This FSM software is popular among plumbing and electrical service businesses. It is a mobile- and web-based application that improves your company's operations and customer experience by streamlining communication between your office staff and field technicians.
You can automate projects and recurring services in under 90 seconds, right from the dispatch board.
BuildOps provides you with automated real-time reporting so you can monitor technician success, identify trends, and make better business decisions.
ServiceTitan
This alternative to Housecall Pro is one of the best on the market. It helps improve residential HVAC, plumbing, electrical, and other home service organizations.
Its sales capabilities boost your customer conversion rates through its visual sales experiences. It also extends to tracking how your staff convert calls into appointments.
ServiceTitan stores customer information all in one place so your staff can get an overview of each customer that calls. The stored customer information includes:
Service history
Inventory
Equipment
Emails
Text messages
Ending thoughts on the best Housecall Pro alternatives for your business
This compilation of the best alternatives to Housecall Pro is packed with amazing built-in CRM and FSM automation tools.
Be sure to review this list of Housecall Pro alternatives carefully before choosing the one that's best for your company.
If you enjoyed reading this article about Housecall Pro alternatives, you should read this one on Calendly reviews.
We also wrote about a few related subjects like Appointlet vs Calendly, Wix bookings reviews, Square Appointments reviews, vcita reviews, 10to8 reviews, Appointy reviews, and Calendly vs Microsoft bookings.