Square Appointments materialized when Square purchased a small booking service called "BookFresh". Square tweaked the technology and aligned it with its branding. Now it is available as the Square Appointments app. Square offers a complete POS system and the Square Appointments app is just one tool available in the Square toolbox.
Is the Square appointment scheduling software the right tool for you? This article will scrutinize Square Appointments reviews. It will go over the pros, cons, pricing points, and features of this online booking tool.
Square Appointments At A Glance
Square Appointments is an appointment scheduling software. It is part of Square's large portfolio of solutions. It is used primarily by local service businesses like hair salons.
The online booking solution is app and web-based so no hardware is needed and it can be used on the go. Users can manage it from their desktop computer or Android and iOS mobile devices. No other programs are needed to complete the functionality of the solution.
Square Appointments is a cross between pure scheduling software and an all-in-one solution. Square Appointments users get access to a POS system, payment platform, and team management features. These features are even offered for free excluding a transaction fee for use of the payment platform.
Although no hardware is needed for the Square Appointments app, Square does offer hardware.
The hardware includes:
Square contactless card reader to process payments
Square Register
Square Stand
Who Should Use It?
Square Appointments is an attractive option for individual service providers because the service is free. Yet, it, along with its add-ons, also works great for small and medium-sized businesses. Large businesses might find Square to be limiting and lack the more complex functionalities that they need.
Square Appointments reviews agree that it is suitable for the following types of businesses:
Small beauty salons
Wellness centers
Freelance coaches
Freelance educators
Home repair services
Cleaning services
Square Appointments gives users very useful scheduling tools such as creating custom services. It allows them to write customer notes and prepare invoices. It also accepts mobile payments.
All these features help small to medium-sized businesses excel. The best part is that individual users can fully enjoy these features at no extra cost.
Square Appointments Pricing
The best part about Square Appointments is that its basic plan is free. That's right! Anyone can create a free Square account.
But of course, the free version has its limitations. Square also offers premium versions with more features. And even in the free basic plan, there are a few fees attached.
Free Plan:
The free plan gives users the basics to run a business and stay on schedule. It is suitable for a single user. Square Appointments offers the software for free but charges fees for payments. This plan includes features like automated reminders, Square Assistant, time tracking, and more.
Here are the costs associated with the free plan:
$0 per month for software for one location
6% + $0.10 per tapped, dipped, or swiped payment
9% + $0.30 for online payment processing
5% + $0.15 per manually keyed-in or card on file payment
Plus Plan:
Next, is the Plus plan. This plan offers more advanced features like no-show protection and custom contract templates. It is suitable for growing teams.
Here are the costs associated with the Plus plan.
$29 per month per location for software
5% + $0.10 per tapped, dipped, or swiped payment
9% + $0.30 for online payments
5% + $0.15 per manually keyed-in or card on file payment
Premium Plan:
The last plan is the Premium plan. It meets complex booking and staff management needs. It includes features such as multiple wage rates and resource management.
The costs associated with this plan include:
$69 per month per location for software
5% + $0.10 per tapped, dipped, or swiped payment
9% + $0.30 for online payments
5% + $0.15 per manually keyed-in or card on file payment
Square Appointments Features
The purpose of this online booking tool is to make it easier for clients to schedule appointments. Widgets accomplish this allowing clients to book an appointment on any channel.
Let's discuss more features that make this tool work seamlessly with your business.
Free Online Booking Website
The online booking page displays services and availability on the customer's end. It allows them to book and reschedule appointments. The form is clean, visually appealing, and easy to use. It integrates with Google, Facebook, and Instagram.
Calendar Management
Each staff member is assigned a color so that users can get a quick overview of the entire team's schedule. The interface is simple and intuitive. The display is easy to use so managers can view and manage it even when they are on the go.
Services Customization
Users can create and display a customized list of services for any type of business. Each service has a field for a description, duration, and pricing option.
Appointment Alerts and Notifications
Set up customized alerts and notifications for any type of event or appointment. Send out booking confirmations, notify others of changes, and deliver reminder notifications.
Customized Payment and Cancellation Policies
Customize payment requirements depending on your business. Request clients to prepay or to make a deposit. Customize cancellation policies to protect from no-show clients and loss of revenue.
Customer Management
When a customer books, Square saves their personal and billing information. This will make it easier for them to rebook and will even allow them to use one-click booking. Users can view clients' history on their dedicated Square Appointments profile.
Square Team Management Features
As a cloud-based system, Square automatically syncs with a master calendar. Each team member can see that calendar on their device.
Resource Tracking
Square Appointments offers a unique resource tracking feature. It allows users to create resources (chairs, stations, rooms, etc) and assign them to services. When the service is booked, the resources assigned to it are booked as well. This makes sure that you always have the resources you need to complete a service.
Retail and Inventory Management
Square Appointments' POS has a built-in inventory management feature. This feature works well for service-based businesses with small inventory needs. Businesses with large and complex inventory needs should use Square For Retail.
Square Marketing
Square also has an email service provider (ESP). Although it does not contain the same number of features as MailChimp, it does hold its own. It allows users to leverage the customer base they have built up.
Square Assistant
Square Assitant is a new digital messenger feature. It handles confirmations and rescheduling via automatic messages sent to customers. With this assistant, customers can manage appointments at any time of the day or night.
Mobile App
Square programs are specifically built for mobile app usage. So users can expect the best functionality on the app. It works on both Android and iOS devices. Plus, it has good customer reviews on the Apple App Store.
Square Point of Sale (POS)
Of course, one of the most impressive and attractive features is the point of sale system.
Square Appointments users can integrate with and benefit from the robust features of Square POS. The point of sale system is free. Users only have to pay the transaction fees as discussed in the pricing section. Users can even get their first mobile card reader for free.
The POS software enables companies to accept all major credit cards, debit cards, and other popular payment methods. The software takes care of all payment processing methods whether it is in-person, via mobile card reader, online, etc.
Square Appointments Integrations
Of course, users can utilize the many Square products available. These products include tools to build a website, manage inventory, book appointments, and more.
Square Appointments integrates with all of Square's add-ons. These include:
Square Marketing
Square Team Management
Square Payroll
Square Invoices
Square Loyalty, and more
Along with compatibility with its own products, Square integrates with several third-party systems. This means that if a company is already using other platforms, they can easily adopt Square into their suite of software.
Some third-party integrations that are compatible with Square Appointments include:
3dcart
BigCommerce
Google Calendar
Instagram
JotForm
Lavu
QuickBooks
QuickBooks Online
Stitch Labs
TouchBistro
Vend
Wix
WooCommerce
Xero
Zoho Books
Zoho Invoice, and more
Square Appointments Reviews
Pros
Point of sale- One of the biggest advantages to Square Appointments is the built-in point of sale functionality.
Free- Another huge advantage for individuals is the fact that the basic plan is free.
User-friendly- Many Square Appointments reviews praise this software for its intuitive interface.
Square marketing- Another bonus that comes with this software is the email marketing system. It is not as advanced as other tools dedicated to that specific market. However, it is a useful tool that helps companies keep their activities in one place.
Free online booking site- A user with a Square Appointments account gets a free dedicated booking website. They can create this site quickly on the Square Appointments dashboard.
Personalization- Users can add their services, prices, calendars, cancellation policies, and more to the site. It even allows for sending personalized messages to clients.
Mobile friendly- Square Appointments is specifically designed to be used on mobile devices. This responsiveness allows users to work from anywhere. It also engages with more clients since most people nowadays use their mobile devices to book appointments.
Integrations- Users who take advantage of Square's system to accept payments and other Square add-ons consider it to be a great combination and a good value.
Cons
Some common negative aspects mixed in with good reviews include the following limitations:
Full reliance- It is beneficial that Square's suite of solutions works so seamlessly. However, relying solely on Square for all your tools can be a big drawback.
Limited Customization-This software does not include fine-tuning controls. That means that it does not have what it takes to customize every aspect of the booking site and the workflow. It offers customization up to a certain limited point.
Basic features- As mentioned throughout this article, this software is for smaller businesses. So it offers simple features. Some reviewers feel like it is too simple and they want more expansive features.
Integrations- A few reviewers have mentioned that they wish there were more apps designed to work with this software.
Cost- Of course, many people love the free plan. But when it comes to the two paid plans, some question whether it is worth the price or if Square Appointments alternatives offer a better value.
What other people are saying
Whenever there's a review page, you always see positive opinions about that app. But, what about the negative opinions?
Let's see what others are saying:
Get an even better app to use
Staying organized has never been easier.
You can now manage your business and grow your brand with a single, powerful software that keeps all of your appointments in line, your clients organized and your business booming.
Trafft is perfect for business owners who need to streamline their booking experience both for their staff and their clients.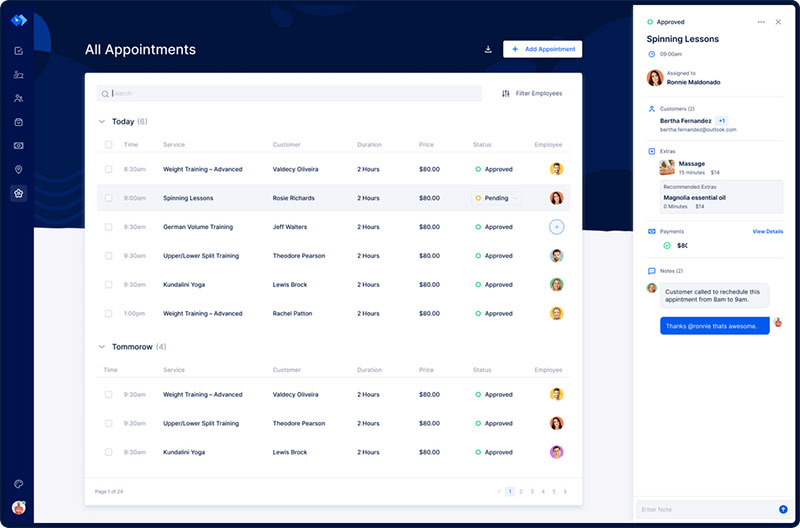 Trafft handles everything for you, even sending automated email or SMS reminders to your clients. No-shows? Not anymore!
The Trafft booking software adapts to different industries for a blissful online booking experience and employee management.
Want to know more? Check out Trafft's awesome features to see what you are missing.
Conclusion based on Square Appointments reviews
As part of a comprehensive suite of solutions, Square Appointments can provide everything a small business needs to build a strong infrastructure. Plus, if your business is small enough, the service is completely free.
There is no doubt that Square Appointments offers the fundamental tools to manage appointments. Not only that, it is user-friendly, intuitive, and immersive.
We would, however, recommend a better option like Trafft.
If you enjoyed reading this article about Square Appointments reviews, you should read this one on Calendly reviews.
We also wrote about a few related subjects like Appointlet vs Calendly, Wix bookings reviews, Housecall Pro alternatives, vcita reviews, 10to8 reviews, Appointy reviews, and Calendly vs Microsoft bookings.