One area in which technology is beneficial is scheduling. Many still love the paper planner, and it is an effortless scheduling method. Yet, nothing can beat the electronic system when making appointments with leads or current clients.
One of the popular appointment scheduling apps is Calendly. When you link it to your online calendar, clients can see the best time to schedule a meeting with you.
This platform's design helps you get the most out of your time and fill open spaces. People wanting to book an appointment with you can see your available times and secure one. After that, the app automatically adds the appointment to your Outlook or Google calendar.
There are many Calendly reviews online. Here you will find everything you need to know to make the right decision.
What is Calendly?
There are two types of appointment scheduling software solutions. The first offers several upfront options, but it may take some time to get used to them. The second type is simpler and focuses more on getting the job done.
Calendly falls into the first category. It gives the user many options and contains everything anyone could ever want to assist with client scheduling. The interface is most suitable for large organizations, but smaller companies will also find it practical.
Even though it offers many options and features, it is still a user-friendly scheduling system. It works simply. All you have to do is set your availability and share the booking page link with clients and others. Then they use the link to pick the best time for them to meet with you. After they choose the time, Calendly adds the appointment to your calendar.
This appointment method is faster and more efficient than the old-fashioned way. And it is easy to set up, use, and manage.
A free version is available, but the premium version has so much more to offer. If you decide to use Calendly, it's best to go for the paid version.
For Whom is it Made?
Anyone who wants to streamline meeting organization processes will find that Calendly has the options they need.
If you have to schedule meetings every day, Calendly can save you time and automate many repetitive tasks. Its powerful features are ideal for the average user with demanding to intermediate scheduling needs.
Freelancers, small businesses, and larger enterprises are all among Calendly's clients because it improves their workflows, efficiency, and more. Industries that Calendly serves include:
Computer software
Education
IT
Marketing and advertising
Calendly's Features
Calendly has packed tons of features into one package. While the free version lets you use one event type, the premium version can handle several. You can program one-time or recurring meetings, and both types offer various options.
While those features are great, it's the integrations that make Calendly special. You can integrate this powerful scheduling software application with business and management apps, like Zoom and Google Calendar. For sales teams, CRM integrations are incredibly convenient.
Calendar Management
Double bookings are a nightmare for anyone working in a service-based business, leading to lost revenue. Calendly's settings and preferences can sync your calendar with the app, keeping perfect track of your time and bookings.
Meetings
You can schedule different meeting types, including video conferences, without double-booking.
Sales and Marketing
Calendly's marketing solution helps you to get in touch with leads easier and successfully convert them into customers. The embedded links on your booking page make it easy for your clients to schedule a meeting with you.
Automatic Reminders
The automatic reminders feature sends you and your clients a notification, ensuring you never miss an important appointment. Cancellation, rescheduling, and new appointment notifications let you take the necessary action as things come up.
Shareable Link
You can make the booking process even easier by adding widgets to your email, website, and social media. These widgets allow customers and business partners to book a time slot without a tedious planning session.
Time Zone
Setting up a meeting across different time zones can be challenging. But Calendly overcomes this challenge by automatically detecting all attendees' locations and time zone. That means people in different time zones will see your availability in their local time.
Metrics
The metrics function keeps track of scheduling activity, meeting attendance, and engagement. The mobile app allows you to check your metrics anytime, anywhere.
Automated Workflows
Workflows is Calendly's latest addition. This feature sends you a text message when you receive a booking-related email. Calendly distinguishes between the following emails:
Booking emails
Feedback surveys
Reminders
Requests for follow-up meetings
Thank-you emails, a
nd more
You can also create your own workflows for customized notifications.
Integrations
Calendly provides seamless integrations with iCloud, Office 365, Outlook, and Google Calendar. Calendly can check your availability on up to six calendars simultaneously, ensuring that you never double-book.
Salesforce, GoToMeeting, Zapier, and Zoom also integrate well with Calendly. When clients book appointments in one of these apps,it saves straight on your Calendly calendar.
PayPal and Stripe both integrate for convenient online payment. And you can manage everything right in the app, including advanced reporting.
In all, there are more than 80 apps that integrate with Calendly. That way, you can quickly expand its functionality. Several apps you can connect with are:
FreshBooks
Gmail
HoneyBook
Hubspot CRM
MailChimp
Outlook
PayPal
Salesforce
Stripe
Zoom
Benefits of Calendly
Calendly may look simple, but its features stand out from the rest. When you start using it, you'll notice the developers emphasized streamlined accessibility more than looks.
All the elements are clearly visible, fonts are readable, and the interface is intuitive. That makes for an overall excellent user experience.
The Calendly's power lies in scheduling meetings. Emails and websites with embedded links make booking a meeting very accessible for your clients. This appointment scheduling software solution ensures you don't overbook. And it's comforting to know that Calendly will sync all your appointments with your Outlook or Google calendar.
The integrated metrics function is an excellent feature, but you'll need the premium plan to enjoy it. Its benefit is a complete overview of how efficiently you use your calendar, showing you how to balance work and personal life.
Calendly links with major electronic calendars, like Office 365, Google, and Outlook Calendar. It checks for scheduling conflicts, checks for double booking, and automatically adds new events to those calendars. The interface is simple, intuitive, and a pleasure to use.
Calendly's developers have worked hard to remove all compatibility issues, providing problem-free integration with the app and appointment system.
Other benefits include blocking last-minute meetings, setting a maximum number of meetings, and adding a buffer time between meetings. You can increase privacy by using the secret event type. And, if you work with a team, you can display their availability on just one screen.
You can allow multiple people to schedule a single time slot in the case of workshops, webinars, classes, and tours. Calendly also helps invitees add meetings to their calendars.
Calendly Cons
No matter how good an application is, there is always room for improvement, and Calendly could improve its customer support.
It can be a little frustrating to get personal attention through customer support. The free version only offers tech support by email. Paid users can get Calendly's live chat support,but there's no phone support. On the other hand, the Help section offers quality information and is easy to use.
Another minus is the interface. Its rigidity doesn't allow for much customization, and you can only change a few things for a nicer look or suit a specific need. So if you're concerned about looks, you may prefer another appointment scheduling app.
Also, Calendly reviews indicate that some find it challenging for group participants.
Security
Calendly has different ways of keeping its app as safe as possible. Here are some of them.
Zero-Knowledge
Calendly does not store personal information from linked calendars. Nor does it store contact information, record meetings, or store participants'notes.
The only data that Calendly takes from different calendars is your availability and to ensure there are no double bookings.
Secure Authorization
Calendly applies a secure OAuth connection when it syncs with your calendars. In practical terms, that means that it never saves passwords or reads them, and iCloud connections are also encrypted.
Pricing
Calendly offers different pricing levels, including a free version. The premium plans increase for larger businesses, all the way up to huge organizations. So you can pick the plan that suits you best. All plans include a free 14-day trial.
Basic Plan – Free
The Basic plan is Calendly's calendar app free version. You may find that this version offers everything you need without needing to upgrade, and it's okay if you don't need advanced event organizing features.
Premium Plan – $10 per month ($96 per year)
The Premium plan is best suited for smaller organizations with specific scheduling appointment needs. Some of its options are:
Collective one-time events
Group events
Meeting notifications via text messages
While advanced features are available with an extra fee, most users don't need them. This plan offers precisely what you need to schedule meetings.
Pro Plan – $15 per month ($180 per year)
This plan is for teams and individuals that need more flexibility and integrations. In addition to Premium features, it has text notifications and sends your booking page customers back to your website after scheduling an appointment.
Teams Plan – $20 per month ($192 per year)
The Teams plan targets large teams and companies wanting to improve collaboration. It offers all the Professional Plus features and more:
Admin permission for managing event types
Manage groups and permissions for your teams
Round-robin event types
Salesforce integration
What other people are saying
Whenever there's a review page, you always see positive opinions about that app. But, what about the negative opinions?
Let's see what others are saying:
Ending thoughts on Calendly reviews
Emailing and setting up meetings are two things that take up much of your work time. Calendly makes both tasks more manageable.
Calendly is reasonably priced, and even the free version does an excellent job. The paid version plans are great time-savers for organizing complex events.
However, some people don't like how the app works or its looks. So test out the free 14-day trial to see whether Calendly works for you before getting the paid version.
Get an even better app to use
Staying organized has never been easier.
You can now manage your business and grow your brand with a single, powerful software that keeps all of your appointments in line, your clients organized and your business booming.
Trafft is perfect for business owners who need to streamline their booking experience both for their staff and their clients.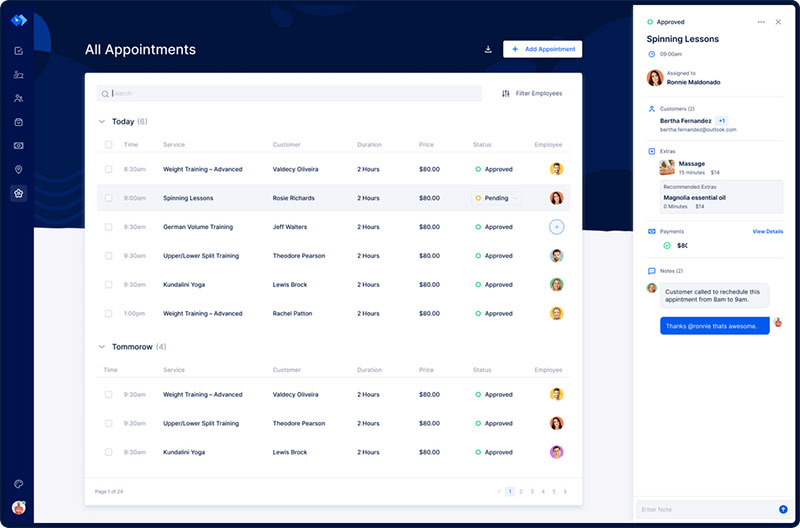 Trafft handles everything for you, even sending automated email or SMS reminders to your clients. No-shows? Not anymore!
The Trafft booking software adapts to different industries for a blissful online booking experience and employee management.
Want to know more? Check out Trafft's awesome features to see what you are missing.
If you enjoyed reading this article about Calendly reviews, you should read this one with Doodle alternatives.
We also wrote about a few related subjects like Booksy vs Vagaro, Calendly vs Setmore, Setmore vs Acuity, vcita alternatives, Setmore reviews, Simplybook.me reviews, and Chili Piper reviews.