Setmore is a major player in the field of appointment scheduling software. It is a platform that gives users an online booking page and the ability to manage appointments.
It comes as a free and premium version and offers a good user experience due to its customizability.
Is Setmore the online booking software for you? This article will discuss Setmore reviews, analyzing its features, pros, cons, and pricing.
The Overview
Setmore is a cloud-based scheduling service. It is a SaaS that runs on iOS, Android, and Windows platforms.
It offers a wide range of features such as:
email marketing
POS
employee management
recurring appointments
staff and client management
Setmore benefits employees because it allows them to keep track of their time better. It also eliminates the risk of lost appointments.
It benefits businesses by enabling online booking capability for multiple locations.
It also accepts payments from numerous payment providers. A calendar shows all appointments, deadlines, and upcoming events.
This software also benefits clients, giving them an easy way to book and pay for appointments.
The User
Who should use Setmore? Setmore works great for businesses looking to connect to customers online.
It offers a comprehensive set of administrative features. In addition, it is user-friendly on the user's side and the client's side.
It works best for a small business, a brand new business, a solopreneur, a community organization, or a nonprofit organization.
Setmore users may include:
a health, wellness, and fitness business
a pet healing business
an accountant business
salons
spas
a real estate business
a financial business
an educational organization
This software comes with specific features that make it perfect for hair salons or pet grooming places.
The Features
Scheduling Appointments
This is the main and most important feature of Setmore. It allows clients to schedule bookings online.
Also, employees can see their schedules from any device.
Setmore:
is accessible via browser or mobile app
works on both Android and iOS
allows users to set custom costs
allows users to set custom durations
prevents appointments from being scheduled when an employee is unavailable
books multiple services at the same time
manages multiple calendars in one account
Booking Page
Setmore allows users to create a customized booking page.
This way they can hand-create the experience they want their customers to have. For example, you can create a self-service portal for clients to book appointments 24/7.
Personalized Calendar
Users can customize their calendars so that they stand out from the crowd. Customize the color scheme, add logos, and immerse clients in a branded experience.
Group Booking
Setmore enables users to offer group booking, class booking, and workshop booking. They can create a session, establish an attendance limit, and clients can sign up for the session.
Notifications
Setmore also offers an automated notification feature. It reminds clients about their appointments to prevent last-minute cancellations and no-shows.
Website Widget
This software comes with a Book Now widget so you can insert Setmore's booking pages on any website. It is a light code widget that can be inserted anywhere.
Simply copy and paste the code into the backend of the website. Then clients will have access to the booking page from your website.
The Integrations
Not only does Setmore simplify appointment scheduling, it also integrates with other platforms. These integrations create a well-rounded collection of technology to run a business smoothly.
This system offers website integrations, payment integrations, and social media integrations.
Website Integrations:
Constant Contact
Freshsales CRM
Google Analytics
Google Calendar 2-way integration
HubSpot
Infusionsoft
Insightly
MailChimp
Office 365 2-way integration
QuickBooks
Reserve with Google
Salesforce
Serviceminder
Teleport
Zapier
Zendesk
Zoho
Zoom
Payment Integrations:
Social Media Integrations:
Facebook:
Facebook users can book with Setmore right from the Facebook app. It makes it as easy as the click of a button.
Instagram:
Setmore also supports Instagram. This integration places photos from a business' Instagram feed on their booking page.
This adds a burst of color to the booking page and attracts more people.
Slack:
Another great integration is with Slack. Slack provides a major boost in business productivity.
The User Experience
Setmore offers a good user experience. Its interface has a minimalistic design with an easy-to-read font and bright colors.
The dashboard presents a calendar as the home screen, with a main menu on the left side. The dashboard is customizable, so you can arrange it according to your needs.
Users can add icons to the online booking page to make it easier for clients to book appointments. Clients are not required to create accounts before booking an appointment.
Assign colors to different appointments for improved visibility and better organization.
However, there are a few details that Setmore lacks in the user experience area. There is not a lot of flexibility with employee scheduling.
It lacks integrations for accounting and payroll tools. Further, it does not offer much in the way of reporting.
The Customer Support
There are several ways to get help in the case of a problem with the software. There are customer support representatives, guide articles, and a help center.
Users can contact customer support via email, phone, live chat, or social media profiles. Customer support representatives are available 24/7 to help with any issue.
Or you can go to Setmore's official website to visit the help center or look at the blog. The blog is full of articles that explain everything about the software like how to set it up and use its features.
The Pricing
Setmore has one free version and two premium versions. Here are the prices and features that come with each plan:
Free plan
$0 per month for up to 4 users
Features include unlimited appointments, email reminders, and Square integration for payments
Premium plan
$9 per user per month for up to two users
Features include SMS reminders, two-way calendar sync, payments via Square, Stripe, or PayPal
Pro plan
$5 per user per month for 3 or more users
Features include everything from the Premium plan adjusted for larger teams
The Pros
Some of the many pros of Setmore include:
its integrations
its interactive and pleasant interface
its automated actions
its reminder notifications
its mobile scheduling
its payment processing
its reliability
Integrations:
In Setmore reviews, clients often comment that they like its integrations.
It is a comprehensive and well-rounded business tool that connects to several platforms. What is more, integrating with other systems is easy and hassle-free.
Interface:
Setmore has a very easy-to-use interface for both users and business customers. It is easy to set up with a smooth onboarding process.
It is user-friendly and easy to manage and navigate. Setmore reviews express that it is a stress-free tool to handle on a day-to-day basis.
Automation:
Automated appointment scheduling and organized communication make it easier to get and retain customers.
Reminders:
This software offers reminder notifications. These serve to help businesses run better and make more money.
Setmore sends either an SMS message or an email for every booking, cancellation, and rescheduled appointment.
Mobile Scheduling:
Clients can book from any device and any location. A mobile booking system results in more appointments and more revenue.
Payment Processing:
Payment processing features make it easy for clients to pay online with a card. It enables them to finalize appointment bookings and eliminates payment problems.
Reliability:
Setmore reviews describe the software as being very reliable. A reliable reputation improves the company's image and, in turn, boosts conversions.
The Cons
Modest businesses won't have a problem with the features that Setmore offers. But bigger and more complex operations might find it inadequate.
Many users quickly move from the free to the premium plan to get more comprehensive features.
The cons of Setmore include:
its video conferencing tool
its sparseness and limited reporting
Videoconferencing:
Setmore comes with its own videoconferencing tool called Teleport. Teleport only allows 25 devices to join a virtual meeting.
In contrast, Zoom's free plan allows 100 connections. Also, Teleport's limited features provide zero to no flexibility over virtual conferences.
Sparseness:
Another con to Setmore is that it offers limited reporting and analytics. Some customers would like more built-in reports for improved business management.
It is also lacking in other areas. For example, users cannot attach detailed data or reference material to appointments.
Other bad Setmore reviews include the following:
A few clients said that they had to pay an extra fee to connect to some integrations
Some clients say that the employee scheduling calendar could use improvement
A couple of customers experienced glitches that made their business look unprofessional
Some have complained that it does not integrate with accounting apps
The final conclusion from Setmore reviews
Setmore is a decent business tool. Small businesses and brand-new businesses could use this software.
One of the greatest aspects of Setmore is that it is user-friendly.
It enables users to create a branded booking page and streamline appointment workflows. Plus, it allows users to customize it to fit their unique business needs.
If you are looking for appointment booking software, Setmore is worth consideration. Although it does not offer all the bells and whistles of other software, it is a comprehensive tool with a reasonable price.
What other people are saying
Whenever there's a review page, you always see positive opinions about that app. But, what about the negative opinions?
Let's see what others are saying:
Get an even better app to use
Staying organized has never been easier.
You can now manage your business and grow your brand with a single, powerful software that keeps all of your appointments in line, your clients organized and your business booming.
Trafft is perfect for business owners who need to streamline their booking experience both for their staff and their clients.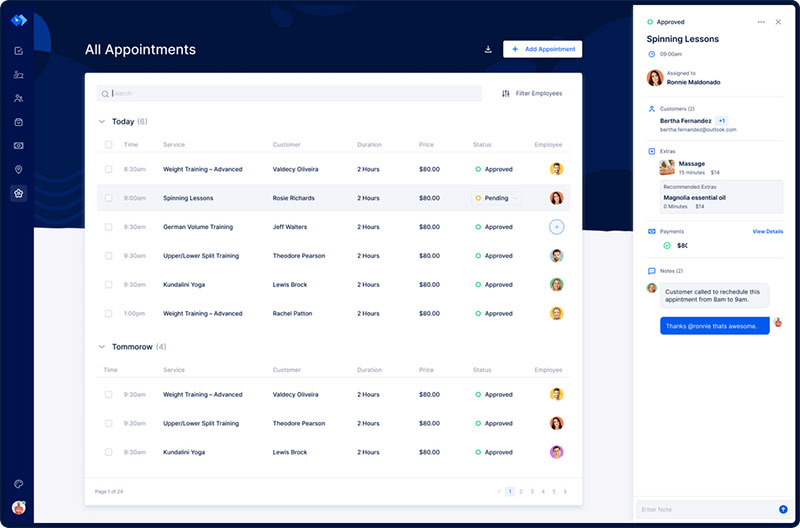 Trafft handles everything for you, even sending automated email or SMS reminders to your clients. No-shows? Not anymore!
The Trafft booking software adapts to different industries for a blissful online booking experience and employee management.
Want to know more? Check out Trafft's awesome features to see what you are missing.
If you enjoyed reading this article about Setmore reviews, you should read this one with Doodle alternatives.
We also wrote about a few related subjects like Booksy vs Vagaro, Calendly vs Setmore, Setmore vs Acuity, vcita alternatives, Simplybook.me reviews, Calendly reviews, and Chili Piper reviews.