Booksy and Vagaro are salon appointment scheduling software. And both offer many features, so it can be challenging to decide which one is best for your circumstances.
It is wise to weigh the good with the bad in every business decision. This is also true when deciding which salon software fits you best. To make a good decision, consider the pros and cons of each platform. Ensure that the software provides the workflows and processes that matter most to you.
If you are trying to decide between Vagaro and Booksy, this article will help. It will provide a side-by-side comparison of the prices and features of Booksy vs Vagaro.
Overview
Booksy
Booksy is a leading beauty and wellness business software. It offers advanced solutions to help beauty professionals manage their businesses. You can benefit from these advanced solutions in the Booksy Biz app.
It offers:
calendar management
appointment reminders
customer management
automated invoicing
payment processing
marketing tools
performance reviews
eCommerce tools, included in the software, allow professionals to sell additional products. As a bonus, the Booksy website acts like a salon marketplace because it lists businesses that use the Booksy software so more customers can discover them.
Vagaro
Vagaro is also a powerful scheduling and management solution abounding in features.
Those features include:
online booking
calendar scheduling
automatic notifications
marketing tools
online invoicing
payment processing
mobile app
customer tracking
membership subscriptions
reporting
online store
website builder
COVID features
Vagaro provides an efficient way for customers to cancel and reschedule appointments. It gives users more control over their schedules and calendars and offers comprehensive tools to improve productivity.
Typical Customers
Booksy
The Booksy software presents five specific business categories. Each category is in the beauty services department. They are:
barber
massage
nails
brows and lashes
hair
Your business will appear on Booksy's marketplace website under your chosen category. You can use the software for any business related to the above categories—for example, tattoo shops, makeup artists, pet service businesses, and more use Booksy. And you can also choose more than one category to define your business.
Vagaro
Vagaro, on the other hand, offers solutions to three broad business types. It is a great beauty, wellness, or fitness business software. Any company under these broad categories will benefit from Vagaro's software.
These include:
tanning shops
spas
hairstylists
nail salons
acupuncturists
nutritionists
personal trainers
dance studios
yoga studios, etc.
Booksy vs Vagaro: Prices
Booksy
Booksy offers a lite and pro version for $29.99 per month for the first user. Each additional staff member costs an extra $10 a month. The fee for additional staff members only applies to nine staff members. However, the price for a company with nine or more staff members flattens out at $119.99 a month.
Booksy offers a free trial period to learn the app and its features before paying full price. It also offers an optional feature called Boost. If you pay for Boost, Booksy will feature your business on their website. Instead of a monthly fee, users pay a commission on each new customer they get through Boost.
Vagaro
Vagaro offers a one-month free trial period with a few limitations. After that, the monthly fee depends on how many service providers a company has. Vagaro defines a service provider as a bookable employee who requires their own calendar. Vagaro's price starts at $25 a month for one user and increases by $10 for each additional service provider.
Vagaro also offers full point-of-sale equipment bundles. One bundle includes a cash drawer, receipt printer, and credit card reader for just under $500. Another bundle provides all the above equipment plus a barcode scanner for about $534.
Features
Booksy
Business Management
Streamline administrative tasks to build and keep momentum and generate reports on stock inventory or commissions. You can also manage staff members and their working hours.
Marketing and Loyalty Tools
Engage clients via email, text, or social media and send out promotions or message blasts. Use the email and social media templates to attract more customers. Share customer reviews.
Client Management
Client information, like booking history, is stored in one place and easily accessible. Automatic appointment reminders reduce no-shows.
Calendar Management
Booksy's design manages and modifies schedules effortlessly. You even have mobile access to the calendars, making it easier to know your schedule for the day. It also helps business owners run the business from anywhere.
Self-Service Bookings
Make scheduling appointments easy and increase your bookings with 24/7 access to the booking calendar. User reviews say that Booksy doubled appointment bookings.
Payment Processing
Offer flexible solutions for in-person or online payments. Make the checkout process faster and easier. Keep client cards on file and encourage contactless payments via the mobile app.
Vagaro
Marketing Tools
Promote your business on the Vagaro marketplace website using the Daily Deal feature to offer specials, sales, and discounts. Take advantage of the automated email and SMS marketing tools. A drag-and-drop email editor allows users to send out professional emails, and the mobile app increases appointments and boosts branding.
Reporting
Vagaro provides concise reports for a clear understanding of a business's status. This software includes reports on inventory, payroll, client retention, appointment booking, and more. Integrate with QuickBooks or Xero to keep payroll, tax, and inventory information up to date. Export data to Excel or CSV files.
Multi-location Online Booking
Online booking with Vagaro is available through multiple channels. Clients can book through a website, the Vagaro app, Google, Yelp, or Facebook. Customers can book an appointment after discovering your business via Google search. Clients can also book on Yelp after reading customer reviews.
Users can also:
set booking criteria
allow clients to reschedule online
organize the order of services
provide directions and more
Customer Tracking
Keep track of customer records to provide personalized customer service. For example, save preferences, allergies, and more. Upload files to a customer profile, and manage the profile from an intuitive dashboard.
Users can attach SOAP notes to each customer profile to record patient progress. Vagaro is fully HIPAA-compliant for businesses that handle protected health information.
Integrated Calendar
The integrated calendar permits you to view and manage multiple employees' schedules. You can view every employee's schedule on one screen, side-by-side. You can also narrow the calendar down to one group or type of service and zoom in to see more details.
Reschedule appointments with a simple drag-and-drop motion, then notify the client of the change with the click of a button. View and write notes in the calendar, automate recurring appointments, manage double bookings, block off personal time, and more.
Notifications
Reduce no-shows with text, email, and app notifications. Clients can opt out of text reminders at any time. Let clients check the status of their appointment via email CTAs. Send post-appointment "Thank You" emails.
Website Builder
For an additional $10 a month, users can create a beautiful website that integrates with the Vagaro software. You have two choices for a website.
First, you can select a premade template that fits your business. A premade template allows you to get online quickly and modify the template to match your brand.
The second option is to create a custom website. Vagaro designers are more than willing to create a personalized theme for your business.
Booksy vs Vagaro: Pros and Cons
Booksy Pros
Quick Calendar Management
The calendar feature makes it easy to book and rebook appointments. The drag-and-drop feature makes managing schedules a breeze.
Booksy Boost
The Boost feature is a unique tool that helps keep a business's calendar full. It provides a better search ranking and more visibility on the Booksy platform.
24/7 Booking Access
The Booksy platform allows potential clients to book appointments at any time. Even better, it comes with a mobile app, so clients have access to the booking forms from anywhere.
Payment Support
Booksy supports online and mobile payments. Establishments can accept card payments from their mobile phone and keep track of every transaction.
Personalized Marketing
Booksy offers many tools to help businesses conduct targeted and personalized marketing campaigns. It also provides free promotional materials like flyers and stickers.
Dynamic Reporting
Booking and appointment insights aid businesses in directing their marketing campaigns more efficiently. Booksy generates reports on various performance metrics.
Booksy Cons
User reviews reveal many complaints about the extra $10 for more staff members. Businesses end up with a higher than expected subscription bill due to the staff member cost.
Vagaro Pros
Promotions
One huge benefit to Vagaro is that it eases promotional and management tasks. Businesses can connect to potential customers by offering certificates, coupons, and other packages.
History Tracking
Businesses can keep track of customer behaviors, such as which services they book and their booking frequency.
Integrated Time Clock and Payroll
Vagaro includes a clock-in/clock-out system so business owners can accurately track staff hours and payroll.
Lead Generation
Registering with Vagaro helps businesses build a more extensive customer base because businesses are featured on the Vagaro website to generate more leads.
Accessibility
An added advantage is the Vagaro app is accessible on both iPhone and Android mobile devices.
Vagaro Cons
One of the main complaints against Vagaro is that it has many shortcomings regarding workout creation. For example, it does not facilitate essential training features like conducting health assessments and building a library of workout and nutrition plans. This lack of customization has prompted many fitness professionals to choose software that focuses more on their niche.
Ending thoughts on Booksy vs Vagaro
Of course, each business has unique needs. And booking software needs to adapt to the industry it is serving. Both Booksy and Vagaro offer exceptional features that accommodate various businesses.
Before you decide which software to use, make sure to try out the free trial periods. Carefully consider your specific circumstances, such as business size, budget, and integration requirements. Hopefully, this Booksy vs Vagaro comparison will help you decide which software is best for you.
PS If you are interested to learn about other appointment scheduling apps, check this thorough, overall performance study by SoftwareWorld that covers everything you need to know.
Get an even better app to use
Staying organized has never been easier.
You can now manage your business and grow your brand with a single, powerful software that keeps all of your appointments in line, your clients organized and your business booming.
Trafft is perfect for business owners who need to streamline their booking experience both for their staff and their clients.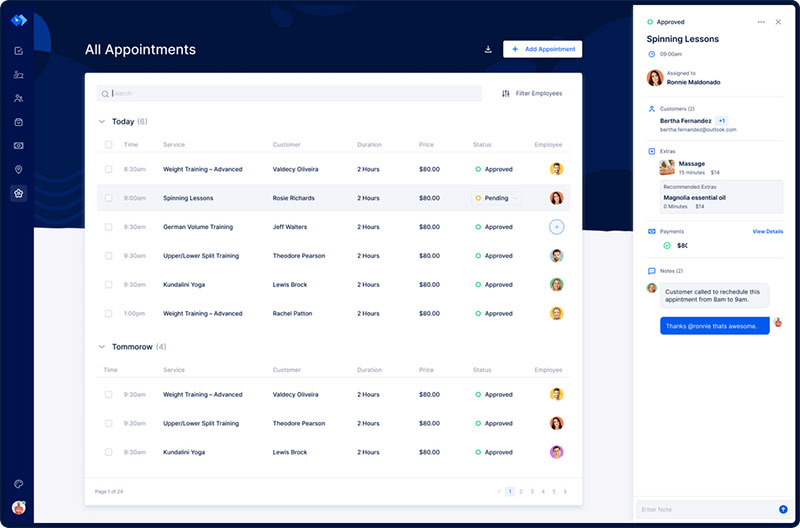 Trafft handles everything for you, even sending automated email or SMS reminders to your clients. No-shows? Not anymore!
The Trafft booking software adapts to different industries for a blissful online booking experience and employee management.
Want to know more? Check out Trafft's awesome features to see what you are missing.
If you enjoyed reading this article about Booksy vs Vagaro, you should read: