Businesses thrive by scheduling appointments and organizing events. Service industries need appointments to provide their services. Vendors may want to organize classes or other kinds of events to bond with their clients. Effective scheduling software is, therefore, a must for any company.
Many scheduling apps are available. This article highlights two of them, discussing Vagaro vs. Acuity Scheduling. It will review their features and dig into the details. This information will help you choose which platform is right for your business, Acuity Scheduling or Vagaro.
Overview of Vagaro vs. Acuity Scheduling
Vagaro
Vagaro is a cloud-based appointment scheduling software solution. It has recently gained a lot of popularity. The small to medium salons sector is its main clientele.
Vagaro is an innovative scheduling system for online bookings with a focus on the fitness and beauty industry. Customers can go to the salon's website, check availability, and book appointments. That means nothing limits the when and where clients can book their appointment.
Salons can use their website and booking page to introduce visitors to their business and offer special promotions. Most clients want to learn a bit more about salon or fitness businesses' backgrounds before committing. They can also see information about the employees and the services that businesses provide.
For that purpose, Vagaro offers custom websites for PCs and mobile devices. The website comes with matching gift certificates and email templates for effective marketing.
Acuity Scheduling
Acuity has been on the market for some 15 years. It is a calendar management software solution that streamlines the entire booking process. The web-based booking solution aims at small and medium-sized businesses.
This application is effortless to use. Users can organize their schedules and control availability. Clients, on the other hand, have the freedom to book their own appointments online.
Acuity Scheduling is very flexible and adapts to the business's needs. Companies that offer private and group sessions, or similar services, will enjoy this application.
Main Users
Vagaro
Among Vagaro's primary users are:
Chiropractors
Coaches
Dance instructors
Fitness and gym owners
Nutritionists
Pilates instructors
Physical therapists
Salon owners
Spa owners
Wellness professionals
Yoga instructors
Small businesses often have to schedule many appointments but don't have the support staff to manage a complex booking system. Vagaro is ideal for them.
Vagaro helps to facilitate the interaction between the business and its customers. Instead of having to focus on administration, business owners can focus their attention on their clients. They can effortlessly display treatments, discounts, and offers on their websites.
Acuity Scheduling
Acuity Scheduling is most useful for service industry companies whose clients schedule their own appointments. Small and medium businesses, startups, and freelancers find this application most helpful. Solopreneurs such as consultants, photographers, therapists, and tutors are also in this group.
You can easily make appointments and add up to 36 employees with Acuity. You can also quickly see which employee is available and when.
This app syncs with existing calendars and integrates with various popular management tools. These include:
Accounting
Analytics
CRM
Email
Online payment
Video conferencing
Features
Vagaro
Vagaro offers a wide range of features. Here are some of the most prominent ones:
Online appointment scheduling
Advanced business reporting
Credit card processing
eCommerce
Email/SMS marketing
Payroll
POS
Subscription payments
Video streaming
Website builder
Extras included in the app will help increase the business's online presence. Users will enjoy the option to feature coupons, discounts, or seasonal promotions on their websites. These are perfect tools to attract new customers.
Besides the scheduling options, users can use this tool to manage their businesses. They can send customized booking confirmations, build and maintain a website, and market their brand.
Vagaro's website offers a search feature that helps visitors to locate nearby salons or spas. They can then book an appointment using the same website.
In addition to the features mentioned above, users receive point-of-sale solutions. This enables them to get in touch with new clients through email or social media.
Acuity Scheduling
Acuity Scheduling comes with all the standard scheduling features. It is designed to automate scheduling and payment processing. For example, it has a digital vault for saving the clients' credit card details. Retaining that information makes charging clients quicker and easier.
Like similar booking apps, Acuity encourages clients to self-book. They can also reschedule or cancel appointments with the same online tool.
You can customize availability, which is then displayed in real-time. You can also send customized appointment reminders to clients and set automatic time zone conversion.
All paid subscriptions provide advanced features. The scheduler syncs with any of the commonly used calendars:
Microsoft Outlook
Exchange
Office 365
Google Calendar
iCloud
Furthermore, for invoicing, it integrates with:
QuickBooks
FreshBooks
Xero for invoicing
And for customer communication and email marketing, it integrates with:
Mailchimp
AWeber
Constant Contact
Pricing
Vagaro
A big plus for Vagaro is the transparent and flexible pricing. The basic plan is very affordable. Users can then select the desired add-ons.
Below is a summary of the pricing.
Free 30-day trial.
Monthly subscription for $25 for the first person. Additional users cost $10 each per month. The price caps with the seventh person at $85 per month. There is no additional charge for anyone after that.
Add-on features include:

Additional visibility on Vagaro website: $10 per month
Automated text marketing: $20 per month
Branded app: $200 per month
Check-in app: $10 per month
Cloud storage: $10 per month
Email marketing: 1,000 emails are included in the monthly subscription
Forms: $10 per month
SMS marketing: $20 for 500 SMS
Website builder: $10 per month
Acuity Scheduling
Acuity Scheduling is part of Squarespace's web design platform. Each of the four subscription levels has its own price and features. And you dont have to worry about minimums or hidden fees. Each subscription includes a free seven-day trial.
Freebie: The cheapest option is suitable for one-person businesses. Therapists, hairdressers, or other beauty professionals are already using it. It offers the most basic features, such as unlimited client self-booked appointments.
Emerging: The Emerging plan costs $15 per month and includes advanced features similar to higher-tier plans. This option suits most businesses in a single location and only needs one calendar.
Growing: This plan supports up to six calendars. These can be assigned to different staff members and multiple locations. The $25 fee includes all the Emerging plan's features plus several others.
Powerhouse: This tier is very suitable for larger companies that have more complex scheduling needs. The $50 monthly fee provides access to all Acuity's features.
Benefits
Vagaro
The features that Vagaro offers are most useful for small and medium-sized salons and spas. It performs many tasks related to client binding and business management. The appointment booking engine can schedule bookings and automatically manage them in real-time.
The point-of-sale features help businesses connect with prospective clients. Including coupons, gift certificates, selling points, and other promotional offers is a huge plus. There are also options for organizing and executing personalized email marketing campaigns.
Besides that, Vagaro has an integrated website builder that puts the booking app in place. That feature is ideal for startup businesses that do not have a website yet.
You can see the number, frequency, and nature of bookings for helpful insight into your clients' booking behavior.
Acuity Scheduling
The ability to work with other management tools makes Acuity Scheduling unique. It integrates with many popular apps, such as MailChimp and QuickBooks.
Smart and secure scheduling. It automatically updates and adjusts appointment times to different time zones. So clients and users never need to worry whether the appointment time is correct. Additionally, clients can reschedule or cancel their appointment whenever they want.
Also, you can split calendars to accommodate different locations and users. You can even select which calendar the clients can see.
This app helps keep track of revenue. It provides a detailed overview of which appointments have been paid and which ones have not. Other traceable features are no-shows and time spent per appointment.
The customizable features ensure that Acuity adapts to your needs. You can even feature calendars on your social media accounts.
Acuity Scheduling is HIPAA compliant. That means online payment processing is heavily protected. Integrations with different well-known online options, like PayPal, accept payments.
Acuity provides extensive documentation to help users solve their problems. It also offers personalized training on how to use the software.
Ending thoughts on Vagaro vs Acuity Scheduling
In these modern times, it is vital to have excellent and effective business management software. Even small businesses, like hair salons, healthcare, and the beauty industry, need these tools. It makes the difference between success and failure.
When choosing business software, looking at the price and features it offers is crucial. It's also vital to see if it supports workflows and generates relevant reports.
Vagaro vs. Acuity Scheduling will help those contemplating appointment scheduling software. It has highlighted their features for the everyday needs of beauty salons.
You know what your business needs. Take your time and research the features, requirements, and budget. Then you can make the right decision for your business.
Get an even better app to use
Staying organized has never been easier.
You can now manage your business and grow your brand with a single, powerful software that keeps all of your appointments in line, your clients organized and your business booming.
Trafft is perfect for business owners who need to streamline their booking experience both for their staff and their clients.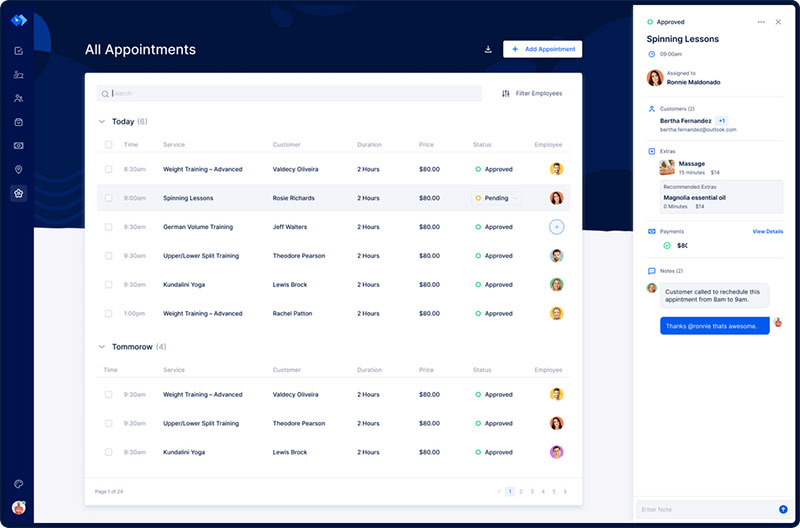 Trafft handles everything for you, even sending automated email or SMS reminders to your clients. No-shows? Not anymore!
The Trafft booking software adapts to different industries for a blissful online booking experience and employee management.
Want to know more? Check out Trafft's awesome features to see what you are missing.
If you enjoyed reading this article with Vagaro vs Acuity Scheduling, you should read: