All salons need specific hardware to function smoothly. But even within the salon world, different businesses may need different POS hardware.
So, in a comparison of Vagaro vs Square Appointments, which is better for you?
Buying the appointment management software that works for you is an important decision. This article analyzes all the important factors of an appointment management software.
It also looks at how Vagaro and Square Appointments compare.
Overview of Vagaro and Square Appointments
Founded in the US in 2010, Vagaro combines appointment management software with POS hardware. This delivers a perfect solution, with all the features necessary for a growing salon.
It allows you to capture customer information while they make a booking. This is possible thanks to the straightforward drag-and-drop calendar.
Vagaro sends automated messages to your customers, reminding them of upcoming appointments. Having this information in one centralized location is a great aid to your business.
Vagaro can act as your credit card processing system, as well as your go-to email marketing tool. All of these features add to the overall all-in-one feel that this application offers.
Square Appointments also combines POS systems with scheduling software. This creates a great space to control the retail aspects of your company.
It also provides a variety of integrations. That allows Square to assist companies of differing sizes and needs.
Square has expanded to create its own small business ecosystem. As a result, they now offer many other applications.
Square Appointments is only one small part of the Square brand.
With Square, it's easy to book appointments. You can sync them with your calendar too, so you can view your appointments wherever you are.
You will be able to manage your clients and set up automated reminders so that they stay informed.
One of the main points of argument in Vagaro vs Square is that of pricing. Square has a free POS system, whereas Vagaro starts out at $25 a month.
Yet, Square charges extra for each individual add-on that you choose. That includes items such as marketing campaigns and loyalty programs.
On the other hand, Vagaro is an all-in-one tool, so there are no hidden costs.
Target Audience
Vagaro works well for people who need more than an appointment scheduling solution. If you are expanding your salon and need more advanced features, then Vagaro is for you.
Of course, it is possible to obtain all the desired features by using multiple systems. But this can end up being very complicated and unnecessary.
Square focuses on assisting small businesses. These often have difficulties with traditional merchant services.
In line with this, Square comes with many features that meet the needs of small businesses. There are also options to use other software as well.
So, Square is great for smaller businesses, while Vagaro is best for growing salons, spas, and fitness centers. Hence, each software's strong suit is particular to its target audience.
Online Appointment Scheduling
Online appointment scheduling is the most important element of online appointment software.
It makes a complicated process simple by creating a single link. When your customers click on the link, they can see when you're available.
Vagaro
Vagaro is well suited for salons. Its calendar allows clients to book appointments through sites like Yelp or Facebook.
It is also the perfect tool for email-based marketing campaigns.
In addition, it creates business reports. You can use these for your sales reports and for your client's information.
Vagaro also has an option for connecting to Google calendar.
Square Appointments
Square Appointments offers a different gamut of free tools to use. These can range from online terminals that enable customers to pay with their phones, templates for possible contracts, and even sales analytics.
Square Appointments also allows you to utilize different hardware. These can be for tasks ranging from e-commerce to marketing.
The app's openness lets you combine many different tools into one application.
The Square Appointments app makes contacting clients simple thanks to Square Messaging. Here you can review client information and send them an email or text message about any appointment changes.
It is similar to Whatsapp Business or Facebook Messenger. So, if you have used these tools, you will have no trouble with Square Messaging.
Marketing Functionality
Marketing is very important for appointment-based businesses. The focus should be on obtaining repeat customers, as they will provide recurring revenue.
Recurring appointments can give you a regular income that you can rely on.
So let's pit Vagaro vs Square Appointments to see whose marketing functions are better. That way, you can see which software is best for you.
Vagaro
Vagaro's marketing tools are a part of their overall package, so there is no additional cost. You can send out emails, build websites and even send out customer rewards or daily deals.
These features help to build customer satisfaction, all while you gain customer feedback.
Square Appointments
This affordable system comes with great options for both renters and individuals alike. They also offer a full-blown POS system.
In fact, their business management system leaves very little to be desired. That is a definite plus.
Square Appointments is free, but that isn't the true power of Square.
The true power lies within all the marketing and business tools that the Square Suite owns. The easy integration of these powerful features is worth the added cost.
Also available is Square's Marketing subscription. This is separate from Square Appointments but is still a very important feature.
This subscription allows you to create email marketing campaigns. You can create text message campaigns too with the Square Text Message Marketing subscription.
POS System
Vagaro
Vagaro has three POS systems using its dual-screen pay desk. The owner can view one screen while the client can view the other, allowing them to see what you're charging.
Clients can tip, sign, and pay on this as well. You can even add a fancy home screen displaying deals or images of you working.
It supports Wi-Fi, external keyboards, peripherals, and Google. Vagaro Merchant services performs many functions.
Square Appointments
The focus on appointments is evident in this POS system.
Usually, POS systems focus on the product grid, with other features being a side point. Instead, Square focuses the majority of its screen space on the calendar.
Square Appointments is compatible with PC, iOS and Android.
It's worth noting that, unless you want to enter card transactions manually, it might be best to invest in a card reader. Not only is it faster, but it also costs less if your customers swipe, dip, or tap their cards.
Key Features of Vagaro Vs Square Appointments
Next in this comparison of Vagaro vs Square Appointments is a breakdown of the key features in each.
Vagaro
Dedicated booking website
Straightforward, drag-and-drop calendar
Booking widget for website integration
Advanced client data (with images)
Advanced inventory management (with stock alerts)
FREE subscription for individuals
SMS & email reminders
Individuals only pay credit card transaction fees (2.6% + $0.1) when you accept payments through the platform
iOS & Android App
Square Appointments
Create a booking website
Drag-and-drop appointment schedule
Color appointments for easy overview
Store necessary information about clients
Notify the client ahead of the appointment or after the appointment. You can also send notification of any changes to the appointment
Notify responsible staff of new appointments or changes to existing ones
Set up categories and product/service variations to effectively manage a large inventory
Manage the checkout via a web interface, iPad app, iPhone app, Android app, or Square Hardware
Supports of all types of payments
iOS & Android App
Seamless integration with all tools from Square
Pros and Cons: Vagaro vs Square Appointments
These software providers are both good and deserve equal consideration. They both offer tools for staff management, inventory management, employee management, and even entire business management.
Vagaro
Pros
Simple software setup and integration. This makes it easy to get going, even with little experience or technical skill.
Online booking and automatic reminders. These help to reduce the number of missed appointments and the admin involved.
Automated appointment management. The software automates the process on a day-to-day basis.
Points of Sale allow you to reach out to potential customers. You can offer gift certificates and coupons, redeemable through the web or mobile applications.
Vagaro handles all the management and promotional tasks regardless of business size. The email marketing feature lets you launch campaigns and connect with customers using a personalized approach.
Cons
Some users have complained about glitches in migrating from previous platforms.
The booking system has some bugs, especially when managing multiple bookings.
Reporting features could be more streamlined.
Pricing can be too complex, with the great possibility of hidden charges.
Vagaro is only available in selected countries, including the US, UK, Canada, and Australia.

Square Appointments
Pros
Free option. A free service that has as many features as Square Appointments is worth considering.
Easy to use. As with all Square products, the interface is intuitive and user-friendly.
Square integration. Square Appointments is part of Square's larger suite of products.
Mobile-friendly. This can be especially helpful for business owners who operate from multiple locations.
Cons
Cost of paid plans. Some competitors offer more affordable monthly plans for businesses with many employees.
Limited specialty features. Other products might offer more powerful or customizable features.
Reliance on Square. If you use other tools that don't work well with Square, or if you don't want to use Square for payment processing, then this option may not work for your business.
Pricing
Vagaro starts out at $25 a month for individuals. If you compare this to Square's pricing, it's much cheaper.
However, there is no free option. It's also important to keep in mind that for each employee you add, there is an extra $10 fee.
On the other hand, Square is completely free for individuals! The only things you pay for are add-ons and transaction fees.
Again, it's worth taking note of the pricing for those add-ons.
Square's Plus plan costs $29 a month, while the Premium plan costs $69. This is a large price tag, although you do get many tools for that price.
Get an even better app to use
Staying organized has never been easier.
You can now manage your business and grow your brand with a single, powerful software that keeps all of your appointments in line, your clients organized and your business booming.
Trafft is perfect for business owners who need to streamline their booking experience both for their staff and their clients.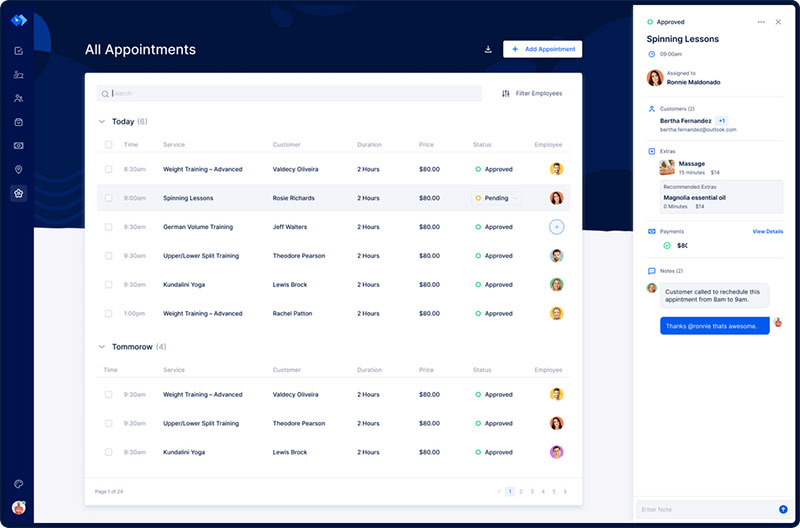 Trafft handles everything for you, even sending automated email or SMS reminders to your clients. No-shows? Not anymore!
The Trafft booking software adapts to different industries for a blissful online booking experience and employee management.
Want to know more? Check out Trafft's awesome features to see what you are missing.
If you enjoyed reading this article about Vagaro Vs Square Appointments, you should read this one on Vagaro Vs Fresha.
We also wrote about a few related subjects like Acuity or Calendly, Calendly vs Microsoft Bookings, Youcanbook.me reviews, Findtime vs Calendly, Picktime reviews, Picktime vs Clendly and therapy scheduling software.