People often fail to see the value in engagement letters. Engagement letters, however, are a valuable part of a business relationship. In this article created by our team at Trafft, we'll explain why letters of engagement are important. Then, you can read on to find some bookkeeping engagement letter samples to help you write your own.
First off, what is an engagement letter, and why should we all be writing them?
An engagement letter is a way of stating the expectations and terms of a business relationship.
It determines between you and the client the terms of your contract, including what the client needs to do, what you need to do, and the payment schedule. Attorney engagement letters, for example, are extremely common.
The best bookkeeping engagement letters contain:
A scope definition of the work.
What the client must do or provide.
Payment terms.
Benefits of having a bookkeeping engagement letter:
Both parties know exactly what is expected of them.
The client knows what to expect from you, the employer.
Prevention of 'project creep' – when terms are not defined, the client can ask for more and more money and/or benefits.
Protection for both of you, as the expectations were written down beforehand. This can prevent complaints.
Engagement letters are beneficial not just for the client, but for you as well.
Intelligent business people use them to avoid complaints and make sure everyone is on the same page.
This minimizes risk for your company, as these types of letters are legally binding. This means the client must go through with the payment if you perform the work expected.
Sections to Incorporate into Your Bookkeeping Engagement Letter
Here is the ultimate step-by-step guide to writing an amazing engagement letter. We will also provide some engagement letter samples so you can see what the finished product should look like.
Identification of parties
It is necessary to state who you are working for.
This may be a company, group, individual, or any other entity.
You need to specify this. Below is an engagement letter template you can use for identifying the parties.
Engagement Letter Sample:
Company Name

This is an agreement to provide [service type] services to [CLIENT].

This letter of engagement is between CLIENT ("your", "you", "CLIENT") and COMPANY NAME ("we", "The Firm", "us", "our"). This is in effect fromDATE (the "Agreement"). The purpose is the clarification of the expectations and responsibilities of each party.

The engagement of [COMPANY] will be dictated by the details of this Letter and the Engagement Terms defined in it.



Service or project scope
In the engagement letter, you'll need to describe the services you will offer. These may include budgeting, accounts receivable, accounts payable, and/or advisory services. It also would include any other services you perform.
This is a vital component of the engagement letter. Without this detail, you cannot prove, after the fact, whether or not you provided the services you promised. By including exactly what you'll do you reduce the risk of project creep. You can refer back to this letter if the client asks you to do something that is not on it. Then, you have the right to say no, or ask for more money for the extra service.
Engagement Letter Sample 1:

If you're not already using QB as your preferred software, our employees will create your accounts in QB. We will design a mutually determined and custom accounts chart.  If you are already using QB at the current time, our staff will upload this data to our own QB software. Therefore, you'll be able to keep bookkeeping from where you were at.

It's your choice whether you might use the online version of QB.

QB desktop may be hosted in our office, so let us know if this is your preference.
Bookkeeping & Accounting Services
Every month, we will perform data entry for all your bookkeeping transactions in your company's QB file.

We will provide the bank reconciliation for your checking and credit accounts.

We will perform journal entry adjustments when needed, including depreciation.
Financial Reports – Internal
You will be provided monthly with cash flow analysis reports. These will give you summaries and details related to your spending and revenue, as reported. 

We'll provide monthly reports for your company which will include the following:

Summary of balance sheet
Analysis year on year
Aging report for accounts payable
Aging report for accounts receivable
P&L monthly roll up (income & expenses)

By the end of the month after month end closes, these monthly reports will be provided to you.

Engagement Letter Sample 2:
Each (year, quarter, month, depending on timeframes), we will perform the subsequent services. We will start performing these services on _____________ (date).

Record cash expenses/disbursements
Record cash income/receipts from your daily reports/bank deposits
Reconcile bank statements
Record adjusting entries required for records which are given and maintained by your business
Prepare payroll/vendor checks for your signature
Prepare and review your payroll records
Put your earnings record on the ledger
Prepare tax returns for payroll
Bookkeeping services
Period of engagement
It's necessary to define how long the work or project will take. Is it for a set period or ongoing? This could mean monthly, yearly, quarterly – you need to define the terms of 'ongoing' if this is the case. You also need to write what happens if a client owes you payment.
Here's an engagement letter sample statement for this:
In the case of this Agreement being terminated, the following financial obligation is in effect.  CLIENT has the obligation to COMPANY of payments already made, as well as prorated payments accrued and not yet paid.
Engagement Letter Sample 1:
Dear (CLIENT),

The purpose of this letter is to confirm the terms of our engagement. We would like to specify the terms and clarify the services we are going to provide to you.

These are the services we will perform for you each (quarter, year, month, write a specific time frame). (Add any services that you will provide to the client in this timeframe). These services will commence (date).
Engagement Letter Sample 2:
Each month, by the 25thbusiness day, we will have completed your monthly bookkeeping. This timeframe may be extended if we do not receive the necessary documents from you in a timely fashion.
Fees and charges
Here, you need to define exactly what your hourly rate is if that's the fee structure you use. If you do not charge by the hour, you must charge per project, or charge a retainer or flat rate. Ask yourself, Do you charge in 15-minute intervals? Do you require payment within 7 days, 10, or 30? What about the extra expenses incurred?
You need to detail all of the above that is applicable to you. Then the client will know exactly how much to expect bills to be, and how often to expect them. We suggest you include a statement about what happens if the client requests something outside the terms of engagement.
You could include a part about what will happen if they make a late payment, such as a cancellation of services or a late fee.
Engagement Letter Template:
Below are the details of the fees we charge for our services. 

Please note these fees might be reviewed upon notice of change of scope, or change in volume of work.

  Services                           Fees

[Service 1]      [price one time, hourly, annually, monthly, etc]

[Service 2]      [price one time, hourly, annually, monthly, etc]

[Service 3]      [price one time, hourly, annually, monthly, etc]

[Service 4]      [price one time, hourly, annually, monthly, etc]


Responsibilities of clients
Under most engagement terms, the client is required to perform specific actions.
These may include giving the required information or records to the business.
You need to be specific about exactly what the client is responsible for doing. Also, define exactly what information you need the client to provide.
Engagement Letter Template:
 Company  Responsibility

______________________(company name), as well as ________________,(Owner, or relevant person in company) are:

required to adopt accurate and effective accounting policies. We must maintain an efficient accounting system. We must authorize transactions and retain supporting documents for those transactions. We must safeguard assets. We must also create internal controls in order to ensure the accuracy and reliability of financial statements.

We are responsible for the programs and controls to recognize fraud, as well as the implementation and design of these. We must inform you about all suspected or confirmed fraud which affects the Company. Especially if it involves a) management and b) employees of significant standing and c) others performing fraud which could affect financial statements.

You must inform us if you know of any suspected fraud, or accusations of fraud. These may be received from employees, past employees, regulators, or anyone else.Additionally, you must ensure that the entity complies with the necessary laws and regulations.


Confirmation of agreement terms
The last section of your engagement letter should confirm the terms of the engagement.
This checks the client's understanding of the contract. We've provided letter template examples below. The first is an example of this section of an attorney engagement letter.
Attorney Engagement Letter Sample:
I have read and comprehend this letter of engagement. The purpose of the engagement letter is to define the terms of the agreement with MKA and what my obligations are. I completely understand that I can cancel MKA's services at any point. 30 days warning are required in writing before the cancellation of services. There will be no explanation requested. I understand that by signing this document, I do not agree to any credit card charges.
Engagement Letter Sample:
Acknowledgment

After reading and completely understanding the above letter of engagement, I/we agree to engage Wilkonsin Thompson according to the terms provided. I/we agree to the preparation of returns and accounting services according to the information I/we give. The total responsibility for accurate and complete services/returns is mine/ours. It is my/our responsibility to thoroughly review and comprehend the returns before signing and filing them.
Ending thoughts on these bookkeeping engagement letters
Letters of engagement are necessary for having clear and comprehensive communication with clients.
It is a method through which to document engagements in detail and lay out the terms of a project or service. It provides protection for the service provider and client from litigation.
That's why we've provided the above bookkeeping engagement letter samples. Use them to draft your own.
Once you have a defined contract with your client, the next step would be to start managing your client appointments effectively.
Organize your meetings with the right tool for the job
Staying organized has never been easier.
You can now manage your business and grow your brand with a single, powerful software that keeps all of your appointments in line, your clients organized and your business booming.
Trafft is perfect for business owners who need to streamline their booking experience both for their staff and their clients.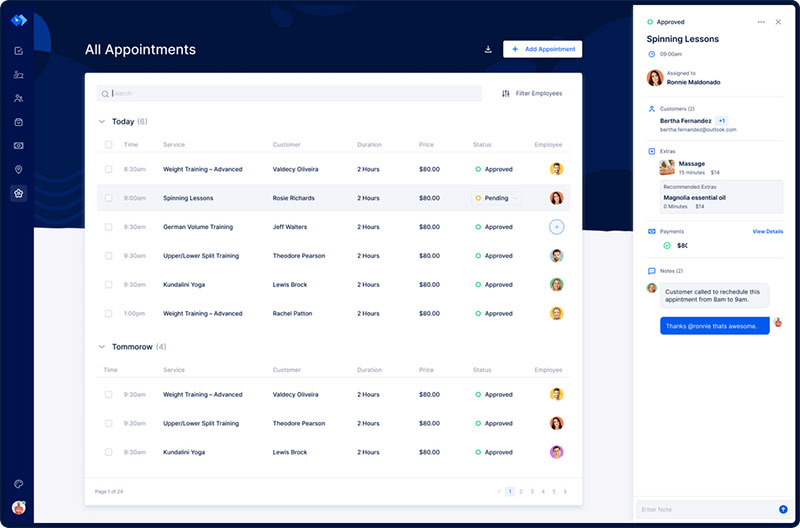 Trafft handles everything for you, even sending automated email or SMS reminders to your clients. No-shows? Not anymore!
The Trafft booking software adapts to different industries for a blissful online booking experience and employee management.
Want to know more? Check out Trafft's awesome features to see what you are missing.
If you enjoyed reading this article about engagement letter samples, you should read these as well: