In today's busy world, we all know the importance and value of time. Making sure you are managing your time effectively means that you sometimes need the help of certain tools for optimization. Luckily, there are many appointment calendar template options available online. However, finding the right one depends on your own preferences and needs.
In order to avoid situations where you double-book yourself, or when you find yourself forgetting about appointments, help may be needed. If you are experiencing these things in your professional life, then you can utilize an appointment calendar to make things easier.

Appointment calendars can help keep your schedule in order, and you do not have to spend any money anymore in hiring virtual assistants to help us plan your day. Not only that a daily calendar template is going to help a lot but also another cool thing about them is that they are completely free.
Whether speaking about your personal life, or your professional life, making sure that you keep appointments is very important. Missing appointments can affect your life and impacts those around you. Missing appointments, or even showing up late, can be viewed as a sign of disrespect and should be avoided if possible.
This article created by our team at Trafft is here to help. Continue reading to find out more about appointment calendar templates and which one to pick.
Appointment Calendar Template Options You Can Use
One of the advantages of the appointment calendar templates is that you can edit them very easily. If you have Word or Excel, you already have all you need to start changing them to the way you want them.
If you want to create a new appointment on your appointment calendar, you first need to open it using Microsoft Excel, then edit the column or row that you wish to add the appointment or meeting to and save your changes.
Extra changes can also be made whenever you need to add something new to the document. The templates can also be emailed so for sure they will reach the person you want to contact. And do not worry about the device you are in, they can be accessed from any smartphone, computer, or tablet.
There are many kinds of appointment calendar template options. This means that there can be many ways that these templates can be of use to you.
Appointment calendars can help you be updated on any meetings that you might have days in advance. So, this can be useful if you are the type of person that wants to know in advance what is going on with their time.
Weekly Appointment Calendar
This appointment calendar template works on a weekly basis can be printed on a sheet of paper and put on your desk where you can see it. You can customize the worksheet as you wish, and if you already know the design that you want for the upcoming weeks, then you can just use it. It is easy to use, and you should not see any problems using it. Test it yourself by downloading it onto your device.
Month Appointment Calendar 
Check out this free appointment calendar template that can help you keep track of your monthly appointments and meetings. It has different columns for the date, time, and details about the event, which is sure to help you with your time management.
Printable Appointment Book Template
This template was made to give you a blank appointment book by using the duplex mode on your printer. You can get the pages together in order to make a book or use a whole-punch to place the pages into a 3-ring binder depending on your preferences.
It is a useful appointment calendar template that is going to help you in the long term, so the template can help you change the start date and the start hour. If you want your week to start on Monday, choose the starting date for Monday.
Daily appointment calendar (week view)
Having this simple appointment calendar template means that you can be more efficient with your time. You will know exactly how your day is going to be structured. It is made using Excel and it shows how all your activities are going to be spread out across the entire day so you can plan activities throughout the day.
Appointment Schedule Template
This appointment calendar template offers you both weekly and daily options to choose from. They have columns for the time, day, date, and any other details needed. They can be used in order to avoid double bookings or missing appointments.
Weekly appointment calendar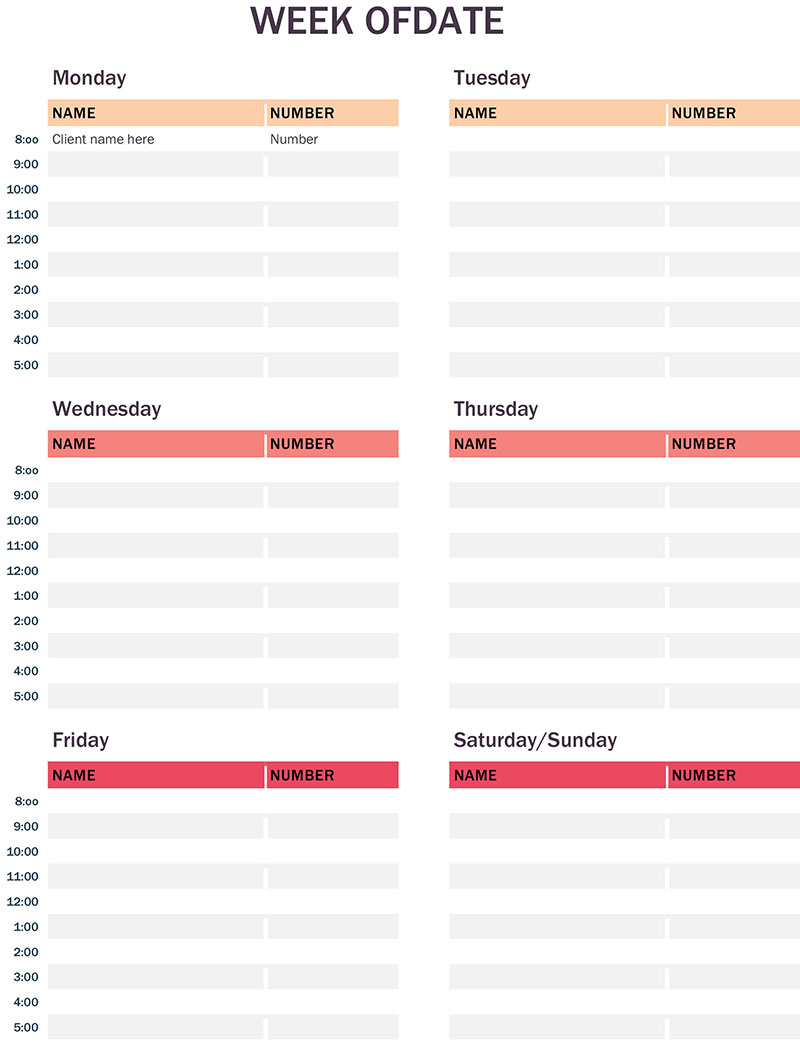 This template is great for when you want to get focused and want to have an awareness of how your time is being spent. It is great for setting appointments and keeping track of them.
Appointment Book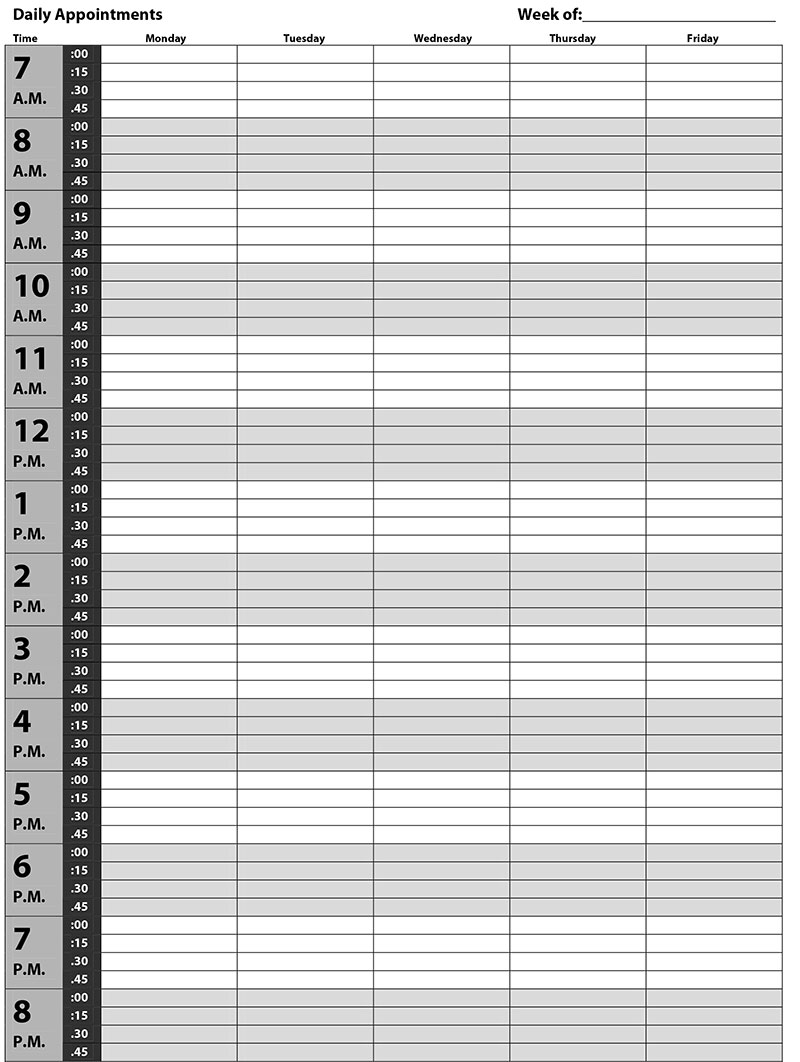 This free, printable appointment book is a single-page PDF document. It is used to help people set up their daily appointments using one page for each of the five working days.
Weekly Appointment Calendar Template
The weekly appointment calendar template can be of great use for somebody that wants to be more efficient with their time. It has a multi-column Excel sheet, and each of the columns includes all the details needed. It is a great appointment calendar template that you can use to avoid chaotic work weeks.
Daily Log Template
Keep track of all the upcoming appointments, meetings, and events you have using this daily appointment template. The format is simple, and you will have no trouble setting it up. It also includes a feature allowing tasks that can be scheduled by the half-hour.  It is useful to plan what you want to do so give it a try.
Blank Appointment Calendar
The monthly appointment calendar template is editable and is also available in a large range of layouts and formats. The blank templates are ideal for a variety of professionals, including business professionals who want to have a better hold on their time management.
Tips to Keep Your Calendar Simple and Efficient
We have included a variety of tips that you can use when choosing your weekly appointment calendar.
Always consider that you may need more than one calendar.
Choose which appointments you want to be written in your calendar.
Decide if you are going to have overlapped meetings or back-to-back meetings.
Keep some time free, because this will help you to not get overwhelmed by your work. It also allows you to keep the schedule you have flexible in case something urgent appears.
Avoid scheduling back-to-back appointments, because it likely means you will continuously run late.
Coordinate the schedule you have with other people and this will allow you to find the right time for all of you.
Use notes, as they are a good way of knowing with whom you are meeting, and what is going to be discussed in it.
Many of us forget to eat sometimes so a good thing to do is block the lunch in your appointment calendar template. In some situations when somebody really needs to meet you then you could try to see each other during it.
Add 15 more minutes after your program is over and take advantage of it in order to set up the rest of your workplace. Put everything back in order so that when you come back to the place the next day you will have no problems starting out.
Want to take things to the next level?
If you simply want to keep track of your appointments, a schedule template like the ones presented above might be good.
But do you want a premium appointment scheduling software that will shave hours off your schedule?
Organize your appointments with the right tool for the job
Staying organized has never been easier.
You can now manage your business and grow your brand with a single, powerful software that keeps all of your appointments in line, your clients organized and your business booming.
Trafft is perfect for business owners who need to streamline their booking experience both for their staff and their clients.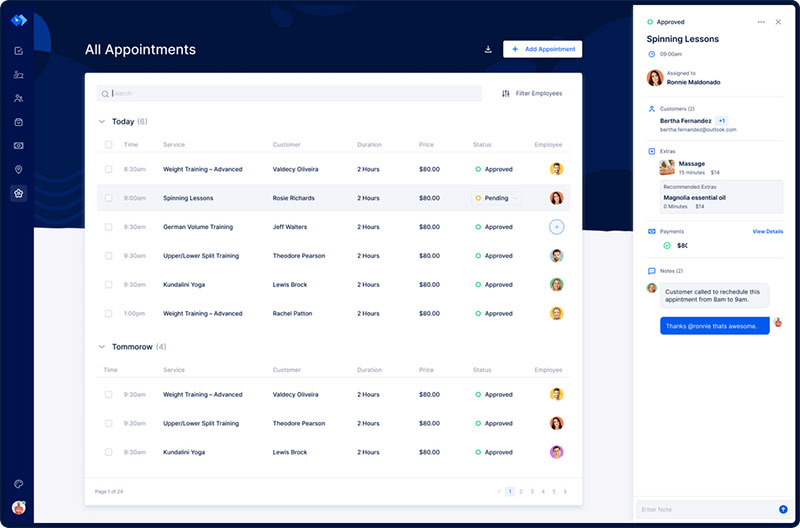 Trafft handles everything for you, even sending automated email or SMS reminders to your clients. No-shows? Not anymore!
The Trafft booking software adapts to different industries for a blissful online booking experience and employee management.
Want to know more? Check out Trafft's awesome features to see what you are missing.