Online consulting may be a profession that you have not considered before, but consulting is still one of the best ways to make money online. If you have mastered a skill that is in demand, and you are knowledgeable and willing to advise, then there is nothing stopping you. You can take advantage of these skills and find a place where you can start doing things to help others.
In today's competitive marketplace, there are a lot of business owners that need a specialist that can resolve the specific issues they have.
And as the internet can connect us no matter where we are located, they usually look for professional online consulting companies that can offer solutions.
An increasing number of people are going all-in as a self-employed consultant, and it is a popular move for people from different industries.
In the past, this option was more available to senior managers that took early retirement and had significant experience.
However, there are now more opportunities than ever, and individuals should take advantage of them.
So, what does it take to become a serious online consulting freelancer, and what is the best strategy to help you do so?
In this article created by our team at Trafft, we will discuss in more detail about this subject.
Online Consulting Definition
A consultant is an individual who can offer professional advice regarding a specific niche. Basically, they are service providers to other people, and they help by providing value coming from their extensive experience.
Now that we know what a consultant is, we can discuss and understand what an online consultant is. The only difference is that an online consultant does the same things as a normal one, but the medium that they use is online.
Often people also confuse consulting with coaching, and these two things are quite different.
Coaching implies asking questions to help people figure out their issues themselves while consulting brings already all the information in front of people.
Online consulting is a broad term, and it can cover many different jobs. Jobs like this appear often, simply because the market is in need of them. Today, anybody that has some decent knowledge on a particular topic can become a consultant on that niche.
What kind of communication does an online consultant use?
Video calls are the standard way of communicating, as it allows for face-to-face interaction.
A live chat plugin is a great option where you can exchange any messages.
Group calls are also needed especially when there are multiple clients at the same time.
Transferring files that contain essential information to clients and the other way around.
Screencasts are useful when the computer screen is shared during consultations (works excellent in webinars).
How to offer excellent online consulting today?
Choose Your Niche
When you are at the beginning of your online consulting career, you need to first establish your niche. Make decisions and choose the target market. It is essential to know the ideal clients you are trying to reach. Ask yourself if you want to offer your services for individuals, teams, or entire companies. Go for the market that needs your expertise the most, as jobs will be readily available.
Selling knowledge online can be done quickly and easily, which is why there are also cases of people trying to sell services that they actually know little about. To be successful, however, you need to have real experience.
Here are some questions that can help you become a better online consulting:
What kind of services are not available in your industry?
What are the problems that people struggle the most?
Where are the most significant opportunities, where can they be found?
What makes your services different?
Who is the ideal client?
Who is going to benefit the most from what you are offering?
Setting Up Your Platform
As there are many consulting jobs available online, this means there is also a high demand across different domains. The internet gave a significant boost to consulting businesses because consultants now can work globally. This fact also brought some new marketplaces that can help people with their independent consulting jobs.
Freelance marketplaces are a great place to go if you want to set up your profile. These marketplaces are sometimes known for being paid low rates, however, there are great opportunities as well.
An important aspect that you should consider is Google. If people type your name in the search engine, you want them to find your profile and website. So, be sure to put all important, relevant information about yourself, career, and the online consulting niche you have chosen.
Create a Pricing Structure
When you decide to start an online consulting business, one of the more difficult steps is going to be choosing your pricing. Choosing the right fees for your services can be challenging, but you do have the ability to try different options.
A good option to start with is charging a fixed project rate, which sets the price for a pre-determined work product. The second option is hourly billing. What is useful with an hourly billing rate is that it lets your clients estimate the number of hours it takes to complete a work product.
Both options help both parties to know what kind of budget should be expected from the collaboration. However, the advantage of charging by the hour is that it is going to be easier to explain how changing or adding work is going to increase the number of hours needed.
Market Your Services

Making people aware of your services is going to transform your idea into a real business. There are some steps to that like getting a serious consultant business name and creating a website.
After that, if you believe that you have the needed experience, then it is time to start the marketing process. What is significant is that you do not even have to leave your home to do this.
Customers are not going to want to pay for advice and help from an average individual. They want experience and expertise, as well as a proven track record of success. Creating your brand by positioning yourself as an expert is vital in the industry. To do so, try giving some of your advice for free to start.
You should create a coherent content strategy for sharing information across different channels. One way to do this is by creating articles or videos where you talk about different tips in your niche. By offering these tips, it will help you gain exposure and gain more insights. Send out this high-quality content and see what happens. You can also compile valuable consultation resources into an online course and weigh your choice of e-learning publicity between Kajabi vs Teachable.
If your advice and tips prove successful and useful, people are going to want to work with you. Future steps might include creating your book, developing courses, and so on. When you are seen as an authority and expert, your chances of being hired are going to be more significant.
Find Online Consulting Jobs
When you decide to start your online consulting business, your biggest goal will be to get clients. At the start, this will be a big challenge, but with patience and hard work, anything can be achieved.
Finding support from your contacts and taking advantage of the many online resources, together with freelancer work platforms, will help you establish yourself and build your career. You will also want to pick up as many projects as possible to build that important portfolio.
A great idea when starting out is to join a more prominent consultancy organization. The advantage here is that the organization is already visible, and you may be able to get quicker projects. Just be aware of the terms and conditions that organizations like this ask from you.
How much can you win from online consulting?
Online consulting is very profitable in today's market. On average, people that are new to consulting jobs can ask around $150 per hour, while some consultants may go for $50 per hour, and others may ask for $500 per hour or more. Online consulting jobs do not have a steady rate, but picking a fair, competitive fee is important.
In conclusion, choosing your online consulting rate depends on the level of expertise and what niche you are addressing. With some research, you can find for sure different consultants and check what their offers are. In the end, go with the rate that sounds fair for the work you do online.
Organize your meetings with the right tool for the job
Staying organized has never been easier.
You can now manage your business and grow your brand with a single, powerful software that keeps all of your appointments in line, your clients organized and your business booming.
Trafft is perfect for business owners who need to streamline their booking experience both for their staff and their clients.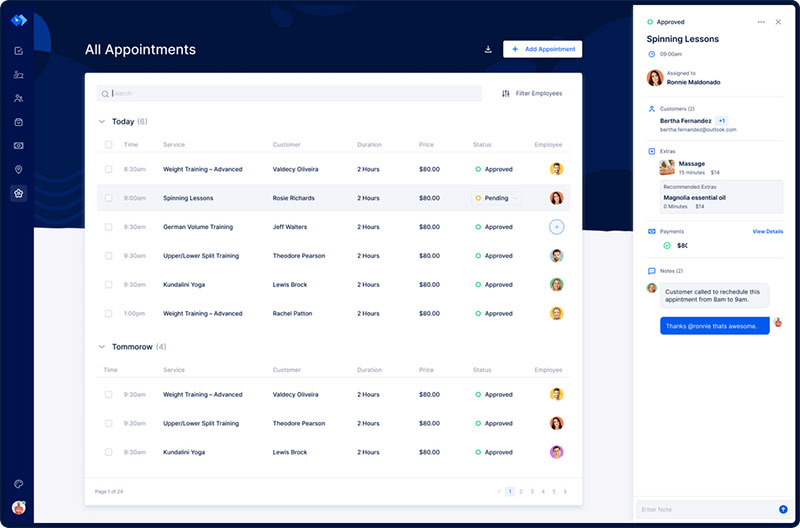 Trafft handles everything for you, even sending automated email or SMS reminders to your clients. No-shows? Not anymore!
The Trafft booking software adapts to different industries for a blissful online booking experience and employee management.
Want to know more? Check out Trafft's awesome features to see what you are missing.
FAQs about online consulting
1. What is online consulting, and how does it differ from traditional consulting services?
Online consulting is a type of virtual consultation that typically uses video conferencing or messaging services. This varies from traditional consulting services, which often require in-person meetings and consultations. Online consulting offers various benefits, including greater flexibility and convenience, as well as the ability to access advisory services from anywhere in the world.
2. What are the benefits of using online consulting services over in-person consulting services?
Convenience is one of the key advantages of online consulting services. Without having to go to a physical place, clients can get consulting services from any location with an internet connection. Due to the lack of travel fees and office overhead costs, online consulting is frequently more economical than in-person consulting. Online consultants are also more flexible because they can provide services outside of regular office hours.
3. How do I know if online consulting is right for my business or personal needs?
You should think about your unique demands and objectives before deciding whether online consulting is the best option for your professional or personal needs. Online consulting can be a good fit for you if you value flexibility and convenience and can meet your consulting needs digitally. Online consulting might also be a good option if you are at ease with virtual communication and have access to the required technologies.
4. How can I find a reputable online consultant or consulting firm?
You can conduct an online search for reviews and client testimonials to identify a reliable online consultant or consulting firm or seek referrals from coworkers or friends. To make sure the consultant or business is a good fit for your needs, you can also look into their credentials, experience, and areas of specialization.
5. What types of online consulting services are available?
Business consulting, career coaching, financial planning, legal assistance, and mental health counseling are just a few of the many consulting services that can be found online. In addition, a lot of consultants provide unique solutions based on the unique requirements of their clients.
6. How much does online consulting typically cost, and how is payment usually processed?
Depending on the experience and knowledge of the consultant, as well as the particular services being offered, the cost of online consulting might vary significantly. Online payment processors like PayPal or Stripe are typically used to process payments for online consulting services, which may then be invoiced on a per-session or per-project basis.
7. What should I expect during an online consulting session, and how long does it usually last?
Clients can anticipate discussing their objectives and issues with the consultant during an online consultation session, who will then offer direction and advise based on their experience. The length of a session might vary depending on the client's needs and the consultant's choices, but it usually lasts between 30 and an hour.
8. How can I ensure that my confidential information is protected during an online consulting session?
Clients should choose a secure platform with encryption to protect data in order to guarantee that private information is safeguarded throughout an online consulting session. Furthermore, consultants must have rules and practices in place to safeguard client data, such as requiring passwords for file access or storing data on secure servers.
9. What are the qualifications and experience required to become an online consultant?
Depending on the particular field of expertise, different qualifications and experience are needed to work as an online consultant. Nonetheless, the majority of effective consultants have a solid educational foundation in their profession, as well as great interpersonal and communication skills.
10. How can I measure the success of my online consulting engagement?
Depending on the objectives of the engagement, there are various approaches to assess the success of an online consulting engagement. Increased revenue or profit, enhanced efficiency, or higher customer satisfaction are examples of common measures. To obtain information on customer satisfaction and pinpoint areas for improvement, consultants may also employ surveys or other feedback systems.
If you enjoyed reading this article about online consulting, you should read these as well: