Consulting is a great career choice. You get the opportunity to solve tough problems, expose yourself to different areas of your industry, and develop a great set of useful skills that keeps your business growing.
If you are planning to start your own consulting firm, or perhaps are simply looking to expand your current client base, you need the tips and tricks behind the task. This article will discuss how to get clients as a consultant as well as the strategies involved.
There are many strategies available, but to start, here are some of the basics:
Put Value First: Your aim should always be bringing genuine value to your clients. This means leaving their company better off than when you arrived.
Make Your Company Different: Just like developing new products, potential clients need to know why you are the consultant they need. It's difficult to find a market if you get lost in the masses.
Now that the basics have been covered, now you can get on with finding new clients.
Define Your Niche
To be able to find your ideal consulting client, you will need to specify some sort of criteria regarding them. You won't be able to offer your consulting to simply anyone that can afford it, you need to find ideal clients to get started.
Defining your niche, your selling point, is especially important. New consulting clients want specialists. In clients' eyes, niches make your company more
Referable: Niche expertise makes you the go-to person within your customers' networks for that specialty.
Credible: It shows that you have experience solving their exact problem.
Memorable: For example, marketing generalists are a dime a dozen, but a millennial SEO expert is easier to recall and hire when the need arises.
The more you can pin your target audience, the clearer your ideal clients will become. On the other hand, remember that each market has its own agenda. This means that you will have to learn the nuances of each market quickly, especially if you're new to consulting.
Know Your Unique Value Proposition
Now you should have your specific proficiencies identified, but you still need to stand out from the competition. You won't be the only consultant in your niche, so how can you be more specific?
This is where a value proposition comes in. Where niches are about what you give, value propositions are about what the customer gets. It's about what you do for your customers with your services.
Consider your strengths within your niche. Are you an organized person? Your unique value proposition could be helping clients implement new business systems. Are you a people person? Then you can market yourself as a team-builder by building relationships within organizations.
Make sure that you are clear about what you are offering, and then find ways to convey that to your target market. Doing so will enable you to find clients who need your services the most and to attract repeat clients.
Perfect Your Portfolio
An online portfolio is a must for all practicing consultants; you need to display your work! If you are new to consulting, you can use it as an opportunity to show your contributions to your past employers' successes.
Ideally, your portfolio should include
Testimonies
Work reports
Awards and reference letters
Diplomas and certificates
Current resume
Portfolios can act as confirmation of your abilities. Its main purpose will be to impress prospective clients. If a customer looks through a slew of websites and finds your consulting business, they will need an extra kick to join. Your portfolio is the kick.
Also, This is another case where a website is necessary. You can't get consulting clients fast without a portfolio, and you can't display your portfolio without a website, which is all the more reason you should create one.
Prepare Your Introduction Pitch
When clients search for consultants, it's usually to resolve a pressing issue. It's something they can't do themselves, so they look for consultants who can solve the problem as fast as possible. This is where an introduction pitch is critical. The right words will tell prospective clients that you are the one they want.
For this pitch to work, you need to put in the effort. You need to be able to explain your service and why you're the best for the job. The more specific you can be, the more clients will agree. Here are some important points to clarify:
Your Services: Describe which services you offer and how you plan on accomplishing their goals.
The Problem at Hand: Explain why the potential client needs you.
Your Advantages: Explain the differences and assets your consulting business has over your competitors.
Last of all, ensure that your pitch takes under one minute. No one likes a pitch that takes too long.
Your mentorship success story starts with a scheduling app to streamline your calendar
Staying organized has never been easier.
You can now manage your business and grow your brand with a single, powerful software that keeps all of your appointments in line, your clients organized and your business booming.
Trafft is perfect for business owners who need to streamline their booking experience both for their staff and their clients.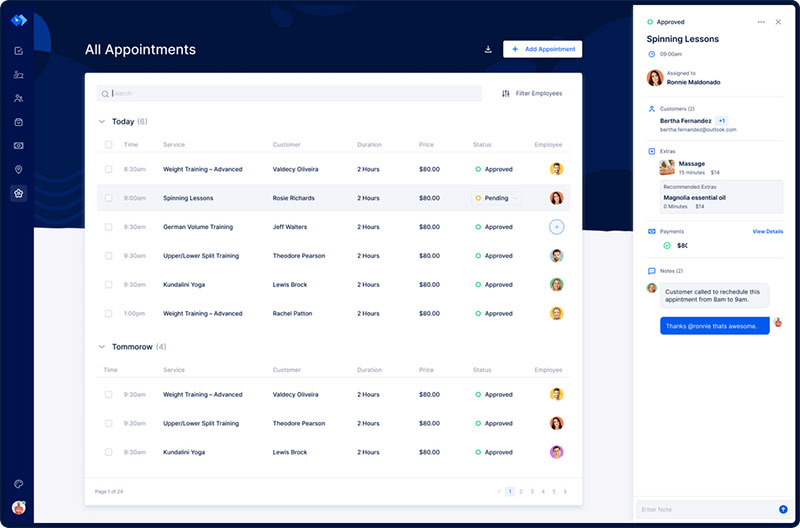 Trafft handles everything for you, even sending automated email or SMS reminders to your clients. No-shows? Not anymore!
The Trafft booking software adapts to different industries for a blissful online booking experience and employee management.
Want to know more? Check out Trafft's awesome features to see what you are missing.
Offer a Valuable Resource
How to get clients as a consultant poses problems because the truth is, consulting is a profession with very little physical value. Sure you can offer solutions to problems, or possibly increase efficiency, but rarely can someone hold those ideas in their hands. The solution to this problem is to offer resources. A valuable resource like a PDF, audio, video, report, whitepaper, or any other beneficial item would act as a tangible item that someone can see or hold.
Now all you have to do is offer it. Your consulting clients will be thrilled to accept a free item with so much value and will now feel gratitude, and possibly loyalty, toward your consulting business. This strategy can lead to more contact between you and your clients and is often the defining factor for many other marketing strategies.
Do be careful not to give everything away. Many parts of your skill and knowledge should only be available to paying clients, so only give small amounts beforehand. As a sample of your work, you can focus on small ordinary problems and discuss them on your forum or blog post.
Sign Up on Google My Business
Google My Business is a useful application that gives your consulting business an edge over your competitors.
The truth is that most consulting clients will search for job listings in their area. Nobody wants to drive an hour for an interview. This is where Google My Business (GMB) can help. When you sign up, you will automatically appear in potential customers' search engines when they are looking for consulting services.
Making an account on GMB is also very simple. All it asks is
Your business's name
What category your business belongs to
Your business's address and area of service
Your business's contact information
Details about your website
All of these details will be shown to the right consulting clients when they search for consulting services near them or for your company's name. You can also use it to display reviews, if you so prefer.
Speak at Events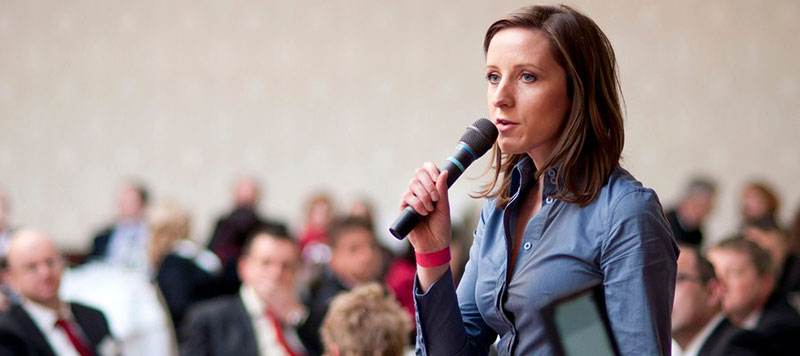 Next, you need to find events where you can speak to more consulting clients about your expertise. You won't have to make any sales. Simply try to show the value of your presentation to be viewed as an expert in your field.
Remember, in-person interactions are often more memorable than digital connections. This means that you should search for in-person events as much as possible and start forging relationships within your network.
The following are some ideas for in-person events:
Speaking engagements
Interest-based meetups
Fundraisers
Chamber of commerce meetings
Local business, alumni, or professional association events
And industry conferences and trade shows
Try preparing a calendar for the next month or two that includes all upcoming meetups and events. Then, you can set out specific times to find consulting clients at events without pressuring your prior commitments and appointments.
Optimize Your LinkedIn Profile
In contrast to apps like Facebook, Instagram, or Twitter, LinkedIn is the only application that focuses strictly on business networking. Your LinkedIn profile is a great location to find an ideal client who is ready to receive your consulting business.
Here are some tips to help optimize your LinkedIn Profile:
Potential clients will want to know all there is about your business, especially before committing to a long contract. To oblige to a potential client's search for knowledge, share all there is to know about your business. Don't leave out anything they would want to know.
Personalize your profile URL
LinkedIn is one of the few digital marketing services that offer a vanity URL for your account. On your profile page, select the "Edit Public Profile & URL" option towards the right. Next, you can select the "Edit" icon beside your public profile URL, and then decide what you want your URL to look like. Be sure to make it professional.
At first, your consulting business may be a bit too new to have testimonials, but recommendations from past jobs can often have the same effect. Use this advantage to showcase your expertise without bragging about it.
Use a professional headshot
Although it may seem obvious, the photo set in your profile is important. Make sure to select the best photos for your business.
Be Active in Online Communities
Try to find groups or communities on forums with LinkedIn, Facebook, Quora, and Reddit that are associated with your niche. You can answer questions posted by colleagues or possibly help clear confusion from business owners.
Try to be an active element of these industry conversations. When you do, the people looking for your services will often notice your responses. Whenever they do, you will be portrayed as a very knowledgeable individual in your field. The more you solve, the more trustworthy you seem.
Always Ask for Referrals
If you already have former clients who enjoyed their experience working with you, try asking them for referrals. Generally, they will be willing to refer your services to others if you ask. The problem is, they often will not take the initiative to refer you without prompting. This is why you should always ask for referrals. In the best-case scenario, they say, "yes", and in the worst case, they say that they can't. No harm done.
If you aren't sure how to ask, here are some ideas to get you started:
"It has been a pleasure working with you on this project. I'm always on the lookout for new business. Do you know anyone who might be a good fit for my professional services?"
"Do you have any contacts that could benefit from my consulting services?"
"It fills me with great joy to see that you're happy with the solutions we worked on for your project. I would genuinely appreciate it if you would refer me to anyone in your network who might be interested."
Don't worry if they don't respond immediately, simply follow up. Make sure not to assume that they haven't responded because they don't want to help.
Use the "Cold Pitch"
Are you tired of waiting for clients to find you? Cold pitching solves this problem. Instead of waiting for others, you can take the initiative and contact ideal clients. Then, you can identify their problem and offer your help. Clients can be found in business announcements in newspapers or also on social media accounts that are related to your expertise.
You can start the conversation through email with prospective companies that you think would be interested. Try to find a few names on the company's website. This will help your email seem more personal as well as help the rest of the interaction to seem less awkward. To help you write an effective pitch, follow the subsequent tips.
First, you should try to personalize your message to convince them that they need your services. You can also use this as an opportunity to demonstrate that you understand the client's needs and that you have a plan to meet them.
Next, you can offer your services for free. This may seem counterintuitive, but in the long term, this strategy can pay off. Not only does it help gain the trust of your clients, but it also guarantees a first-time consultancy. After that, these clients are more likely to choose to hire you again because they know you can do the job.
Last of all, you can explain your services. Being specific when describing your services helps demonstrate your knowledge and previous research.
Follow Up with Old Leads
Whenever you start to work out how to get clients as a consultant, there are going to be roadblocks. There will be those who don't accept initially. Don't worry about it, your timing could have been just off initially.
The truth is, old leads are still opportunities. When you are on the search for new clients, try reaching out to old contacts to see how they're doing with their business. You can even use this opportunity to share the results of your previous happy clients who have had similar problems. Doing so will keep your consulting business on their minds and open an opportunity for them to revisit the idea of working with you.
Use Online Job Listings
If you are a new consultant and need a good jumping-off point, online job listings can help you get started. It may not have the same flexibility as signing your own clients, but it is a quick route to making money.
As an example, a startup might need a marketing director. You could point out that a full-time director can be a big commitment. Pitch to them that hiring a marketing consultant to create a ready-to-implement strategy would be more advantageous. You could even point out the differences in costs, such as employee benefits.
Remember though, that you are not applying for the position as listed. If you don't make that point clear, you could be wasting both parties' time.
Create Partnerships
Although this suggestion leans more towards business development rather than sales, creating partnerships is an important element of finding clients. Try to find services that complement yours, then you can contact businesses that offer these services and start your partnerships. Here are some ideas for with whom you can start partnerships:
Often other consultants will have a disproportionate amount of clients or clients that need services that they don't offer. Forming a mutual partnership between both of your companies will help them gain new clients in the long run.
Getting in touch with influencers within your industry can be a great publicity boost. Try offering them work on a project to gain their public opinion. Afterward, when testifying to your expertise, they can bring in more consulting clients in the future.
Offer Additional Options for When a Contract Ends
Finally, remember that the end of a contract is not necessarily the end of a client. You always have the option to offer more ways to help your clients, even after your initial work is finished. For example, they may want to keep you on retainer, or maybe they would prefer to have you as an executive coach, or perhaps utilize your online course.
This is one of the best opportunities that you will have to upsell your business. Because your client is already acquainted with your expertise, they are much more likely to want to work with you again. Keeping a group of loyal customers will be a great constant source of revenue, plus it saves you the work of searching for more consulting clients.
If they do not accept more work initially, at least nurture the relationship into the future. Although at the moment they may not need your services, this could easily change later. No matter what your services are, from digital content to professional speaking, your goal should be to find loyal clients, not just one-time gigs.
Have You Learned How to Get Clients as a Consultant?
If you are still wondering how to get clients as a consultant, consider one last tip. Position your business as the obvious choice. Today, marketing is focused on having potential clients come to you, not vice versa.
Marketing involves more than popular tactics. One marketing tactic that works great for many consultants may not work for you. Many people have built seven-figure businesses simply through marketing themselves on Instagram, but that may not work for you as a consultant. Since your clients are often entire organizations, your clients often won't use Instagram.
This means that there is no silver bullet to finding consulting clients. But, if you use a combination of the tips in this article, you will find your ideal clients. Happy client searching!
If you enjoyed reading this article about how To Get Clients As A Consultant, you should read these as well: