Vagaro and Mindbody are well-known salon software solutions. Many spas and salons use one of them.
These point-of-sale (POS) systems help salon owners to manage their entire business.
In this post, you will read a comparison of Vagaro vs Mindbody. It breaks down both of these tools and looks at their features, strengths, and prices.
Mindbody vs Vagaro in Brief
Vagaro
Vagaro is a popular business management solution for beauty and wellness centers. It aims to help salons improve the efficiency of their operations.
Vagaro also helps you to build a website where clients can register and book appointments. Websites are great tools for advertising and promoting a brand too.
The platform sends out appointment reminders and notifications to your clients. You can keep track of your customers' history, latest appointments, and service preferences as well.
With all these features, this is one of the most popular management tools for the beauty and wellness industries.
It's worth noting that Vagaro and Mindbody both have a similar feature. This feature allows your clients to book and manage their appointments online.
Mindbody
With Mindbody, you can manage your whole organization, including employees, and schedule appointments.
Mindbody generates client profiles. These enable you to keep track of their bookings, favorite products, and services.
The online booking system helps to simplify your entire booking process.
Mindbody's target users are those in the health and wellness industries. Your clients can use the app to view information about you, check your schedule, book and pay online for classes, and more.
But Mindbody is not only for your clients. You can also track client information, receive feedback, and brand your business.
Features of Vagaro vs Mindbody
As you read through the features of Vagaro vs Mindbody, you will see many similarities. Yet, there are also many differences.
These will help you to determine which tool meets all the needs of your business.
Vagaro
Vagaro's most important features aim at facilitating bookings and time management.
The calendar, online booking page, and notifications help you to get more bookings. They also ensure that you never miss a booking again.
The salon software offers some marketing features, reports, and website building options.
It is probable that you already have a system to manage your business. Vagaro can import different types of data for you at no extra cost.
Below are more of its key features:
Advanced business reporting functions
Client data tracking
SOAP forms
Affordable and transparent
30-day free trial
Built-in payroll software
Built-in website builder
Client marketplace
Special POS hardware and software
Drag-and-drop calendar
Integrates with:

Your business website
Facebook
Google
Gusto
Instagram
Quickbooks
Xero
Yelp

Advanced SMS and email marketing tools
Membership and subscription payment features
Mindbody
Mindbody has a great set of features. You can select which ones you want and subscribe according to that.
Mindbody offers five packages for you to choose from. The basic one is for solo businesses, whereas large businesses can go for the more advanced deals.
All plans include the following features:
Apps for Android and Apple devices
Automated reminders and notifications
Group scheduling
Direct online booking and payments on your website
Detailed reporting
Gift cards
Marketing
Multiple filters
Point-of-sale system
Automatic refilling of time slots
Employee management
Integrations for Facebook or business website
Compatible with different devices
Membership Functionality
Vagaro
In Vagaro you can define different types of memberships. You can give them names that match your business' branding and attach prices to them.
You can also define what each membership entails and what kind of benefits clients receive. These options work well in combination with the automated billing and renewal features.
Memberships are a great way of getting and keeping new customers. With Vagaro, you can make custom forms like surveys and waivers to protect your business.
Surveys are an important way to monitor the satisfaction of your customers. Knowing where to improve or reinforce is the way to long-lasting success.
Mindbody
In the customer profile, you can review essential information. This includes last appointments, membership, documents, and payments.
If a client has bills that are due, this feature becomes highlighted. If they bought a class package, you can see how many classes they have left.
The customer profile makes checking in for classes even faster and easier. It deducts one class and charges the client if they have not paid yet.
In the same profile, you can keep a record of the customer's credit card details. This makes the payment process easier for the client.
Mindbody does not have as many membership customization options as Vagaro.
You cannot set automatic individual memberships suspension. That you have to do by hand.
This means you lose valuable time and increases the chance of making mistakes.
Point of Sale (POS) Systems
Vagaro
With Vagaro you can accept online and cash payments. That is common for most software solutions for the health and wellness industry.
Vagaro has its own point-of-sale system for inventory management. This helps you to keep track of your stock.
There are two options for processing credit card payments. The easiest is through Vagaro, but this incurs a small fee.
However, the client only needs to swipe their card and the POS system takes care of the rest.
You can also opt for an external processing company. That means entering the customer's details and credit card data by hand into the software.
Mindbody
Mindbody takes care of payment processing in 42 countries around the world. Your customers can pay in cash, credit card, or online.
You can set up recurring payments for them as well. Mindbody accepts all common credit cards.
The payment options make it easier for customers to make purchases. For you, it means that setting up an online store is within reach.
Mindbody stores the client's credit card information in the client profile. They do not need to think or take out their wallet to buy a simple bottle of water for their gym class.
The POS system helps you to keep your inventory in order and adjust prices easily.
There is a feature for giving out gift cards. After selecting the amount they want to gift, customers can personalize their gift cards with a picture or a few words.
Pros
Vagaro
The powerful POS system connects the business owner with potential clients. It gives out loyalty points, coupons, and certificates. Clients can redeem them through the website or mobile app.
Vagaro offers many features. The most popular ones are inventory management, point of sale, and employee management.
Customers can book appointments online and receive automatic reminders. That reduces administrative work and no-shows.
Getting started with Vagaro is easy thanks to the simple setup. You do not need special technical skills.
Vagaro generates automated marketing content for any size of business.
It has affordable pricing. The monthly fee starts at $25 a month. In comparison, Mindbody costs at least $129 per month. That is a huge difference for a small business.
The platform manages the online bookings for each Your schedule is always up to date.
Mindbody
Built-in marketing features. You can increase your client base with the mobile Mindbody app.
Offers a complete set of features focused on the needs of salon owners.
When comparing Mindbody vs Vagaro it is clear that Mindbody offers more when it comes to automation. Mindbody creates content and spreads it when you want. Even generating marketing content is possible in this way.
The software treats your company as a whole. It integrates scheduling, marketing, and client experience.
Mindbody generates detailed reports. There are more than 100 types of reports that you can review and identify areas for improvement.
Mindbody is a large company with more than 1000 employees. So, it has all the resources to keep on improving its product.
Cons
Vagaro
Vagaro is less suitable for large companies. The reasonable price appeals most to small salons and centers. For those with more than ten employees, Vagaro becomes less economical and the software less efficient.
The Search Engine feature is great but it has some issues.
Vagaro's main focus is on fitness centers and gyms. Yet, most users work in the hair and beauty industries.
Mindbody
There are so many features and settings that it can be a little overwhelming. Small businesses might find it a little too much.
Because there are so many features, this decreases the useability for some. A simpler product may be more appealing.
Mindbody is not the cheapest salon software around. There are extra charges for some features. That makes it less suitable for small salons that need to watch their
Pricing of Vagaro vs Mindbody
Vagaro
The Vagaro software costs between $25 and $85 per month, depending on the package. There is a one-month free trial available though.
You will have to pay extra for each staff member that requires a calendar. That does not include front desk staff for most salons.
The POS system does have a cost, but there is no cancellation fee or long contract involved.
Mindbody
Mindbody offers different packages which all include a free trial. Choose from the following:
Starter Plan: $139/month. Includes scheduling, reporting, and point-of-sale software.
Accelerate Plan: $279/month. Includes email templates and two-way text notifications.
Ultimate Plan: $499/month. Includes customer feedback, automated campaigns, and referral program.
Ultimate Plus Plan: $699/month. Includes customer feedback, automated campaigns, and referral program.
What Do You Think after Comparing Vagaro vs Mindbody?
To be honest, there is no clear winner in the Mindbody vs Vagaro contest. Both are great salon software solutions.
Each has their strengths and each aims at a different type of business.
Mindbody focuses more on large companies with many employees and clients. Vagaro is cheaper and better suited for small beauty centers and salons.
Vagaro is a robust system, which is amazing considering its price level.
It does not have the overload of features that Mindbody has. Yet, that makes it more practical for small businesses and startups with a limited budget.
Mindbody has every necessary feature including automated marketing tools and business management. Your staff will know what they need to do and when and they can check everything from their own devices.
Get an even better app to use
Staying organized has never been easier.
You can now manage your business and grow your brand with a single, powerful software that keeps all of your appointments in line, your clients organized and your business booming.
Trafft is perfect for business owners who need to streamline their booking experience both for their staff and their clients.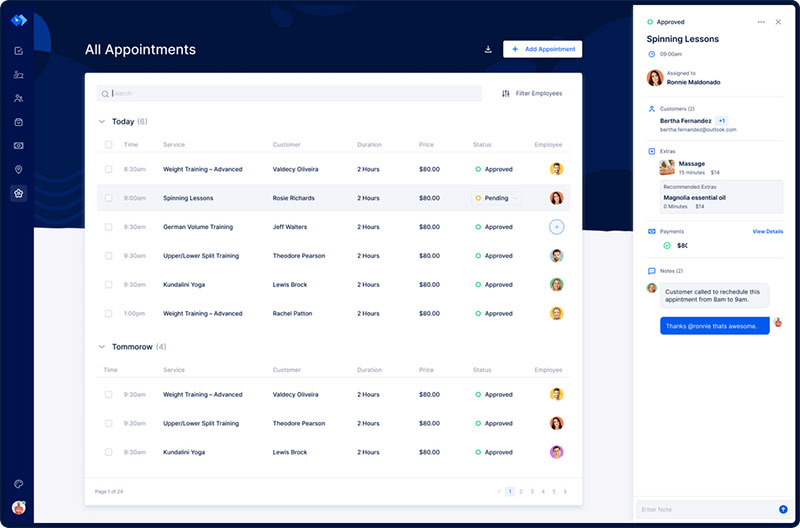 Trafft handles everything for you, even sending automated email or SMS reminders to your clients. No-shows? Not anymore!
The Trafft booking software adapts to different industries for a blissful online booking experience and employee management.
Want to know more? Check out Trafft's awesome features to see what you are missing.
If you enjoyed reading this article about Vagaro Vs Mindbody, you should read: