You probably know of Vagaro if you're one of the many salon and spa owners in business today. It has management capabilities that allow spa, fitness, and salon owners to make appointments, issue reminders, and check their future schedules in a calendar. Let's boil down all of the information from these Vagaro reviews and get down to the main points.
Vagaro offers multiple services that will assist you and your business, such as inventory management and personnel tracking. It is unquestionably ideal for automatic notifications and online booking.
What Exactly Is Vagaro?
Vagaro's web-based solution promotes local, medium, and larger businesses, as well as freelancers, spas, and salons.
The software facilitates communication between spa owners and clients. After a business registers as a Vagaro business and establishes a profile, they will be able to market their brands and utilize the scheduling software for upcoming appointments.
Despite the fact that Vagaro's point of sale system was designed primarily for the beauty and personal care business, it has capabilities that gyms and fitness facilities would greatly benefit from. Your consumers will be able to make appointments on your website 24/7  using Vagaro.
Users may also use the Vagaro marketplace to promote discounts, treatments, promotional events, and business-related goods. Internal operations, such as creating sales and service reports, may also be managed using this business management solution.
Check Out the Basic Features
Businesses may sign up for the Vagaro app, create a profile, sell their products, and schedule appointments. This program also allows spas and salons to showcase their promotional and managerial talents and services.
Customers may schedule appointments with their spas and salons using the appointment booking tool, which automates the process of scheduling appointments on a daily basis.
Businesses may keep track of consumer behaviors, especially the frequency of scheduling appointments. The following is a list of all the Vagaro app features:
Settings
2-Step Verification
Access Levels
Batch Time
Category
Class
Copy-to-All Tool
Copy Pricing Tool
Customer Retention
Calendar
Personal Task
Daily Plan
Timeline
Waitlist
The Vagaro calendar allows you to view the schedule of multiple service providers on one screen. Conveniently change your availability anytime and reschedule appointments with drag and drop.
Customer Management
General Tag
SOAP Notes
Verified Customers
Vagaro Marketing
Custom Website
Daily Deals
Automated Email Marketing
Vagaro's integrated solution allows the use of hundreds of email marketing templates or create your own. Send automated thank-you emails, birthday wishes, and lost customer emails.
Mass Edit Tool
Memberships
Multi-Location Tool
Online Appointment Rules
House Call
Checkout
Gift Certificates
Group Customers tool
IOUs
Credit Card Processing
Reporting
Vagaro's dashboard provides a quick look of the business' appointments, sales, and service providers. Integrations allow for more in-depth analysis of the following and more:
Cash Register Reports
Sales Tax Reports
Retail Sales
Add-On Features
Forms
Online Shopping Cart
Check-in App
Integrations
You may link your Vagaro account to internet platforms like QuickBooks, Yelp and Instagram. Customers can book from platforms like these, and you can sync all of your sales with your bookkeeping software.
The Vagaro POS System
Recent Vagaro reviews have shown that the point of sale is an excellent point-of-service software solution. Created exclusively with your company requirements in mind, whether you sell shampoo, beauty services at scale, or spinning machines. Specialist POS software has a wide variety of services, such as appointment scheduling, online booking management and business report., These are tailored to your company's needs.
The features that go into the development of Vagaro POS system hardware make it a durable market bestseller. The results are a hard-wearing 15.6-inch POS display monitor with dual displays for customer and business operators, including a 1920 x 1080 HD resolution.
The Vagaro POS system software is extremely simple to use for both employees and freelance fitness instructors.
Save Time With the Mobile Apps
You can manage your schedule from anywhere with the user-friendly Vagaro app. You can find the app in both the Apple app store and the Android app store. The following are the company's four distinct applications to meet the needs of its customers:
Vagaro Pro for Business: The main POS app including payment processing, marketing, and reporting.
Vagaro for your Customers: Customers may shop for packages, memberships, and gift certificates in your online store, which is more than just a quick booking site.
Check-In Customers: There is no need for a front desk. Customers may use this smartphone app to check themselves in.
Branded app: Encourage customers to interact with your company entirely. Increase brand recognition and loyalty among customers.
Vagaro Reviews Have Suggested These Small Improvements
Customer feedback reveals a few improvements that Vagaro can make. For example, some Vagaro reviews report difficulty when trying to set up multiple services. Others say that the platform is slow.
While Vagaro has a lot of great capabilities straight out of the gate, the platform doesn't appear to invest much in R & D,   preferring instead to fix bugs and other mistakes in their infrastructure.
Another reason for the platform's slowness is that it focuses on correcting problems as they arise, rather than ongoing service enhancement. This means that it may not always work as smoothly across different devices, particularly older ones.
Finally, while there is a strong focus on appointment scheduling, it might be difficult for a practice to utilize the other features, especially if they are switching from another practice management system.
How much does Vagaro cost?
Vagaro cost ranges from $25 to $85 a month, depending on the number of employees  using the system. Extra services, such as a branded mobile app, website builder, and automated SMS marketing, are available for a monthly cost. Simply adding those three features can boost Vagaro's monthly cost up to $230.
Users may test out Vagaro's software for free for 30 days before purchasing it. On the Vagaro website, users can join up for a free trial.
Vagaro Software Monthly Pricing Breakdown
One employee: $25
Two employees: $35
Three employees: $45
Four employees: $55
Five employees: $65
Six employees: $75
Seven employees: $85
Pricing is straightforward; but, add-on costs for different penalties, as well as the cost of purchasing any extra gear, may make things difficult. This could cause the final system to be more expensive than you anticipated
Check Out the Benefits!
Vagaro's key advantages, for small and large spas and salons, are that it makes all promotional and administration chores easier. Customers may schedule appointments using the appointment booking engine, which maintains bookings on a daily basis.
Vagaro POS is a powerful point-of-sale system that is well-suited to the wellness sector of spas and beauty salons. Vagaro's models have an intriguing combination of POS software features. These are particularly customized for the beauty, wellness, and fitness industries, as far as specialized POS systems go.
If you have any problems with the app's implementation or integration with your business, Vagaro has a dedicated customer support team that can assist you with any issues you may have with it. This was truly a highlight of many Vagaro reviews.
Vagaro includes the essential functions of practice management software, such as inventory management, staff monitoring, and reporting capabilities for analyzing how your firm has done over time.
This platform does just about everything you might need to help your business be successful. It's not just for the beauty and personal care business. This program also allows spas and salons to showcase their promotional and managerial talents and services.
You can also use the website to promote therapy, discounts, promotions, and business-specific solutions. Businesses may keep track of consumer behaviors such as the frequency of scheduling appointments, the kind of appointments, and the number of visits using the history tracking tool.
What other people are saying
Whenever there's a review page, you always see positive opinions about that app. But, what about the negative opinions?
Let's see what others are saying:
Get an even better app to use
Staying organized has never been easier.
You can now manage your business and grow your brand with a single, powerful software that keeps all of your appointments in line, your clients organized and your business booming.
Trafft is perfect for business owners who need to streamline their booking experience both for their staff and their clients.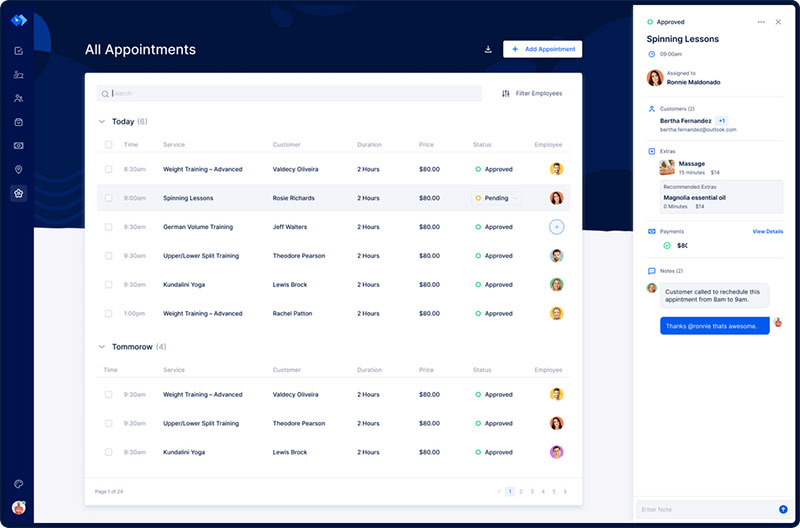 Trafft handles everything for you, even sending automated email or SMS reminders to your clients. No-shows? Not anymore!
The Trafft booking software adapts to different industries for a blissful online booking experience and employee management.
Want to know more? Check out Trafft's awesome features to see what you are missing.
If you enjoyed reading this article about Vagaro reviews, you should check out these: