Glofox must be a familiar name if you've researched fitness management software. Thanks to its awesome features, it has built up a great reputation in the last few years. It is an ideal fitness management tool for larger studios and gyms looking to automate their administrative work. However, as with any tool, Glofox has its limitations too, both featurewise and pricewise.  That's why we've prepared the top 15 Glofox alternatives, each offering its unique set of features and advantages.
Whether you're seeking a more cost-effective solution, advanced marketing tools, or specialized functionalities, our comprehensive guide will help you discover the perfect alternative to elevate your fitness business to new heights.
Let's dive in!
What is Glofox?
Glofox is an all-in-one fitness management software that can automate administrative work, but also supports your marketing efforts and increases sales. Some of its key elements are the excellent dashboard, user experience, and graphics.
People who use Glofox are its biggest fans. They have helped to make this software into what it is today and as a result, it has grown into a market leader in its field. Glofox helps you with:
Acquiring new customers for your business

Engaging current customers

Boosting customer loyalty

Increasing customer lifetime value (CLV)

Collecting payments online

Making data-driven decisions with advanced analytics and reporting. 
But there are also Glofox alternatives that do all this and more. Only when you analyze all the options will you be able to make an informed decision and see whether Glofox is the right choice for you, or perhaps competitors have more to offer. 
How much does Glofox cost?
Pricing is on the higher end and starts from $110 monthly. They don't offer a free version or a free trial. To determine how much you'll pay either monthly or annually, they ask you to choose your business type (whether you run a fitness studio, gym, pilates studio, yoga studio, etc.), whether you operate in one or multiple locations, whether you need payment processing and which languages you want the software to be in. When you enter all those details, you also have to give out your contact information and they'll get back to you with a quote. 
Ratings:
4.5 on Capterra
4.5 on G2
4.5 on App Store
4.7 on Google Play Store
List of the Top 15 Glofox Alternatives
We've collected tools that are some of the very best gym management software that you should definitely check out. They will empower your team to achieve more in less time and supercharge the growth of your fitness business. 
Below is a list of 15 Glofox alternatives that continue to get better and better and definitely offer a lot:
Trafft: The Best Glofox Alternative
Ready to completely fill your gym and keep it that way? Let us introduce you to Trafft – powerful fitness studio scheduling software.
But you can do so much more than scheduling. You can manage your whole fitness business, employees, and clients. Growing your brand has never been easier than with a single, powerful software that keeps all your appointments in line and your clients happy.  
Trafft is perfect for fitness business owners who need to streamline their booking experience both for their staff and their clients.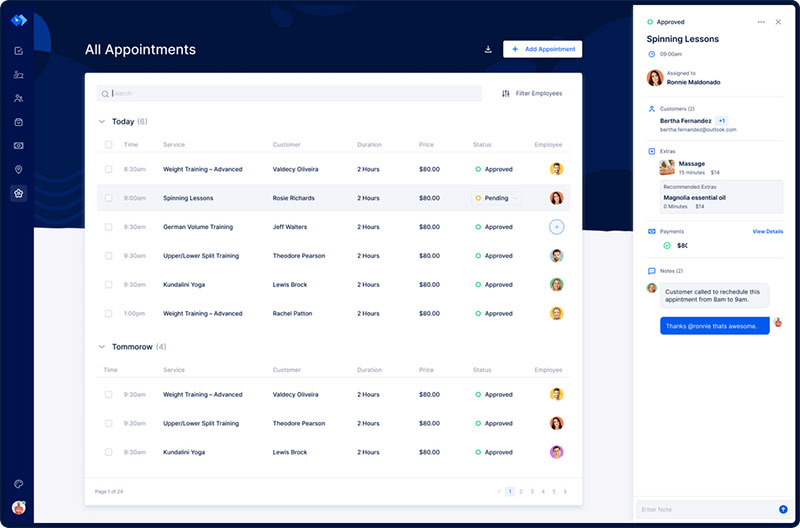 It handles every important aspect of your business including availability, scheduling, payment processing, automating boring tasks, coupons, and hassle-free rescheduling or cancellations, even sending automated email or SMS reminders to your clients. No-shows? Not anymore!
The Trafft booking software completely adjusts to your business for a blissful online booking experience and employee management.
Curious? Don't miss out on Trafft's awesome features!
Pricing: Free for up to 5 members; paid plans start from $29 per month. 
Ratings: 
5/5 on Capterra
4.7 on G2
Excellent on TrustPilot
5/5 on GetApp
Experience the full power of Trafft and sign up now. It offers different plans fitted for every stage of your business journey, and you can even opt-in for a free plan.
Mindbody
The second-best fit of Glofox alternatives is the cloud-based Mindbody platform. It handles booking, marketing, payments, scheduling, reporting & more for your business. As an alternative to Glofox, Mindbody works best for smaller and medium-sized fitness centers and gyms. But what makes it stand out?
The customer experience is what makes Mindbody so popular. So, if you want to provide an excellent user experience you should definitely check Mindbody out.
You don't even have to own a gym or a fitness center, as all fitness professionals use and like this business software, including personal trainers.
Let's see some of its main features:
Android and iOS mobile apps

Automated billing

Automated appointment scheduling and calendar syncing

Direct online bookings

Class scheduling

Flexible integration options

Employee and membership management

Product marketplace

Online store

Marketing management reports

Targeted marketing campaigns
Pricing: Starting from $159.00 monthly. It goes up to $699 per month for advanced features. 
Ratings:
MotionSoft
Designed specifically for fitness studios and similar businesses, MotionSoft is a great Glofox alternative that offers a wide range of features you'll love.
The 28 modules and front desk features are most suitable for small and mid-size gyms and fitness clubs. There are complete billing and point-of-sale systems so you don't have to worry about payments ever again.
There are options to record all the relevant information of each club member. You can see reports of demographics or financial information and use it to create marketing campaigns that resonate with your audience. 
You can also upload information in different file formats and without size restrictions. That makes it easier to sign contracts and similar agreements.
The best feature is that the platform monitors which members are in the gym at any moment.
Users can access the schedule and say when they want to take their classes. They can do so through myClub, where they also sign up, make payments, and update account information. Everything is easy & simple. 
The MotionSoft fitness management software offers the following:
Automated billing and accepting payments

Cloud-based

Staff management

Equipment maintenance scheduling

Membership management

Point of sale system

Web-based interface
Pricing: Pricing isn't transparent. You have to get in touch with them and request a quote. 
Ratings:
3.9 on Capterra
3.6 on G2
3.9 on GetApp
3.9 on Software Advice
Punchpass
Punchpass is a Glofox alternative that makes running your fitness business a breeze. It's specifically designed for dance, fitness, and yoga studios. However, freelance instructors also enjoy the benefits of this awesome tool. 
It is excellent for managing class schedules, customers, and memberships, and it also allows instructors to see who is attending their sessions.
With Punchpass, you can organize schedules and accept reservations for classes and other events. There is even a feature for selling passes online.
What's the interface like? It's easy to work with, both for you and your clients. It has everything you need and gives you plenty of flexibility.
At the same time, it has a reasonable price level.
Some important features are:
Automated and custom email communication.

Self-check-in for customers.

Full reporting options.

Online class scheduling.

Unlimited classes, instructors, and passes.
Pricing: They offer a 14-day free trial. After that, you can choose one of their paid plans, starting from $49 monthly. 
Ratings:
4.7 on Capterra
4.7 on GetApp
EzFacility
This solution for managing administrative tasks is one of the most popular Glofox alternatives for fitness studios.
EzFacility software can solve a lot of problems and automate tasks in your fitness business. For example, indoor football, baseball, gyms, and fitness centers all enjoy using it.
Its main purpose is to lighten the administrative load via a flexible and easy-to-use platform. EzFacility lets you schedule, process payments, maintain member profiles, and more.
If you connect your mobile device with EzFacility, you'll enjoy the benefit of performing tasks on the go, wherever you are. 
EzFacility's key features are:
Color-coded schedule that gives a quick overview of appointments and capacity

Marketing tools that provide business exposure and improve brand awareness

Membership profiles that help interact and engage with gym members

The flexible POS system manages coupons, inventory, and much more

Clients can manage their accounts and gym membership thanks to the member portal
Pricing: Pricing isn't transparent. You have to request a quote. 
Ratings:
4.5 on Capterra
4.7 on G2
Exercise.com
Exercise.com is one of the most robust alternatives to Glofox. Their product helps studio owners to manage their businesses with ease. How do they achieve that?
The developers have been working in this industry since 2010 and since then, they have conquered the market.
Their range of applications work together to make one complete fitness management suite. The seamless cooperation gives consistency and precision, removing the chance for errors. 
You get a user-friendly experience thanks to the specialized apps Exercise.com offers. Their popularity is a result of the positive, consistent results they achieve.
Let's see the overview of Exercise.com's features:
Messaging feature that allows clients to check in themselves.

Customized web-based dashboard.

Mobile applications.

Add-ons and integrations.

Membership management.

Online scheduling.

Advanced planning and creation of group classes.
Pricing: Pricing isn't transparent. You have to request a quote. 
Ratings:
4.8 on Capterra
4.5 on G2
RhinoFit
This is one of the Glofox alternatives that cater to the needs of gyms and other sports facilities because it offers all the features that these businesses need.
It unites membership management software with other general management tools and payment processing.
RhinoFit has a web-based interface. This makes it accessible from any device with internet access. All of these features make using RhinoFit very practical and flexible. Managers can use it even if they are not present at their workplace.
The main features of RhinoFit include:
Uninterrupted access to the platform. You can run your gym at any time and from anywhere.

Custom digital waivers. Clients can access the portal with integrated RhinoSign.

Automatic membership billing.

A mobile app that gives a customized overview of your business.
Pricing: They offer a completely free plan and a 30-day free trial for paid plans. Pricing starts from $57 per month. 
Ratings:
Wellness Living
Are you tired of needing third-party tools? If so, WellnessLiving is a perfect Glofox alternative for you because it's an all-in-one management software. It has everything you need to keep control over your fitness, gym, or similar business.
WellnessLiving is most suitable for businesses in the wellness industry. But other businesses find it useful too.
With its complete set of tools, it is an affordable gym software package.
Here are some highlights:
Dedicated client app

Mobile staff app for administration, selling tickets, and managing memberships

Appointment booking. The premium plan includes managing class schedules

Client CRM

POS system with credit card payment processing.
Pricing: From $89 to $159 per month. They also offer enterprise plans with custom pricing. 
Ratings:
4.4 on Capterra
4.4 on G2
Vagaro
Vagaro has been one of the most popular all-in-one alternatives to Glofox for years.
It is a powerful management software solution for gyms and fitness studios because it offers tools your customers will enjoy. 
For instance, they can follow their online class through the live stream feature. They can also stay in touch with you, and buy your products and services online.
Vagaro allows you to manage all aspects of your business with ease. You can use the program on your desktop computer or mobile device.
Key features include:
Automated reminders

and notifications for classes and payments

A versatile calendar to help you

stay on top of your appointments

An online shop that is easy to set up. Your clients can go there to buy memberships, products, gift cards, and other items

Comprehensive reports that give useful insight into the running of your business
Pricing: Starting from £30 per month.
Ratings:
4.7 on Capterra
4.2 on G2
SimplyBook.me
Simplybook.me is an alternative to Glofox that takes care of scheduling. It's an online booking system that offers a wide range of features to streamline the whole process. 
You can manage your appointments but also sell services with it. Simplybook.me also has integrations with different payment gateways and Google Analytics.
Here are some of SimplyBook.me's major features:
Analytics for business reports

Cancellation

and rescheduling

API and integration

Mobile-friendly booking page

Personalized booking link or widget

Round Robin for your teams

Email and text reminders
Pricing: They offer a free plan with 50 bookings, and pricing starts from $9.9 per month for 100 bookings. 
Ratings:
4.6 on Capterra
4.6 on GetApp
4.7 on FinancesOnline
4.4 on G2 CROWD
3.6 on AppStore
Zen Planner
Zen Planner provides customization options, which makes it the perfect Glofox alternative for medium-sized gyms. Also, smaller studios and martial arts schools can enjoy the benefits this tool has to offer.
Zen Planner is more than a simple recreation management software package. Here are some of its special features:
Automated billing and payment processing

Kiosk app for iOS for client self-service

Customizable automation

Full reporting and analytics features

Integrated website and marketing automation, such as lead generation and SEO

Mobile client apps for Android and iOS

Simple online scheduling

Tracking of attendance for workout sessions
Pricing: The cheapest plan is $99 per month for fitness businesses with up to 45 members.
Ratings: 
4.3 on Capterra
4.4 on G2
Clubworx
Next on this list of Glofox alternatives is Clubworx. It's mainly designed for wellness and sports studio management.
It is practical for fitness centers of any size and has a user-friendly interface. You can manage all your business and admin tasks from one platform. 
The best thing about Clubworx are the marketing tools, such as a customizable website. You can set the website up in such a way that customers can book classes through it.
With email and SMS tools, you can send out special offers or newsletters to your members, which can boost your sales and customer engagement. 
Here are some of the most exciting features:
Secure online payments

All-in-one management software

Automated workflows

Free data migration

Task management

Website integration
Pricing: Clubworx offers a free plan with basic features. Paid plans start from  $109AUD per month.
Ratings: 
4.6 on Capterra
4.5 on Software Advice
VirtuaGym
VirtuaGym is a Glofox alternative that is most suitable for personal trainers, small studios, and gym chains. Its developers are fitness fans themselves and they want others to get the most out of working out.
Because of that, they've developed this tool that helps you to schedule appointments and track your clients' attendance. And if you want to fill your studio's capacity, that's vital. 
Some of its key features are:
Attendance tracking

Appointment scheduling

Automated scheduling

Billing and invoicing

Calendar and reminder systems

Capacity management

Class scheduling

Contract and license management

Integrated document storage
Pricing: You have to request a quote. 
Ratings:
3.8 on Capterra
4.4 on G2
PushPress
Looking for a Glofox alternative that will help you boost customer engagement? PunchPress is the right choice as it allows you to interact and engage with members. 
Besides that, PushPress caters to the operational needs of fitness centers and provides a great user experience. Simple tasks remain simple.
It is free for small gyms, and there is a free demo for every premium plan.
Here are some nice features:
Calendar syncs and integrations

Dashboard for quick daily activity overview

Self-service and self-check-in for clients

Quick sign-up for one-time clients

Member portal on PushPress app
Pricing: They offer a free plan for gyms that are just starting out. For mid-sized and large gyms, there are the Pro and the Max plans that cost $159 and $229 per month. 
Ratings:
4.7 on Capterra
4.2 on G2
Sign in Scheduling (formerly 10to8)
The last on this list of Glofox alternatives is Sign in Scheduling (formerly 10to8). This platform can automate many business operations and improve your business' professional look.
It is scalable, so it is very appealing for a growing fitness studio. It also provides a great user experience.
Cancelation and rescheduling are very simple and flexible. You can make special booking forms and keep track of client appointment history.
Let's see its best features: 
Bi-directional calendar syncing

24/7 appointment booking

Client management

Online payments

Email and SMS reminders

Feedback forms

Video conferencing
Final Thoughts & More Resources for Glofox Alternatives
Remember that only you know the specific circumstances and needs of your fitness business. Our job was just to gather all the information in one place and present you with the best Glofox alternatives in 2023. 
Maybe some features are more important to your business than others, and you don't want to compromise on them. On the other hand, maybe you're ready to compromise on some features and choose cheaper options or more user-friendly alternatives to Glofox. Once you analyze the features, pricing, and customer reviews of each tool, you can see which is the best option for you.
If you enjoyed reading this article about The Best Glofox Alternatives, you should read this one on Mindbody reviews.
We also wrote about a few related subjects like Calendly vs Microsoft Bookings, Youcanbook.me reviews, Findtime vs Calendly, Acuity or Calendly, Picktime reviews, Picktime vs Clendly, and therapy scheduling software.