Microsoft FindTime vs. Calendly, which is the better scheduling app for your business? Both meeting scheduler apps get rid of the back and forth hassle of setting up appointments. And both offer great features and functionality that help large and small businesses reach more customers.
Your customers and employees lead busy lives. So working around everyone's calendar events to schedule meetings can be difficult.
Some companies have many groups that share a limited number of conference rooms. These organizations may be disadvantaged by potential timeslots being limited to when the needed space isn't in use.
FindTime and Calendly can solve all of your scheduling needs. But which should you choose? Which one is better for you and your organization? This article will help you decide by examining each app's pricing, functionality, and additional features.
An Introduction to Microsoft FindTime and Calendly
An Introduction to FindTime
Microsoft FindTime lightens the burden of setting appointments by streamlining the meeting-scheduling process. Setting up this app is straightforward.
It comes with many Microsoft 365 subscriptions and integrates well with Microsoft Outlook. FindTime also functions as an add-in for Outlook. And it helps you set workable meeting times across the company by displaying the availability of all meeting attendees.
Simply propose a few convenient times to your attendees and allow everyone to vote. Once you've set a time based on a majority vote, the app will send out the meeting invite on your behalf. This removes the time-consuming back-and-forths checking with individuals usually involved in meeting scheduling.
An Introduction to Calendly
This appointment/meeting scheduling software is for business professionals and their clients. It integrates well with aspects of your business, such as:
Email marketing software
Payment processor
 Calendars
CRM software, and more
The software also lets you set parameters for your meetings, such as:
Timeslots
Padding/free time between sessions
Minimum time frame for advanced notice of meeting requests
Limited number of appointments accepted each day, and more
Besides setting your preferences, your invitees also get to choose their preferred meeting times and dates. You can then send a customized meeting link to your invitees to confirm the meeting or appointment.
Calendly links to Google Calendar, Microsoft Outlook, and Microsoft Office 365. It also links to apps like:
FindTime vs. Calendly: The Benefits of Both Scheduling Tools
Benefits of the FindTime App
Data Protection
This app encrypts all your personal information, including the subject and body of your emails. It also protects the identity of everyone tied to these emails. This encryption function is especially beneficial for persons working on secret projects.
Automatically Schedule Meetings
Once all invitees have voted, the app automatically schedules your meeting. It'll send out the meeting confirmation and link on your behalf.
FindTime Saves Time
You save a lot of time by allowing your invitees to vote on what works best for them instead of calling or emailing to get their suggestions.
Integration With Microsoft Teams
When creating the FindTime poll, you can choose to set up a Microsoft Teams meeting. If you do, the app will automatically send a Teams meeting link after the time is decided.
Accessibility
Anyone can receive an invite to a FindTime poll. Only the meeting organizer needs the FindTime add-on installed in their Microsoft Office 365 account.
Benefits of the Calendly App
Facilitates Communication Between Your Customers and Teams
Calendly is perfect for small to medium-sized sales teams that rely on a well-maintained flow of sales calls or demos. It is ideal for scheduling live training events, demos for clients, and webinars.
Last-Minute Meeting Management
Calendly lets you take control of your schedule by setting a buffer time between events and managing last-minute meetings. You can also view your team's availability for a scheduled event for improved convenience.
Fully Optimized
The Calendly app is fully optimized for all devices. This means compatibility issues won't crop up when using the app.
A Multiplicity of Other Tools and Features
Calendly has a ton of other features that benefit both small and large companies. For example:
It integrates well with Google, Office 365, and Outlook
It facilitates seamless scheduling by automatically adding new events to your calendars
It prevents double-booking by checking all your calendars for scheduling conflicts
It has a simple, modern, easy-to-use interface for a smooth user experience
It offers customizable automated reminders and confirmations
FindTime vs. Calendly: Pricing
How Much Does FindTime Cost?
Do you have an Office 365 or Microsoft 365 subscription? If yes, FindTime is free for you. All you need to do is install the add-on.
And remember, only the meeting organizer needs a subscription because you can send your invitees an invite by email. That makes the app perfect for setting up an initial client meeting.
How Much Does Calendly Cost?
Besides Calendly's free plan, it has a three-tier pricing structure that includes a Premium, Pro, and Teams plan.
Each plan charges fees per user on a monthly or yearly basis. If you choose to pay yearly, you will get a discount for each user. Here's a breakdown of each plan:
Basic/Free plan- $0, totally free
Premium- Paid monthly – $10 per user each month. Paid annually – $8 per user each month
Professional- Paid monthly – $15 per user each month. Paid annually – $12 per user each month
Teams- Paid monthly – $20 per user each month. Paid annually – $16 per user each month
You can use any paid versions for your team, but to get a feel of what's best for you, try out the 14-day free trial before committing.
Features of these Meeting Scheduler Apps
FindTime's Features
No more back-and-forth, time-wasting emails for days to try to set up a meeting
FindTime uses Azure to encrypt your email's topic, body, and attendee names
It lets you send invitations to various email types, like Gmail, Yahoo, and other providers
Recipients only need internet and email access to be included. They don't need to have the FindTime add-on installed
The meeting organizer can propose several time choices for a particular meeting
Invitees can see which suggested dates and times are available on their Outlook Calendar and vote for their preferred timeslots
Invitees can accept, decline, or suggest new meeting times
FindTime selects the best meeting times and days based on each individual's Outlook Calendar
Once the meeting time is chosen, the app sends notices to each attendee
You can send out test invites by adding a second personal email address to the To: or Cc: line
The Calendly App's Features
Do you want to avoid last-minute meetings? Do you want a system that gives you enough time to prep for scheduled tasks and bookings?
Calendly is the answer that gives you advanced scheduling notice. Its additional features include:
Open API
Group events
Optimized for all devices
Embeds in websites
Enhanced controls and privacy
Calendar integration
Automatic/custom notifications
This powerful tool empowers your team to create an efficient workflow using other helpful sub-features. For example, Team's pages let you view different meeting options. That allows your invitees to schedule meetings with relevant individuals and events.
FindTime vs. Calendly: Setup And Usability
Using Microsoft FindTime to Schedule Meetings
With Microsoft FindTime, getting started is straightforward. Simply download the Outlook add-on for free by clicking on the icon at the end of the Outlook ribbon.
Once set up, propose a possible meeting time and date via email. Your invitees will reply by accepting or declining your suggested meeting details. They may also choose to suggest an alternative meeting time.
Everyone can vote on which proposed time works for them. As the meeting organizer, you can see how everyone else voted and each individual's preferred time.
Once all invitees have responded, the most popular timeslot is selected and the meeting link is forwarded to all participants. You have the option of setting the meeting duration and specifying if it will be conducted during work hours. Doing so will prompt the app to automatically search for available times in your calendar from which to choose.
Simply pick the time, date, and location that works for you or, make it a Microsoft Teams meeting if you please. Once complete, select the add to email option and let your appointment system handle the rest.
Using Calendly to Schedule Meetings
Calendly offers your company a simple way to schedule meetings and appointments with your clients and partners. Business professionals use Calendly to:
Schedule events
Outline meeting parameters
Set rules
Designate tasks
Once a meeting involving various parties is confirmed, Calendly adds it to their calendars. Moreover, this scheduling tool prevents double booking and sends out reminders to keep everyone on track.
Setting up Calendly is incredibly easy. Giving Calendly insight into your availability preferences programs the software to do the rest of the work for you.
Once you've completed this setup, you can share the link in your emails or embed it on your website. Your business clients can use this link to create bookings/appointments. Then they can choose their preferred date and time, and the event will automatically be added to your calendar.
Get an even better app to use
Staying organized has never been easier.
You can now manage your business and grow your brand with a single, powerful software that keeps all of your appointments in line, your clients organized and your business booming.
Trafft is perfect for business owners who need to streamline their booking experience both for their staff and their clients.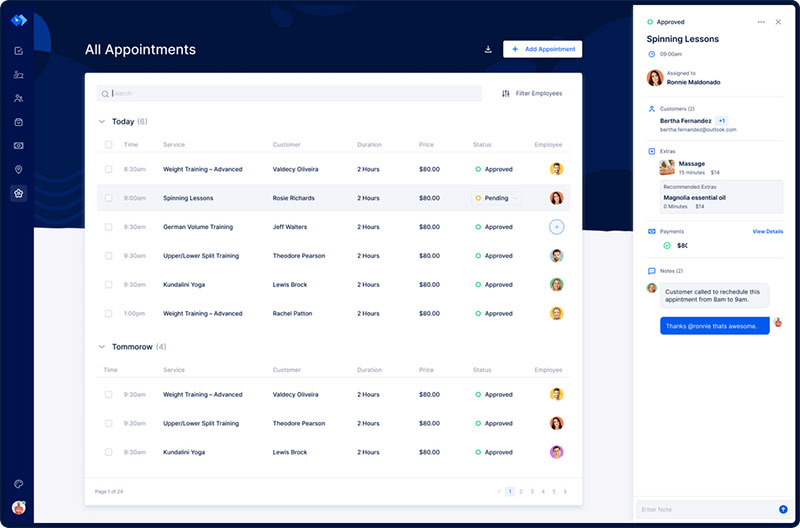 Here's why Trafft is even better than these two:
Scheduling Features: All three tools offer scheduling features, but Trafft stands out with its comprehensive scheduling solution. Trafft allows you to create and manage appointments, classes, and events, with features like online booking, automated reminders, and attendee management. FindTime and Calendly, on the other hand, focus primarily on scheduling meetings and events.
Customization: Trafft offers greater customization options than FindTime and Calendly. With Trafft, you can customize your scheduling pages, emails, and notifications to match your branding and messaging. FindTime and Calendly have limited customization options.
Payment Integration: Trafft offers payment integration, allowing you to collect payments for appointments, classes, and events. This is a valuable feature for businesses that offer paid services.
Group Scheduling: Trafft allows for group scheduling, making it easy to schedule appointments, classes, and events with multiple attendees.
Flexibility: Trafft offers more flexibility in scheduling than FindTime and Calendly. With Trafft, you can set custom availability and schedule recurring appointments. FindTime and Calendly have limited flexibility options.
Overall, Trafft offers a more comprehensive and customizable scheduling solution than FindTime and Calendly, with payment integration, group scheduling, and more flexibility.
While FindTime and Calendly are both great tools for scheduling meetings and events, Trafft is the better choice for businesses that require a more comprehensive scheduling solution.
Ending Thoughts on Microsoft FindTime vs. Calendly
FindTime vs. Calendly, which will you choose? After considering the features and benefits of these scheduling alternatives, which do you think suits you best?
FindTime uses Outlook's availability information to make scheduling internal meetings easier. It also offers client booking benefits, while Calendly is more customer-focused. It empowers large and small businesses to accept client bookings directly from their website.
The choice comes down to your needs and what you are willing to spend to fill those needs.
If you enjoyed reading this article about Findtime vs Calendly, you should read this one on Calendly vs Microsoft Bookings.
We also wrote about a few related subjects like Youcanbook.me reviews, Glofox reviews, Acuity or Calendly, Picktime reviews, Picktime vs Clendly, and therapy scheduling software.