You may already be using calendar programs like Gmail or Outlook to schedule meetings for your business. But, there are more significant benefits to using SaaS scheduling software options like Acuity or Calendly.
Finding the best appointment booking software for your business is not an easy task. So this article will help you choose between two of the best, most popular scheduling tools on the market.
Both of these tools are affordable options for streamlining your booking process and taking control of your and your team's calendars.
But which should you choose, Acuity or Calendly? And what are their differences? Be sure to read this post to the end to decide which one fits your needs and will make scheduling easy for you and your clients.
Calendly vs. Acuity Scheduling: An Overview
Acuity Scheduling Software
This scheduling platform lets you build a page that displays your availability in real-time. Customizing this page allows clients to book meetings with you any time of the day.
You can create bespoke forms and use them to collect valuable client information. Acuity Scheduling also gives you team schedule management capabilities.
It is a reliable automated scheduling tool that gives you the freedom to customize your cloud-based platform in almost any way. Acuity also expands its capabilities into business administration, like:
Invoicing
Customizable intake forms
Client management
Calendly Scheduling Tool
This scheduling software eliminates the need for back-and-forth emails. Its input rules indicate your available times.
You can share your link with clients and guests to let them choose a convenient time for their appointments.
Once your clients have confirmed their bookings, the app automatically sends calendar invites and reminders. Both Calendly and Acuity integrate with other apps and services to manage your teams.
But Calendly's features are more geared toward scheduling and activity management. It offers extensive integrations, especially with Zapier. And these help you expand your system's capabilities as needed.
Acuity or Calendly: The Pricing Structure of Each
Calendly's Plans
Calendly's pricing includes a:
Free version with limited features
Premium version for $8 per month per user
Pro version for $12 per month per user
Teams version for $16 per month per user
Calendly's free plan gives you access to all of the platform's basic functionalities. That is great for those on a tight budget. However, upgrading to the Pro or Premium plan gives you more in terms of:
Group and individual scheduling
Event statistics
Integrations
Other advanced functions
Acuity Scheduling's Pricing Structure
Acuity Scheduling offers its varying features on a tiered pricing structure. All tiers come with a 7-day free trial that helps you get an idea of what the paid plans provide.
The first tier or basic version is a free plan for professionals working solo. Acuity's other plans are:
Emerging plan for $14 monthly for one calendar
Growing plan for $23 monthly for six calendars
Powerhouse plan for $45 monthly for 36 calendars
Of the two, Acuity costs more. But it offers a 7-day free trial on all of its packages. Acuity's higher-priced tiers are also compatible with:
Email reminders
Branding and customization tools and templates
Payment processors
Integration with Zapier, and more
Acuity vs. Calendly: Customer Support
Acuity's Customer Support
Acuity offers support and provides a help section with videos and articles. You can find the help library on the dashboard of the page.
The Help Center opens up in a separate window with detailed descriptions of basic and advanced Acuity tools. Then you can use the search bar to ask specific questions by typing in keywords.
You can also register for free live training seminars through the link on their Help Center page. Or you can submit an online support request through a link at the bottom of its homepage.
Calendly's Customer Support Team
Calendly's specialized support team is adept at answering questions and troubleshooting issues. Additionally, Calendly's website has:
Online support community
Video tutorials
Developer tools
Resource library
Help center
This system also provides a search bar to find specific information by typing in the appropriate keywords. You can find most solutions in a video tutorial, making it easier to resolve your issues.
Acuity vs. Calendly: Integration Capabilities
Online meetings have become the norm. So both scheduling tools offer direct integrations with popular video conferencing platforms like:
Microsoft Teams
Zoom
GoToMeeting
Calendly's Integration Capabilities
Calendly recently added native integration with Zoom. Besides this, though, there aren't many new updates from the Calendly team.
Integrations offered by Calendly, but not available in Acuity, include:
Salesforce Sales Cloud
Zendesk
Gmail
HubSpot CRM
Calendly integrates with popular video conferencing platforms. That allows you to include video conference details in your Calendly events, helping you keep all your event information in one place.
Acuity Scheduling's Integration Capabilities
Acuity has had native integration with Zoom for some time now. And this system integrates with many more apps than Calendly can.
And while it doesn't integrate with all apps, it does provide more triggers and actions so Zapier can help you integrate seamlessly.
Acuity recently launched an integration with Square. It also has native integration with Instagram, making it easy to book directly from your IG profile.
Calendly vs. Acuity: These Appointment Scheduling Software's Features
Both scheduling tools offer impressive features. And though they share some similarities, they are quite different in several ways.
Acuity is better at handling the complexities of setting appointments and scheduling events.
Both the user and site coordinator can see schedules on its calendar feature in real-time. That simplifies everyone's process of working out a mutually acceptable date and time.
Acuity offers more complex options for scheduling and appointment booking. On the other hand, Calendly's calendar is its core feature.
Calendly allows you to connect up to six different external calendars to schedule appointments. Your clients and teams own and manage those connected calendars.
Similar Learning Curves
Both tools have a similar learning curve. Calendly has a more straightforward interface, and Acuity is an easily customizable and useable platform.
Acuity Features Calendly Doesn't Have
Facility scheduling
‌Multi-location
‌Customizable forms and fields
‌Client management
Client database
‌Payment processing (as an in-app feature)
Billing and invoicing
Accounting integration
Calendly Features Acuity Doesn't Have
Real-time notifications
Meeting management
Knowledge base management
Email alerts
‌Collaboration tools
‌‌Activity tracking
‌Activity dashboard
‌Access controls and user permissions
Calendly vs. Acuity: Ideal Users
Both of these appointment request systems are business-oriented websites. And both are for people looking for a less time-consuming way to schedule meetings.
If you don't want to spend valuable hours contacting each client to set appointments, either Calendly or Acuity is for you. These apps make group scheduling and organizing meetings straightforward.
They both take care of tedious tasks by creating a unified schedule for you and your clients and displaying time slots convenient for you. But who benefits the most from each system?
Calendly's Primary Users
This appointment request system is perfect for companies with clients who need to book appointments. But it is beneficial for anyone who needs scheduling software.
It also works well for small businesses wanting to integrate other tools, like Zapier.
Fewer back-and-forth calls, emails, and missed connections simplify the scheduling process. It is ideal for:
Small businesses
Enterprise clients with over 1,000 users
Single users
Small brands and new companies need a simple scheduling system without a lot of bells and whistles but with enough features to be practical. And that is where Calendly shines.
Acuity Online Appointment Scheduling Tool's Primary User
Do you want to replace your current admin systems with a single cloud-based tool that goes beyond automated booking? If yes, you're an ideal Acuity user.
Acuity is more of a personal assistant than a traditional appointment management tool. It goes beyond scheduling by offering tools for customer care and processing online payments.
This powerhouse software solution is best suited for larger companies handling numerous functions. Acuity also offers open API support for even greater customization.
Established brands and larger organizations need a total administration management solution. And that is where Acuity scheduling shines with appointment bookings and payment integration.
Acuity or Calendly: Customization Options
Both Calendly and Acuity let you customize your branding and templates within the platform.
Acuity's Customization Options
Instead of a sharable user link, Acuity shows your event calendar to all who have access to the system via:
Your company website
Email
Social networks
The calendar information is continually refreshed, with similar appointment rules to Calendly's.
You don't need additional plug-ins when using Acuity, and you can use its open API supports to customize its features.
Calendly's Customization Options
Like Microsoft Outlook's web version, Calendly lets you edit and share calendar information. You receive a unique URL for your meeting; then, you decide who can access this URL.
With Calendly, you can also establish rules for scheduling meetings according to your preferences. For instance, you can prohibit anyone from creating last-minute meetings. You can also set a maximum number of appointments per day.
Conclusion on choosing Acuity or Calendly
Now that you know what each app offers, what will be your final decision? Be sure to choose according to your priorities and scheduling needs.
Get an even better app to use
Staying organized has never been easier.
You can now manage your business and grow your brand with a single, powerful software that keeps all of your appointments in line, your clients organized and your business booming.
Trafft is perfect for business owners who need to streamline their booking experience both for their staff and their clients.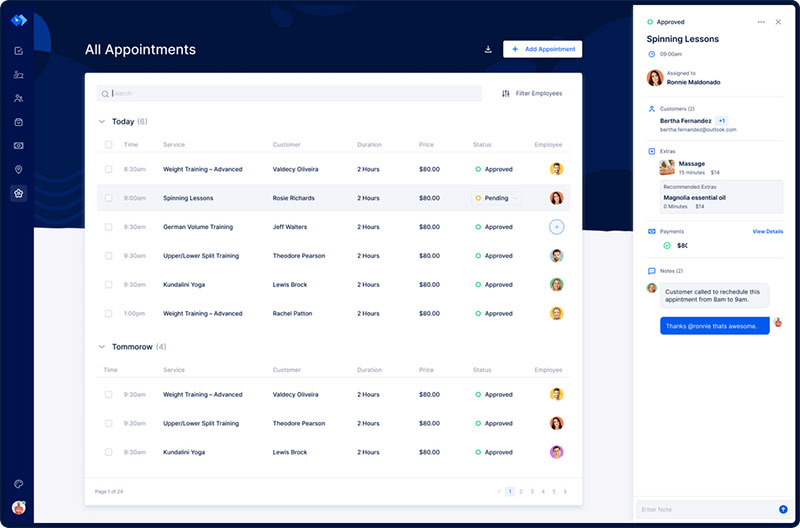 Trafft handles everything for you, even sending automated email or SMS reminders to your clients. No-shows? Not anymore!
The Trafft booking software adapts to different industries for a blissful online booking experience and employee management.
Want to know more? Check out Trafft's awesome features to see what you are missing.
If you enjoyed reading this article about Acuity or Calendly, you should read this one on Calendly vs Microsoft Bookings.
We also wrote about a few related subjects like Youcanbook.me reviews, Findtime vs Calendly, Glofox reviews, Picktime reviews, Picktime vs Clendly, and therapy scheduling software.