You are looking for the best coaching apps, and there's a good deal of apps here that will help you with your needs. You can use these as life coaching apps, for wellness coaching, business coaching, and a lot more.
The truth is that in the business coaching niche, a proactive business framework and an automated system are required to streamline business processes and help clients reach their goals.
When choosing the right coaching app, a business coach must have a clear understanding of his clients and personal online needs.
This will help determine which coaching tools he or she needs. For every set of clients, a coach may need online scheduling software or client relationship capabilities.
This article will provide a list of the best coaching apps that will help business coaches build more professional, and stronger relationships with their clients.
The Best Coaching Apps to Improve Your Life
A quick summary of the coaching apps presented in this article:
Trafft
Amelia
MasterCoach
Satori
awarenow
Nudge Coach
The Curve
Pluma
Ascend
SimplePractice
PTSD Coach
Coachmetrix
CoachVantage
Coach Accountable
Coaching Loft
MBODY360
Vagaro
Remente
HoneyBook
Zoom
Coaches Console
You Can Book Me
Apollo
Loom
And now let's get into detail.
We recommend Trafft
Staying organized has never been easier.
You can now manage your business and grow your brand with a single, powerful software that keeps all of your appointments in line, your clients organized and your business booming.
Trafft is the perfect coaching scheduling software for business owners who need to streamline their booking experience both for their staff and their clients.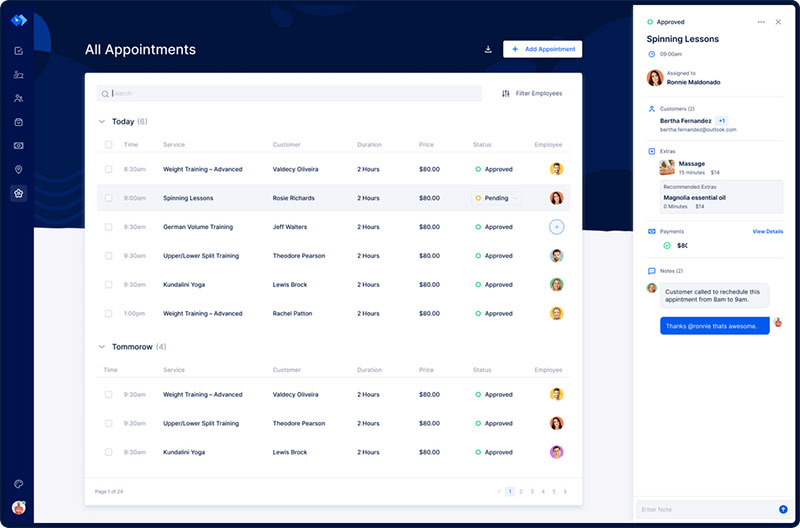 Trafft handles everything for you, even sending automated email or SMS reminders to your clients. No-shows? Not anymore!
The best part? The Trafft booking software adapts to different industries for a blissful online booking experience and employee management.
Want to know more? Check out Trafft's awesome features to see what you are missing.
Amelia
Amelia is a WordPress appointment and event booking plugin that is ideal for coaches who require scheduling in-person appointments on their services. This plugin automates the appointment booking process which helps reduce business costs and human errors. Amelia is very simple to use and install. You don't need to be a coding wizard to run this software.
It features an administrative dashboard that allows coaches to track and measure key performance indicators or KPI using data representation such as graphs, tables, and charts. It provides insights into work performance.
MasterCoach
The MasterCoach App offers a simple action tool that empowers performance by discovering and activating strengths, developing actions based on insights, and providing real-time updates on the client's progress. This coaching app works on both iOS and Android. It requires coaches to subscribe for 3.99 USD per month, while clients can get the app for free.
The app was built to help businesses strengthen employee and client engagement, and increase ROI. It enables coaches to assess their client's strengths, review their action steps, and connect with their clients to support.
The MasterCoach App teaches team leaders how to help their members identify their strengths and how to optimize them. This helps the managers and business owners turn into coaches for their employees.
Satori
Satori is one of the life coaching apps designed to help life coaches expand and streamline their coaching business, and create branded client experience. Satori provides life coaches with tools and other capabilities.
It integrates client management into one streamlined package. It allows coaches to sign on new clients, schedule individual and recurring sessions, offer payment plans, and optimize automated billing.
Satomi lets coaches leverage on its CRM or Customer Relationship Management system where coaches use the app to design and deploy their onboarding processes.
They can also use the life coaching app to share their session prompts and questionnaires with their clients. With its CRM system and innovative features such as scheduling tools and financial capabilities, Satomi makes a decent life coaching application for any type of coaching business.
awarenow
Awarenow is an integrated, brandable, and customizable business management software designed for coaching businesses of any scale. It helps boutique coaching agencies, corporate wellness companies, consulting firms, as well as independent coaches streamline all business operations.
This coaching management software lets coaches manage their clients, appointments, and payments in one centralized platform. awarenow also offers advanced features like online programs and challenges, journaling, webinars, and more. It also helps reduce no-shows and cancellations from clients through customizable messages and emails to remind them of their appointments.
Nudge Coach
Nudge Coach is a customizable online coaching platform designed to help coaches manage their clients and track their progress in-between sessions remotely. It originally launched as a customer-facing habit tracking app for personal needs, thus it became popular for having the most user-friendly client experience among other coaching apps.
At present, the Nudge Coach allows coaching teams and coaches from different industries and niches like health, life, and business, to optimize its full suite of client tracking and coaching tools to deliver their services. This lets the coaches identify their priorities, which helps them keep track of their client's progress through effective messaging.
The Curve
The Curve is an intuitive, cloud-based coaching software that measures the return on investment or ROI of coaching interventions for different types of business. It is perfect for individuals and organizations that are looking for clear evidence of ROI from both internal and external coaching programs as well as the application of proven coaching techniques.
The Curve was written in PHP 7, ExpressionEngine 5.0 and it also has a white label solution available for organizations that comes with internal coaches to measure effectiveness and apply coaching techniques.
It features customized online plans, monthly goal mapping, goal progress tracking, resource database, automated reminders, and 24/7 cloud-based access. It is also a free online accountability software that uses progress mapping and tracking to improve team accountability.
Pluma
Pluma offers scalable, executive-quality mobile coaching to global leaders from various industries worldwide such as retail, healthcare, financial services, technology, manufacturing, and life sciences.
Pluma coaches have ICF ACC credentials and at least a decade of professional experience. They are available through video sessions and unlimited messaging. Pluma is focused on developing emerging global leaders.
The coaching experience includes customized assessments and behavioral focus areas and metrics that are based on business organizational values and goals.
Ascend
Powered by weight loss application, Lose It!, Ascend is a life coaching software built for nutritionists. Ascend app provides powerful tools, data, and insights to keep track of the client's behavior and guide them towards their goals.
It has messaging features that enable life coaches to connect with their clients between appointments. This can be used for general check-in, giving comments on specific meals or messages of encouragement every workout which helps strengthen client communication.
SimplePractice
SimplePractice is a leading practice management software that is HIPAA-compliant and integrated with telehealth. It enables practitioners to conduct video appointments with clients including other key functionalities such as appointment scheduling, payment processing, and screen-sharing.
SimplePractice provides a mobile app-based experience for easier management and an intuitive web-based portal for clients. It streamlines all documentation needs in one centralized platform and simplifies payment processing using AutoPay and online credit card processing.
What makes SimplePractice from other coaching apps is that this telehealth suite enables practitioners to create, file, and monitor claims which makes it ideal for those coaching in the traditional healthcare niche. So, for example, if you are a PTSD coach working with veteran affairs, for example, this app will do wonders for you.
PTSD Coach
And since we're talking about PDSD coaching, there's an app, available both for Android and iOS, that helps veterans who have suffered from Posttraumatic Stress Disorder (PTSD).
This app provides its users info about PTSD, professional care, a self-assessment for PTSD, opportunities to find support, and tools that can help users manage the stresses of daily life with PTSD.
Coachmetrix
Coachmetrix is a cloud-based coaching software and leadership development tool built to help coaches assist their clients to achieve better business results. Coachmetrix has a coaching assessment tool that measures behavior change and leadership impact to quantify coaching ROI.
Coachmetrix uses ongoing pulse feedback to measure the client's behavioral changes. It generates reports and data-driven ROI to easily track their progress. It also helps coaches realign and re-purpose coaching resources to increase passive income with minimal effort.
CoachVantage
CoachVantage is a coaching app built for solo coaches and coaching teams. It features automated scheduling that lets coaches create events, set scheduling rules, book clients, and publish a booking page. It also helps streamline workflow, set goals and assignments, and sell coaching programs online.
CoachVantage helps coaches manage their contacts and client information in one centralized platform. The client profiles are accessible from desktop and mobile devices.
It also saves coaches from manually tracking and logging coaching time. It helps manage log sessions by tracking the completed coaching sessions. It also exports and sends a coaching log to ICF to acquire ICF certification.
Coach Accountable
CoachAccountable allows good coaches to do their work flawlessly and focus on giving expert advice to your clients.
Most coaches end up with this coaching app because they want to optimize their daily schedules better. While this sounds like something any other coaching app in here is doing, they also claim that they help you as a coach give your clients more for their money.
Coach Accountable is an inclusive coaching software that allows users to customize courses according to their branding to provide a more effective coaching experience for the clients. It features free customizable templates, emails, and courses. Coaches and clients can schedule their appointments online.
Coach Accountable has other features such as journaling, action items, metrics for tracking actions, a whiteboard for collaboration, session notes, file upload, and a stream for communication.
Coaching Loft
Coaching Loft is an intuitive coaching software that helps coaches improve their coaching practices to provide a coaching experience. Coaching Loft works on mobile devices, and it is used by tutors, mentors, trainers, and small and medium-sized companies. Coaches can also use the software to schedule appointments, deliver updates, and send reminders.
Coaching Loft features an Internal Appointment Scheduling system that keeps both coaches and clients updated with upcoming sessions. Moreover, it enables coaches to communicate with their clients and monitor their growth and progress.
MBODY360
Its owners are saying that MBODY360 is a complete health & wellness coaching platform that was specifically designed for practitioners to their clients in real-time for better results.
I don't know if it's the complete coaching platform, but it does a lot of things right.
With the HIPAA-compliant platform and mobile app, health practitioners have access to the following tools:
Complete lifestyle plans
Customize diet, supplements, exercise, meditation, and More
Improve engagement, tracking & compliance
Video & text chat with your clients
Individual & group coaching tools
Monitoring & communications
Health & fitness device integration
Real-time data that you can use for analyzing statistics
Vagaro
Vagaro is a HIPAA-compliant scheduling and management software that is ideal for businesses in the beauty and fitness industries. It features custom digital forms and waivers, point of sale or POS and credit card processing, online booking, customer tracking, and automated email marketing.
Coaches are allowed to require a payment deposit when booking appointments. Vagaro integrates with major online platforms like Facebook and Yelp, and online payroll and accounting services like Gusto, Xero, and QuickBooks.
Vagaro also features hundreds of free custom templates for creating websites that can be integrated with website builders like WordPress, Wix, and Squarespace through a plugin or widget.
Remente
Remente calls itself the mental wellbeing platform for individuals and businesses.
Is this the wellness coaching option for you?
You should give it a try and see if this is a good fit for you and your coaching clients.
HoneyBook
HoneyBook is a cloud-based CRM solution that helps both small businesses and freelancers to streamline business processes, from communication with clients to payments and booking. The platform enables users to manage tasks and projects, book clients, deliver invoices, sign agreements online, and manage payments. It has integrations with productivity tools such as QuickBooks, Zapier, Google Calendar, and Gmail.
Coaches can view and keep track of a project's progress through HoneyBook's task management functionalities. They can also save their invoices, contracts, and other pertinent documents in one centralized repository. HoneyBook also features automated appointment requests for swift client response and custom branded templates and notifications for follow-ups.
Zoom
Zoom has become a popular choice among coaches for meeting solutions, video recordings, and hosting live sessions. Zoom has video conferencing capabilities similar to Skype and Google Hangouts however, Zoom is preferred for its simplicity and easier way to host a meeting.
Zoom is ideal for holding group coaching programs. It simplifies video conferencing and messaging across any device. It has unparalleled usability, thanks to its meeting capabilities that enable participants to start and join meetings anytime, anywhere. It also has robust security features such as encryption and password protection to avoid disruptions during meetings.
Coaches Console
The Coaches Console is a coaching management software used by thousands of coaches to manage practice sessions. It is also used by nutritionists, wellness providers, and health consultants.
It is an integrated application that organizes email marketing, online scheduling, private client portal, client management, including back-end tasks. It also automates billing and covers auto-responders, notifications, and alerts of events and practice sessions.
The Coaches Console also has client forms and documentation which can be uploaded for free. It provides access to around 15 client forms and other information for successful documentation.
You Can Book Me
You Can Book Me is an online scheduling platform ideal for coaching businesses with multiple team members.
Almost similar to Calendly, You Can Book Me lets users sync their scheduling availability to their event calendars to reschedule a personal event, and avoid having double bookings. It quickly converts different time zones, which is perfect for coaches with clients from different countries.
Apollo
Apollo provides an integrated solution for online work processes which helps organize your coaching practices. It allows coaches to generate invoices, create contracts, and automatically schedule appointments on their website.
It has a very simple to use interface and it also comes with ready-made templates for building websites and custom content management features that are completely scalable. It enables coaches to customize their images, create their own site pages and search filters.
Apollo also provides automatic updates and one contact database for all the tools.
Loom
Loom is a free and cloud-based video recording software that allows coaches to send video messages to clients in between sessions. Coaches can either share their desktop screen through its screen-sharing capabilities or record a video message using a preferred camera device. They can also share their screen while recording themselves.
Another key advantage of Loom is that video messages and recordings are hosted online and saved in cloud storage which helps save extra memory on a computer or other devices.
Ending thoughts on these best coaching apps
No matter where you are in the coaching business, whether you're beginning to expand your client reach or about to scale up your business, it is still important to equip yourself with the right digital tools to help you establish a strong client relationship.
One of the key pillars of a successful coaching practice program is maintaining good communication between coaches and clients as it improves accountability and actions. These coaching tools are essential for coaches to maintain a good connection with clients.
These are more effective than the traditional paper filing system. It provides a cost-effective way for clients to manage and improve not only their businesses but also their well-being. Make sure to always consider your client's needs and goals when choosing the right coaching apps.
If you enjoyed reading this article about coaching apps, you should check out this one about life coaching contracts.
We also wrote about a few similar subjects like life coaching intake forms, types of life coaching, coaching vs consulting, personality coaching, best coaching questions, transformational life coaching, life coach mission statement, and life coaching niches. 
And since we're talking about coaching topics, make sure to check out these on how to get clients as a life coach, how to make money as a life coach, the coaching business model, being a time management coach, and creating an efficient coaching schedule.