Performance coaching is a remarkably useful practice that helps improve an employee's performance and promotes professional development. It's an opportunity for both employees and leadership to take their skills and performance to the next level.
The premise is simple: set aside time to analyze performance management to see what people are missing. It encourages improvement, changes, and connections.
With this technique, leaders focus more on others, managers connect with workers' issues, and employees find continuous improvement that sustains effectiveness. The coaching process is completely changed, yet still effective.
But how does one start an effective employee performance coaching program? This article is here to help. Keep reading to learn what is performance coaching, examples of it in action, and tips for operating a performance coaching program.
What Is Performance Coaching?
The performance coaching process is characterized by helping individual employees find their strengths, weaknesses, and finding ways to improve.
Usually, in business contexts, performance coaching is a one-on-one process involving an experienced teacher coaching a manager or executive. This often includes sessions regarding wide issues such as motivation, values, and decision-making.
During a session, supervisors use their coaching skills to evaluate and address employees' weak points and find ways to strengthen them. This is usually done by exposing the employee to diverse experiences to gain the necessary skills.
Employees and supervisors often work collaboratively when planning to create a more personalized performance coaching experience.
Although this form of coaching is usually done individually, it could include using other people within the company. For example, if you would like to encourage leadership development, you could plan a meeting with a leader in your company.
Performance coaches aim to take their students from competence to mastery. This is why often these coaches are called high-performance coaches. It's more than just getting the job done; it's about being great at it.
‍How Is Performance Coaching Different from Life or Business Coaching?
Performance coaching and life coaching are different, even though there are some similarities. In the end, it's all still coaching.
Performance coaching and life coaching are both focused on one goal, helping you. The main difference is that life coaching is a more holistic discipline, with psychological or spiritual issues being the main problem in one's life. Life coaches will often focus on things in your career, relationships, and day-to-day life.
There are also many similarities between performance coaching and business coaching. Both of these practices improve business performance through coaching sessions, although they do differ in purpose and focus.
Business coaches focus on entire business growth, taking small start-up businesses to corporation levels. They focus on helping business owners develop a vision of their company and start working towards that goal.
Performance coaches, on the other hand, focus on the individual. They help clients with personal performance goals and help them overcome hardships to reach those goals.
The Benefits of Performance Coaching
Performance coaching gives clients a competitive edge and helps improve their performance by developing abilities. But that's not all, The following are some of the other benefits of this coaching program.
It Provides Support to Employees
Performance coaching allows managers to better support their employees by providing resources to reach their goals. It also encourages communication between managers and employees with questions and concerns.
Delivery is Flexible
A coaching culture facilitates flexibility because coaching can be delivered in several different ways. The perfect environment can be created for the individual needs of employees.
Coaching could be delivered during the flow of work, which lets employees continue work as they learn. Usually, with this form of teaching, coaches will provide real-time support and feedback during specific tasks or projects. This helps employees apply what they learn immediately, instead of weeks after they learn it.
On the other hand, coaching can also be delivered in dedicated sessions. Employees can step away from work and focus on the ongoing process of development. This can be a great option for areas of expertise that require more time to learn.
It's Honest
A performance coach needs to give honest feedback and constructive criticism. Without guidance regarding how something is done wrong, how would employees know when they did something right? Critique is not meant to simply harm. It's good!
Performance coaches (or any effective manager for that matter) should assure employees that criticism is only given when there is a good reason. Using constructive feedback will help create an honest environment. This will eventually give employees opportunities to be honest with, which will help them become better leaders.
It Increases Employee Self-Esteem
Performance coaching creates environments where employees feel respected and needed. Even though the performance coach is likely a manager, they work alongside employees to further improve performance.
Instead of training employees and leaving them to figure the rest out (or worse, never receive training), employees are continually guided by the coach. This is either done by working together or through consistent check-ins.
Coaching helps employees to feel valued. They will in turn be more willing to share responsibility, adapt well to change, and confront challenges.
It Provides Personal, Tailored Advice
Performance coaching enables employees to identify their needs and creates a personally tailored development plan to address them. This individual attention is one of the greatest strengths of coaching over other development methods like webinars and workshops.
Although they may be more condensed, webinars and workshops often provide general information that is rarely relevant to the individual. Coaching, on the other hand, is very personal and will often include entirely relevant material.
It's Not Just for "Problem" Employees
Performance coaching helps everyone, not just those scraping by. Often during coaching programs, much of the experience is tailored toward those struggling, and it often leaves out effective contributors who want to improve. Done well, performance coaching helps all employees improve continuously.
Whatever time managers spend helping their best employees is time well spent. Coaching them will have great results for the entire business.
It Increases Engagement and Strengthens Retention Rates
Performance coaching increases employee engagement by continuously providing feedback and help.
This helps employees stay interested and present. When employees are engaged in the coaching process, they are more likely to be productive and produce higher-quality work.
It Builds Relationships Between Managers and Employees
Performance coaching is all about relationships. It is based on managers learning more about individual employees through one-on-one meetings.
Personal meetings build trust between employees and managers because it creates transparent communication channels.
Your success story starts with a scheduling app to streamline your calendar
Staying organized has never been easier.
You can now manage your business and grow your brand with a single, powerful software that keeps all of your appointments in line, your clients organized and your business booming.
Trafft is a coaching management platform that is perfect for coaches who need to streamline their booking experience both for their staff and their clients.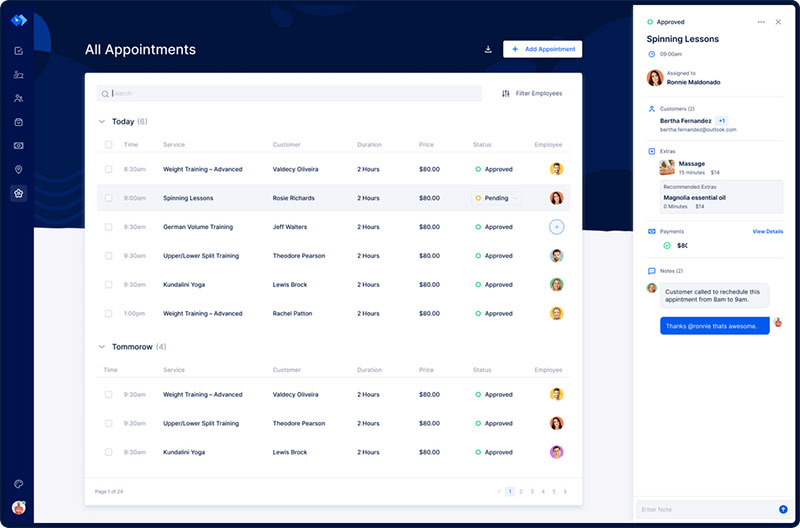 Trafft handles everything for you, even sending automated email or SMS reminders to your clients. No-shows? Not anymore!
The Trafft booking software adapts to different industries for a blissful online booking experience and employee management.
Want to know more? Check out Trafft's awesome features to see what you are missing.
What Does Performance Coaching Improve?
Performance coaching helps employees develop a wide range of skills. From productivity to management to mindset, performance coaching can help.
The following are some examples of what performance coaching can help with.
Self-Knowledge
Self-awareness is crucial for career success, and performance coaches can help drive that self-awareness through continuous feedback. It also helps employees better understand their goals.
This knowledge is further improved through intrapersonal communication (the ability to communicate with yourself using thoughts).
Intrapersonal communication creates a self-image and often helps during times of adversity. Whether it's giving yourself a pep-talk or just getting through a difficult day, you need to be able to rely on yourself, not only others.
Navigating Career Change Points
We all go through career changes at some point in our lives, and we often need to adapt to fit those roles. When people are promoted to manager they are not necessarily seen as a leader. Coaching can help employees navigate through these changes successfully.
Addressing Negative Emotions or Behaviors
Performance coaching challenges employees, which prevents them from being overly comfortable in their positions. The right challenge makes a positive difference in their performance and encourages employees to be better contributors.
Coaching can help eliminate roadblocks such as
Fear
Feelings of inferiority
Hesitancy
Guilt
And it can be a much-needed reality check on adverse traits and behaviors like
Idleness
Narcissism
Boorishness
Inability to listen to others
Continuous Improvement
This is where performance consultants shine. Performance coaching is all about maximizing employees' potentials, instead of teaching them one particular skill.
Creativity
Although coming up with innovative ideas may seem like a genetic skill, it actually can be taught.
Any leaders that need a more inventive mindset can use coaches to open up their minds to new ideas. They do this by finding new ways to combine, disassemble, reconstruct, and extrapolate old ideas to find room for new ones.
People Management
Managers often receive coaching to learn more about leadership. There are many topics that they can learn about, such as how to give feedback or develop ideas.
Coaches do this by asking the right questions to encourage managers to think about the end goal of managing people.
They can also help them define their leadership style, which can help them have a greater presence in the organization.
Public Speaking
Many people fear public speaking more than death, but that can be solved.
Many people face this fear by receiving coaching regarding the matter, often focusing on overcoming stage fright or learning to create a compelling story.
Tips for Performance Coaches
Now that you have learned what performance coaching is, and what benefits it includes, you need to learn how to be a performance coach. Here are some important tips.
Remember, coaching is about asking, not telling. At each stage, try to resist the urge to tell your employees what to do. Instead, try to focus on asking the right questions, listening to their answers, and challenging them to be better.
Demonstrate Your Belief in Your Employee's Ability to Improve
Make sure that you demonstrate your confidence in an employee's abilities to solve a problem. You may think it unnecessary, but often untold confidence goes unnoticed.
Instead, try inviting the employee to work with you on a project, and show your confidence during this project. By implementing this strategy you will improve the employee's contributions and engagement in future projects.
Agree on a Written Action Plan
Often to acquire buy-ins and commitment, supervisors and employees need to work together to create an action plan. This plan should include important topics like performance goals and ways to reach those goals.
Find Employee Motivations
Employees need to have motivations to succeed and learning what motivates employees is part of your job.
You can do this by asking open-ended questions and using visualization exercises. Before immediately fixing or changing things, gain insight into your employees. Your employees will need proper motivation before committing to compliance.
Build a Coaching Culture
One of the most important elements of a successful coaching program is a strong coaching culture within an organization.
This means you have to create an environment where employees want to learn and help others. You can do this by promoting progressive learning. Progressive learning will give employees the motivation to learn and improve even when it isn't necessary.
Describe the Problem to the Employee.
The coach's main job is to find out what is lowering productivity by understanding employees better.
Then, when you have discovered the problem or behavior causing problems, explain it to the employee. You can do this by using descriptions of the behavior with examples so that both you and the employee understand the problem well.
Develop Trust
In coaching, trust is key. Without trust, a supervisor will not believe an employee's stories, and employees won't want to share their struggles. This is why a mutual interest for the success of both parties is critical. You can also start building trust through open, two-way feedback and respect.
Ask Guiding Questions
Guiding questions are a series of questions that lead individuals to explore different solutions using their problem-solving skills. Guiding questions can also help you teach, especially when you are leading an employee to an important point.
Collect 360 Feedback
Feedback is a great way of identifying where you can improve as a coach. You can ask for feedback from your employees during your meetings, or you could use surveys.
Either way, the feedback will give you new ideas to improve your coaching processes, refine your work relationships, and communicate performance results.
Monitor Performance Regularly
Last of all, try to monitor employees' performance regularly to discern the impact of your coaching. Try to measure progress against each employees' specific goals. Each employee is different; therefore, each will have different ways of measuring their success.
Remember, performance management is an ongoing process. This means that you will need to continue to nurture dialogue between yourself and your employees. You also can inspire your employees to manage their performance by regularly conducting deep self-appraisals. This can greatly help motivation and will likely be a skill they will use throughout their careers.
FAQs about performance coaching
1. What is performance coaching, and how can it help me achieve my goals?
The process of assisting individuals or teams in reaching their objectives and enhancing their performance is known as performance coaching.
It entails establishing SMART (specific, measurable, attainable, relevant, and time-bound) goals, spotting potential obstacles, and coming up with solutions to get around them.
A performance coach helps people or teams achieve their goals by offering feedback, support, and responsibility.
You can establish a strategy for success, clarify your goals, and identify areas that need development by working with a performance coach.
2. How can I find a good performance coach?
Doing research to find coaches who specialize in your field of interest or sector is necessary to find a qualified performance coach.
To find coaches, you can conduct an online search, request referrals from coworkers, or go to networking events. It's crucial to interview prospective trainers and find out about their training, coaching style, and prior achievements.
Choose a coach whose coaching approach fits your requirements and preferences and who has expertise working with people or teams in circumstances similar to yours.
3. How do performance coaches measure success?
Progress toward the objectives that were established at the beginning of the coaching engagement is tracked by performance coaches to determine success.
They could combine qualitative and quantitative methods, such as measuring performance indicators, running tests or surveys, and getting input from stakeholders or clients. Together, the coach and client create specific performance standards and track their advancement on a regular basis.
The client's better leadership abilities, work-life balance, or increased self-awareness may also be used to gauge success.
4. What are some common challenges that performance coaching can help with?
Performance coaching may help with a range of issues, including raising self-confidence, developing leadership abilities, overcoming impostor syndrome, managing stress and burnout, and improving communication skills.
The goal of coaching is to help clients recognize their areas for growth and create solutions to their problems.
The identification of blind spots or limiting beliefs that might be preventing clients from realizing their full potential is another benefit of performance coaching.
5. How long does it typically take to see results from performance coaching?
Depending on the objectives of the person or team, their level of dedication, and the complexity of the problems they are trying to solve, the time it takes to see benefits from performance coaching might vary.
While some clients might benefit from continued guidance over several months, others might realize benefits after just a few coaching sessions.
Coaches collaborate with clients to create a timetable for accomplishing objectives and then frequently evaluate progress toward these benchmarks. Performance coaching's success ultimately depends on the client's work and dedication.
6. What are some of the key skills that a performance coach should possess?
A performance coach should have a number of important abilities, including active listening, good communication, empathy, adaptability, creativity, and the capacity for constructive criticism.
Establishing a rapport with their clients, asking open-ended questions, and encouraging them to explore their thoughts and feelings are all skills that coaches should possess.
Also, they should be able to modify their coaching style to accommodate the particular requirements and preferences of each client and give customers useful feedback that advances them toward their objectives.
7. Can performance coaching help me develop my leadership skills?
Absolutely, performance coaching may help you improve your leadership abilities. Individuals can work with coaches to determine their leadership style, assets, and areas for development.
They can assist customers in acquiring the abilities required to lead teams, interact with stakeholders, and make strategic decisions.
Also, individuals who receive performance coaching can improve their emotional intelligence, self-awareness, and capacity for persuasion and motivation.
8. How does performance coaching differ from traditional mentoring or counseling?
Traditional mentoring or counseling differs from performance coaching in a number of ways.
While coaching focuses on assisting individuals or teams in achieving specific goals and enhancing performance, mentoring often entails an experienced person sharing their knowledge and expertise with a less experienced person.
Contrarily, counseling usually aims to assist people in addressing psychological or emotional problems.
While understanding fundamental beliefs or thought patterns may be part of coaching, the emphasis is on developing tangible measures to attain particular results rather than examining the past or one's feelings.
While counseling may place a greater emphasis on healing emotional scars from the past or addressing current traumas, coaching is often more goal- and future-focused.
9. What can I expect during a typical performance coaching session?
Clients may anticipate working with their coach to define specific goals, spot potential roadblocks, and come up with solutions throughout a performance coaching session.
In order to help the client move closer to their goals, the coach may use open-ended questions to allow the client to explore their thoughts and feelings. The coach may also offer feedback and guidance.
To help the client stay on track and achieve their goals, the coach may also offer accountability and support. Depending on the needs of the client, coaching sessions may be held in person or remotely, and their frequency and length may change.
10. Is performance coaching only for individuals, or can it be used for teams or organizations as well?
Teams, organizations, and individuals can all benefit from performance coaching. Teams and organizations can benefit from coaching to increase collaboration, boost communication, and develop leadership abilities.
In order to help team members develop the skills necessary to be successful team members, coaches may either work with teams to define shared goals and devise tactics to attain these goals or they may offer individual coaching to team members.
Additionally, coaches can collaborate with businesses to design plans that will increase productivity, boost staff morale, and promote employee engagement.
How Will You Use Performance Coaching?
Performance coaching helps everyone. It helps underperforming employees, effective employees, and even managers. It's a powerful tool, but just like all tools, it needs an effective wielder.
Remember, the goal of performance coaching is not to make someone feel bad, nor is it to showcase the knowledge of a manager or HR professional. The goal of performance coaching is to help employees improve their work and solve their performance problems.
Employees that respond to coaching well will not only improve their performance but will also become valued contributors. What could be more rewarding than that?
If you enjoyed reading this article about performance coaching, you should read these as well: