Google "life coaching services" and the search engine throws more than one million results at you. Life coaches may be left wondering, how can I be heard above all the noise in a growing industry full of potential? You need to focus and amplify your coaching business by directing your skill set and knowledge toward a niche. Identifying the right one for you is like stumbling across the spot marked X on a treasure map.
Life coaching is, in fact, a general umbrella term; understanding this will help you to differentiate between the various types of life coaching possibilities. As a life coach, how do you decide which niche you're most well-suited to? Take into account your field of experience and knowledge and combine it with what you're passionate about. You will discover the ideal coaching business to which to give your all.
It's also important to invest in a niche that not only interests you but allows you to make a difference; after all, it's not just about profits. Your clients will be drawn to a business with a clear objective that they can count on.
Take some inspiration from the types of life coaching listed below. As you read through it, consider where your experience and passions as a life coach are most relevant.
Types of Life Coaches
A life coach is someone who aims to help people revamp and enhance their day-to-day living. In fact, the title 'life coach' is an all-encompassing category for a variety of outstanding coaching specialties. Below are some types of life coaches that make use of similar skill sets.
Accountability Coach
If you welcome the importance of structure and aim to get the job done, then accountability coaching might just be for you. You would help people to reach and stick to their goals.
Your strengths should include being able to assist people to identify and conquer their limiting beliefs and overcome procrastination. If people are feeling overwhelmed, an accountability coach is able to encourage an increase in productivity. Whatever the target, accountability coaches help them to hit the bullseye.
Business Coach
A business coach provides the know-how and tools that an entrepreneur or company needs for peak performance. Coaches enable their clients to define their vision and mission. They ensure goals are clearly set and strategies are developed to accomplish their mission.
Business coaching is a worthwhile investment if you are looking to get involved in a money-making niche. You will need a good sense of entrepreneurship to work in this popular type of life coaching. And you will find that there is never a shortage of clients as a business coach.
Small Business Coaches
Small business coaching concerns itself with the individual rather than the company. These coaches face one-of-a-kind challenges as opposed to bigger companies that focus on company culture, operation, and productivity.
Self-starters are usually at the center of the many small businesses out there. You will often find that their professional lives converge with their personal life. This leads to health issues when, for example, problems arise with cash flow or specific business procedures. Or they could be dealing with emotional concerns that make it difficult to focus on the business. There is no doubt that personal issues can have a significant effect on the efficiency of a company.
It is the objective of the small business coach to figure out the problem and devise the solution. They not only assist with technical issues but ensure the businesses owners don't tire themselves out.
Leadership Executive coaches
Executive coaching looks to implement and enhance leadership skills in top-level leaders (C-suite executives) in an organization. Executives are coached to have success in carrying out their corporate roles and positively influencing the company and its employees.
These life coaches look to build a spirit of teamwork, introduce new ideas, and manage change within the company. Their clients learn how to improve work relations with others, motivating them to reach company and personal goals.
Career Coaches
When facing decisions, such as career changes or retirement, a career coach assists clients in finding well-suited solutions. They can also help someone looking to progress in their chosen career or business. If someone is struggling to utilize their talents and interests in the job market, a career coach helps them navigate those waters.
A good life coach in this niche gets their client that pay raise or dream job.
Productivity Coaching
Journals and planners are just some of the tools that productivity coaches use to help people make the best use of their time.
They aid their clients to manage time, procrastinate less, focus their energy, reduce stress related to deadlines, have better focus and clarity, and support them in realizing their productivity goals.
Work-Life Balance Coach
Most people today are at risk of burnout, struggle to manage what little time they have, and are overworked. A work-life balance coach steps in to assist them in prioritizing what is most important and how to use the time they have to fully benefit themselves.
Their clients need a way of life that is healthy and sustainable. These types of life coaches offer practical advice, helping their clients to regain their professional and personal balance.
Team Coaching
A strong sense of teamwork is a firm foundation on which a company lies; however, it doesn't come naturally or easily.
To build a high-performance team, a team coach will determine the team's purpose, help them set goals, define their roles and responsibilities, and resolve personality clashes that inevitably occur.
Effective team coaching boosts the company's performance by guiding and mentoring the team.
Creativity Coach
Creativity coaches help their clients to understand and develop their creative thinking and skills. The process can involve noting your goals, learning to express emotion through art, and removing obstacles standing in the way of your creativity.
A creativity coach helps to turn a creative vision into reality.
Financial Coaches
A financial coach aims to change their client's views and habits in relation to money.
If you have a way with money, there are many out there who could benefit from your practical advice. From saving for retirement or an emergency to paying off their debt, people need help in setting and sticking to their financial goals, and a life coach that knows how is in great demand.
Christian Life Coach
Support from a fellow believer is invaluable to a person looking for guidance in their religious beliefs.
Life coaching in this area was developed to help people do God's will and remain focused on their Christian life goals. Naturally, clients would want a life coach who shares similar beliefs.
Spiritual Coach
If you are looking for meaning in your life or want to start on a spiritual journey, look no further than spiritual coaching.
A client might be seeking a connection with a higher power or need help following the various teachings or ideas of a particular belief system. A life coach promotes prayer or meditation techniques to facilitate this. A coach may focus on a particular religion such as Judaism, Buddhism, or others.
Your success story starts with a scheduling app to streamline your calendar
Staying organized has never been easier.
You can now manage your business and grow your brand with a single, powerful software that keeps all of your appointments in line, your clients organized and your business booming.
Trafft is a life coach software that is perfect for coaches who need to streamline their booking experience both for their staff and their clients.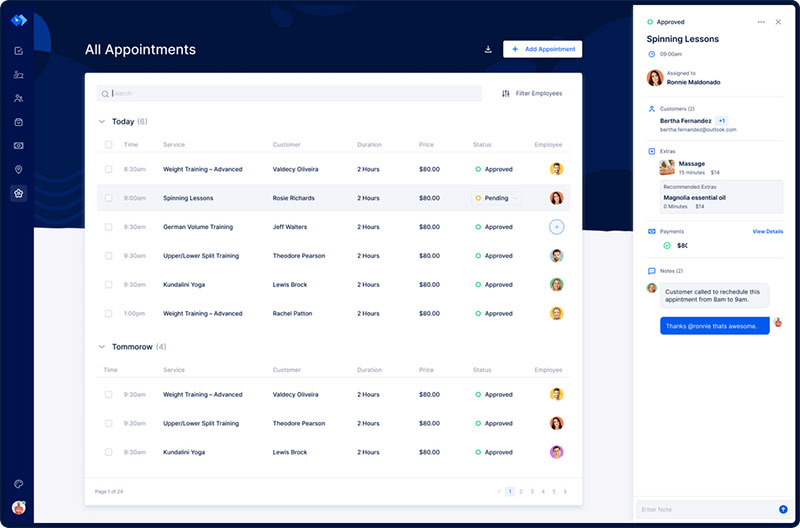 Trafft handles everything for you, even sending automated email or SMS reminders to your clients. No-shows? Not anymore!
The Trafft booking software adapts to different industries for a blissful online booking experience and employee management.
Want to know more? Check out Trafft's awesome features to see what you are missing.
Mindfulness Coaching
A mindfulness coach will use breathing, mental exercises, and meditation techniques to help people reduce stress and anxiety, cope with depression, and become more self-aware.
These life coaches help their clients to pinpoint and overcome bumps on the road to well-being.
Family and Relationship Coaches
Sometimes communication between family members and couples can be difficult. A life coach that specializes in this field intervenes to help families navigate potential minefields.
A family coach is able to open up communication between family members and help with conflict resolution. Relationship coaching works with people who want to improve their chances of finding the right partner or understanding a history of failed relationships.
These types of life coaching niches are suited to empathetic people who like problem-solving.
Dating Coach
Dating coaches work along with their clients to help them clearly define their relationship goals, work through any issues, and address obstacles that have frustrated their dating efforts.
A dating coach takes on the role of a counselor, assisting the client in creating an effective action plan.
Sex Coach
A sex coach creates a comfortable space free from judgment where clients can talk about any concerns or stigmas related to sex.
From performance anxiety to healthy sexual expression to traumatic events, a sex coach will help clients work through such issues with care and knowledge (including anatomy and the science behind desire and satisfaction).
Parenting Coaching
Parenthood is a complicated territory, and a life coach with the skills to help navigate through it successfully is invaluable.
They help both new and experienced parents to become the best parents they can by using their background knowledge and practical parenting techniques. The focus is firmly on the family as they help families who have relocated or who are looking to reconnect with siblings or other family members.
Divorce Coaches
The role of a divorce coach is not to be confused with a divorce lawyer. This life coach supplies ongoing and compassionate support to those going through a divorce.
They help clients to make suitable choices and support the client to manage the pain of a divorce and moving on in their life.
Mid-Life Crisis Coach
Often the butt of many a joke, those that go through a mid-life crisis and their loved ones find it anything but funny. A mid-life crisis coach looks at the issues that led to the situation and helps their client to deal with them honestly.
Life coaching in this particular niche means making what would otherwise be a turbulent experience smooth. This often involves learning to deal with empty nest syndrome, changes in a relationship, changes in a career, dating after divorce, or the loss of a spouse in death.
Personal Development Coaches
Personal Development Coaching aims to build confidence and promote self-growth. A coach encourages a client to create self-awareness, set goals, and confront differing perspectives.
When a coach succeeds a person grows in their personal development by moving out of their comfort zone and breaking down barriers. When life gives us lemons, a personal development coach can help us turn it into the best lemonade by evolving the self in an ever-changing world.
Empowerment Coach
Most of us want to feel content, confident and solid. We want to enforce healthy personal boundaries. There are many life experiences that can deal a powerful blow to our contentment and confidence, like abusive relationships, hostile family experiences, bullies, and narcissists, to name a few.
An empowerment coach purposes to build up their client's confidence. A coach helps clients by teaching them to establish boundaries, be confident in their skin, and create action plans to gain the love and respect they deserve.
To empower someone is to give them the power to take control of their own lives; that is exactly what this particular life coach sets out to do.
Health and Wellness Coaching
A health coach helps their clients work through the challenges that prevent them from leading a healthier life. They provide guidance which enables clients to adapt healthier emotional and physical habits.
These life coaches provide necessary tips and motivation that encourage clients to lose weight, eat right, and get fit. At times, those involved in this coaching niche are certified trainers and nutritionists.
Although they are not a substitute for a qualified doctor, a health and wellness coach can help you work through such issues as overeating, poor nutrition, and yo-yo dieting.
Fitness Coach
A fitness coach supports persons struggling with their weight and fitness goals. They work to boost their clients' self-confidence and provide tools to build a healthy mind and body.
A life coach dedicated to fitness equips their clients with a specific set of skills that will enable them to adopt healthy habits.
Recovery Coaches
Life coaches within the specialty of recovery play a fundamental role in the lives of those fighting a battle with addiction.
Some may consider this an emotionally and mentally taxing niche in which to work, but it also happens to be one of the most personally rewarding.
A recovery coach equips their clients with healthy coping mechanisms as they try their best to live their lives free of addictive substances. This type of life coaching is for the thick-skinned and big-hearted.
Conflict Coach
A conflict coach uses the art of mediation and negotiation to help conflicting people or groups reach a resolution.
They can work with anyone, from corporations to couples, from small businesses to neighbors.
Transitional Coaches
Life is full of considerable and momentous changes. People experience a variety of shifts, whether it be an emotional break-up, graduating from university, having kids, going through menopause, or a career change, and they can leave people feeling lost or unsure..
A transitional life coach helps their clients build coping mechanisms so that they can put these transitional events into perspective. They support them as they learn to calm fears and find joy in life-changing events.
General Life Coaches
Sometimes people are just looking for support and direction for life in general. They don't have anything specific to fix or work on, but they need someone to guide them to make the most of life.
General life coaches are more than capable in assisting their clients in a variety of circumstances. They help clients stop self-destructive behaviors and create healthier habits. They help them transform into their most authentic and best self.
FAQs about the different types of life coaching
1. What is the difference between a career coach and a life coach?
Whether it's advancing within their present employment, making a career move, or starting their own business, a career coach is focused on assisting people in developing and achieving their career goals. A life coach, on the other hand, offers direction and assistance in a broader sense, assisting people in bettering different facets of their lives, including their relationships, health, and general well-being.
2. Can a wellness coach help me with weight loss goals?
By creating a personalized plan that incorporates a balanced diet, regular exercise, and stress management strategies, a wellness coach can undoubtedly assist you in reaching your weight loss objectives. To assist you in staying on track and implementing long-term lifestyle changes, they can offer continuing support and accountability.
3. How can a relationship coach help me improve my communication skills with my partner?
By pointing out any unfavorable habits or behaviors that might be contributing to tension in your relationship, a relationship coach can assist you in developing your communication skills. They can provide you tips and instruments to help you express yourself more clearly, convey your wants and feelings, and enhance the quality of your relationship as a whole.
4. What does a financial coach do and how can they help me manage my money better?
By designing a customized budget, lowering your debt, and developing a savings strategy, a financial coach may assist you in taking control of your finances. On a variety of financial subjects, including investing, retirement planning, and credit management, they can offer knowledge and advice.
5. What is the difference between a spiritual coach and a religious leader?
A spiritual coach focuses on assisting people in discovering their own special spiritual path and in developing a greater sense of purpose and meaning in their life.
A religious leader may offer spiritual coaching based on the teachings of their religion. To assist people in connecting with their inner selves and achieving a higher feeling of spiritual fulfillment, they may adopt practices like meditation, mindfulness, and visualization.
6. How can a productivity coach help me achieve more in less time?
By recognizing time-wasting behaviors and creating tactics to break them, a productivity coach can help you become more successful and efficient at work. They can offer advice and resources for time management, prioritizing tasks, and maintaining motivation and focus.
7. What is a confidence coach and can they help me overcome my insecurities?
Insecurities and self-doubt can be resolved with the aid of a confidence coach who can help you recognize limiting beliefs and self-talk. They can offer methods for boosting your self-assurance like visualization, encouraging words, and pushing aside doubts.
8. How can a mindfulness coach help me reduce stress and anxiety?
By teaching you methods to build awareness, such as meditation and breathing exercises, a mindfulness coach can assist you in reducing stress and anxiety. Also, they can provide you with tips on how to apply mindfulness in your daily life, such as mindful eating and mindful conversation.
9. What does a parenting coach do and can they help me with specific issues related to my children?
Parenting difficulties including discipline, communication, and child development are just a few of the many topics on which a parenting coach can offer advice and support. They may assist you in acquiring effective parenting techniques, enhancing your bond with your kids, and resolving sticky situations.
10. Can an executive coach help me advance in my career and become a better leader?
By offering feedback, direction, and support, an executive coach may assist you in enhancing your leadership abilities and advancing in your career.
You can use them to establish a leadership style that is consistent with your values, identify and remove obstacles to success, and improve your communication and teamwork abilities.
What Types of Life Coaching Are the Most Popular?
Life coaches seem to be in demand more than ever. Maybe it's the complexity and business of life that brings people to their doors, but a life coach can achieve success if they know their niche inside out.
Career coach, relationship coach, business coach, and health coach are just some of the more popular types of life coaching. If you have the skills, passion, and knowledge for any one of those fields, then you will have no problem building a loyal clientele.
Life has its unique challenges. We know that the solution to those problems is not a one-size-fits-all scenario. It can get complicated trying to figure out which profitable coaching niche you would like to pursue. Consider what talents and skills feed your passions, and you will be able to set yourself apart in the world of life coaching.
If you enjoyed reading this article about types of life coaching, you should check out this one about life coaching contracts.
We also wrote about a few similar subjects like life coaching intake forms, coaching apps, coaching vs consulting, personality coaching, best coaching questions, transformational life coaching, life coach mission statement, and life coaching niches. 
And since we're talking about coaching topics, make sure to check out these on how to get clients as a life coach, how to make money as a life coach, the coaching business model, being a time management coach, and creating an efficient coaching schedule.