Coaching is a multifaceted profession. On the one hand, a life coach knows how to be a caring, motivational professional intent on helping their clients. A life coach is also a professional who knows how to run their coaching business well.
One aspect of being a professional life coach involves knowing how to use service agreements well. In a service agreement, both parties agree on expectations and the client can learn what they need to know before they move forward.
Here are a few tips for those getting started with creating life coaching contracts. Having a good grasp of the basics will help you save time and headache down the road. In this article, you will also find a few coaching contract templates to help give you an idea for your own coaching contract.
What Is a Life Coaching Agreement Contract?
A life coaching contract is a binding legal document that outlines the terms, expectations, and scope of the services offered.
Most people don't like to read long legal documents and will usually skip to the end to sign without taking the time to read the whole thing. With that in mind, it is not necessary to create an elaborate, complicated coaching contract. A simple coaching agreement that is easy to read and understand would be most helpful to you and your clients.
A coaching contract protects you and your client by clearly defining the legal parameters and ground rules for your relationship. The contract should explain what the relationship entails, how the life coach will provide services, and expectations for each party. Having these details defined in the contract will protect both you and the client.
Why You Should Have a Life Coaching Contract
Having a well-written contract helps to clarify the process, the goals, and the plan of action for the coaching you are being hired to do. This also helps to make it clear what each party will be responsible for.
Here are some of the benefits of having a contract:
A life coaching agreement protects both parties.
A coaching contract provides legal protection for you and your client. It establishes rules, terms, and conditions, and protects your copyrights. It can also protect you legally when working with international clients.
A life coaching agreement creates respect for your work and your time.
Including details about payment terms in the contract lets the client know when and how to pay, and how much they owe. This makes it easier for you to receive payment because each party understands what is expected of them.
A life coaching contract outlines the scope of the project.
Without set limits, life coaches may find that the scope of the project changes throughout the coaching process. This is called "scope creep." Scope creep makes it difficult to finish projects on time, and makes it harder to get paid for the actual amount of work you did. Setting clear limits in a coaching contract helps you avoid scope creep because both parties agree on the amount of work in advance.
A life coach who is serious about their coaching business should take steps to protect their business right from the beginning. This way you save time, energy, and worry by having legally binding boundaries for your coaching business.
Coaching Contract Layout
The next question that arises might be what to include in a coaching contract. Here are a few things to consider:
Contact Data for You and Your Client
Each party needs a way to contact the other. Some contact details may include a phone number, an email address, and even a physical address. If you will hold phone sessions, the contract should be specific about which number the life coach should call for the session.
Introduction
The introduction sets the stage for the rest of the contract and should give a clear idea of what the rest of the contract includes. Right from the introduction, you should clearly state the purpose of the client's visits and the goals you want to reach with them.
The introduction should also make clear what the client is hiring you for. It should include what both parties agree should be the scope of the project. It should also include what the client expects from the relationship, and clarify what they need to do with the contract.
Scope of Services and Structure
The coaching contract should provide details about the exact services that the life coach will provide. It is also good to provide some details about the structure of the coaching plan and what the coach-client relationship should be.
A coaching contract should specify the total number of sessions you will provide. It should also state the setting for the coaching sessions. That means specifying whether you will hold sessions over the phone, over video conferencing, or if you will hold in-person sessions.
Responsibilities and Expectations
In life coaching contracts there should be no room for interpretation. Expectations for each party and their specific responsibilities should also be in the coaching contract.
The client responsibility clause needs to include exactly that: the client's responsibilities. It needs to let the client know how much work they have to put in if they want to see results.
Disclaimer
This section of the contract releases life coaches from responsibility if the client doesn't get the results they were hoping for. Additionally, it includes a description of services the life coach will not perform as part of this program. It should also state any promises about the service the life coach is not willing to make.
This absolves the life coach from responsibility for the client's feelings and behavior.
Payment
This section includes details of the payment terms. It should outline how much the client should pay and when they must pay for the services they receive.
This section should also include details about what will happen if the client fails to pay according to the agreement. This part should be easy for the client to find and understand.
Here is a check-off list of what to include in this section:
How much total payment is due
What each payment covers
How the payment plan is structured
Due dates for each payment
Late fees and penalty charges
Refund Policy
You may run into a client who wants their money back. When this happens, it is important to have a refund policy already in place. You should also include details about when and how you offer refunds. A refund policy will protect you against giving refunds to people you have already done work for.
Rescheduling Policy
You should also lay out a plan for when a client needs to reschedule. You should have clear rules in place for what to do for rescheduled or missed appointments as well as a cancellation policy.
Confidentiality
The confidentiality clause will help a client feel more comfortable sharing confidential information with you. This section should detail:
Rules about storage of personal information
Rules about use of personal information
Details about any third-party involvement
Termination
Life can be unpredictable, both for life coaches and their clients. Because of this, it is important to include a cancellation policy in life coaching contracts. This benefits both parties. If the client cancels, the life coach doesn't lose money over the missed appointment. If the coach has to cancel, the client is also protected.
Indemnity/Limitation of Liability
In case something goes really wrong during your collaboration with the client, this part of the contract gives you a measure of legal protection. It is an important part to include in any life coaching contract.
It's important to keep the language of your life coaching contract as simple as possible. Coaching agreements like these are principally for you and your client. You want the client to clearly understand what the client's responsibilities are versus what you are responsible for. And you want to be able to understand the coaching contract as well.
Your success story starts with a scheduling app to streamline your calendar
Staying organized has never been easier.
You can now manage your business and grow your brand with a single, powerful software that keeps all of your appointments in line, your clients organized and your business booming.
Trafft is a coaching software that is perfect for business owners who need to streamline their booking experience both for their staff and their clients.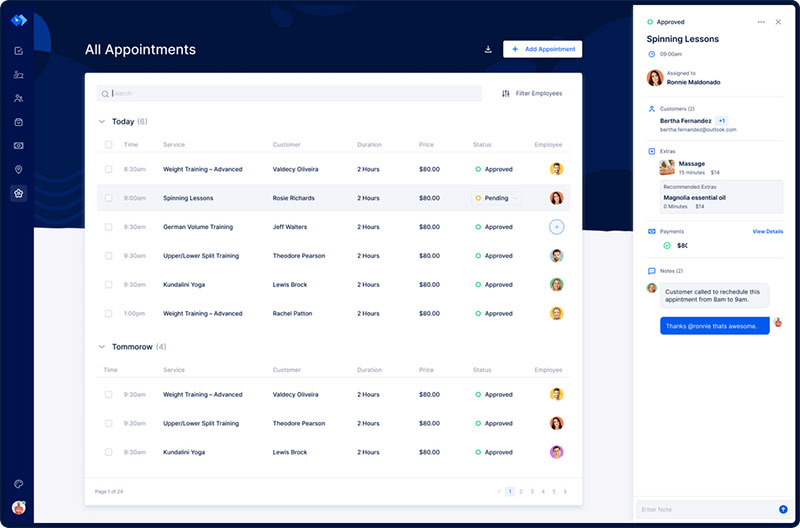 Trafft handles everything for you, even sending automated email or SMS reminders to your clients. No-shows? Not anymore!
The Trafft booking software adapts to different industries for a blissful online booking experience and employee management.
Want to know more? Check out Trafft's awesome features to see what you are missing.
Common Mistakes in a Life Coaching Agreement
Now it's time to talk about a few common mistakes when writing a coaching contract and what to do to avoid them.
Failing to define the service(s) you provide
It needs to be clear exactly what the client is paying you to do as their life coach. Otherwise, a client may ask you to do something that is not part of the services you originally agreed upon. Or, a disgruntled client might claim that you did not provide the services that you said you would.
Overlooking Confidentiality Clause
This is another section that gets overlooked. This clause ensures that your information is protected, as well as the client's.
Including this section in a contract does not offer legal confidentiality, however. If the authorities request it, the life coach is obligated to provide them with information.
Not Including Dispute Resolution
This section states that it is each party's responsibility to attempt to resolve disputes privately before taking legal action. This is a crucial section, as it could save a life coaching business needless headaches and legal disputes.
Not Doing Due Diligence
When you take on a new client, it is important to find out their needs and pain points. If you fail to do this, you will not be able to help the client in the way they need. Or you may not get the results that the client is hoping for.
On the subject of legality, it is recommendable to have a lawyer take a look at your coaching contract. They can assure that your coaching agreement is a sound legal document in accord with local laws and regulations.
Life Coaching Contract Templates
Here is a list of coaching contract templates. The list has been checked by proofreaders and legal experts so you can have confidence that these are sound examples. You may choose to follow these examples to help save you time when you are working up a contract with a prospective client.
FAQs about life coaching contracts
1. What is a life coaching contract?
A life coaching contract, which describes the terms and conditions of the counseling partnership, is a legally enforceable agreement between a life coach and their client.
2. What should be included in a life coaching contract?
The scope of coaching, anticipated results, frequency and length of sessions, prices, payment terms, confidentiality, cancellation policies, and liability restrictions should all be covered in a life coaching contract.
3. How long should a life coaching contract last?
The length of a life coaching contract will change based on the client's needs and objectives. While some contracts are long-term and last for several months or even a year, others may be short-term and last only a few sessions.
4. Can a life coaching contract be extended or renewed?
If both the coach and the client agree to it, a life coaching contract may be prolonged or renewed. To reflect any changes in the coaching relationship, the contract's terms and conditions may need to be modified or revised.
5. Is a deposit required to secure a life coaching contract?
To secure a coaching contract, some life coaches would need a down payment or up-front payment. The cost of the coaching services may be deducted from this deposit, which might not be refundable.
6. What happens if a client wants to terminate a life coaching contract early?
The cancellation regulations spelled forth in the contract should be consulted by a customer who wishes to end a life coaching agreement early. The client may be obliged to give notice and may be charged cancellation fees depending on the conditions of the contract.
7. Are there any fees associated with terminating a life coaching contract early?
Depending on the conditions of the contract, early termination of a life coaching agreement could incur fees. Before signing, clients should carefully read their contract and go over any questions or concerns with their coach.
8. What happens if a life coach breaches the terms of the contract?
The client may have legal options if the life coach violates the agreement's conditions. Depending on the nature of the violation and the conditions of the contract, different remedies may be available.
9. Can a life coaching contract be customized to fit individual needs?
Sure, a life coaching agreement can be modified to meet specific needs. Customers should collaborate with their coach to make sure the contract's terms appropriately represent their coaching objectives.
10. What happens if a life coaching session is missed or cancelled by either the coach or the client?
The contract's cancellation clauses shall take effect if either the coach or the client misses or cancels a life coaching session. Depending on the conditions of the contract, it may occasionally be necessary to reschedule the missed session or it may be considered a forfeit. To guarantee that coaching sessions are fruitful and successful, it is crucial that the coach and client cooperate and communicate openly.
Conclusion on Life Coaching Contracts
A well-written coaching agreement lays the foundation for an excellent coach-client relationship. It ensures that you cover all the necessary details so that you can have a great start to your relationship with your clients.
A coaching agreement doesn't have to be perfect. As you go, you will doubtless want to make changes to the contract to make it work better for you. It may be useful for you to review your life coaching contracts from time to time to make sure they are still working for you. Perhaps each time you take on a new client or start a new round of coaching sessions, you could make time to review your coaching agreement.
Hopefully, the information covered in this article and the templates will give you an idea of where to start as you write your own.
If you enjoyed reading this article about life coaching contracts, you should check out this one about coaching apps.
We also wrote about a few similar subjects like types of coaching, life coaching intake forms, types of life coaching, coaching vs consulting, personality coaching, best coaching questions, transformational life coaching, life coach mission statement, and life coaching niches. 
And since we're talking about coaching topics, make sure to check out these on how to get clients as a life coach, how to make money as a life coach, the coaching business model, being a time management coach, and creating an efficient coaching schedule.