Life coaches work to help clients overcome hurdles on their path to personal success. Working with clients involves working with a person's beliefs, identity, and global assertions. Some coaches narrow their focus to work with identity or personality coaching.
People often turn to personality coaching to help them set and reach personal goals or to build confidence. Personality coaches help clients make a self-assessment and find what they want. As a client develops self-awareness, they are able to grow, find happiness, and achieve their goals.
Personality Coaching and How It Works
Some people seek out a special form of life coaching called personality coaching. Personality coaching helps them focus on developing their identity.
A personality coach works with people of all different personality types. They identify patterns of thought, behaviors, or feelings that are holding the client back. They pinpoint how these patterns are affecting their success and general happiness.
During coaching sessions, the coach works with the client to identify personality traits and patterns that hold them back.
For example, some of the ways personality coaching might help a person are
Client's relationships with the world around them
Understanding the root cause of a particular style of interaction
How personality traits impact quality of life
Communication within professional and personal relationships
A deeper understanding of how personality affects your actions and decisions
How these actions affect your destiny
How to root out personal weaknesses
How to capitalize on or adjust personality traits to maximize your strengths
Personality is a fluid concept because our personalities change throughout our lives. Personality coaching can help you work with these changes and fix unhealthy patterns to bring out the best in yourself.
Should You Become A Personality Coach?
Your own personality plays a big role in deciding if you should become a personality coach or not. Before you decide, try making the following self-assessment:
When your friends have problems or difficult situations, are you the person they go to for advice?
Are you good at listening to and empathizing with other people's problems?
When someone is pouring out their heart, are you able to withhold judgment? (This is a very important quality for a life coach to have, so think carefully about this.)
Are you willing to go above and beyond to help strangers improve their lives?
This list focuses on your internal motivation because life coaching has to be something that springs from within.
Besides the desire to help others, you also need strong business acumen to succeed as a personal development coach.
How to Become A Personality Coach
The first step on the path of personality coaching is to become certified. That means getting into a training program and getting your certificate.
A personality trainer's job can be challenging, and it involves a lot of different skills.
Skills Required
Empathy: To help a client solve their problems, you need to be able to put yourself in their shoes. This is especially important when a client wants help with personal problems because it's unlikely that you have had their exact experiences.
Communication skills: Strong communication skills are essential for a personality coach. It is imperative that you understand the client well and they understand you.
Leadership skills: Good leadership skills will help you develop an aura of confidence and authority. This will give clients more confidence in you.
Problem-Solving Skills: Personality coaching is founded on problem-solving; you could say that is in the job description. To be a good coach you need to be an efficient problem solver.
Team-Work: To tackle their problems, you and your client form a team. So being able to build a team relationship with others is another important part of being a good coach.
Of course, it is also important for you to know yourself well before you can help others to know themselves better. Try asking yourself the following questions:
What is my personality type?
Which traits are my strengths and which are my weaknesses?
How do I relate to the world around me?
As you answer these questions and get to know yourself better, you will be better equipped to help others. Knowing your strengths and weaknesses will also help you enhance your interaction with each client.
Get the Necessary Training
Step two to becoming a personality coach is to get the training you need. This means finding and enrolling yourself in a training program.
There are different levels of schooling that you can take to become a coach. You may choose to get a simple certificate or go for a bachelor's or master's degree. These courses will teach you the basics of personality and life coaching and provide management and leadership training. Depending on the course you choose, they may also discuss different approaches to business, executive, or organizational coaching. In some cases, you may also be able to choose if you prefer online or traditional classes.
You don't necessarily need a degree to become a personality coach. If you do decide to get one though, it may help you to specialize in a specific area of coaching. It will also help your reputation while you are getting started.
Get Accredited
In some cases, it may not be necessary to get a certificate or a degree for personality coaching. The kind of schooling you will need depends on where you work and the competitiveness of the environment in which you work.
The benefit of becoming a certified coach is that you have the credentials to back up your skills. The ICF offers three different levels of certification. You can become an Associate Certified Coach (ACC), a Professional Certified Coach (PCC), or a Master Certified Coach (MCC). In each case, there are different requirements, such as an hour requirement and a minimum number of clients. For example, an ACC must put in 100 hours of coaching and have at least eight clients before becoming certified. An MCC, on the other hand, must have 2,500 hours of coaching experience and at least 35 clients before they can get their certificate.
In all cases though, a new coach must start gaining experience by working with clients under the supervision of a certified coach. Then, a new coach will have to pass an examination before they can get their own certificate.
Set Up Your Life Coaching Business
A personality coach is not just a mentor or advisor to people. In addition to the work they do to improve people's lives, they also become business owners. Running a business requires its own set of skills, so here are a few things to keep in mind:
Register your business. You can make a secretary of state business search. This will help you figure out how to register your business.
Make a plan for your startup costs. You should include the cost of the certification program and overhead costs. These costs include renting and outfitting a space for your coaching practice if you are planning to practice in person.
Create a marketing plan for the services you will Coaches can market their services in several ways. For example, you can use blogs, websites, live seminars, private sessions, and more. Some coaches focus specifically on providing workshops or retreats for corporations and companies.
Your success story starts with a scheduling app to streamline your calendar
Staying organized has never been easier.
You can now manage your business and grow your brand with a single, powerful software that keeps all of your appointments in line, your clients organized and your business booming.
Trafft is a coaching management platform that is perfect for coaches who need to streamline their booking experience both for their staff and their clients.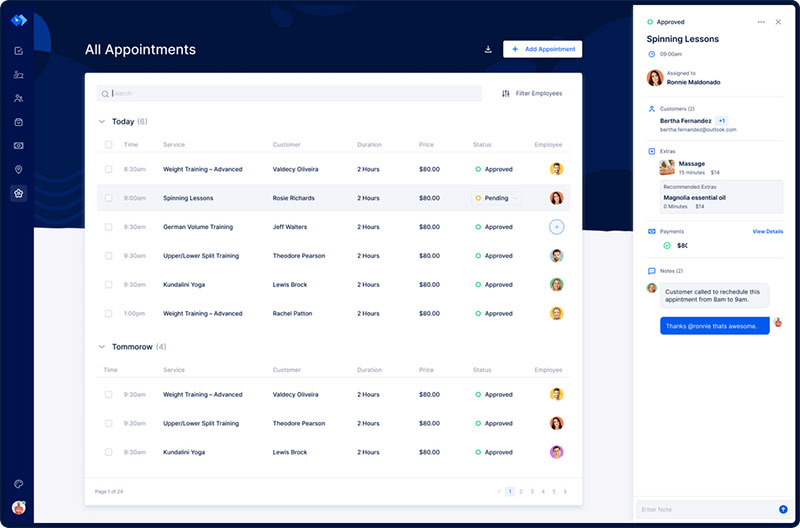 Trafft handles everything for you, even sending automated email or SMS reminders to your clients. No-shows? Not anymore!
The Trafft booking software adapts to different industries for a blissful online booking experience and employee management.
Want to know more? Check out Trafft's awesome features to see what you are missing.
How to Remain Competitive
Because there aren't a lot of regulations governing the coaching process yet, the field can be very competitive. When you set out to establish your own practice, form a strategy to keep ahead of the competition.
A good way to get a leg up is to establish your credentials. Invest in quality training and gain as much experience as you can. Becoming a coaching psychologist is one of the longest and most expensive options available to you. But putting in the time and effort is a great way to set yourself apart.
Coaching is a very personal experience for people, so give people time to build their trust in you, and work to develop a rapport with them. Your unique style and ability to build a good relationship with your client will speak for you.
Take the time to gain experience. Acquire a lot of practice working with people and helping them. If people love working with you, encourage them to tell others. Word of mouth is a great way to build your reputation.
FAQs about personality coaching
1. What is personality coaching, and how can it benefit me?
Personality coaching is a method that aids people in comprehending their personality characteristics and acquiring abilities to better themselves in a variety of spheres of life. It can help you by making your strengths and weaknesses clear, pointing out areas that need improvement, and suggesting doable plans for both personal and professional development.
2. How do I know if I need personality coaching?
Personality coaching could be a useful tool for you if you frequently struggle to reach your objectives, feel trapped in your personal or professional life, or have issues in your interpersonal connections. You can increase your self-awareness, communication abilities, and capacity for stress and conflict management.
3. What are the key components of a successful personality coaching program?
An individual's particular requirements and goals are often addressed in a customized manner in a successful personality coaching program. Assessments of emotional intelligence, communication styles, and personality traits might be part of it.
Also, a qualified personality coach will offer support, direction, and accountability to assist you in putting the plans and adjustments required for both personal and professional improvement into action.
4. What kind of personality assessments and tests are used in coaching?
The Myers-Briggs Type Indicator (MBTI), DISC assessment, Emotional Intelligence exams, and the Big Five Personality Traits are a few examples of personality tests and assessments that may be utilized in coaching.
These evaluations can offer insightful information about a person's preferences, shortcomings, and skills, which can be used to create a coaching strategy that works.
5. How long does it typically take to see results from personality coaching?
The time it takes for personality coaching to produce results can vary depending on the person and their particular requirements and goals. Some people might start to notice improvements after just a few sessions, but others might need longer-term coaching to get the results they want.
6. How can personality coaching help me improve my relationships with others?
By raising your level of self-awareness and comprehension of other people's viewpoints, personality coaching can help you strengthen your connections with other people. You may strengthen your capacity for empathy, understanding, and conflict resolution, all of which will result in more effective and positive interactions with others.
7. Can personality coaching help me with my career goals?
Absolutely, personality coaching can assist you in achieving your career goals by recognizing and correcting any areas of weakness that may be impeding your progress, assisting you in learning new skills and success methods, and offering encouragement and support as you make progress toward your goals.
8. What makes a good personality coach, and how do I find one?
An excellent personality coach should be able to provide assistance and direction customized to your specific requirements, have the requisite training and experience in coaching approaches, and fit well with your personality and communication style. A personality coach can be located online through directories, recommendations, or by looking up local coaching experts.
9. Is personality coaching confidential?
Indeed, personality coaching is confidential, and coaches must uphold client confidentiality as part of their ethical obligations. This means that unless you explicitly permission for it to be shared with others, any information you give to your coach will be kept private.
10. What kind of commitment is required of me to succeed in personality coaching?
A dedication to the coaching process is required for personality coaching to be successful. This entails showing up for regularly scheduled coaching sessions, being receptive to criticism and fresh perspectives, putting the coach's suggestions into practice, and making a concerted effort to achieve your personal and professional objectives.
Conclusion on Personality Coaching
Personality coaching is a very satisfying field to work in. As a coach, you can help people improve their lives by making the most of their personality type. You are able to help them gain greater self-awareness and to see the possibilities available to them.
If you want to work in a satisfying field helping people to reach their full potential, personality coaching is a great option. You can have the satisfaction of seeing a person grow as an individual and reap the most out of their life.
If you enjoyed reading this article about personality coaching, you should check out this one about life coaching contracts.
We also wrote about a few similar subjects like life coaching intake forms, types of life coaching, coaching vs consulting, coaching apps, best coaching questions, transformational life coaching, life coach mission statement, and life coaching niches. 
And since we're talking about coaching topics, make sure to check out these on how to get clients as a life coach, how to make money as a life coach, the coaching business model, being a time management coach, and creating an efficient coaching schedule.