If you want to run a coaching business, there're many things to consider. One important thing to consider is organization. This article will show how to organize your client information.
You may be the best professional life coach but your business won't prosper without proper organization. Implementing a system of coaching intake forms will help keep your files in order.
A life coaching intake form is an important tool in your coaching relationship. Here you can record and summarize everything that you and your client agreed on during your first meeting.
The onboarding process is an excellent chance to gather information from your client's life story. This guide on intake forms will help you get a strong start on every coaching relationship.
Life Coaching Intake Form: What Is It?
An intake form is a tool used before the first session and after the client makes the first payment. This document will have important data about the client including basic details, personal goals, and expectations. They also indicate what types of services the client needs.
Your life coaching intake form creates a solid base to plan your strategy. It helps you build the right package for each coaching session.
For this to work, every new client should complete the form with as much detail as possible. The information may include name, address, profession, age, etc. Try to include the most relevant questions that will best help you determine what the person needs.
The Advantages of Creating a Life Coaching Intake Form
The intake session is more than a simple meeting. This is the ground on which you base your entire relationship with the client.
You have only one chance to make a first impression. Use it wisely. Take this time to build trust and earn respect while you get to know Your client. This approach helps you save time, prepare follow-up questions, and streamline your process.
The intake form takes all your client information and puts it in one place. You won't lose any valuable data and it will be much easier to access at any time.
What do you need to know about your new clients? Here are the basics:
Who they are. This includes both practical data and professional information. For example, you can ask about their expectations, interests, and strengths.
Where they are. Find out what their situation is right now. After all, there's a reason they are looking for a coaching business.
Where they wish to be. Thanks to this information, you'll be able to shape proper questions and help the clients find their way.
In summary, the questions on your life coaching intake form will provide clear insights and help you save time. It empowers you to plan productive conversations. With more time available, you can provide better services and dedicate yourself to growing your coaching program.
Your success story starts with a scheduling app to streamline your calendar
Staying organized has never been easier.
You can now manage your business and grow your brand with a single, powerful software that keeps all of your appointments in line, your clients organized and your business booming.
Trafft is a business coaching software that is perfect for coaches who need to streamline their booking experience both for their staff and their clients.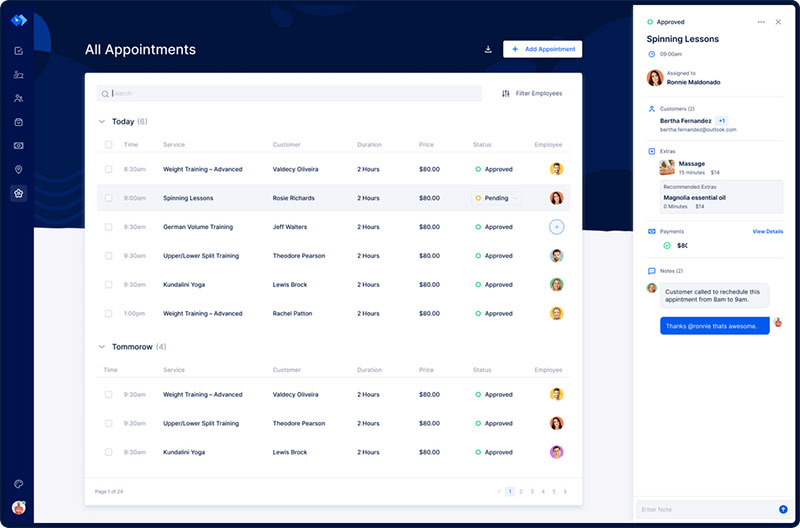 Trafft handles everything for you, even sending automated email or SMS reminders to your clients. No-shows? Not anymore!
The Trafft booking software adapts to different industries for a blissful online booking experience and employee management.
Want to know more? Check out Trafft's awesome features to see what you are missing.
What Questions Can You Add to Your Intake Form
Coaching intake forms can have a variety of questions, and the ones you choose depend on your line of business. However, some options are relevant for all circumstances. Here are some essential questions to add:
Basic details on your life coaching intake form
When preparing your forms, don't forget about the basics: name, contact details, and employment history.
Client's personal information: full name, date of birth, address
Contact details: email and phone number, preferred contact method, availability to answer calls.
Profession and employment: number of years working in the profession, the highest level of education, job title, and level of satisfaction at said job.
Contact in case of emergency: name, phone number, and relationship.
Personal aspirations and client's career goals
If you want to build a plan that works, you need to know your client's personal goals. Your intake form is the best place to gather this information. Ask them what their goals are in every area of their lives.
Some prompts might include:
Describe your goals for the next three years.
Describe your goals for the next two months.
How far do you think you would go to achieve these results?
What would you say are your professional strengths and personal virtuess?
What do you expect to gain from these coaching sessions?
Please name three things that you believe are hindering you.
What do you value most right now?
Client history
Knowing your client's history is one of the best ways to become familiar with them. Their experience has shaped them into who they are now, and this is valuable information for you. By asking about their past, you'll have a clearer view of the client's current situation.
Standard questions for your life coach intake form:
What makes you the happiest? From 1 to 10, how happy do you think you are?
What situations/factors cause you to stress? From 1 to 10, how stressed do you think you are now?
Please describe the most difficult obstacle you had to overcome and how you did
Please describe your biggest success so far and how you achieved it.
What obstacles have you encountered?
In the past, what steps did you take towards your goal? What did you learn from this?
Who has supported you during this process?
Client's preferences to include on your life coach intake form
A good strategy is to find out the clients' communication preferences. While some may want to talk in person, others may prefer phone calls. In line with this, while some respond better to constructive criticism, praise motivates others s. Sorting out this information will help you throughout the coaching process.
Here are some options you can try:
Describe what motivates you to try and what brings you down.
Would you choose face-to-face sessions or video calls for a coaching session?
How do you respond to criticism?
Do you think you need to review your progress frequently? How frequently?
What kind of support do you expect from your professional life coach?
Finally, don't forget to include a confidentiality agreement. This contract prohibits sharing information with third parties. It guarantees potential clients' privacy and that their data is solely for coaching.
FAQs about life coaching intake forms
1. What is a life coaching intake form, and why is it necessary?
Before their sessions begin, coaches ask their customers to complete an intake form for life coaching. The intake form includes private information that aids the coach in learning about the client's history, objectives, and expectations. It is essential because it enables the coach to customize coaching sessions to the client's unique needs and fosters the development of a solid client-coach relationship.
2. What personal information should I include on the life coaching intake form?
The client's name, contact details, date of birth, and occupation are often requested on an intake form for life coaching. Inquiries regarding the client's family history, education, and health may also be made. Clients may also be questioned about their current way of life, how they balance work and family, and whether they have ever received coaching or counseling in the past.
3. How long does it typically take to fill out a life coaching intake form?
Although the time needed to complete a life coaching intake form can vary, it usually takes between 15-20 minutes. The length of time may also be affected by the number of questions on the form and the coach's demand for specificity.
4. Can I fill out the life coaching intake form online, or do I have to do it in person?
Depending on the coach, you may have the choice of completing the life coaching intake form in person or online. Some coaches provide clients with online forms that they may complete on computers or mobile devices. Some could demand that consumers complete the form in person at their initial coaching session.
5. What types of questions will be on the life coaching intake form?
Depending on the coach's area of expertise and coaching approach, the questions on an intake form for life coaching may change.
The client's background, goals, obstacles, and expectations are however frequent inquiries. In addition, the client's values, hobbies, and personality qualities may be questioned on the form, along with any pertinent prior experiences.
6. Will my answers on the life coaching intake form be kept confidential?
Unless the client requests permission for the material to be shared with a third party, the coach typically keeps the client's responses on the life coaching intake form confidential. The coaching contract or agreement has specific language on confidentiality, which is a crucial component of the coaching partnership.
7. Is there a deadline for completing the life coaching intake form?
Depending on the coach's policies, there may be different deadlines for submitting the life coaching intake form. The form must be finished before the first coaching session, though, as is customary. Also, coaches may specify a deadline for clients to submit the form.
8. Will the life coaching intake form help the coach understand my goals and needs better?
Absolutely, the life coaching intake form is intended to aid the coach in better comprehending the objectives and requirements of the client. The form gives the coach crucial background information on the client and aids in locating any potential obstacles that can interfere with the coaching sessions.
9. Can I update or revise my answers on the life coaching intake form later on?
At any time during their coaching sessions, clients may amend or revise the answers they provided on the life coaching intake form. To ensure that coaching sessions stay pertinent and fruitful, it is crucial to inform the coach of any updates or changes.
10. Is it important to be honest and transparent when filling out the life coaching intake form?
Absolutely, it is very important to be truthful and open when completing the life coaching intake form. The data collected on the form is used to aid the coach in creating specialized coaching sessions that are tailored to the needs of the client. Being open and truthful from the start guarantees that the coach can give the client the best support and direction available.
Final Thoughts on Your Life Coaching Intake Form
A life coaching intake form is a powerful tool. . You will get to know your new clients. By knowing what your client is like and their history, you'll have a good perspective on their character, struggles, and goals.
Coaching intake forms are not merely questionnaires. If you use them strategically, you can plan ahead and show better results. This will translate into quality coaching sessions, more clients, and higher profit.
This article presents some standard questions that work for any type of life coaching client. You can always tailor these forms to your particular coaching business.
If you enjoyed reading this article about life coaching intake forms, you should check out this one about life coaching contracts.
We also wrote about a few similar subjects like coaching apps, types of life coaching, coaching vs consulting, personality coaching, best coaching questions, transformational life coaching, life coach mission statement, and life coaching niches. 
And since we're talking about coaching topics, make sure to check out these on how to get clients as a life coach, how to make money as a life coach, the coaching business model, being a time management coach, and creating an efficient coaching schedule.