Turning your life coaching business into a success story is not as simple as you may think. Launching a page and racking up the billable hours won't suffice. Instead, this undertaking requires lots of work and effort on your end.
Put this way, it may sound terrifying, and even discourage some of you from following your dream. And yet, looking at the lucrative career some life coaches have built, it is certainly worth the try. You will do exactly what you want – guide people to a better life. Why not reap some rewards too?
The beginning won't be easy, especially when it comes to finances. There are, however, few simple strategies that can make you more successful than you ever imagined. Read on and give them a try!
How to make money as a life coach?

As IBISWorld reports, the current market share of the life coaching industry is $14.2 billion. Particularly surprising is that this sector keeps developing. And it does so despite recent challenges such as COVID and military conflicts.
All in all, what a great idea!
To keep things brief, we'll focus on life coaching and wellness coaching separately. Wellness is another great sector for those looking to earn, and it is worth the read. Meantime, this is how life coach salaries look:
Based on Glassdoor data, the average national income of a life coach in the US is $61,003 per year. The most prominent life coaches make even $250,000 a year, based on salary itself. We need to take into account, though, that they also have supplementary income. Most of the time, they enjoy an excellent reputation, as the best entrepreneurs do.
By the way, we're not even considering all-stars like Tony Robbins here.
Moreover, the entry barrier is much lower than in many similar fields. You don't need a recognized license or a certificate to get started. If you are good at motivational speaking, there will be a place for you on the coaching walk of fame. This prevents the industry from becoming unified or standardized, and everybody is welcome to make a change. Life coaches launch businesses of all sizes and types – from hobbies to lifetime careers.
Therefore, the salaries vary from $10,000 to an incredible $350,000 a year.
The key to success is, as usual, to think outside the box. Being a life coach can mean lots of things, not just lecturing. for instance, you can write blogs or books, maintain social media channels, or anything else that comes to your mind. The more ways you have to make people happy, the more money you will earn.
Whatever you choose, upgrade your capabilities constantly, and be as unique as possible. The most popular life coaches regularly increase their knowledge base. They never stop discovering new channels to deliver value to their clients.
Marketing is 50% of every successful coaching business
Marketing may not be your cup of tea, but it is a fact that you can't succeed without it. You'll need to challenge yourself and adopt the skills, either way, as marketing is your main profit maker. It is not immodest to assign it as much as 50% of all your earnings.
As a life coach, you should consider both traditional and online marketing strategies. In both cases, you need to know who you are targeting and where you can be most successful. The decision will foremost depend on the niche of your coaching business.
For instance, if you run and organize events of any type, you should orient your coaching business toward event marketing. Or, if the focus is to help people reach their perfect weight, the client group is pretty much defined.
There are all types of marketing tools you can use, and the most important among them is a well-planned strategy. Unfortunately, no marketing strategy works for everyone – you will need to try different methods and choose the best one for you.
How can life coaches improve their earnings?
Organize individual sessions for personal development
One-on-one sessions are a very productive coaching practice. You can offer clients such sessions a few times per month (or even per week), and assess their problems and concerns on a personal level. The best life coaches recommend developing a plan of action for each of these sessions. This way, customers will feel welcomed and appreciated.
These sessions should be productive, but not necessarily long. Stick to the planned schedule, but value the results you achieve more than the income you make. The better the progress they make, the more appointments they will schedule.
You may be surprised to open your account and see how much you've earned over a short amount of time. The traditional approach is not necessarily the best one.
Group coaching practice
Individual coaching sessions may be the core of your own business, and they may be preferred by most of your clients. Still, there are alternative ways to generate profit, especially if you are at the beginning of your life coaching career. A very recommended life coaching practice, for instance, is to offer group sessions for a reduced price.
In recent years, we've witnessed many coaching businesses transform communities rather than individuals. Take fitness classes or yoga teams, for example. You could also organize your sessions in counsel groups, regardless of who you are targeting.
The ideal duration for group programs is one to six months, provided that you organize up to four sessions each month.
Considering busy professionals as potential clients
The main problem of life coaching is the inability to meet everyone's needs at the same pace. People are different and they learn at a different pace, and they may not be comfortable with your teaching style. The good news is you are nothing if not flexible.
Think of ways to address busy individuals as your potential clients. You can develop safe-paced sessions tailored to their schedule. At the same time, you can create an environment where they feel encouraged to talk about their issues. Check the coaching program of other coaches and professionals, and see if you can replicate the result.
Once you've developed the programs, make sure you have a way of tracking success. A good practice is to gather indicators that evaluate the progress of each client. Such sessions enable you to make even more money, by simply being accessible to these clients whenever they need you.
Keep in mind that a quality self-paced coaching program can cost up to $10,000 per client, depending on the niche you are working in.
Engaging audiences with motivational speaking
Speaking gigs are a great way to make yourself heard and attract new audiences. Get your coaching business out there, and let people know what you can do for them.
Look at other coaches and their performances. Almost all of them have a loyal and trusting community around them that relies on their expertise. The better your reputation, the more potential clients on your list. It is as simple as that.
Many studies show that engaged speakers and writers are more interesting to new customers. This is valid even when compared with proven professionals. Work on your speaking skills, and let the world know how you can help make it a better place.
Organize seminars
Now that we've established stage fright is not an issue, try to host a seminar on an interesting subject. You can invite participants via several different channels. Examples include flyers, social media posts, and even local newspapers. It can be an in-person or a digital course, and it can even be for free to attract interest in your work.
Webinars, for instance, are quite popular lately. You can gather people from different social groups and regions and let them attend remotely. This way, you can cut the costs and still have a wide audience group to share your story with.
The normal rates for a seminar are between $100 and $1,000. As for duration, your options are quite open. The use of visual media will help you Charge $100 – $1000+ for a seminar. Have one to three-day seminars. Your options are endless. Seminars should be powerful and get your clients transformational results.
YOUR success story starts with a scheduling app to streamline your calendar
Staying organized has never been easier.
You can now manage your business and grow your brand with a single, powerful software that keeps all of your appointments in line, your clients organized and your business booming.
Trafft is a coach booking software that is perfect for business owners who need to streamline their booking experience both for their staff and their clients.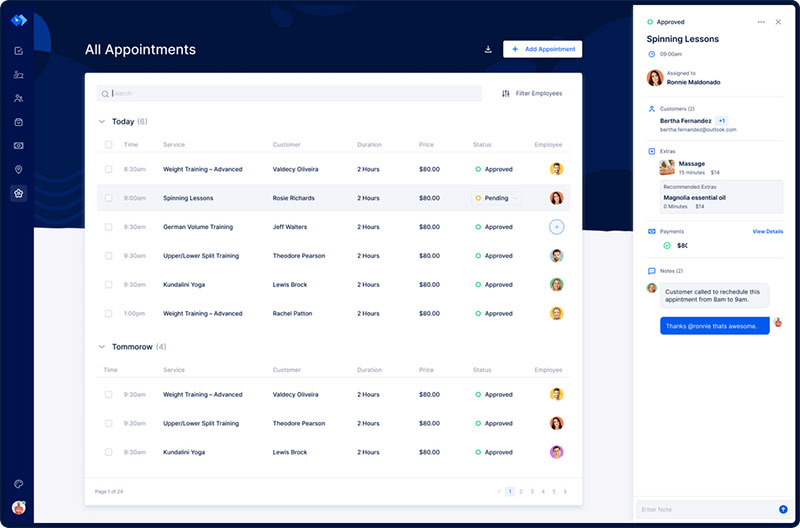 Trafft handles everything for you, even sending automated email or SMS reminders to your clients. No-shows? Not anymore!
The Trafft booking software adapts to different industries for a blissful online booking experience and employee management.
Want to know more? Check out Trafft's awesome features to see what you are missing.
Organize online courses
What could be better to generate passive income than online courses? A life coaching business on the web is as good as universally accessible, and it is the best way to offer personal development to wider audiences.
First, choose a niche you are particularly good at and stick to it. Covering too many topics can bring your course out of focus, and make you appear unserious. Think of your personal preferences: would you prefer a guide that teaches you how to do something or an endless story on how everything came to be?
Narrowing the best ideas down can be tricky, but don't worry. The answer is in your life coach skillset and the experience you have so far. There must be a thing you know better than most people, ideally one that intrigues the crowds.
Write personal development books
Looking to create passive income? One of the best strategies for making money on the go is investing in digital products. For example, you can write and sell ebooks in your niche, and use these as means to introduce your work.
Ebooks require almost no financial investment. They let you share the highlights of your work on a few well-summarized pages people can always revisit. They also let you help people even when you are not working.
Indeed, writing a book of any kind can be intimidating, but don't let this discourage you. You are writing a short guide that focuses on a particular skill, rather than a novel that requires narrative and characters. Apply the same logic you use for your course design. Make sure it is a valuable read that solves the problem at stake.
You can even go the extra mile and create audiobooks. These can be sold separately on Barns and Noble, Amazon Audible, or any other marketplace.
Offer recorded courses
More and more life coaching sessions are recorded and available online, and for a good reason. Text content may be a top pick, but it is a fact that people memorize better what they see in a video. Media content is more attractive, requires less time, and can be chopped just the right way to let content sink in.
You can upload the recordings on your website or your social media profiles. Some life coaches charge monthly subscriptions for their courses. In exchange, they promise to provide fresh content regularly. You could also ask for one-time payments or develop a freemium model where the content is partially free. Clients love the ability to choose, so let them find their way around your posts.
For those among you who don't have the time to do this, some platforms can handle the selling process. Skillshare, Coursera, or Udemy make a great job for many life coaches, and they provide tools to create and enhance content.
Stay current with a newsletter, blog, or podcast
Think of your favorite life coach. How did you come across their work? Where can you find their newest posts?
The answer hides in the title above. As a modern life coach looking to generate passive income, this is a trend you can't neglect. Content packed on blogs and podcasts takes you directly to your coaching prospects. It lets you reach audiences that are not available on other channels.
All of these marketing tools should be focused on your skills, and promote the core of your business and your values. The better the advertisement, the more life coaching requests you will receive.
Remember that the best life coach is the one that sticks around. It won't be enough to launch the blog and disappear. You need to update content all the time and make attractive offers that put you ahead of your competitors. You can offer great images even if you don#t have graphic design skills. Canva, for instance, can help you come up with beautiful and unique images.
Offer consultancy services
Life coaches who specialize in business coaching should are all potential consultants. This would mean analyzing and providing expertise, normally in a corporate environment. Business coaches charge either per hour or long-term, and they are the top earners in the niche.
In addition, the market is simply non-exhaustive. More and more people acquire professional guidance every day. Therefore, they need a knowledgeable and talented person to advise them. You can offer your services to individuals, groups, or even whole companies. A bonus tip: You can even be the life coach that empowers other life coaches.
In comparison to other coaching areas, business consulting is based on value and trustworthiness. You will need expertise and client proof to stand out from the crowd. The more clients you get, the more market authority you will gain.
Consider companies as your clients
Instead of focusing on individuals, turn toward corporations and organizations. These are also looking for an experienced life coach to help them manage their teams and handle their workload. There are many issues you could work on, such as employee burnout or teamwork.
You can pave your way by offering services to executives. You will soon be able to identify your prospective client base. That could be, for instance, a group of junior managers looking to climb the corporate ladder. This way, you will expand your network with credible and reliable clients.
When you work with companies, you are also reducing the risk of dropouts and cancelations. Even people who are not interested in your coaching will stick around so that they can report to their managers. Quite a nifty trick for making money, don't you think?
Offer your services to local institutions
As a successful life coach, you are no stranger to honorary invites by institutes in your area. You can narrow your practices down to tailored courses and offer them to local institutions. For example, you can teach a class in the local school or be a guest speaker at a local help group.
If you are just starting your life coaching business, you can even offer these services for free. Doing so will let you attract valuable clients and improve your reputation.
Be the coaches' life coach
Let's say you are an established professional in your niche, and you are looking to improve your life coach salary. Take your skills to the next level, and start a life coach program dedicated to other coaches. In a way, you'd be the mentor of an aspiring group of professionals, and build valuable relationships in your branch. This will also help you observe your work from a different angle, and gain even more experience.
This is much easier than it sounds. You've got the skills, the experience, and the client proof necessary to begin. Thanks to you, many potential coaches will become successful and rely on your expertise for years to follow.
Create and engage your client community
If you have some extra time, think of engaging clients in discussions with you and other clients. Building online communities is a practice that leads to better communication. It also improves reputation and generates even more passive income.
You can even ask clients to subscribe for memberships and divide them into the appropriate groups. Depending on the plan they've chosen, they will attend a limited number of meetings or training sessions. Better yet, you can promote events and share news in real-time.
If this sounds like something you could do, think of acquiring a membership site and getting a plugin to govern the subscriptions. You can use the help of eCommerce management tools to handle and process payments.
Consider affiliate marketing
Let's revisit the topic of how to create passive income. Affiliate marketing may be the simplest way to fill in the budget, given that you only promote services, rather than offering them. You can use your current blog or website for the purpose, by simply adding a link to the service in question.
Each time a visitor opens the link or buys the services, you get your commission.
As you get more experienced, you can even consider your affiliate program, and build meaningful partnerships.
As a life coach, nevertheless, you should stick to products and services that work well with your brand. For example, you could promote similar courses, books, or software.
FAQs about making money as a life coach
1. What are some effective marketing strategies for promoting my life coaching services and attracting new clients?
You can use a variety of marketing techniques as a life coach to draw in new clients. One of the most successful social media marketing channels is where you can engage with potential customers and present your skills via websites like Facebook, Instagram, and LinkedIn.
To increase the visibility of your website on search engines, perform paid advertising campaigns, and provide useful content to draw in organic traffic, you can also use search engine optimization (SEO) tactics.
2. How do I determine what to charge for my life coaching services, and how can I ensure that my prices are competitive and fair?
Your expertise, credentials, and the sort of coaching you give are some of the variables that affect the cost of your coaching services. You can carry out a market analysis to find out how much other coaches in your specialized field are charging, then adjust your charges accordingly.
In order to find the price strategy that works best for your company, you may also test out several alternatives, such as hourly or package-based pricing, and monitor your progress.
3. Can I make a full-time income as a life coach, or is it more of a part-time gig?
Certainly, you can work as a life coach full-time and earn a full-time salary, but it can take some time to grow your clientele and establish a steady flow of business.
To maximize your earning potential, it's also crucial to diversify your sources of revenue, such as by providing group counseling, developing digital products, or accepting speaking engagements.
4. What are some common challenges that life coaches face when trying to earn a living, and how can I overcome them?
Finding customers, determining the right price, efficiently managing their time, and establishing a positive work-life balance are some of the usual difficulties life coaches encounter when trying to make a career.
By creating a strong marketing plan, establishing limits with clients, and making an investment in your professional and personal growth, you may overcome these difficulties.
5. How do I identify my target audience as a life coach, and how can I tailor my services to meet their specific needs and goals?
You should carry out market research to comprehend your target market's demands, objectives, and problem points. Your services can be customized to match the demands and objectives of your ideal client if you have a good grasp of them.
This could entail developing tailored coaching services that address their particular problems, utilizing targeted language and marketing to appeal to their interests.
6. What are some ways to increase my credibility as a life coach, and how can I establish myself as an authority in my field?
You can make an investment in your own personal and professional growth to raise your reputation as a life coach, such as by obtaining extra certificates or degrees, going to industry conferences and workshops, and networking with other thought leaders in your field.
Also, you may use social evidence, like endorsements and case studies, to develop worthwhile material that indicates your subject-matter competence and authority.
7. How do I stay motivated and focused when building my life coaching business, especially during the early stages when it can be challenging to attract clients and generate revenue?
Establishing a clear vision and goals for your company can help you keep motivated and focused as you establish your life coaching business.
Also, you can establish a routine or program that keeps you organized and concentrated on your priorities and ask for advice from mentors, peers, or your personal coach.
8. What are some common misconceptions about the life coaching industry, and how can I educate potential clients about the benefits and value of working with a coach?
Many people have the impression that life coaching is therapy, that it is exclusively for those who have problems or issues, and that it is not a real vocation.
You can develop instructional content that highlights the concrete advantages of coaching, such as attaining goals, strengthening relationships, and enhancing performance, in order to inform prospective customers about the advantages and worth of working with a coach.
In order to show potential customers the value of your services and to earn their trust, you can also provide complimentary coaching sessions or consultations.
9. What are some additional streams of income I can explore as a life coach, such as writing books or creating digital products?
You can explore several extra revenue streams as a life coach, such as publishing books, developing digital products, or providing group coaching programs.
Publishing a book can help you become recognized as a thought leader in your industry and offer a passive revenue source from royalties.
Creating digital items like e-books, online courses, or webinars can increase your audience and give you a passive income stream.
10. How can I measure the success of my life coaching business beyond just financial metrics, and what other factors should I be paying attention to?
Although financial indicators play a significant role in gauging the success of your life coaching business, there are more aspects you should consider.
They consist of client retention and satisfaction rates, referral rates, testimonials, and reviews for social proof, as well as personal and professional growth.
You may find opportunities for improvement and keep your coaching business growing and evolving by periodically evaluating and measuring these indicators.
Is making big money as a life coach possible? In short – it is.
As a successful life coach, you can earn more money than you expected. Better yet, you can stabilize your income in the long run, and excel in a niche that only gets more advanced. The entry investment life coaches face is, to say at least, minimal.
Besides, how awesome it is to do what life coaches do? You will have the leading role in making people's lives better, sometimes even as you sleep.
If you enjoyed reading this article on how to make money as a life coach, you should check out this one about life coaching contracts.
We also wrote about a few similar subjects like life coaching intake forms, types of life coaching, coaching vs consulting, personality coaching, best coaching questions, transformational life coaching, life coach mission statement, and life coaching niches. 
And since we're talking about coaching topics, make sure to check out these on how to get clients as a life coach, coaching apps, the coaching business model, being a time management coach, and creating an efficient coaching schedule.