Spending time booking appointments manually is a thing of the past. The development of SaaS allows the automation of any online booking system.
This can make a difference in a team's performance and promote business growth.
Appointy is one of the most popular appointment scheduling software solutions. These Appointy reviews will help you decide whether it is the right option for you.
What is it?
The Appointy platform helps service-based businesses to handle their appointments. It enables them to also optimize their booking system.
Thanks to its many services, you can work on individual and staff calendars. Whether you have a small business or a large enterprise, Appointy has a solution.
Another great advantage is that it helps increase visibility and boost your brand. You can simplify both your bookings and payment collections.
This appointment scheduling software is easy to use. Thanks to its simple and intuitive interface, your team will be more productive.
This also applies to your clients. When you use Appointy, they can self-schedule appointments hassle-free.
This will have a positive effect on your conversion rates and revenue generation.
Modern SaaS platforms offer comprehensive solutions and Appointy is no exception. Explore its marketing options such as sales promotion and email campaign monitoring.
Appointy supports your long-term business growth, helping you engage your audience.
It's easy to do this using Appointy's automated reminders. You can also set up automated messages encouraging users to leave feedback and business reviews.
Appointy further offers social media features. These allow you to reach a wider audience through your Facebook page or Twitter.
Who is it for?
If your business needs a powerful scheduling tool, Appointy won't disappoint you.
It's ideal for businesses in a variety of niches. These include fitness, recreation, salons, beauty services, healthcare, and professional practices.
But it offers more than a scheduling solution. Its customer relationship management features provide users with another useful tool.
They give you the ability to focus on customer data and analysis. Thus, you can ensure your performance is always reaching its maximum level.
A perfect example is the possibility to use social media to capture leads. If you create a tab on your Facebook page, your customers can book right from this platform.
It's a proven fact that social media users are more likely to schedule appointments on Facebook.
Appointy is a sophisticated appointment scheduling software. It is suitable for all kinds of businesses, regardless of their size.
It offers a wide array of features, accessible through a straightforward, user-friendly interface.
Appointy reviews: Features
Self-appointment available
Customers can self-schedule appointments even outside business hours. They have access to a calendar where they can see the available time slots.
Booking customization features
With Appointy you can create your own activity types. Set up the duration and amount of participants allowed.
Also, customers can book recurring appointments, several sessions at a time, and appointments within their group.
Recurring scheduling and multiple booking
You can create a base of loyal clients by allowing recurring bookings. They can book several appointments for the same service, allowing you to save time.
If they need more than one activity, they can book in bulk. All the sessions will be available and grouped together.
Set reminders
A robust booking system needs to automate as many tasks as possible. Appointy sends reminders about any scheduling updates such as cancellations, rescheduling, or confirmation.
Thus, you reduce absenteeism and optimize the workflow.
Google calendar sync
Synchronize your Google calendar automatically. Make sure you never miss an appointment or update.
Built-in marketing tools
You can release all types of campaigns via email, website, and social media.
Use your Appointy Facebook page and other tools to share promotions, offers, and discounts. You can also access powerful analytics tools to track results.
Advanced payment features
Offer your paying customers a variety of options. You can set up the system to allow fixed fees, full-amount payment, or a small percentage in advance.
Appointy also offers the option to add taxes to the end price.
Paying customers spend less time if you send them a checkout link by email. This is also possible with Appointy.
Advanced analytics and reporting
The success of your business depends on accurate reporting and clever analytics.
This appointment scheduling software provides reports so that you can measure important factors. Assess your team's performance and improve customer experience.
Wide widget options for your website
The Appointy platform comes packed with various widgets. These are easy to embed into your website without coding knowledge.
For those who don't have a website yet, Appointy has a subdomain that you can use for online booking.
Adjust your business hours
Set up your business hours so customers know when you are available.
However, customers usually schedule appointments outside this time range. With Appointy this is possible, helping you to reach a wider scope of clients.
Manage your business through mobile devices
You can access the administration panel from different devices. Optimize your time by multitasking while you manage your booking system on the go.
Add-Ons and integrations
These are some of Appointy's integrations:
Twitter and Facebook. Allow customers to post their bookings and use social media to release promotions
WordPress
net, Paypal. Enables efficient payment management
Google calendar sync
SMS and call alerts (for an extra cost)
Appointy reviews: Outstanding features
Restrict domains. You can block and allow domains for appointment scheduling.
Assign area codes. This helps you match team members with customers within the same locations.
Limit bookings. Users can limit the number of bookings a customer can schedule in a given time frame.
Internal staff differentiation. Only admins can book with these staff.
Internal service settings. Only the admin can book these services.
Staff log in. Team members can log in to adjust their availability and other settings.
Dependent and parent services. You can establish dependent services that can only be booked back-to-back. The parent service gets priority.
Appointy reviews and testimonials
Great website widget
Appointy helps you convert visitors into customers. The scheduling widget allows online booking right from the website.
It provides seamless integration and intuitive embedding. No coding skills are necessary.
Solid customer relationship management
With Appointy, you can nurture your relationship with customers. Its reliable database allows you to store information safely.
Thus, admins can discover client preferences, history, and behavior. Such an approach can help you make marketing decisions.
Use your Facebook page as a booking platform
Being able to take bookings on Facebook is a big plus.
A large part of your audience is active on social media. Embedding your booking form into Facebook will help increase conversions.
Reliable customer support team
Its dedicated customer support team makes it easy to set up Appointy. You can contact them with questions as soon as you install the software.
Adjust your working hours
You can adjust your working hours at different staff levels. Since most clients are likely to book outside these hours, this feature helps to capture more customers.
Cross-platform availability
Users can access Appointy through mobile devices. It's compatible with Windows, Android, and iOS.
Appointy negative reviews
Calendar sync
Appointy supports integration with Office 365, iCal, and Google calendar. You can synchronize these in one-way or two-way mode.
Yet, this feature has some limitations.
Users can only add two calendars and they must be from different servers. For example, one Google calendar and one Office 365 calendar.
Grammatical errors and communication issues
Although these errors are few, they mainly concern technical reports. This makes communication difficult when using the documentation.
Limited integrations
Appointy reviews show general concerns about the available integrations. It only works with a few third-party software like Google Calendar, WordPress, Authority.net, Zapier, and PayPal.
Although these are very popular, the platform lacks other options thus reducing flexibility.
Appointy pricing
This appointment scheduling software offers 4 different plans: Free, Growth, Professional, and Enterprise.
When you create an account, you automatically sign up to the Free plan and a 14-day trial of the Growth plan. After this period you can choose to upgrade or return to the free option.
Appointy bases its pricing on the number of users.
Free plan characteristics
To register you only need to create an Apppointy account. No credit card is required.
1 staff member
5 services
Unlimited online booking
Growth plan characteristics
$19.99 per month if billed yearly ($29.99 per month for monthly billings)
Customization available
Analytics available
Email marketing features
Professional plan characteristics
$49.99 per month if billed yearly ($59.99 per month for monthly billings)
Separate logins for staff
Gift certificate function
Enterprise plan characteristics
$79.99 per month if billed yearly ($99.99 per month for monthly billings)
SMS customization
Dedicated relationship manager
Customer support
Appointy has a reliable and widely available customer support team. They are available to attend to your inquiries through a live chat service.
Besides this, they also offer the following:
Automatic online tour of your account right after installation
Phone customer support with screen sharing is available
Set up assistance
Separate contact addresses for different teams: technical, general inquiries, corporate, and investor relations
Tutorial on scheduling, rescheduling, and cancellation
Office number and fax number
Four different tutorials
Promotional video on YouTube
Business contact available
Forums for users
What other people are saying
Whenever there's a review page, you always see positive opinions about that app. But, what about the negative opinions?
Let's see what others are saying:
Ending thoughts on these Appointy reviews
For solid appointment scheduling software at an accessible price, Appointy is a decent option. It includes plenty of customization alternatives.
It is available for browsers and mobile devices. Its mobile app is easy to use and attractive, albeit not the best one.
This software provides solutions for large cross-border teams. Each location can have separate staff, view, login, and admin.
The free version offers customization features, 5 users, and unlimited bookings. But it does have some disadvantages.
The advanced features are only available through the most expensive plans.
For example, with the free plan, clients will have to register when they want to book. This affects the overall user experience.
Appointy comes packed with useful characteristics. However, these are not laid out in the simplest way.
The team still needs to work to find ways to improve the user experience and interface.
Get an even better app to use
Staying organized has never been easier.
You can now manage your business and grow your brand with a single, powerful software that keeps all of your appointments in line, your clients organized and your business booming.
Trafft is perfect for business owners who need to streamline their booking experience both for their staff and their clients.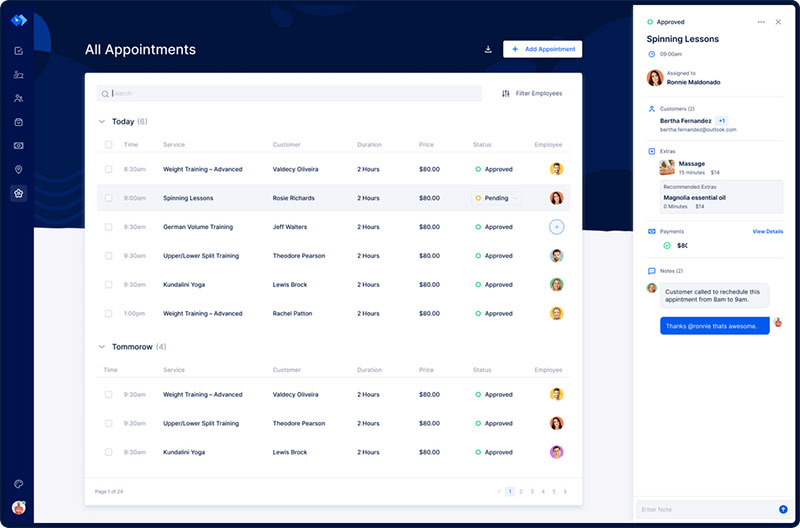 Trafft handles everything for you, even sending automated email or SMS reminders to your clients. No-shows? Not anymore!
The Trafft booking software adapts to different industries for a blissful online booking experience and employee management.
Want to know more? Check out Trafft's awesome features to see what you are missing.
If you enjoyed reading this article about Appointy reviews, you should read this one on Calendly reviews.
We also wrote about a few related subjects like Appointlet vs Calendly, Wix bookings reviews, Housecall Pro alternatives, Square Appointments reviews, vcita reviews, 10to8 reviews, and Calendly vs Microsoft bookings.