The Wix App Market has introduced a new tool called Wix Bookings. Many Wix Bookings reviews praise this appointment scheduling tool for its great features.
Wix Bookings allows you to work within the Wix environment for online appointment scheduling.
It empowers small businesses to manage appointments without third-party software. This service ensures both functionality and a smooth process.
Can Wix Bookings help you take your business to the next level? How much does Wix Bookings cost? How useful is it for your business and clients?
Be sure to read this entire article to get these answers and the best features highlighted in Wix Bookings reviews.
A Wix Bookings Overview
This online booking software was designed for small businesses and entrepreneurs. It offers a variety of templates to streamline your company's booking system.
Wix Bookings supports you when creating and customizing your website. And the system is self-service-focused, meaning your typical customers can easily book their appointments online.
It offers mobile and web app access, so your clients can book packages and pay online with any major credit card.
This service is valuable for various industries. For example, if you're an event organizer or teach lessons, Wix Bookings is perfect for you, and it can even book both individual and group sessions.
Wix Bookings offers appointment forms designed to increase your conversion rate. That makes connecting people to your sessions, events, classes, and workshops easier.
As a solid SaaS product, Wix Bookings installs on all devices. It runs on Android, iOS, and computer browsers, improving your website and brand user experience.
What Wix Bookings Reviews Say About How the System Works
Wix bookings reviews hail the system as software that makes your life easier. All users —clients and managers included— can book appointments online trouble-free.
So, how does it work? To get started:
Locate the software in the Wix App Market
Download and install it by clicking the link
Add the app to one of your pages and sync it with your Google Calendar
Now your website visitors can easily make online bookings. You can also schedule online classes and add events.
Wix Bookings integrates with Wix payments. This payment processor lets you accept a deposit or full payment from your clients. You can create plans, sell memberships, and even take cash. Of course, you can offer free classes, too.
You can integrate the Wix Bookings software with your Wix website without third-party extensions. That means the online booking process won't redirect your clients to a different domain.
Keeping your clients onsite prevents compatibility issues, improves your SEO, and increases your clients' time on your website. Although many websites use Eventbrite, a native app is highly recommended.
Top Features Highlighted in Wix Bookings Reviews
Responsive Company Website
A sound booking system is responsive and visually appealing on all devices. After all, your clients might book with a smartphone, desktop computer, or tablet.
Offer Extra Services
With Wix Bookings, you can sell many additional services, like consultations, courses, and events.
Offering packages and memberships saves your customers' money and encourages client loyalty, locking in recurring clients.
Customizable
This software comes with over 500 templates to create your Wix site.
You can choose from a wide variety of styles to create your site's foundation, then customize it as you please for a stunning website.
Analytic Capabilities
Analytics is vital to the success of any business. Wix Bookings provides detailed financial, staff performance, and client attendance reports.
Analyzing such meaningful data may be a game-changer for your business.
Automated Email Reminders
Wix Bookings can send your customers automated email reminders, reducing no-shows because of forgotten appointments.
The Wix Mobile App
Nowadays, people are busy and need to book on the go, so most businesses wouldn't survive without an effective mobile app.
The Wix mobile and web apps are reliable applications that significantly increase conversions.
Secure Database
When your clients book appointments online, your database will safely store their information. And you'll have access to client name, address, and email records.
Cancellation & Booking Policy
Last-minute cancellations or non-attendance can seriously hurt your business. So be sure to establish a booking and cancellation policy that covers all possibilities. Then you can use Wix Bookings to display your payment, refund, and cancellation policies.
Online Payment Security
You can use Wix Payments or choose another payment provider like PayPal, Stripe, or any major credit card for secure transfers.
Cash Saving Packages & Memberships
Use your Wix app to offer free trials, coupons, and membership plans
to build an audience and increase customer engagement and loyalty. That brings long-term benefits to large and small businesses alike.
Calendar Management
Synchronization with Google Calendar is a big plus. You can manage your schedule from your dashboard and post your working hours, thereby letting your customers know when you are available.
Display Hours of Availability
When clients get no response or a delayed response to their messages, they may seek alternative service providers. Although you can't be available 24/7, you can publish your working hours so that your clients know when to expect a reply.
List Your Services
With Wix Bookings, you can let your website visitors know what services you offer,
for example, yoga classes, photography sessions, online courses, and more. Interested clients can then book all kinds of appointments, including:
Individual lessons
Group sessions
Events
Online classes
Wix Bookings: Pricing
How much does Wix Bookings cost? A free version lets you add a calendar and present your services. However, the free plan doesn't manage bookings or take payments.
Only the premium plans have access to the advanced features. For $17 monthly, you can boost your business with tools that allow you to:
Accept and manage online payments
Offer memberships and special packages
Send SMS and email reminders
Accept online bookings
Wix Bookings: Usefulness
This web app is ideal for service-based businesses and projects. Small businesses need an online booking solution, and Wix Bookings is the perfect answer. It's suitable for:
Hotel bookings
Event bookings
Yoga classes
Photography sessions, and more
Wix Bookings assures seamless appointment scheduling. From synchronization to online payments and subscription management, the Wix app has it all.
Its integration features also make it a great tool to organize teamwork.
Benefits of Wix Bookings
With Wix Bookings, you can:
Create staff accounts
Process offline and online payments
Sync your Wix Bookings account with Google Calendar
Integrate with your Wix website
Manage online memberships
Offer individual and group sessions
Wix Bookings Limitations
Here are a few of the software's limitations to consider before deciding.
It only syncs with Google C However, you can sync with iCal or Outlook through Google.
The software doesn't support multiple languages.
It doesn't provide flexible items and only includes one calendar. For example, some businesses (such as beauty salons) may find Wix Bookings too limited because it can't handle different procedures with different durations.
Wix Bookings: Customer Support
Customer support is an essential element of an excellent online booking app. System errors or issues may arise due to inexperience, and you will need support and fast solutions.
The Wix Bookings team offers assistance via consultation tickets, emails, and articles. You can also get help via chat or phone.
Pros & Cons of Wix Bookings
Wix Bookings is one of the best Wix Apps. However, it has a few drawbacks, depending on what you're looking for. Here are some of its best attributes and downsides.
Wix Online Bookings: Best Attributes
Google Calendar synchronization
Full integration with your Wix site
Great for single and group sessions
No booking fees
Manage bookings from any device, Android or iOS
Combines with other Wix features (e.g., your CRM system, blog, or invoice generator)
Offline or online payment
Booking policy customization and email reminders
Easy to use
Protection against double booking
Wix Bookings: Downsides
No happy hour feature for times and seasons with lower demand
No waiting list
Only inserts into one page
Fixed duration sessions. (if your class lasts longer than one session, it requires multiple bookings)
It doesn't allow for multiple languages
The forms have limited field types
You can't add extra services
What other people are saying
Whenever there's a review page, you always see positive opinions about that app. But, what about the negative opinions?
Let's see what others are saying:
Get an even better app to use
Staying organized has never been easier.
You can now manage your business and grow your brand with a single, powerful software that keeps all of your appointments in line, your clients organized and your business booming.
Trafft is perfect for business owners who need to streamline their booking experience both for their staff and their clients.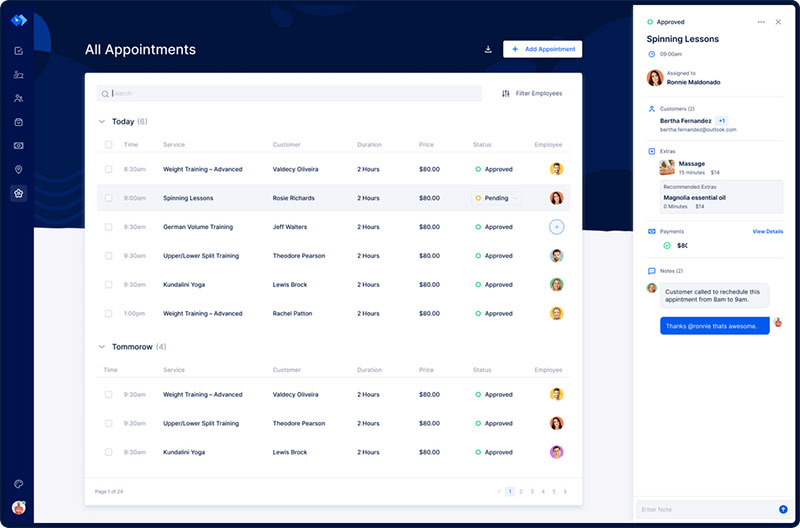 Trafft handles everything for you, even sending automated email or SMS reminders to your clients. No-shows? Not anymore!
The Trafft booking software adapts to different industries for a blissful online booking experience and employee management.
Want to know more? Check out Trafft's awesome features to see what you are missing.
Ending thoughts on Wix bookings
Wix Bookings is an especially useful tool for Wix website owners. Yet, some Wix Bookings reviews recommend the system for any company website. We don't.
While there is no perfect system for online booking, checking everything from pricing and compatibility to installation and analytics will help you decide if Wix Bookings is perfect for you.
If you want a secure booking platform to automate emails, publish your calendar, and take payments, we'd rather recommend Trafft.
If you enjoyed reading this article about Wix bookings reviews, you should read this one on Calendly reviews.
We also wrote about a few related subjects like Appointlet vs Calendly, Housecall Pro alternatives, Square Appointments reviews, vcita reviews, 10to8 reviews, Appointy reviews, and Calendly vs Microsoft bookings.