Nowadays, time optimization is key to success. Every service-based business needs reliable appointment scheduling software to handle bookings.
These tools can save you from hours of back-and-forth emails. They make it easy to find a convenient time for both parties.
With software like Appointlet and Calendly, you can update your calendar automatically.
But scheduling software can do much more than this. You can send automatic reminders, set daily limits, and even charge customers online.
Thus, every service provider, especially small businesses, needs a powerful appointment management solution. This article compares Appointlet vs Calendly so that you can choose the best option.
Comparing Appointlet vs Calendly
If you choose Appointlet, you'll be able to streamline your appointment scheduling processes. Even with its free version, you get many benefits.
For example, you can invite an unlimited number of team members and enjoy calendar integration. Integration is also possible with popular video conference software like Zoom or Go2Meeting.
Other features include unlimited types of meetings and intake form customization. You can customize the meeting links to convey professionalism and boost the brand.
Appointlet offers the possibility to create booking pages. You can share these manually or automatically add them to your website and social media.
If you want to integrate Zapier and payment platforms you'll need to choose one of the paid plans. Yet, the free plan is a good option for new businesses.
Calendly, on the other hand, offers an excellent way to automate your bookings. Your clients can self-schedule their appointments saving you lots of time. Let's see how this works.
First, you need to establish your availability. Define your working hours and free days.
Then, embed your calendar into your website or share it with your customers. Thus, they'll know when you are available and can choose a time and date that suits them.
Through your booking page, when they select their appointment your calendar is updated.
These automation capabilities make Calendly the best option for small businesses that want to optimize processes. Especially those which handle many requests every day.
Calendly offers a customized URL so that your clients can find you with ease. Its integration with Google Calendar and Office 365 is also a big plus.
Who are Appointlet and Calendly for?
Appointlet is the ideal appointment scheduling software for small businesses. It offers a powerful free version and installation is hassle-free.
Companies that rely on booking tables will benefit the most. These include spas, salons, and doctors' offices.
Thanks to Appointlet, they can improve their overall performance.
If you need to streamline meeting scheduling, Calendly is your best option. You can schedule meetings with partners, team members, clients, or providers without excessive emails.
Users can also post their Calendly link on their website.
This option syncs with popular software. So, if you are using other tools already, you can integrate them with Calendly without a problem.
All in all, this is the best option for those who need constant organization and planning. Calendly offers solid automation tools to optimize scheduling.
Features that will make you choose Appointlet
Quick customization of forms
The software lets you customize your booking forms. You can choose what information to gather.
Add buttons to your booking pages to make it easy for customers to find them.
Easy online payment process
You can bill your clients right on the platform. Use Stripe to collect payments and fees.
Synchronize your calendars
Forget about manual synchronization. Appointlet automatically synchronizes with your calendar, adding new bookings and blocking unavailable hours.
Wide integration for a smooth workflow
It's easy to integrate Appointlet with other software. If you use Mailchimp, Webhooks, Zapier, or Go2Meeting, you can apply the necessary settings to streamline your workflow.
Multi-time zone support
For cross-border teams, organizing meetings is challenging.
This appointment scheduling software auto-adjusts for different time zones. Hence, this won't be an issue when making appointments and organizing meetings.
Automated translations
Thanks to its built-in translation features, Appointlet can translate into several languages. These include English, Spanish, Italian, German, and others.
Sales funnel options
With Appointlet, you can optimize and monitor your sales funnel. Thanks to its integration options, you can use the software with your website and mailbox.
Thus, you can track visitors, prospects, and conversions from one single platform.
Features that make Calendly a great scheduling software
Efficient booking
With Calendly, it's easy to let clients know your availability. This complements the software's excellent synchronization options.
Set follow-ups
This solution helps you to optimize your time by setting automated follow-ups. Make sure nobody misses an appointment or meeting.
Manage online payments
Calendly offers online payment services. It integrates with two of the most widely-used providers: Stripe and Paypal.
Create scheduling templates
This is a great tool to standardize meetings. Create templates for all team members to use so you're all on the same page.
Multiple meeting types
You can create different meeting types to fit all your needs. Then, use your templates to organize the schedule across the team.
Advanced reporting
Track attendance and other parameters. Calendly has built-in reporting tools to monitor activities, campaigns, and engagement.
Optimize your workflow with automatic reminders
The Calendly team has implemented a new feature called "Workflows".
With this, the system will take care of time-consuming tasks. It can be set to send automated follow-ups, thank you messages, and updates.
Appointlet vs Calendly: Customization
Both Appointlet and Calendly are easy to set up.
The former provides a single platform where you can track all bookings. If you want to know the details, you can dig deeper and check the dates, providers, and other parameters.
This gives you the option to monitor the workflow and implement changes.
You don't need to be tech-savvy to use Appointlet. It provides seamless integration with your other tools and is not too intrusive.
Another bonus is that the learning curve is quite small. You can go from installation to using the platform in a short time.
Comparing Appointlet vs Calendly, the latter has a cleaner interface. Editing the forms and updating your availability is very easy.
After you create your account, it asks you to complete a checklist of items you need to set up.
Calendly boasts a simple design that facilitates customization. Feel free to add your logo and edit your booking page.
Returning to the comparison, Calendly lets you change the color of the buttons and the text. With Appointlet, you can only change the buttons.
Finally, Calendly's free plan offers more customization options.
Appointlet pros and cons
Pros
Easy to use
Customizable branding
Set up an unlimited number of meetings
Multi-location features
Automated translations into 9 languages
Free plan that includes many customization options
Free trial available
Google Calendar integration. Possibility to edit the schedule straight from Google
Support available through email, chat, and text
Online payment available
Automatic reminders
Possibility to enable clients to cancel meetings by themselves
It allows you to book across different time zones 24/7 with no overlapping
Cons
It has fewer features than similar solutions
No direct integration to Outlook calendar
Recurring scheduling is not available
The free plan uses the Appointlet brand too predominantly
It doesn't have a mobile app
The free plan doesn't include payment processing options
Calendly pros and cons
Pros
Excellent free version for small businesses to handle appointments
Calendly API is available for users. This is useful if you have coding skills
Possibility to set up meeting types and recurring appointments
Mobile app available for Android and iOS
100+ available integrations
User-friendly
Mobile friendly
Intuitive interface
Easy to integrate into your social media, marketing campaigns, and website
Cons
Limited customization options for the booking pages and email notifications. Only with the most expensive plan do you get to use extra colors
Live customer support via chat is only available for large teams. This means access is only possible through advanced plans
Some menus are hidden to keep the interface clean. Because of this, some find the platform unintuitive
Expensive for large teams
Rescheduling options are only available for managers. This means that attendees can't choose the most suitable time for them
Appointment vs Calendly: Plans and pricing
Both Appointlet and Calendly have free and paid plans.
Starting with Appointlet, it has one paid plan offering additional features. You can redirect bookings to a preferred URL and add integrations and a payment platform.
Appointlet also offers a forever-free plan in the long term. It doesn't expire and includes advanced reporting, unlimited bookings, and plenty of customization alternatives.
When comparing Appointlet and Calendly, the latter's free version is more limited. It doesn't include team functionality features and it has limited event types.
For example, you can only book 45-minute individual meetings. With this free version, users can't edit the color palette or customize email reminders.
Both options have paid plans starting at $8/month, with an extra $10 for every user.
Calendly has two extra layers providing additional features.
The Professional plan costs $12/month, while the Teams plan is $16/month. The fees are charged per user.
While making your payment, you can choose between monthly or annual billing.
Appointlet vs Calendly: Which one to choose?
With the development of SaaS, wasting time on tiresome tasks is unnecessary. By setting automatic reminders and synchronizing calendars, you can optimize your business's performance.
A comparison of Appointlet vs Calendly reveals that both are viable options. Yet, they have their differences.
While Calendly has a much cleaner platform, it's also the most expensive option, especially for large teams.
Appointlet is cost-efficient but it doesn't have such a wide array of features. Its counterpart has a more intuitive interface and an attractive design.
Either way, they both present decent opportunities for service-based businesses. Utilizing one of these tools will help you to optimize your booking processes.
Get an even better app to use
Staying organized has never been easier.
You can now manage your business and grow your brand with a single, powerful software that keeps all of your appointments in line, your clients organized and your business booming.
Trafft is perfect for business owners who need to streamline their booking experience both for their staff and their clients.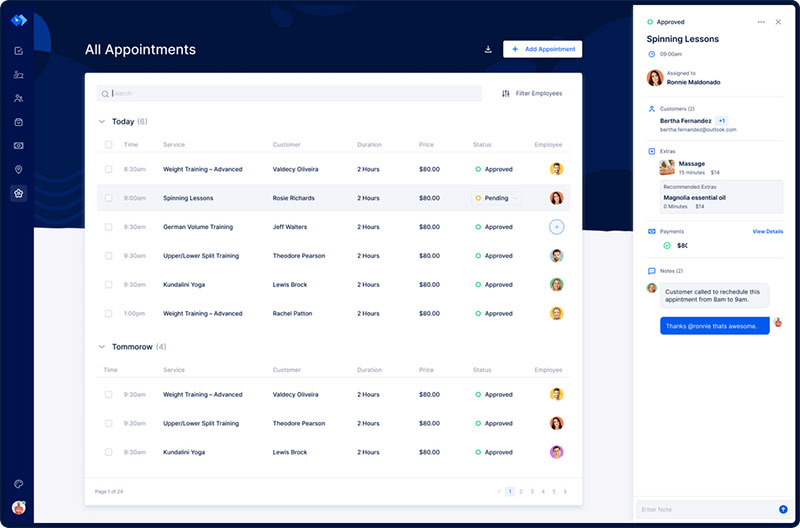 Trafft handles everything for you, even sending automated email or SMS reminders to your clients. No-shows? Not anymore!
The Trafft booking software adapts to different industries for a blissful online booking experience and employee management.
Want to know more? Check out Trafft's awesome features to see what you are missing.
If you enjoyed reading this article about Appointlet vs. Calendly, you should read this one on Calendly reviews.
We also wrote about a few related subjects like Wix bookings reviews, Housecall Pro alternatives, Square Appointments reviews, vcita reviews, 10to8 reviews, Appointy reviews, and Calendly vs Microsoft bookings.