Choosing the right scheduling software for your business is challenging. For most people, the choice comes down to Calendly vs. Microsoft Bookings.
Your customers lead busy lives, so they want an easy way to schedule time with a technician for the services you offer.
Your appointment scheduling software can make or break your revenue. Thus, choosing a scheduling tool to reduce back-and-forths between participants is vital.
If you make it easy for customers to connect with your staff, your business will thrive. That is especially true for companies that rely on scheduling appointments with customers, such as:
Service businesses

Consultants

Accounting firms
So be sure to read this article to the very end as we compare two of the top scheduling software, Calendly vs. Microsoft Bookings.
Calendly vs. Microsoft Bookings Overview
Before we dive deeper into a comprehensive analysis of features, integrations, and interface of MS Bookings and Calendly, let's first get you a simple overview of each tool. It will help you get a feel and decide whether Calendly or Microsoft Bookings are a better fit for you. 
The Calendly app overview
Calendly is a  powerful scheduling software designed to speed up sales, save you time, and improve service quality. It replaces the outdated method of phone tags and emails to schedule:
Appointments

Demos

Calls

Interviews, and more.
This scheduling software lets customers log in to your company site and schedule their own appointments, preventing them from getting lost in the phone tag and email game.
Its customizable features allow multiple guests to plan for workshops, guided tours, and webinars in the same time slot.
Additionally, invitees can easily add appointments without registering. And this software's premium version gives you fast email support during office hours.
The Microsoft Bookings overview
MS Bookings' appointment scheduling tool is available for free for Microsoft 365 users, such as:
Business Standard license holders

Business Premium license holders
It lets you create a list of your services and add up to 100 staff members. Connecting both your staff and clients notifies staff members when there are new appointments.
The online booking calendar integrates with Outlook, simplifying your appointment management process.
Setting up the MS Bookings platform can be time-consuming, so budget time for onboarding and exploration.
Microsoft Bookings vs. Calendly: Usability
How easy are Microsoft Bookings and Calendly to use and train your staff? It's one of the most important qualities of scheduling software, as its core goal should be to streamline processes in your business, not slow them down. 
Using Calendly
Calendly's online scheduling software lets your clients:
Click on the appointment link

Select the meeting or event type from the list provided

Set a convenient time and date

Input needed details (name, email, and description)
After your clients complete the booking process, they instantly receive a confirmation email. This platform also has various functions that enable you to:
Communicate with multiple invitees

Invite groups

Leverage it on a 1:1 basis inside or outside your company
Using MS Bookings
Microsoft 365 customers can use this web-based booking and scheduling software. It is an online customer-facing booking service; your customers can see available time slots and book the one convenient to them. Also, various businesses can set up to see each other's availability.
And you can make your calendars public, allowing anyone to see them and book an appointment, including clients and colleagues.
Trafft is a Better & Cheaper Option Than Calendly and MS Bookings
Not only can you book appointments but you can also manage your whole business and grow your brand with a single, powerful software that keeps all of your appointments in line, your clients organized and your business booming.
Trafft is perfect for business owners who need to streamline their booking experience both for their staff and their clients.
Even Trafft's free plan offers more than MS Bookings and Calendly combined. Sign up for free and experience the best scheduling software firsthand.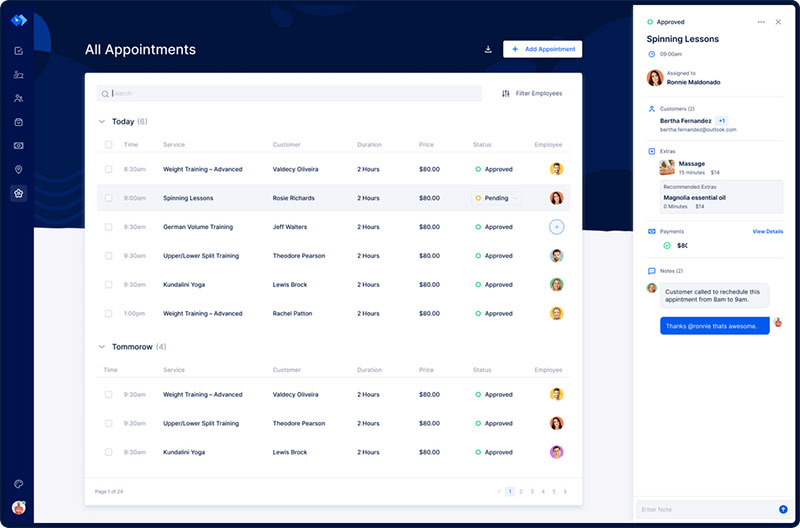 What does Trafft bring to the table?
Comprehensive Scheduling Solution: Trafft offers a comprehensive scheduling solution that allows you to create and manage appointments, classes, and events.
This includes features like online booking, automated reminders, attendee management, and payment integration.
Customization: Trafft offers greater customization options than Calendly and Microsoft Bookings. With Trafft, you can customize your scheduling pages, emails, and notifications to match your branding and messaging.
Group Scheduling: Trafft allows for group scheduling, making it easy to schedule appointments, classes, and events with multiple attendees.
Flexibility: Trafft offers more flexibility in scheduling than Calendly and Microsoft Bookings. With Trafft, you can set custom availability and schedule recurring appointments.
Pricing: Trafft offers more affordable pricing than Microsoft Bookings and Calendly, especially for businesses with large scheduling needs. Calendly offers a free plan, but it has limited features, while Trafft's pricing and free plan are more competitive for businesses that require a comprehensive scheduling solution.
Overall, Trafft offers a more comprehensive and customizable scheduling solution than Calendly and Microsoft Bookings, with group scheduling, payment integration, and more flexibility.
While Calendly and Microsoft Bookings are both great tools for scheduling appointments and meetings, Trafft is the better choice for businesses that require a more comprehensive scheduling solution at a more competitive price point.
MS Bookings vs. Calendly: Pros & Cons
Each scheduling tool has its unique advantages and disadvantages. We're breaking down the pros and cons of MS Bookings and Calendly to give you a clear picture of what you can expect when you choose either one of these tools. 
The Calendly pros
Integrates well with multiple platforms & calendars
One of Calendly's best features is its ability to easily integrate with various calendars and platforms, like:
Google Calendar

Outlook, and more
This app is perfect for scheduling meetings with prospects that use a platform different from yours.
Easy-to-use & intuitive design
This software's intuitive design makes it so easy to use. However, as with any booking system, there is a slight learning curve, but almost anyone can pick it up easily and take advantage of the app.
Compatible with any device
The system is completely optimized for phones, tablets, and desktops. That means you won't face compatibility issues and limitations with the app.
Workflow automation
This feature helps your meeting booking process run smoothly. The app can:
Automate text messages when an appointment is booked

Send automatic reminders

and requests for follow-up meetings

Send thank-you emails and feedback surveys, etc.
Integrates with Zapier
Calendly has an elegant interface you can embed in your website. That lets your clients quickly schedule meetings and events without going to another web page. Zapier integration lets you connect your favorite tools with Calendly and it's helpful to automate as many tasks as possible.
Calendly cons
Lacks customer response clarity
The Calendly app records and displays the total number of people that click your calendar invites. However, it does not show how many confirmed the appointment, making meeting attendance uncertain.
The free version offers limited features
Calendly's free plan offers limited features, which may be inadequate for those conducting many client meetings.
Microsoft Bookings pros
Ease of use
Clarity is one of this system's most significant benefits. Your prospects see a simple website that lets them book and reschedule appointments and request email reminders.
It features an area where your employees can see all scheduled meetings.
Microsoft 365 users get it free
Microsoft Bookings is free with the following licenses:
Business Standard
Business Premium
A5
A3
E5
E3
F3
F1
Easy setup
Thanks to a step-by-step guide to help you get the most out of the app, Microsoft Bookings software is easy to set up.
Your clients and team will love the convenient design. Its advanced features also let you customize schedule preferences and reservation pages.
Integrates well with other microsoft products
If you are already running a Microsoft environment, this booking system is easier to implement than other apps because the scheduler already integrates well with Microsoft products like Outlook and Microsoft Teams.
Microsoft Bookings cons
Limited integration
This system lacks integration for online payments, CRM, and accounting tools.
Limited customization
While MS Bookings lets you personalize your booking pages, it's not as customizable compared to Calendly Pro.
Moderate learning curve
Compared to Calendly, Microsoft Bookings has a learning curve that takes more time to pick up. However, it's still relatively easy to grasp, thanks to its helpful step-by-step guide.
Calendly vs. Microsoft Bookings: Customization
Calendly's customization capabilities
Calendly's customization capabilities allow you to take complete control of your schedule. With this system, you can customize your meeting preferences.
You limit how many bookings you will take each day and program much buffer time you need between appointments.
It also has an available times feature that lets your team know your preferred meeting times.
The Pro version lets you redirect invitees to another page and personalize your confirmation page. It also enables you to connect with:
Hubspot

Zapier

Mailchimp

Google Analytics

Paypal

Stripe
One of Calendly's main features lets you personalize your booking page with your business brand. Simply remove Calendly's watermark and logo, then insert your customized logo and branding on your booking page.
Microsoft Bookings' customization capabilities
This scheduling tool has built-in customization and flexibility options for various scheduling needs. These include individuals, departments, and internal and external appointments.
MS Bookings builds and manages multiple booking calendars with unique setups that cater to specific goals and uses.
This solution works for both large and small businesses, and it offers a variety of editable settings and fields, such as:
Custom communications
Appointment specifics
Page structure and information
Staff details
Calendly vs. Microsoft Bookings: Who is it For?
Calendly's primary users
Do you want to simplify the meeting scheduling process? If yes, this app is for you. It can be used across medium, large, and small businesses for clients, team members, and prospects.
The system's integration capabilities benefit businesses using a variety of business software. Diverse businesses use Calendly, including:
Tech companies

Financial services

Professional services

Education
Calendly is the best fit for:
Sales teams

Marketing teams

Customer success teams

Talent acquisition teams

RevOPS

IT teams
Microsoft Bookings' primary users
Microsoft Bookings' scheduling tool is perfect for small service businesses, especially if already using the Microsoft Office app suite.
Do you cater to patients or customers that frequently schedule meetings and appointments? If so, Microsoft Bookings will work well for you. Here are a few examples of this system's primary users:
Financial services firms

Successful Law firms

Spas

Dental offices

Consultants
Microsoft Bookings vs Calendly: Pricing
Calendly's pricing structure & base features

Calendly's pricing options include a free plan and three paid options. The free plan doesn't give you access to team functionalities or have customization options like:
Customizable email reminders

Choosing a color scheme when adding Calendly to your website
The free plan also limits scheduling to one type of event, for example, individual 45-minute meetings.
Calendly also offers a 14-day free trial after which you may choose to the free version or upgrade to one of its three paid versions:
Essentials

for $10 monthly per user, or

$8 per month per user if paid annually

Professiona

l for $15 monthly per user, or

a discounted $12 per month per user if paid annually

Teams

for $20 monthly per user, or a discounted

$16 per month per user when paid annually
The principal features of the Essentials Calendly Pro version include:
Recurring appointments

Metrics and reporting

Online booking

Mobile access

Meeting polls

Client database

Unlimited one-on-one events

Automatic scheduling

Calendar sync

Appointment reminders
Microsoft Bookings' pricing structure & main pricing features
If you currently use Microsoft 365 Business or Office 365 Business Premium, you already have Bookings.
If you do not have a qualifying Microsoft license, introductory pricing starts at $12.50 monthly per user for a la carte access. The top features of the free Microsoft Bookings in Microsoft Office 365 include:
Online booking

Export of bookings

Mobile access

Register of booked clients

Appointment reminders

Calendar sync

Staff allocation to services

Multiple customer services
Calendly vs MS Bookings – Integrations
Before you make a final decision between MS Bookings vs Calendly and decide for yourself who is the winner, you have to know which integrations both of these solutions offer. It's important for you to connect the booking platform with tools you already use. So let's take a look and see whether Calendly or Microsoft Bookings have more integration capabilities.
Calendly Integrations
Calendly boasts 111 integrations with other tools which is an impressive number. Some of the most popular ones are:
Zoom

Salesforce

HubSpot

Jotform

Typeform

Notion

Webex

Slack

MS Teams

Zapier

Marketo

Paypal

Intercom

Stripe

GoTo Meeting

Google Analytics

Google Chrome
MS Bookings Integrations
One of the biggest downsides of MS Bookings compared to Calendly is its limited integration options. It only integrates with other Microsoft tools.
The most important MS Bookings integrations are with:
Outlook Calendar

Microsoft Teams
Final Thoughts on Microsoft Bookings vs. Calendly 
When it comes to Calendly and Microsoft Bookings, they're both excellent platforms.
Both have their quirks but offer seamless appointment scheduling.
Each system is an outstanding alternative to the other. Honestly, it depends on your needs and budget. We'd still recommend Trafft, though. It's just better.
If you enjoyed reading this article about Calendly vs Microsoft Bookings, you should read this one on Calendly reviews.
We also wrote about a few related subjects like Appointlet vs Calendly, Wix bookings reviews, Housecall Pro alternatives, Square Appointments reviews, vcita reviews, 10to8 reviews, and Appointy reviews.