Therapy scheduling software programs are tools that help you set client appointments.
Most of these schedulers automatically take your availability into account. They provide direct methods to book, edit, and cancel appointments.
This eliminates the need for direct contact with clients to carry out these processes. You can do everything from your computer or mobile device.
That is good for you and for the client.
Some clients may have inhibitions when it comes to picking up the phone and contacting you. They are more likely to book appointments if they can do so via a website, at a time that suits them.
Making it easy to book appointments increase the chances of obtaining paying customers. Plus, they are more likely to recommend you to others.
So, a therapy scheduling software program is not only a management tool. It is also a marketing tool.
Do you long to escape from your paper notebook and long WhatsApp contact list?
A therapy appointment management tool will save you valuable time. That is time you can spend helping your clients.
There are many choices of scheduling software, some even target special market niches. There are also special apps for patient scheduling.
As a therapist, you often deal with personal and sensitive patient information. For that reason, it is important that the software you use is secure.
This post reviews some of the best therapy scheduling software that you can choose from.
Trafft: the best therapy scheduling software
Staying organized has never been easier.
You can now manage your business and grow your brand with a single, powerful software that keeps all of your appointments in line, your clients organized and your business booming.
Trafft is perfect for business owners who need to streamline their booking experience both for their staff and their clients.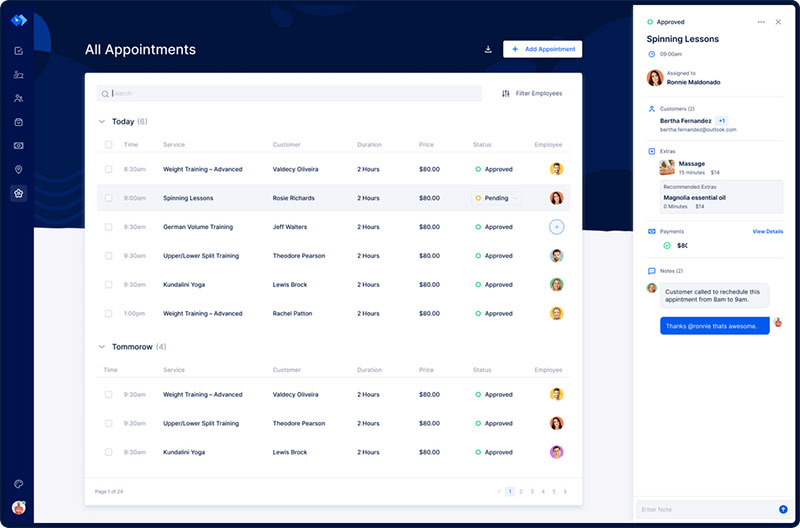 Trafft handles everything for you, even sending automated email or SMS reminders to your clients. No-shows? Not anymore!
The Trafft booking software adapts to different industries for a blissful online booking experience and employee management.
Want to know more? Check out Trafft's awesome features to see what you are missing.
Yellow Schedule
Yellow Schedule complies with all HIPAA rules. This, and the scheduling features, makes it ideal for anyone in the therapy industry.
It is a simple tool that does exactly what you expect of a scheduling software solution. For example, it shows on your website when you are available.
A downside is that website visitors cannot book appointments on the same website. But they are able to see if they can book an appointment at the time they want.
You can show different schedules and availabilities at the same time. That is useful for larger practices with many practitioners.
Other nice features are:
Appointment confirmation
Website booking
Calendar sync
Direct client communication
Custom scheduling
Customizable text and email reminders
Recurring appointments
Docplanner
Besides the scheduling options, Docplanner connects patients directly with healthcare professionals.
Many online scheduling apps let patients book an appointment online. However, Docplanner is a broader platform.
It allows clients to explore different services and providers and then book them.
This is very beneficial for small but successful clinics and one-doctor practices. It boosts their online presence and helps to increase their potential client base.
Docplanner offers a range of interesting features. Here are some of them:
Automated reminders to reduce no-shows
Patient feedback. Practice visitors can publish a review about their experience on your profile
Customizable scheduling and profile
Simple Practice
Next on the list of therapy scheduling software is Simple Practice. This online scheduler is also an electronic health record management (EMR) solution.
It can simplify your business with its billing and credit card processing features. You can add therapy notes and file electronic claims.
Your medical documents are safe in the secured document storage tool.
Clients can use the online scheduling tool to book appointments and therapy sessions. Thanks to calender syncing, all your appointments appear in your personal calendar.
TherapyAppointment
TherapyAppointment is easy to use and compliant with all HIPAA rules. It is an ideal EMR solution for small practices and clinics.
All information gets stored in a cloud-based platform. This platform can manage all aspects of a healthcare business.
You can:
Chart
Bill
File insurance
Schedule appointments
Send and receive appointment reminders
Use telehealth options
TherapyAppointment works on any computer and is compatible with handheld devices.
Below is a summary of TherapyAppoinment's most prominent features:
Separate admin accounts
Simple and fast addition of new providers
Appointment reminders
Online scheduling
Easy and intuitive insurance filing, billing, and reporting
Free patient portals with HIPAA-compliant communications
Telehealth
One convenient central dashboard
Calendly
This scheduling software solution also serves the needs of smaller therapist practices. It is a good starting point for collaborating with clients and other therapists.
Making an appointment often involves a lot of back and forth communication. Especially when you're trying to find a time that suits everyone.
Calendly helps you to stay organized when booking, rebooking, and canceling. That gives you time to focus on your clients, leads, and colleagues.
It has collaboration features, like round-robin, group meetings, and one-on-one meeting scheduling.
Calendly's free version has all the basic booking functions. It also has a single calendar view.
You can test the full version with a 14-day trial option.
Full Slate
This is an easy-to-use option for online appointment booking. Full Slate provides excellent service for the user and the client.
While you are doing other things, Full Slate works to keep your schedule filled. Here are some benefits of using Full Slate:
Get more appointments and a more practical schedule with the online scheduling feature
Multiple clients can sign up for the same slot for group sessions. You can set a limit on the number of participants
Collect credit card numbers, deposit details, or full payment to confirm bookings
Automated in-app reminders to clients
Repeating appointments
Google Calendar Syncing
Acuity Scheduling
Many find that Acuity Scheduling is the right therapy scheduling software for them. Its features are simple and easy to use.
The solutions it provides are what many therapy businesses need.
You can set availability rules and business hours. You can create a booking page where people can book an appointment when they want.
There is a dedicated Acuity app for iOS and Android devices. The app works across devices and you can manage your business from anywhere.
Acuity auto-adjusts to different time zones. This makes working with colleagues in different parts of the world easier.
Acuity Scheduling also comes with special patient intake forms and more.
CentralReach
This HIPAA compliant online scheduling app doubles as an EMR manager. CentralReach is most suited for applied behavior analysis therapists.
Its algorithm makes optimal use of your office hours. That enables you to expand and grow, stretching productivity to the max.
This appointment scheduler records your appointments in the correct way. It ensures that they take the right amount of time.
CentralReach offers visual time management solutions. It helps clinicians and healthcare workers to provide patients with the care they need.
It improves workflows such as scheduling, billing, insurance claims, data collection, and more.
SimplyBook.me
SimplyBook.me is ideal for therapists that want to make their services more accessible. Therapists worldwide will love this therapy scheduling software because it is available in 32 languages.
SimplyBook.me integratess with different payment portals. That makes it easy for clients to transfer your fees to you.
In the app, you can select your industry and job description. This allows you to define your role, whether you are a clinic owner or therapist.
It further allows you to access the templates that are relevant to you.
SimplyBook.me is a little pricier than most of the competition. But this appointment scheduler gives plenty in return.
Google Calendar
Most are familiar with Google Calendar. It is a web-based scheduler that does not have any therapy-related features.
Yet, it is free and it is perfect for scheduling patients.
You can use Google Calendar to create appointments and share them on your own website. Clients can then see your availability online without having to call or email you first.
A downside is that you have to enter all the appointments by hand, which can lead to some inconsistencies. The list below highlights some of Google Calendar's features:
Gmail sync
Mobile app for iOS and Android
Website integration
World clock for international appointment booking
KASA
This complete EMR software solution is compliant with all HIPAA rules.
KASA is suitable for practices and clinics of any size. They can set up bookings, payment and claim processing, and other features.
There is a built-in calendar, which is useful for those receiving booking requests. They can further organize their appointments by using color-coding.
The app automatically sends patient reminders via SMS or email.
An interesting feature of KASA is the internal messaging option. Staff members can communicate to resolve issues related to bookings.
There is also a special client portal. Clients can schedule appointments, make payments, and update personal details.
The EMR function helps practice employees to maintain up-to-date patient records.
Sprintful
The Sprintful scheduling software is easy to use. It is scalable, so it works for any size of therapy practice.
Sprintful offers packages for practices of different sizes.
Clients have the power to schedule their own appointments. That removes any obstacle that picking up the phone might pose.
Another helpful feature is the online payment via Stripe.
You can be sure that you have an up-to-date appointment list thanks to the automatic sync feature. You can manage any kind of appointment, whether it is a personal consultation or a therapy session.
Doctoralia
You receive a complete patient management tool with Doctoralia. This platform is tailored to the needs of healthcare professionals.
This tool allows you to schedule and manage therapy appointments. You can keep patient records, treatment plans, and other notes.
Doctoralia saves everything in the platform in a secure way.
Some other features include:
Automated email and text message reminders
Automated syncing with Google Calendar
Microsoft Azure cloud security system for protecting patient data
Fresha
This is a free therapy scheduling software. Its customizable calendar with color-coding makes scheduling easier and more visual.
Extra features include sales monitoring, client management, and integrated payment solutions. The analytics tool helps you track your time and ensures that you make the best use of it.
Although it is free, Fresha provides a professional scheduling software solution. It is compatible across different devices and has excellent desktop and mobile functionalities.
Fresha offers professional calendar tools. There are also premium features that you pay for on a transaction basis.
Start Booking
The last therapy scheduling software on the list is Start Booking. This high-quality online scheduling app is perfect for small practices.
Start Booking's Smart Booking Technology works for any kind of service-based business.
Start Booking includes all the necessary tools to set up a booking web page. There are custom integrations and robust APIs that make this app easy to work with.
Customers can use the portal to make online payments and receive around-the-clock support.
If you enjoyed reading this article about therapy scheduling software, you should read this one on Calendly vs Microsoft Bookings.
We also wrote about a few related subjects like Youcanbook.me reviews, Findtime vs Calendly, Glofox reviews, Acuity or Calendly, Picktime reviews, and Picktime vs Clendly.