Picktime and Calendly are popular appointment scheduling software solutions. But which one is the best?
That depends on what you are looking for.
When selecting a booking software for yourself or your company, there are many factors to consider.
Important aspects include such things as prices and features. It's also a good idea to obtain information about the product and its vendor.
Picktime and Calendly are similar booking systems. Both facilitate registering appointments.
Both consider the time zones that your clients are in and both have excellent free plans. You can always upgrade to a paid plan if your company has very demanding needs.
In this post, you will find a breakdown of Picktime vs Calendly and an analysis of their features and prices.
Picktime vs Calendly: What They Do
Picktime
Picktime is an appointment management platform for businesses. It also offers extra modules for managing staff and services.
It is a real all-in-one solution for anyone that needs to keep track of appointments. In that regard, you won't have to worry about a thing.
Picktime has an online booking system that you can add to your website or you can generate a booking page. For smoother organizational running, Picktime offers a range of features:
Calendar software
CRM systems
Email marketing tools
Payment channels
You can start with only the calendar feature and then add other features according to your needs. The listed features make Picktime very useful for businesses in the service industry.
Calendly
Calendly is a platform for scheduling events and meetings. With this tool, you can set things like meeting conditions, rules, and assign tasks.
Calendly takes the schedules of participants into account. It adds appointments where they best fit for everyone involved.
It makes sure that time slots do not get double booked or the same appointment scheduled twice. It sets notifications and sends reminders, helping to reduce no-shows.
With Calendly, you can show people your availability. They can then schedule their appointments with you at the best time.
It also helps them to see what kind of appointments they can book. It is great if you have a lot of meeting requests or if you need a simple way to fill gaps in your calendar.
You can integrate Calendly into Office 365 or Google Calendar. It generates a personal URL where people can go to see your availability and book an appointment.
How Picktime Works
With Picktime you can schedule appointments and services with ease. It suits the needs of individuals and companies.
This online appointment scheduling software solution is different from what you might expect. It focuses on keeping clients and businesses connected throughout their business dealings.
Businesses can manage their appointments and optimize workflows. An individual can check their personal calendar and see when they can schedule events with family and friends.
How Calendly Works
Using Calendly is very simple. Start by signing up for one of the plans.
Then, pick what kind of meetings you want to have, like one-on-ones with customers or team members. There are many details you can specify for your meeting types.
Next, indicate your availability. Calendly will then create a booking page for you.
You can add the booking page link to emails, social media sites, personal websites, or other platforms. People can follow the link, see your availability, and request a meeting when it is most suitable.
Their Similarities
A comparison of Picktime vs Calendly reveals that both are minimalist in their approach.
They both focus on taking the scheduling hassle out of your hands. You need to worry neither about your time zone nor your client's.
With both Picktime and Calendly, you only need to set the reservation rules and that is it. The platform generates the booking page and you can send the link to your clients.
Both appointment schedulers have great free plans. You can upgrade your plan whenever your needs or desires change.
That includes when your team grows to include more members or when you need more advanced tools.
How They Differ
A comparison of Picktime vs Calendly also makes it clear that there are certain differences.
So, it's important to determine which features are most important for you. This, of course, will depend on your needs and the needs of your team.
The Paypal and Stripe payment portals are not available with the Calendly free plan. However, the Picktime free trial does include Paypal.
The Picktime free version also lets you connect with popular CRM tools. That includes Hubspot, MailChimp, Google Analytics, and Squarespace.
Calendly does not have those integrations but it has some unique ones of its own. It integrates with meeting software like Google Meet, Microsoft Teams, Zapier, and Zoom.
Picktime's Key Features
PayPal, Square, and Stripe These allow you to accept payments from your clients.
Automatic notifications. Useful for businesses and individuals, ensuring that you will never miss another meeting.
Built-in dashboard. This makes appointment, class, and subscription management visual and direct.
In-depth reports. You receive detailed reports of all your business activities. You can organize them by month, week, day, or custom time range.
Zoom and other video conferencing platform integration. Virtual meetings with clients couldn't be any easier.
Multiple locations and time zone conversion. Picktime supports different business locations and offers automatic time zone conversion. With this, the app takes your customers' location into account.
Syncs with other calendars. Thanks to this, Picktime keeps all your calendars organized.
Pros
Perfect for businesses that deal with many meetings on a daily basis.
It has integrated review and analysis Customers can also rate their meetings with you.
Cons
Picktime has fewer features than most of its competing online appointment schedulers.
Picktime takes some getting used to.
Calendly's Key Features
Schedule personal meetings and other events with ease.
The free version has all the basic tools you need to schedule appointments. The features save a lot of time that you could otherwise spend on emailing back and forth.
It syncs with multiple calendars. It combines the information to show when you can accept online bookings.
On-demand scheduling. At a glance, prospective clients can see when they can book an appointment with you. Clients can reschedule themselves, which reduces the chance of cancellations or no-shows.
Profile Customization. You can remove the Calendly branding on the booking page. This allows you to customize the page with your company's logo and colors.
Streamline collaboration. Calendly works behind the scenes to streamline your business workflows. You can automate meeting reminders and follow-ups.
Time zone detection. The time zone adjustment is automatic. The page shows your availability according to the client's local time.
Pros
Calendly's functionalities make scheduling and rescheduling easy.
It syncs across calendars. That gives you security and makes your life easier.
The workflow automation feature sends out reminders to all meeting invitees.
Cons
It does not let you set up events outside your account.
There are few customization options.
You can use the account for only one company.
Calendly has some of the best basic features. But there are a couple of drawbacks as shown in the list above.
There are several scheduler alternatives that can help you to overcome those shortcomings. They have different advanced features that may meet your needs.
Picktime Pricing
Picktime has a free plan with many features. You can upgrade if you need more integrations or features.
There are several premium plans, including:
Starter. $9.99 per month
Pro. $19.99 per month
Calendly Pricing
Calendly too has a free version for people that only need the basics. You can upgrade if you want more customization options and scheduling features.
There are monthly and annual payment options. These are the different plans:
Trial. Free trial version for 14 days
Basic. Free with limited features
Premium. $8 per month per user
Pro. $12 per month per user
Teams. $16 per month per user
Get an even better app to use
Staying organized has never been easier.
You can now manage your business and grow your brand with a single, powerful software that keeps all of your appointments in line, your clients organized and your business booming.
Trafft is perfect for business owners who need to streamline their booking experience both for their staff and their clients.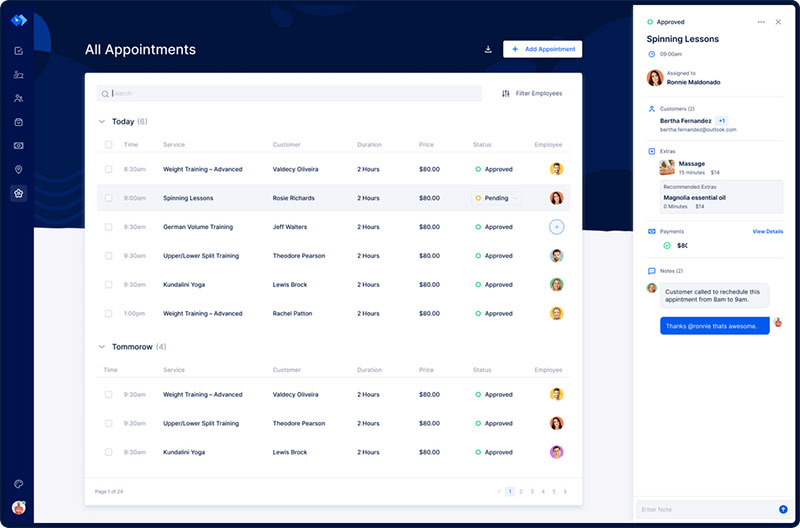 Trafft handles everything for you, even sending automated email or SMS reminders to your clients. No-shows? Not anymore!
The Trafft booking software adapts to different industries for a blissful online booking experience and employee management.
Want to know more? Check out Trafft's awesome features to see what you are missing.
If you enjoyed reading this article about Picktime vs Calendly, you should read this one on Calendly vs Microsoft Bookings.
We also wrote about a few related subjects like Youcanbook.me reviews, Findtime vs Calendly, Glofox reviews, Acuity or Calendly, Picktime reviews, and therapy scheduling software.