Do you want to schedule interviews or enable customer bookings straight from your website? If yes, you need YouCanBook.me. This scheduling app's customer reviews praise the system for its ability to simplify your booking process.
There are so many tedious processes involved in scheduling meetings and appointments. The way you handle them can make or break your customer relationships. If your business relies on customer bookings, you want to streamline it as much as possible.
Many businesses are turning to customer support and online scheduling apps to help them stay competitive. That is where applications like YouCanBook.me shine.
This article will examine YouCanBook.me and help you decide if it's the right tool for your business.
An Introduction to YouCanBook.me
Reviews often hail this online scheduling app as a perfect replacement for the old way of booking client appointments. YouCanBook.me is also a time saver that eliminates unnecessary back-and-forth messages in your booking process.
It helps create a flexible schedule by allowing clients to book straight into your calendar events. Your clients then get notifications, calendar invites, reminders, and more.
YouCanBook.me personalizes booking pages by integrating with your existing Google or Microsoft calendar.
It also automatically detects each customer's time zone, ensuring the correct date and times are displayed to all involved. It helps you to connect with customers by:
Collecting client information during booking
Adding location details for face-to-face meetings
Sharing the booking page link
Hosting virtual meetings with apps like Zoom via the conferencing link
YouCanBook.me's Pricing Structure
This online scheduling system is a flat fee of $10 per month per calendar. This system's pricing structure comes with unlimited priority customer support. It also includes a robust free 14-day trial.
While YouCanBook.me (YCBM) charges for each linked calendar,it also checks your team's availability. How does this benefit you?
If you are operating alone, you might be able to manage multiple bookings from a single existing Google business calendar. But team management and appointment booking are harder to do with a single calendar.
The Customer Booking System's Pros and Cons
This Appointment Scheduling Software's Pros
The most significant pro of YCBM is that it centralizes your front and back-end scheduling duties. That increases your booking accuracy, thereby eliminating costly double-bookings.
Customization Capabilities
YCBM offers excellent customization features. It lets you upload personalized logos and images for enhanced branding and customer satisfaction.
You can personalize email communication with this scheduling software via custom mail-merge-style fields.
YCBM features responsive formatting,making it compatible with tablets and mobile devices. That lets your customers book from any device and from anywhere.
You can set the system to send text messages and email reminders a few hours before each appointment,reducing no-shows.
Increases Online Visibility and Facilitates Business Expansion
YouCanBook.me reviews boast about the benefit of the online presence it provides. That means increased exposure and growth opportunities for your business.
Faster Acceptance of Online Payments
Your customers can pay you faster with the YouCanBook.me software. It's ideal for:
Bookings
Sessions
Purchases
They can use their credit cards in a secure environment that prevents information breaches.
Online Conferences
Today, online meetings and conferences are the norms. This facilitates faster client communication and product and service promotion.
Since the system integrates with Zoom, you can program your conference details. These are automatically sent to your clients' respective emails.
Appointment Reminders for Upcoming Meetings
People lead busy lives, so clients can easily forget their appointments. Increase the likelihood of clients showing with automated reminders and notifications a day or two before the meeting.
Facilitates Rebooking and Prevents Double Booking
There was a time when appointment reservations were recorded on paper. That often led to double booking or failure to update the appointment schedule.
YouCanBook.me automates your business's booking process. Once you've shared your online booking form and a customer books an appointment, the system updates the calendar.
It will then send a confirmation notification to your customers. The software can override booking data for existing appointments, allowing your customers to reschedule through your booking page.
For complete control over your calendar, YCBM lets you restrict people from booking too soon or too far into the future.
YouCanBook.me Cons
Difficult Booking Adjustments
Very few users see this as a problem, but you can only edit the date and time of existing bookings. You have to erase the entire booking and create a new one to change other client booking data.
Limited Payment Options
Most YouCanBook.me reviews list this as one of the platform's few cons. While you can set up prices for each appointment in the service tab, there are limited payment options.
Stripe is the only payment processor available for integration. That may lead some to look elsewhere if they need a system that integrates with a specific payment processor.
Usability
Naming your booking page and sharing it for appointments is a straightforward process. The simple steps to set up this system includes:
Connect iCloud Calendar or Google Calendar to YouCanBook.me
Set preferred features
Add elements and connect calendars to your booking page
This software supports fruux, Outlook Calendar, CalDAV, and Google Calendar. You'll love the left-hand panel with its menus listed in the order you set up the scheduler.
Sub menus are displayed beneath each main menu, creating the feeling of being led on your setup journey step by step. And simple (not overly technical) language is used throughout the entire process.
YouCanBook.me's Premium Features
This scheduling app's features give you good value for your money, providing a first-class booking app for one reasonable price.
YCBM's Booking Page Integration Capabilities
YouCanBookMe features Zoom integration and integration with other apps like:
Zapier
Stripe
Microsoft Outlook
Nearby Now
Google Meet
Google Calendar
Microsoft 365
Gmail
Back Office Betties
Service Tab
The dedicated services tab displays your services. And you can program how long each service appointment should last.
You can also add captions and images to educate and attract clients to each service.
Calendar Booking
YCBM has a flexible schedule builder and booking calendar that displays your available dates and time slots. This includes appointment padding to allow for travel and preparation time between appointments.
You can change your direct booking link to any sub-domain to create a unique ____@youcanbook.me link. And you can choose your favorite calendar, such as:
iCloud Calendar
Microsoft Calendar
Google Calendar, and more
There are two ways of integrating a calendar with YCBM:
A connected calendar account
A linked calendar
While you can't pool availability across calendars, you may add as many calendars as you like.
Booking Pages
Your customers can simultaneously book several of the services listed on the booking form. These services are booked and automatically displayed in back-to-back timeslots.
Automated Calendar Reminder Options
YCBM reduces no-shows by sending customizable email reminders a few days before upcoming meetings via customizable emails. You can customize emails with:
Shorthand codes (variables like booking start time)
Meeting links
Text
Even though there is no HTML import for emails, you can use shorthand codes to customize SMS messages. Just be aware that SMS credits are chargeable and not included in the YCBM subscription.
Group Collaboration
This scheduling app has a team management and group collaboration feature. This benefits teams by displaying all available and unavailable timeslots.
Booking Form Customization
You can create customizable booking forms for your clients to select a meeting time. You can determine what information you request in customized booking pages, including:
Services offered
Name
Contact info
Custom questions to prepare for individual appointments
Control Over Displaying Availability
Do you want a flexible schedule that you can control? After choosing your calendar and custom URL for your booking page, you can add the available times to be booked each day.
You also determine the duration of each appointment, session, or meeting. If you offer one-hour timeslots between 8 a.m. to 5 p.m., your last available appointment will display as 4 p.m.
You can set a padding duration between appointments if you want free time between meetings.
Modules and Functions
YouCanBook.me includes modules, functions, and features, such as:
Zapier compatibility for intuitive third-party integrations
Automatic text and email notifications
Password protected booking
Availability management
Multiple timeslot support
Appointment padding
Customer branding capabilities
Scheduling histories
Central booking calendar
Custom forms
Users That May Find This Appointment Scheduling Software Limiting
When it comes to contextual app integrations, YCBM has room to grow. So some YouCanBook.me reviews explain the limitations sales teams may experience with this app.
For example, the system doesn't have a built-in CRM integration. That affects email marketing and inventory solutions for some businesses, especially salons.
Integrating YCBM with other apps is possible, but only with Zapier integration or APIs and webhooks.
And you must leverage an external calendar like Google or Microsoft calendar to display your availability. The complicated process may make some users feel limited.
YouCanBook.me's Primary Users
This system works great for businesses that rely on client bookings and reservations, including:
Small business
Medium-sized companies
Enterprise-level corporations
More than 22,000 customers worldwide use this appointment scheduling software. These range from single users to large corporations. YCBM serves industries such as:
Retail
Accounting
Software development
Education
This customer scheduler is also beneficial for professionals like:
Managers
Doctors
Dentists
Chiropractors, and more
What other people are saying
Whenever there's a review page, you always see positive opinions about that app. But, what about the negative opinions?
Let's see what others are saying:
Ending thoughts on YouCanBook.Me reviews
YouCanBook.me reviews praise it as an affordable full-service online scheduling platform. yet, there are a lot of reviews on the other side of the spectrum.
Get an even better app to use
Staying organized has never been easier.
You can now manage your business and grow your brand with a single, powerful software that keeps all of your appointments in line, your clients organized and your business booming.
Trafft is perfect for business owners who need to streamline their booking experience both for their staff and their clients.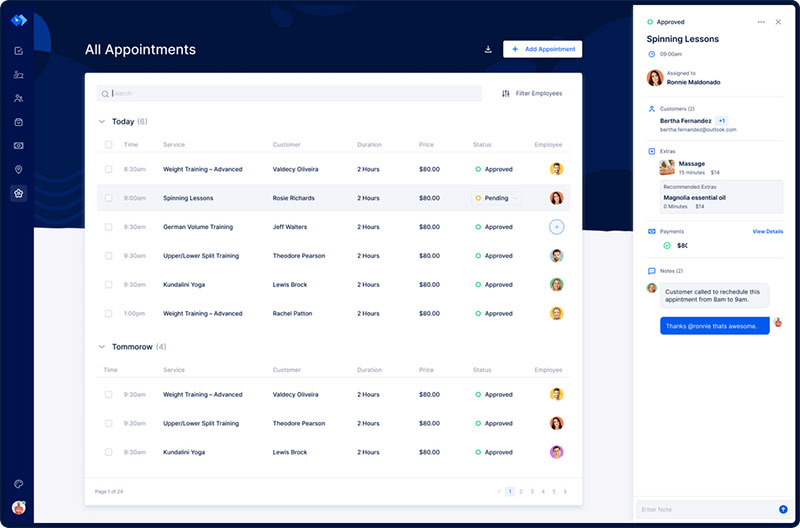 Trafft handles everything for you, even sending automated email or SMS reminders to your clients. No-shows? Not anymore!
The Trafft booking software adapts to different industries for a blissful online booking experience and employee management.
Want to know more? Check out Trafft's awesome features to see what you are missing.
If you enjoyed reading this article about Youcanbook.me reviews, you should read this one on Calendly vs Microsoft Bookings.
We also wrote about a few related subjects like Findtime vs Calendly, Glofox reviews, Acuity or Calendly, Picktime reviews, Picktime vs Clendly, and therapy scheduling software.