Running a photography studio involves more than the production of photographs. It is a multifaceted job.
Because of this, a professional photographer needs more than cameras and studio equipment.
A photographer must maintain relations with clients. Some ways you can do this is to obtain feedback or set up an automated newsletter email.
Running a business also involves other things. A photographer needs to take care of finances and invoicing. It's also vital to keep track of appointments and bookings.
Photography studio management software can be of great help. These kinds of software can do the following things:
Automate tasks like reminders and marketing emails
Eliminate double bookings
Generate invoices and reports for tracking performance or taxes
Organize leads
Provide online payment options
There are many apps that perform tasks like the ones mentioned above. This article focuses on apps and software that meet the needs of photography business owners.
Trafft: the best photography studio management software
Staying organized has never been easier.
You can now manage your business and grow your brand with a single, powerful software that keeps all of your appointments in line, your clients organized and your business booming.
Trafft is perfect for business owners who need to streamline their booking experience both for their staff and their clients.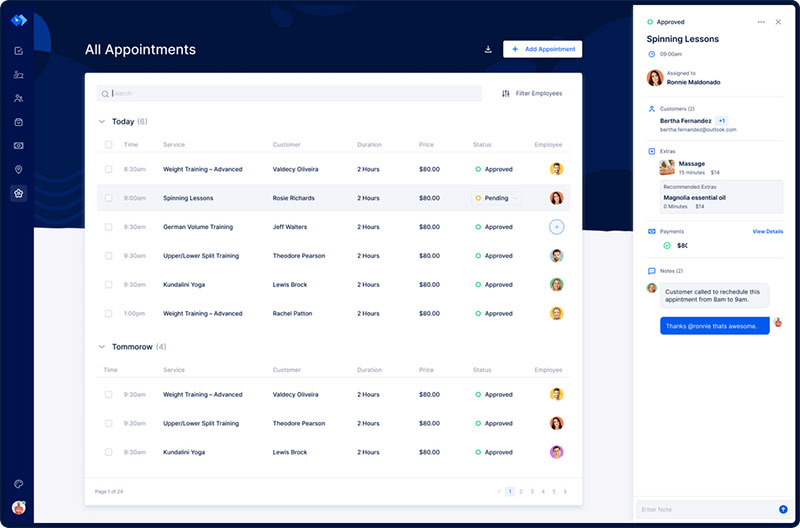 Trafft handles everything for you, even sending automated email or SMS reminders to your clients. No-shows? Not anymore!
The Trafft booking software adapts to different industries for a blissful online booking experience and employee management.
Want to know more? Check out Trafft's awesome features to see what you are missing.
Pics.io
Pics.io is a 
digital asset management app
 to streamline the management and organization of your digital media library. Using a simple-to-understand UI, you can tag your photos with keywords and numerous visual markers to make them easier to find, thanks to the metadata-enhanced search functionality. Sharing your photos is likewise easy. In one click, you can generate a link to showcase single or numerous photos without compromising quality.Highlight features:
Metadata Tagging & Search – use popular metadata formats (EXIF, XMP, etc.) or custom metadata + keywords to tag and search for your assets without having to scroll through hundreds of photos
Adobe Suite Integration – access your media collection directly from Adobe programs using an extension. WIP files like PSD can be previewed inside Pics.io like any other image.
Simple & Secure Sharing – share your photos without compromising quality and protect them with passwords, download restrictions, and easy to apply watermarks.
Pixieset Studio Manager
Pixieset is best known as a photo delivery service. But since 2021 the company has also offered Pixieset Studio Manager.
This is a photography studio manager. Its design helps photographers find new clients, manage contracts, and send out invoices.
Pixieset's most prominent features are:
Invoicing and online payments. You can make an invoice template, schedule payments, follow up, and send reminders.
Contracts and eSigning. You can use a contract template or make one yourself. You can autofill customer information, add smart fields for them to fill in, and add a second signer.
Brand documents. Add your company's logo and brand color to invoices and contracts. You can add a personal touch with a header image.
Sprout Studio
The developers of Sprout Studio are photographers. So, the product is very much tailored to the needs of professional photographers. It's also very user-friendly.
Sprout Studio allows you to customize the branding of client documents and web pages. There is a heavy emphasis on accounting and bookkeeping too.
Invoicing operations and online payments are made very easy. There are integrations with portals like Paypal, Square, and Stripe.
Sprout Studio can isolate many statistics and give an overview of your financial health.
You can see the results of previous years and break them down in percentages or by type. It can show you booking rates, outstanding invoices, and much more.
There are also some tools that are particularly for the photography industry. You can create online galleries and undertake design proofing.
Most other studio management software options do not offer these tools.
HoneyBook
HoneyBook is a photography studio management software that helps you control your administration. It handles payments, invoicing, bookings, communication with clients, and much more.
The app has a clean user interface and is responsive. Thanks to the mobile app, you can take it with you anywhere you go.
It's easy to invite others to manage the software with you. There is a large community where you can find models, second shooters, and other resources.
This online photography management software takes care of customer relationships for small businesses. This feature manages inquiries, contracts, bookings, and payments.
HoneyBook is a business management software. As such, it's not specifically geared to the photography industry.
Still, it has many advantages for this type of business. A major plus is that you can manage different businesses under one account.
ShootQ
ShootQ is a cloud-based photography studio software for managing leads, sales, and more. It is most suited for larger photography businesses and covers almost every aspect of studio management.
Still, it does not exclude anyone with a creative profession, such as DJs and event planners.
It has a large amount of storage space and gives you plenty of customization options. You can edit surveys and documentation, assign work to the employee of your choice, modify workflows, and set automated emails.
ShootQ works together with Quickbooks, which makes managing finances much easier. It turns ShootQ into an all-in-one studio management system.
There is great customer support available day and night via telephone. You can also get support by email and request personal setup assistance.
Some of ShootQ's most prominent features are:
Client communication. You can prepare questionnaires and templates to collect important client information. Put these into templated emails to save time and effort.
Financial management. To save time and boost sales, you can prepare branded invoices and contract templates. You can further set up an online booking system for customers to check their contracts and sign them online.
Project management and workflow. Keep track of deadlines and organize tasks to see what you need to prioritize in the coming days.
Dubsado
This photography studio management software is rather unique. That's down to its well-equipped free version.
This is more than a trial version because there is no time limit to its use. You can use this version as long as you want, including the limited features.
You can obtain access to the complete version by signing up for a monthly subscription.
The pricing of this management software makes it attractive to small studios. Users will be able to make bookings and maintain a to-do list.
There are also advanced features like expense and profit balances. Further options give insight into the health of your business.
Dubsado allows you to apply one payment to other invoices as well.
This payment template is modifiable for certain clients. That is useful in case a client is not happy with the standard option.
A nice detail is that Dubsado accepts tips.
Tave
Tave is an online studio management tool that improves workflows. It helps you to convert leads into paying clients.
Designed particularly for the needs of photographers, it works well for other creative businesses too.
This cloud-based management tool can take over much of the administrative work. It simplifies work and creates automated workflows.
Here are some features that help you to achieve that:
Automation. You can set automated invoice reminders, answers to certain common questions, and more.
Client communication. You can keep track of your contracts, emails, invoices, and quotes. You also can send out surveys. Tave then automatically adds the responses to your database.
Customizable, responsive, and compatible with WordPress. Add your fonts, logos, and company colors to your emails and booking pages.
Task management. This feature includes to-do lists and complete calendars. The weather maps help you to plan your outdoor photoshoots.
Track results. Tave generates reports and charts to monitor and analyze how your business is doing.
Studio Ninja
This is a user-friendly studio management software that comes at a reasonable price. Its design aims at photography studios.
Studio Ninja has a section for users and a client portal. In the user section, you will find a task management system and different options to create automated workflows.
The client portal is customizable. It is where clients can approve quotes, pay, and sign contracts.
This portal also sends out timely invoice reminders. This helps to speed up the process of contracting new clients and receiving money.
You can also send out automated questionnaires.
The Studio Ninja application has an accompanying mobile app. The app makes on-the-go management of your studio even easier.
What's more, the developers release frequent updates.
Studio Ninja has a variety of excellent integrations:
Gmail
Google Calendar
QuickBooks
Paypal and Stripe
Xero
The application can produce complete financial reports. This makes Studio Ninja a useful accounting software tool as well.
Bloom.io
Bloom.io is a relatively new player on the market. There are some things that need improving, but the developers are open to suggestions.
Still, the user experience is agreeable and easy to get used to.
This studio management app has all the basic features, like payment processing and contract signing. Because it is simple, it is easy to set up and get started with.
Despite the recent appearance of Bloom.io, it has gained the trust of many happy customers.
The marketing tools and customer relationship management system are very convenient. The analysis features are powerful enough to generate useful custom reports.
The other basic tools are easy to customize. These customizable tools include calendars, task management, booking, and billing.
This photography studio management software is most recommended for smaller studios and freelancers.
Light Blue
The features of Light Blue may seem a little old-fashioned, but that is not a negative thing. It is unlike most web-based studio management software and that makes it easier to use.
You can manage photoshoots, calendars, invoices, contracts, and inventory with it.
At a glance, you can see your appointments, past, present, and future. The app makes suggestions as to what new appointments you need to consider.
It makes your work clear and ensures that you do not miss anything.
Light Blue is best known for its excellent marketing features. Using these features will aid the healthy growth of your studio business.
PICR
A cloud-based photography management software, PICR lets you:
Build websites
Manage contacts
Prepare contracts
Book shoots
Organize and send images
With PICR you can process payments, chat with team members, and interact with website visitors.
The PICR mobile app has most of these functions as well. You can continue managing your studio wherever and whenever.
The Starter pack allows you to work on five projects and gives you 500 GB of web data storage.
The Standard plan lets you manage an unlimited number of projects. It also provides you with double the storage space.
Picspotr
Picspotr is a simplified photo studio management software. It has all the standard features but remains affordable.
Some notable features are tracking expenses, handling invoices, and calendar syncing. Picspotr offers contract templates for different shooting occasions, like weddings or real estate.
The management software app has integrations for payment portals. That includes Authorize.net, Paypal, and Stripe.
You can access the cloud-based app via an App Store application too.
Picspotr is not for everyone. It doesn't provide customization options, or advanced accounting and marketing tools.
However, it is great for photographers with a small budget. Particularly if they want to improve their organization and workflow.
Studiocloud
Studiocloud has a good selection of photography studio management software features. It offers client management, invoicing, scheduling, project management, and accounting modules.
It can handle different currencies and accepts credit card payments. You can manage employees and keep track of security permissions.
It is accessible on your desktop, mobile, or through the cloud. There are several automated functions, like email reminders, birthday greetings, and marketing promotions.
There is a free version of StudioCloud that's suitable for single users. The higher tiers give you more logins, automated text reminders, and free tech support.
17Hats
The name of the app refers to the number of different roles a small business owner has to fulfill. 17Hats covers many of those roles in a cloud-based application.
The design and features of this studio management software help create automated workflows. It handles appointments, schedules, and invoicing.
You get a complete accounting module that helps to look after your financial health. The studio management software keeps your invoices, contracts, and other documents up to date.
17Hats allows you to keep track of new leads so you won't ever miss an opportunity.
The accounting software section is useful but it is not a complete solution. If you need strong and robust bookkeeping solutions, it is best to look for other options.
Iris
This app has everything you need, with some comparing it to Apple's Siri.
The program gives suggestions and feedback based on information from its photographer users. That helps to maximize the potential of this photography studio management software.
Besides online booking, Iris's invoice system integrates with Paypal and Square. The system sends out automatic invoices and payment requests.
There are further integrations with Quickbooks and Shootproof.
An interesting feature of Iris is the scouting feature. This directs you to new locations for outdoor shooting sessions.
Iris generates leads from your Instagram, Facebook, and email contacts.
You can customize your contracts, invoices, and questionnaires to match your branding. That leaves a professional impression on your clients and prospective customers.
Pixifi
The development team behind Pixifi included photographers. As a result, this application benefits their fellow photographers and event professionals.
An outstanding feature is the analytics option. You can visualize a variety of data, helping you to improve your studio's management.
For instance, you can analyze lead shooting hours versus second shooting hours per client. Or you can check the revenue you have generated per client.
A common professional photography service is the mini session. Pixifi is perfect for organizing and managing these sessions.
It enables you to offer and book specific timeslots according to the client's needs.
The user interface and experience do need a little bit of tweaking. But once you get used to it you will enjoy all the practical features.
Shootzilla
This photography studio management software solution makes day-to-day tasks simple. It tells you what has priority and what you should do next.
It brings documents, workflows, and client information together in one place. Shootzilla lets you customize every detail.
There's no need to worry that you will forget something important.
Shootzilla comes with a whole range of templates for your use. You can order your documents and templates according to a color code and add icons to your to-do lists.
It allows you to customize your email templates and add company branding to them. The integrated calendar system integrates with Apple and Google Calendar.
The app does all the standard things, like organizing and automating workflows. It also adds diversity to your business.
The color codes give a quick overview of what needs to be done and when.
Studioplus mystratus
Studioplus mystratus is a powerful studio management software that received a recent facelift.
This app has merchandising and special tools for booking shoots for large organizations. These types of shoots are very different from individual or couple sessions.
You can sync all information in the app to your mobile device. This enables you to control all your data on the go and you can select what information you want available.
The Express subscription features scheduling and payment processing, as well as email reminders.
The Standard and Professional versions have extra features. These premium features include loyalty programs, QuickBooks, and online galleries.
Final words on the best photography studio management software
Good studio management software is a must for all professional photographers.
When you're running a business there are so many things to take care of. These management software tools help you so that you can focus on what you love, taking photos.
These tools simplify making contracts, finding locations, scheduling clients, and other administrative tasks.
To be successful you also need to make sure that your business grows. These studio management software solutions assist you to do that.
The list above contains the very best photography studio management software. They can help you achieve great success with your business.
If you enjoyed reading this article about photography studio management software, you should read this one on Chili Piper reviews.
We also wrote about a few related subjects like how to get more photography clients, becoming an event photographer, how to become a licensed photographer, social media marketing for photographers, group fitness app examples, HoneyBook alternative, consultant scheduling software, the best apps for personal trainers, best coaching apps, team management applications, hair stylist apps and Booksy vs Vagaro.