Maybe you want to know how to become a licensed photographer. But do you know why you would actually need a photographer license?
If you have a knack for taking beautiful and professional photos and you wish to turn it into a full-time, successful legitimate business, then consider getting a photography license.  Clients need a guarantee that they are hiring someone who knows how to do the job well. Thus, having a license increases the chance of getting hired and having more clients.
The policy and regulation for photography business differ among cities and countries. There are some cities that only permit licensed photographers to operate in their area and there are cities that are more lenient with their rules. However, whether you work as a freelance photographer or in a place where it is allowed to run a photography business without a license, it is still preferable to have a license.
The idea might seem overwhelming, but reading through the following information will help you know what type of license and permits you need, and understand more about the photography business.
Do Photographers really need a Business License?
Photographers need a business license especially if they specialize in a certain type of photography like wedding photography. The law varies in every state and local government, so whether it is a requirement or not, it is a fact that having a business license enables photographers to do their job with fewer restrictions.
Not all states and local governments have the same policy regarding the photography business.
Some local governments do not require a license, however, photographers need to acquire a special permit to operate. Opening a photography studio requires a special permit from the local government.
Aside from permits, photographers must always remember to avoid licensing issues such as copyright issues, the expectation of privacy, and more.
Photographers must be fully aware of these issues to avoid having legal problems with their small photography business and the potential of being taken to a small claims court.
If laws are different in every city or state, then how will the photographers get a license? Photographers must determine first what kind of photography services they sell and where they wish to run their business.
Then, they need to call the state licensing board and coordinate with the local city hall to gather all information about which license they need to acquire.
Why do you need to Get a Photography License?
Having a license provides more career opportunities to photographers whether they work as a freelancer, on-call for a specific brand, or an events photographer.
Clients always pay for the value and security thus they want to make sure that they invest their money in the right person. Knowing that a photographer is licensed puts clients at ease that they will hire someone that passed the professional standards and has legal permission to run a business. This will put your small company in good financial condition.
Your license is your first line of defense from any legal consequences. It provides legal protection to your business. A lot of photographers undermine the benefits of having a license. Remember, without a license, your business is more vulnerable to any form of sanctions from the local authority.
A licensed business means it is legitimate and it qualifies for an annual tax return.
A business license is a common requirement, especially for event venues. Some even require an additional document such as an insurance policy to grant access to their premises.
Regardless of the location, photographers might encounter legal problems if they don't have a business license. So to be free from worry and avoid getting into trouble, it is best to get a license and if possible, also obtain insurance for the photography business. Aside from the protection and credibility, a business license can help you expand your reach and grow your client base.
How to Get a License for a Photography Business?
The requirements and application process for a photography license vary in every city and state, so photographers must pay attention to every detail. Securing a business license includes the following steps:
Determine the Legal Structure of your Business
Firstly, photographers need to identify the legal structure of their photography business because that will pre-determine the requirements for the license application both in state and local governments.
It is best to form a Limited Liability Company (LLC), a business structure that protects the owner from having personal liabilities should the business or partners incur any debts. Forming an LLC enables the business to have certain characteristics as a corporation and protects the owner's personal assets.
Identify requirements per location
As mentioned, state and local governments don't have the same requirements and procedures for granting a business license, thus one of the initial steps before getting a license is to determine the location or where the business is officially based.
Once you're decided on the location, do your research and find out about the procedures and requirements for getting the business license.
The website of the U.S. Small Business Administration (SBA) provides extensive information on how to apply for business licenses and other permits. The website also has navigation links that help visitors check specific requirements in every state.
Fill Out Special Forms
Applying for a business license usually involves a bit of paperwork and that includes different types of forms to fill out. Photographers can get these special forms at their City Hall or download the forms from local government websites.
Again, the application process for a business license varies in states and cities. Some local governments or agencies require personal submission of forms to the City Hall, while the process in some cities is completely virtual. Either way, applicants have to provide the following information:
Business structure
Official business address
Name of the business founder
Contact details and ID number
Number of employees
Pay for Business License Fees
The total cost of the license application varies from as low as $40 up to $400 depending on the location. Remember, states and local governments have different fees, so it is important to consult the issuing authorities on the amount to be paid.
Wait for the Photography Business License
After submitting all the requirements and paying license fees, it will take about 1-2 business weeks before you finally receive your license. Again, the number of processing days depends on local governments.
Taxes in Photography Business
Once your photography business has a license, it is now subject to government taxes. To maintain the legal status of the business, photographers must fulfill their tax obligations, which vary by location and business structure.
However, there are two types of taxes that every business owner must be aware of, sales tax and income tax.
Sales Tax
Having a sales tax permit enables businesses to collect sales tax from their clients. Sales tax is usually regulated by states, but not all of them charge sales tax on small businesses.
Photographers might not need this permit if the state where their business is based does not require one. If the state charges sales tax, it is also possible that some businesses are exempted because tax laws constantly change over time.
States mostly charge sales tax on businesses that sell tangible products, which means, if you sell digital products such as photos and videos online instead of packaging them in flash drives, the business will most likely not pay any sales tax.
Now, charging and collecting sales tax from your clients might be challenging. Photographers should always take note of all the expenses incurred before, during, and after the shoot. If the bill is subdivided, photographers are less likely to collect sales tax on their clients, but they may be able to do so if they charge their clients an entire bill. To guide them more on collecting sales tax under legal provisions, they need to consult an accountant.
Income Tax
Income tax and sales tax have different laws that govern them. Income tax, as the name implies, is the tax imposed on the income generated as a photographer, and it is regulated by the federal and state administrative institutions. A licensed photographer is obligated to pay income tax.
To know more about the actual taxes imposed by state and local governments, it is better to seek professional help from an accountant. By consulting an accountant on matters such as tax obligations, the business will be less vulnerable to any legal problems.
Insurance for Photography Business
The value of having business insurance is the same as having a business license. Business insurance is not a permit or a license, but it provides financial protection from any potential damage or loss to the business like property damages, health risks or injuries, and more.
Photographers may start applying for business insurance with basic coverage, and they can change it into more comprehensive insurance as the business expands.
For small businesses, there are two common types of business insurance that photographers should consider, commercial general liability insurance and professional liability insurance.
Commercial General Liability Insurance
General liability insurance provides financial protection from bodily injuries on either clients or employees, property damages, third-party incidents, and other non-professional negligent acts sustained during work. It also provides protection to certain equipment in case of damage or loss (if it's stolen).
Clients will also appreciate your company more if you show them that you are financially liable for any risks in your services. It will help you build a good business reputation and it will also prevent losing more clients.
Professional Liability Insurance
Professional liability insurance or Errors and Omissions insurance protects you and your business against financial loss caused by lawsuits filed by your clients. The grounds for claims include negligence, copyright infringement, malpractice, and more. It also covers failure to deliver agreed-upon services, alleged errors, customer dissatisfaction.
Automobile Insurance
If your business owns vehicles and involves frequent land travel, you should also consider getting commercial auto insurance. Commercial auto insurance covers physical damages on your automobiles sustained in an accident, including bodily injuries, property damages, and more. If your company doesn't own any vehicles but uses or rents automobiles in business operation, you should get hired and non-owned auto (HNOA) insurance.
Aside from this insurance, most states require business owners to get workers' compensation insurance for their employees.
Ending thoughts on how to become a licensed photographer
By gathering all the necessary information about the requirements and application process, getting a license for your photography business should be a reasonably smooth process. Reach out to your state and local government officials to guide you better on the documents, procedures, fees, and taxes in securing a business license.
Doing all the preparation will not only save you a lot of time and effort but will also save you from any hassles and stress, allowing you to focus on growing your photography business.
Get more bookings with the right tool for the job
Staying organized has never been easier.
You can now manage your business and grow your brand with a single, powerful software that keeps all of your appointments in line, your clients organized and your business booming.
Trafft is the perfect service scheduling software for business owners who need to streamline their booking experience both for their staff and their clients.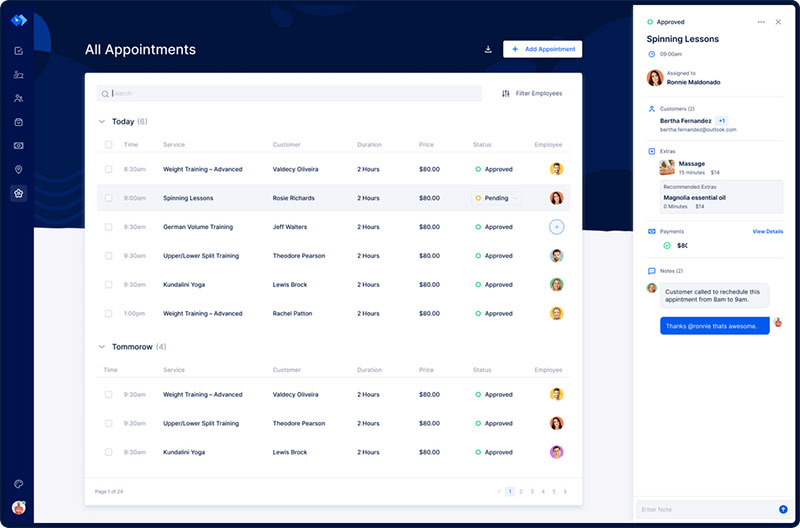 Trafft handles everything for you, even sending automated email or SMS reminders to your clients. No-shows? Not anymore!
The Trafft booking software adapts to different industries for a blissful online booking experience and employee management.
Want to know more? Check out Trafft's awesome features to see what you are missing.
If you enjoyed reading this article on being a licensed photographer, you should also read this one about how to get your photography noticed.
We also wrote articles about similar subjects like real estate photography contracts, how to get more clients in a salon, salon dimensions, salon insurance, salon lighting ideas, spa quotes, how much salon owners make, and how to write a personal training business plan.