What, do you think you can improve your salon's lighting? You're in luck. We have several salon lighting ideas that could help you.
People go to beauty salons to look and feel good. Salon lighting can have a major impact on this, either for good or bad.
This will affect how much the customer likes the service provided. Proper lighting will make the customer look better in the mirror.
It will also assist the hairstylist to do a precise job. Imagine the disasters that could occur if stylists have to work with poor lighting.
Everything, including placement and types of light bulbs used, will affect the lighting.
Choosing the proper lighting for a hair salon is very important. So what should salon owners look out for?
The Different Types of Lighting Fixtures and Solutions
For hair and beauty salons, there are five main lighting solutions or fixtures:
ambient
task
accent
vanity
decorative
Note the different uses for each type below.
Ambient Lighting
This is the first category of lighting fixtures. Ambient lighting includes designs that might not be noticeable right away.
This type of lighting brings a diffused light across a room or the majority of a space of the salon interior.
Task Lighting
Next on the list is task lighting. These fixtures have a specific purpose.
They light regular or high-use areas and help people to see better.
Task lighting fixtures are often used in hallways. A few examples are:
floor lamps
pendant lights
table lamps
accent Lighting
Accent Lighting
These draw attention to a certain object or area within the beauty salon or spa. This could be a retail display of products or the waiting area magazines and books.
This type of lighting is also known as "directional light." Some examples of this type of lighting are lamps, small recess lights, and wall sconces.
Stronger lights are used for this kind of fixture to focus attention on a certain area.
Vanity Lighting
Vanity lighting sources are usually placed around mirrors. This lighting fixture should be even all around the mirror, reducing any shadows.
This allows the client to have a clear view of their new look. It also aids professional hairstylists and makeup artists to be more precise.
Decorative Lighting
Decorative lighting is for decoration. This type of lighting design adds a pop of color and personality to the salon.
It provides salon owners with an opportunity to be creative and think outside the box.
Each type of lighting fixture is important and should be fully utilized. They will prove to be very useful in any hair salon, spa, or barbershop.
Rules to Remember
Before adding lights, think about what would complement the interior design and the size of the place. Bad lighting and even too much lighting can throw off the whole look of a salon.
Try to stay balanced without going too "white" or too "warm." As this is a beauty salon, the interior design should reflect this and be visually attractive.
Placement
Think about where to place the light fixtures. Consider where in the salon each lighting design would work best.
Make sure to keep shadows out of the working and styling areas. There would be nothing worse than having to ask a client to move over to catch better lighting.
Bulb Coloring
Make sure to select light bulbs that give off the right color. Each bulb will give off a different hue, whether warmer or colder.
Look out for these features:
the best color temperature is 4000-6000 K (or Kelvin), which is a "natural white" or "daylight white" hue
color rendering index (CRI) should be 86 or more, this is the capacity of a light source to reflect the colors
Illumination level, depending on the light source and salon type, will vary between 300 and 700 lux
It is best to go for a bulb in the middle of the Kelvin scale, being 3000 to 4000. It should also have a Color Rendering Index of 80 to 85.
It's important to have natural lighting colors, especially when dying someone's hair color. If the client walks out of the store with a different color than requested, they won't be coming back.
So, choosing the right lighting color is a must.
Proper Product Display Lighting
Creating an attractive display will make clients want to buy the displayed products. Using the proper lighting will increase sales with very little effort.
Do not overlook this aspect of lighting. Using a lighting accent to make products pop on the display will attract attention.
Get Rid of Shadows
Position lighting in a salon in a way that removes shadow. The quickest way to eliminate shadow on a client's face is to position lights on both sides of the mirrors.
This will create even lighting on their complexion.
Overhead lighting or spotty lighting, such as track fixtures, will create more shadows. This will make wall lighting positioned towards the face even more essential.
Separate Lighting Systems
In different areas of the salon, it may be necessary to separate lighting systems. For example, the light at a workstation where stylists cut and color hair should simulate natural daylight (CRI close to 100).
Whereas, in a massage room, a much dimmer lighting system is preferable. In a massage room, consider using electronic candles or dimmed lights.
Energy-Efficient Bulbs
To make an overall saving, invest in energy-efficient bulbs.
One of the best energy-efficient salon lighting options is to use LED light bulbs. Wherever possible, use this type of lighting.
LEDs are ideal because there is a wide variety of color and hue options. Although they cost more, they provide long-term savings.
LED bulbs last much longer than typical bulbs and they use less energy.
General Illumination and Overhead Lighting
Overhead task lighting provides general lighting in a room or area to perform tasks. With good placement, it will provide enough light for stylists to perform all their tasks.
It may even eliminate the need for separate task lighting systems.
Other key salon lighting ideas:
Use enough primary lighting to perform tasks. Having other light fixtures, like lamps, may make the space seem cluttered.
Make the most of natural light, while respecting client privacy. Clients won't want to be exposed to a busy street.
Use a variety of lighting styles, creating a complete lighting design.
Light within the law. Use unique lighting fixtures if desired, but make sure they are in line with regulation.
Use salon space wisely. For a small hair salon, use the mirror and light placement to make the space seem bigger.
Salon Lighting Design Ideas
Warm lighting
Well-lit and warm-lit workstations make for a positive environment.
Warm temperature bulbs are more flattering to the client and the hair salon itself. It gives a more realistic natural glow to the design of the hair salon or spa.
Pendant Lights
Pendant lights are a great opportunity to change the aesthetic of a hair salon. Owners can use a simple or complex design.
This is one to be more creative with and that can add decorative flair to a beauty salon. Hanging a pendant light overhead is also a good option to provide direct light to a chair.
Salon Sconce Lighting
This is another great way to add personality to a hair salon's interior design. These are wall-mounted fixtures that can be added almost anywhere.
Putting them on both sides of a styling workspace or a doorway is a good decorative option. To bring the place together, use a matching nesting table or lamp.
But do make sure that everything from the lighting to the cabinetry matches.
A Quiet Corner
This type of lighting design gives off minimal but enough light to the workspaces. A focused dim lighting design coupled with exposed brick and beams gives a unique atmosphere.
An "abandoned warehouse" design gives the customer a sense of secrecy and exclusivity. The lighting should give off the same aesthetic as the retro and industrial decor.
Metallic and rustic lighting designs reflect the raw nature of the hair salon and bring the whole design together.
Luxurious Finish
This design is different from the one above and shows how creative owners can be. There is no end to the possibilities.
The curtains give privacy while allowing some natural light in. The metallic accents on the furniture and walls add to the luxurious design.
The whole design of the room fits together very well.
Get more bookings with the right tool for the job
Staying organized has never been easier.
You can now manage your business and grow your brand with a single, powerful software that keeps all of your appointments in line, your clients organized and your business booming.
Trafft is the perfect salon scheduling software for business owners who need to streamline their booking experience both for their staff and their clients.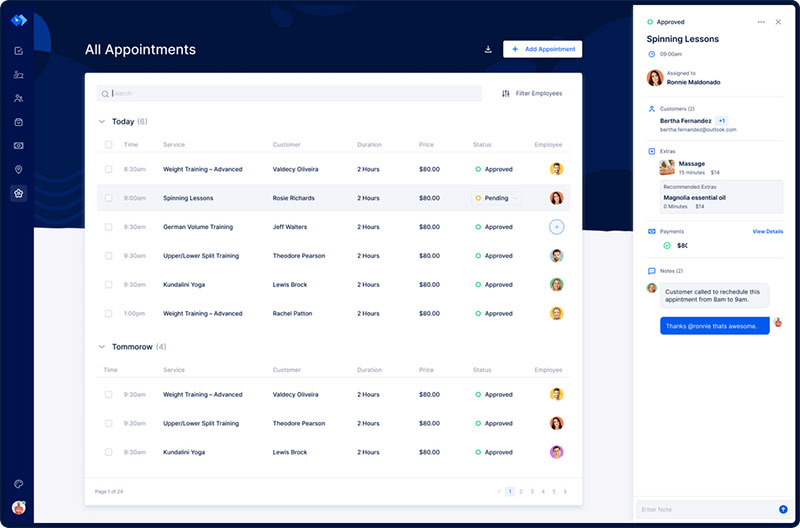 Trafft handles everything for you, even sending automated email or SMS reminders to your clients. No-shows? Not anymore!
The Trafft booking software adapts to different industries for a blissful online booking experience and employee management.
Want to know more? Check out Trafft's awesome features to see what you are missing.
Effective Lighting
Effective lighting can be dependent on many things, including ceiling height. To have proper lighting while using ceiling lights, the ceiling has to be low.
However, this example shows that there's always a solution. Remember to consult with an expert for the best advice.
Simple but Effective
Most of the time, it's the small details that make the difference.
This minimalist style uses an exposed brick wall and a few extra decoration designs. The cage lights hung above fit with the design.
When designing and picking lighting designs, try mixing functionality and luxury.
Barbershop Lighting
A barbershop interior is somewhat different from a beauty salon. However, the lighting designs should follow the same principles.
Note the creative light designs in this example.
On Both Sides of the Mirror
Positioning lights on both sides of the mirror flatters the client's complexion. It also keeps the lighting even.
FAQs about salon lighting ideas
1. How do you determine the right amount of light needed in a salon?
The amount of lighting required in a salon will vary depending on the services provided, the size of the salon, and the number of windows. In general, it's crucial to offer adequate light so that clients can see themselves in the mirrors and stylists can see their hair. A decent rule of thumb is to strive for 50-100 foot candles of light in the salon.
2. What type of lighting fixtures are best for a salon?
The ideal lighting design for a salon will depend on the space's overall design and aesthetic as well as the needs of the particular salon. Recessed lighting, pendant lighting, and track lighting are a few popular choices. Because of their extended lifespan and high energy economy, LED bulbs are another popular option.
3. How can lighting be used to create a relaxing and comfortable atmosphere in a salon?
Warm, inviting lighting is essential to establishing a calm and comfortable ambiance in a salon. Dimmer switches enable stylists to change the light settings to accommodate each client's unique tastes while promoting a cozy and peaceful ambiance.
4. What are some ways to incorporate natural light into a salon's lighting design?
Natural light can contribute to the lighting design of a salon by helping to create a light and airy ambiance. Installing skylights or bigger windows, utilizing sheer window treatments that let natural light in, or all of the above are a few ways to do this.
5. How can lighting be used to highlight salon products and services?
In a salon, lighting can be used to highlight particular goods and services. This can be done by highlighting particular areas or displays using focused lighting, such as spotlighting or track lighting.
6. What is the best type of light bulb to use in a salon?
The ideal brightness level and color temperature will determine the sort of bulb that should be used in a salon. Halogen bulbs are well-known for their brilliant, crisp light, while LED bulbs are preferred because of their energy efficiency and extended lifespan.
7. How can lighting be used to enhance the color and texture of a client's hair?
The warm, natural light that highlights the natural tones and textures of the hair can be employed in lighting to improve the color and texture of a client's hair. This can be accomplished by adjusting the lighting levels with dimmer switches or by employing specific lighting fixtures that highlight different hair colors and textures.
8. What are some lighting ideas for small salons with limited space?
It's crucial to employ lighting that serves its purpose but doesn't take up too much room in small salons with constrained space. Recessed lighting, track lighting, and pendant lights can all be used to offer adequate light without taking up too much valuable floor or ceiling space.
9. How can lighting be used to create a specific theme or ambiance in a salon?
Lighting can be used to create a specific theme or mood in a salon by employing colored light bulbs or customized lighting fixtures. For instance, blue lighting can promote calmness and relaxation, while warm yellow lighting can promote coziness and friendliness.
10. What are some energy-efficient lighting options for salons?
Due to their extended lifespan and low energy usage, LED bulbs are a popular option for energy-efficient lighting in salons. Other alternatives include motion-activated lights, which help save energy by only turning on when someone is in the room, and CFL bulbs, which are also energy-efficient but may not last as long as LED bulbs.
Ending thoughts on these salon lighting ideas
Picking hair salon lighting designs involves more than the aesthetic. Lighting fixtures can bring the whole salon interior together.
With these salon lighting ideas, owners can bring personality to their business.
Remember, lighting should allow professional hairstylists to work comfortably. Make sure that each workspace is well-lit and that the light hue is as neutral as possible.