The growth of a salon is dependent on clients. More clients mean more profit.
And to get clients, people need to know that a salon exists. Standing out from other salons is paramount to success.
A salon needs to attract new clients and also retain regular clients to be successful. In today's day and age, how can a salon stand out, attract clients, and become profitable?
This article will examine effective ways of obtaining more clients in a salon. It will discuss traditional and modern marketing methods.
Here is how to get more clients in a salon:
Know and Target Key Customers
A salon license covers a wide variety of skills. Clients can receive haircuts, hair coloring, manicures, pedicures, makeup, and more in a salon. And some salons combine with spas to offer even more services.
While this approach may appeal to more people there is a word of caution. Salons that try to do it all might end up providing mediocre services.
Offering too many services instead of excelling in just one could lead to the loss of a loyal customer base.  To offer many services, it is best practice to ensure that the salon has the necessary experts.
Otherwise, focus on providing a service that the salon excels at. Specializing in a service will make a salon stand out.
After deciding on the services to offer, a salon should know and understand its potential customers. That way they can target marketing efforts to appeal to them.
Ask questions such as:
Who buys the services?
What clients can be best served?
Who can afford the services?
Who needs the services offered?
The answers can provide a good outline of the ideal customer and how to appeal to them. Think of ways to reach out to these customers.
With this in mind, salons can use the following traditional and modern methods to get more clients.
Traditional Methods of How to Get More Clients in a Salon
There are several traditional marketing methods for obtaining more clients in a salon. These methods are still successful today.
Two main methods are to use local marketing efforts and promotions. What do these methods entail?
Local Marketing
Marketing within a local community is a great method of how to get more clients in a salon. Local marketing targets consumers within a set radius of the business's physical location.
This marketing strategy includes word of mouth referrals, networking, and creating partnerships.
Word of Mouth Referrals
Even when salons do not have a deliberate referral marketing strategy they acquire new clients from word of mouth referrals. Instead of leaving things to chance, strive to capitalize on this method.
One important way to receive referrals is to make customers happy. Make an effort to excel at your job.
Be kind to customers and treat them well. Good customer service and professional work is a sure way to get referrals.
Another way to get referrals is to provide incentives. For example, offer clients a free haircut if they bring in new clients.
Networking
Image source: Hannah W Ford
Networking is an excellent opportunity to get new clients through free advertising. Promote the salon by making business cards, coupons, or flyers. Go to social places like bars, restaurants, coffee shops, etc to pass out the business cards.
Be friendly with nearby businesses. Give them flyers to introduce them to the salon. Offer them a discount or a coupon in return for passing out your business cards to their customers.
Charitable Partnerships
Working with charities has twofold benefits. First, it is a noble cause. Second, it endears clients to a salon.
Some suggestions are to offer discounts to those in need, like single mothers. Or give a portion of profits to charity.
This will have a positive impact on the salon and will feel good.
Partnerships with Local Businesses
Another way to draw in new clients is to team up with local businesses with similar services. Partnering with another business takes many forms.
One idea is to sell or exclusively use a business's products in exchange for advertising. Or create wedding or graduation packages and partner with photographers or venues.
Another idea is to make a deal with a company or factory to provide discounted services to their workers.
The partnership opportunities are endless!
Promotions
Image source: Amber Graphics
Promotions are also an excellent marketing tool for how to get more clients in a salon.
Limited-time deals are especially helpful for slow periods. If a day of the week or a month is slow, use promotions to drive people into the salon.
Instead of offering discounts, salons can add value to the deal. For example, a salon could offer a deep conditioning treatment with every haircut.
Clients love a valuable deal so this will draw new clients and it encourages them to return.
Some ideas for promotions are:
First time special – give a special price or an extra service for someone's first visit
Last-minute special – give a small discount for last-minute customers that come in on a slow day
Regular customer special – include a perk if a customer returns many times
Monthly specials – run a special on a different service each month
Seasonal specials – have a summer or winter promotion
Packages – create packages for weddings, graduations, etc.
Re-book Clients
After working hard to attract new clients to the salon it is vital to retain them as regular customers. One way to do this is to schedule their next appointment.
Clients are usually very busy so they will want to pay and leave. But before taking payment, schedule the next appointment. This ensures them as a regular customer.
Retaining customers as regular clients is important because that means a regular income. So after the appointment, do not try to push a product, focus on getting a return visit.
Provide ways to remind them of the appointment or to reschedule. Below is a suggestion for software that schedules salon appointments and provides appointment reminders.
Modern Methods of How to Get More Clients in a Salon
The internet provides ways for a salon to reach a larger audience. And people enjoy viewing pictures and connecting with businesses online.
So marketing on the internet is as important as using traditional methods. Here are some ways of how to get more clients in a salon using the internet:
Have an Independent Website

Image source: Rob Curcuru
Having an independent website can incur costs. But it provides marketing opportunities that are not available by other means.
A website provides a way for clients to discover the salon on the internet. It can also act as a hub linking to all the salon's social media accounts.
A website with a basic design can still be beneficial. It can include a logo, a list of salon services, contact information, and location.
A more complicated website design might include content marketing. Content marketing is one of the best ways to market a salon but it requires a bigger budget.
A highly recommended aspect of either a basic or complex design is email signup on the landing page. Invite visitors to enter their email address to receive a free product or a newsletter.
This enables future follow-up with more marketing strategies. This is a primary and effective marketing strategy for most businesses today.
Another aspect to include on a website are social media buttons. These connect visitors to a salon's social media accounts and maintains contact.
Use Social Media
Social media is an invaluable and inexpensive way of obtaining more clients. It provides opportunities to connect to a larger audience of potential clients.
It also provides a great opportunity to showcase work and offer promotions. With social media, salons can interact with regular clients and attract new clients.
How can social media be effectively employed? Create accounts on as many social media platforms as you can keep up to date.
View this post on Instagram
Keep social media accounts open to the public to reach more users. But be careful about sharing private information.
Make sure that each profile carries the correct business information. Make regular posts, doing so at least three times a week.
It's possible to post pictures, offers, limited-time deals, or anything new about the salon. Or post articles about the industry or the community.
Share information that shows care and that will engage with clients. Social media users appreciate it when businesses respond to them.
If they are happy with the customer service they receive online they are more likely to recommend the business to others. So strive to answer comments or questions.
Good online customer service can build a good reputation and increase referrals.
One important aspect of social media is hashtags. Hashtags categorize posts into themes and topics. They serve as a way to cross-reference content with other posts of the same hashtag.
Using popular hashtags ensures that more people see your posts. Look at other salon's social media accounts to see what hashtags they are using.
Another common social media marketing method is to have a raffle.
Ask people to follow the salon, share its photos, and tag the salon to enter the raffle for a chance to win something. This will increase followers and can provide more potential customers.
Photo Marketing
View this post on Instagram
Posting pictures of your work is also a great marketing strategy. Pictures can be posted on social media accounts, blogs, websites, or a salon billboard.
Highlighting your talent is a great way to get more clients and make the salon stand out.
Ask permission from clients to take before and after pictures. Or make a family member be a model.
Showcase particular skills with pictures. For example, many hairdressers struggle to cut curly hair. If this is something you excel at, let the world know by posting pictures.
Another strategy is to build a selfie wall in the salon. Clients will spread the word about the salon with the fun pictures they take of themselves.
Create incentives for clients to post pictures. One way to do this is by having a monthly hashtag contest.
Maintaining many social media accounts can seem daunting. Using a platform that manages posts can alleviate the pressure.
Some platforms available include Hootsuite, Plann, Buffer, and Loomly. Users can upload a batch of photos and schedule the posting to social media sites.
Use Internet Advertising
Advertising via the internet is another effective way of how a salon can get more clients. It distributes information, connects with clients, and targets new clients at reduced costs.
Every year consumers spend more time online. And more people than ever are connecting to social media.
So advertising via Instagram, Facebook, YouTube, and Google reaches a vast number of people. Salons can take advantage of these tools to get more clients.
Facebook and Instagram Ads

Two billion people use Facebook every month making it a great platform to advertise on. After building a large following on social media sites, most accounts continue to gain followers.
But when first starting out, it is a good idea to use Facebook and Instagram ads to generate new clients. If done right, this provides the salon with a lot of exposure for a small amount of money.
Facebook ads are pretty straightforward. Businesses can choose an objective, an audience, and set a workable budget.
Taking time to understand and use Facebook ads can have a huge benefit for small salon owners. For those with larger salons, it is advisable to use some of their marketing budget for a Facebook ad agency.
Google Pay-Per-Click Ads
Google Ads are effective at targeting new clients. Advertisements on Google appear when someone searches for keywords or similar businesses.
This is effective because it displays ads to people who are already looking for a salon. Whereas Facebook displays ads to a general audience.
Another benefit to using Google ads is that users only pay when there is a result. In other words, users pay Google only when someone clicks on their ad.
With pay-per-click ads (or PPC) users set a budget, choose keywords, and then write advertisements.
Statistics show that, on average, small businesses make double their investment in Google ads. This proves that when used correctly, Google pay-per-click ads are a powerful tool.
Online Reviews
Online reviews can make or break a business. About 90% of consumers read reviews before visiting a business.
These reviews influence the decisions of those who read them. Consumers see reviews as personal recommendations, which makes them very important.
Positive online reviews help a salon build trust with potential clients. They also provide the salon with authenticity.
It does not take many reviews to accomplish this. Salons can ask their customers to write a review online. Even if one of every ten customers writes a review this is enough to build a salon's reputation.
Getting reviews is only half the battle. Salons also need to strive to limit negative reviews.
Of course, it is impossible to never receive a negative review. With good teamwork, the salon can provide excellent customer service.
This leaves customers happy and more likely to write a positive review.
Get more bookings with the right tool for the job
Staying organized has never been easier.
You can now manage your business and grow your brand with a single, powerful software that keeps all of your appointments in line, your clients organized and your business booming.
Trafft is the perfect salon appointment software for business owners who need to streamline their booking experience both for their staff and their clients.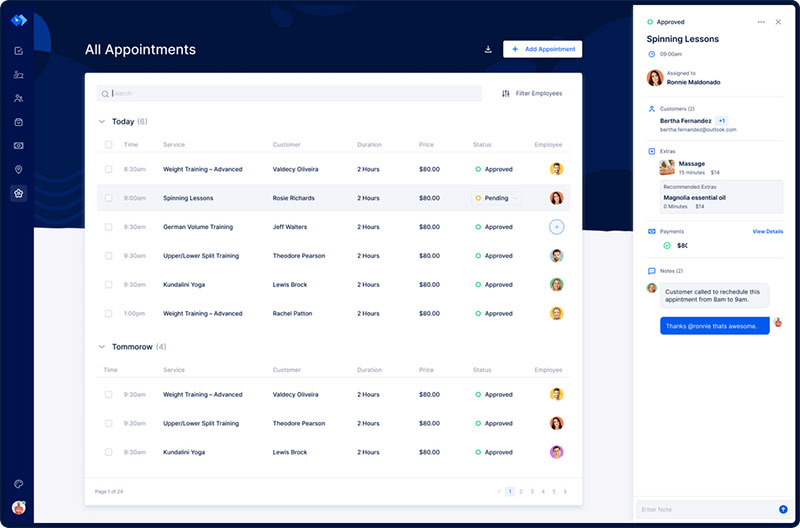 Trafft handles everything for you, even sending automated email or SMS reminders to your clients. No-shows? Not anymore!
The Trafft booking software adapts to different industries for a blissful online booking experience and employee management.
Want to know more? Check out Trafft's awesome features to see what you are missing.
The above tool and tips are successful ways of how to get more clients in a salon.
FAQs about getting more clients in a salon
1. What are some effective strategies for promoting a salon and attracting more clients?
There are various efficient methods for publicizing a salon and luring in new customers. The most well-liked ones include giving out special discounts or promotions, using social media and online advertising to reach a larger audience, collaborating with nearby companies or organizations to promote your services, and holding workshops or events that highlight your knowledge and offerings.
2. How can I improve the customer experience in my salon to increase client retention and referrals?
Consider emphasizing outstanding service, individualized attention, and a welcoming environment to enhance the client experience in your salon and boost client retention and referrals. To make your customers feel valued and appreciated, you can also provide loyalty programs, individualized advice, and extras like complimentary refreshments or Wi-Fi.
3. Are there any specific marketing tactics that work well for salons, such as social media advertising or email campaigns?
Absolutely, salons can use email campaigns and social media advertising as successful marketing strategies. With the support of social media sites like Instagram and Facebook, you can promote your work and gain a following, while email campaigns may be used to connect with current customers and provide them with service updates or specials.
4. How can I differentiate my salon from competitors to stand out and attract more clients?
Focus on delivering distinctive and specialized services, establishing a strong brand identity and reputation, and offering top-notch customer service to set your salon apart from the competition and stand out. Also, you can attract new customers by promoting your skills on social media and in online reviews and by providing special deals or bundles.
5. Should I offer discounts or promotions to incentivize new clients to try my salon?
Providing specials or discounts might be a wonderful approach to entice new customers to check out your salon. But, it's crucial to make sure that these promotions are viable and won't have a negative impact on your business's bottom line over time. To draw in new customers, you may also think about providing referral incentives or no-cost consultations.
6. What are some effective ways to build relationships with potential clients and convert them into loyal customers?
Focus on giving potential clients individualized attention, providing outstanding service, and following up with them after appointments if you want to develop relationships with them and turn them into devoted customers. You can also use social media or email campaigns to stay in touch, as well as referral bonuses like discounts or free services.
7. Is it important to have an online presence, such as a website or social media profiles, for my salon in order to attract more clients?
Certainly, having a presence online is crucial for bringing in more customers to your salon. You may promote your services, gain a following, and reach a larger audience with the aid of a website and social media accounts. To establish credibility and trust with potential customers, you can also leverage internet reviews and testimonials.
8. How can I leverage positive reviews and testimonials from existing clients to attract new business?
Showcase gratifying feedback and endorsements from previous customers on your website, in your social media profiles, and in your marketing materials to capitalize on them. Also, you can entice customers to post reviews on well-known directories like Yelp or Google by giving them rewards.
9. Are there any networking opportunities or partnerships I should explore to expand my client base?
Undoubtedly, networking opportunities and joint ventures can help you grow your clientele. To meet potential customers and develop your brand, think about joining forces with regional companies or organizations, going to trade shows or conferences, or joining neighborhood networking groups.
10. How can I use data and analytics to track and improve my salon's performance in terms of attracting and retaining clients?
Consider analyzing measures like customer acquisition cost, customer lifetime value, and retention rate to track and enhance your salon's success in terms of bringing in and keeping customers. Making data-driven judgments regarding your marketing and customer service initiatives also allows you to pinpoint areas that need improvement.
You may obtain and analyze customer data more effectively by utilizing technology, such as appointment booking and scheduling software and customer relationship management (CRM) solutions.
You can see trends, pin down areas of weakness, and make tactical changes to better serve your clients' requirements and draw in new clients by routinely examining and analyzing your salon's performance indicators.