Creating targeted and powerful salon ads can really make a difference in your business. You get the chance to attract new customers to your salon and convert them into loyal customers who always come back for more. 
To achieve that, there are essential factors you need to have in mind when publishing ads, whether it's Facebook, Instagram, or Google ads for salons. Every salon has a similar target market, and you need to come up with ideas to differentiate your offer, whether you run a beauty or hair salon. In the beauty enhancement business, such as salons, good credentials are essential. They help you to earn the trust of clients.
This guide to salon ads will help you stand out from competitors and create ads that move the needle in your business. From powerful salon ads examples to best practices, we've covered everything you need to know to start running successful ads for your salon.
Facebook Ads for Salons
Facebook ads are a highly effective marketing tool for salon owners because of Facebook's extensive user base and powerful targeting options. You can easily reach your target market and convert new customers once you define your goals, and target audience, and utilize retargeting.
Facebook ads for beauty & hair salons best practices
It is crucial to create Facebook salon ads that appeal to the target market. This will entice more customers to book an appointment in your salon and buy your products. To achieve this, you need to create compelling visuals and ad copy. It's a great idea to use high-quality images and videos that showcase your salon ambiance, services, and most importantly – satisfied customers. 
In your ad copy, you should be concise but also highlight your unique selling points which can be anything from high-quality services, experienced service providers, specialized offers, limited deals, and the atmosphere in the salon. 
When creating Facebook ads for salons, take advantage of targeting options. It will help you narrow down your audience, prioritize your ad budget and serve ads to relevant people. Think about your customers and what they have in common.
Their age, gender, interests, and behaviors will help you create highly targeted Facebook ads for salons that have a high chance of converting. You can also go deeper and target people based on specific life events (such as engagement, recently moved, etc).
For example, people who have recently moved to the area of your salon are probably looking for beauty & hair salons that offer high-quality services.
The FB ads library can be a useful tool for targeting. You can see how other beauty and hair salons are using Facebook ads and gain some inspiration for your own ad campaigns.
Run Facebook ads during holidays and important events
Most salons enjoy the influx of new customers and revenue during holidays and events.
Why? More people are shopping and preparing for big events.
They go to the salon and the spa to improve how they look and feel. Taking advantage of these events will help your salon to gain more profit.
It would be best if you prepare ahead to run salon ads for celebrations or holidays. It will ensure you don't miss out on great opportunities. Having a holiday calendar will come in handy to prepare for the busy holiday season.
Use a chatbot to talk with potential clients
With lots of inquiries and orders, it's sometimes hard to keep up with customers. One way to manage this is by using artificial intelligence. 
The chatbot is a piece of software that can help when there are only a few customer service employees.
The great news is – Facebook has this feature. It is free and will let the page's owner set up and customize messages. It doesn't need code or developer skills to set up a chatbot. The chatbot can show customers new offers and promotions, and answer their questions.
Always use Calls-to-Action (CTA)
In salon ads, the CTA is the most important part. There should be a closing remark that will move clients to purchase the services or products.
Include the business number, Facebook page, salon website, booking form, or other platforms. This will help motivate them to choose your salon as the place for making themselves feel great. CTA should be clear and encourage passive scrollers to take immediate action – you can do it by offering discounts, utilizing scarcity, and creating CTA that aligns with your goals. For example, Book Now & Grab 20% Off is a powerful call to action you can use in your next salon ad.
Use a consistent color palette
Salon ads that you publish on social media should have consistent color palettes. Colors have a great impact on how followers view the brand.
With consistent color palettes, clients will know your brand right away, even without seeing the logo. Consistency in colors should be clear in:
Loyalty Cards

Emails or Newsletters

Website Design

Facebook Cover Photo

Instagram Inspirational Quotes

Facebook Ads
Google Ads for Salons
Google ads for salons, while a powerful tool, offer a wide variety of campaign types that can overwhelm you. But don't let that discourage you because you can attract the right clientele and fuel your growth if you pay attention to some important things.
Your best bet is running search campaigns that are basically text Google ads and show up when people google salon-related keywords. They may search for "spa near me", "hair salon near me", and "nail salon in [city]". If you target these keywords in your Google ads, your salon will show up. But how can you convert those visitors into customers?
Google ads for salons best practices
The first thing you need to do is conduct thorough keyword research and identify opportunities. Focus on relevant and popular search terms that are related to your services and location. Google keyword planner is one of the best tools you can use to gain insights and plan Google ads for your salon. It shows you keyword difficulty, cost per click, and monthly search volume, as well as trends throughout the year. 
Your best bet is to choose keywords that have high search volume and moderate difficulty. Once you define your keywords, it's time to fine-tune your ad copy and local targeting and optimize your landing page. 
In your ad copy, highlight your unique selling points such as specialized techniques, trendy hairstyles, and special offers. Limit your salon ads to the local area where you provide services and refine your audience. The next important step is to create dedicated landing pages that are relevant to your Google ad. Your landing page should have clear steps and explain how customers can book appointments. 
Tracking Google ads performance for your salon is crucial if you want to measure results and evaluate ROI. Once your campaigns are up and running, you can start planning remarketing campaigns, monitor results, and optimize accordingly. 
State the late-hour, weekend, and holiday operating hours
People lead busy lives, with their 9-5 jobs, schoolwork, and other core activities. As a beauty salon, you have to adjust your working hours to meet the needs of the customers.
For example, say the target market is full-time workers based in the city. Your salon's operating hours should revolve around their schedule and be open when they're less busy – in the late afternoon and during weekends. 
During weekends, clients want to relax, go to the spa, and get their hair done. Leaving the weekend schedule open will help the salon attract more customers.
If possible, keep the salon open during late hours, weekends, and holidays. That is more convenient for the clients and encourages them to return.
Don't forget to share the opening hours on Facebook, Instagram, your Google business profile, your booking platform, and your website. In that way, customers can easily see your availability and plan their appointments. 
Growing your salon is easier than you think – you just need the right tool
Trafft booking software is a game-changer when it comes to both managing bookings and automating marketing efforts.
With its user-friendly interface, you can efficiently handle reservations, ensuring smooth operations and customer satisfaction.
Additionally, the software's robust marketing automation capabilities enable you to effortlessly reach your target audience, stay in touch with your clients, and build customer loyalty, all while saving valuable time and resources.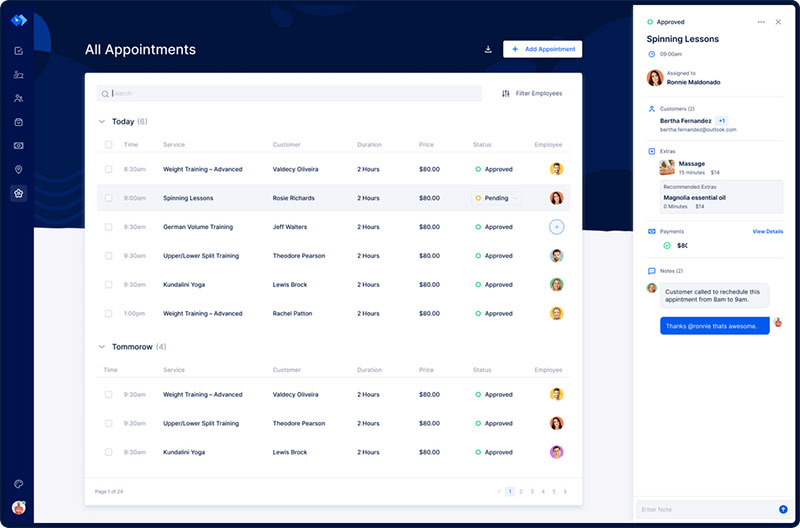 The Trafft booking software adapts to your salon for a blissful online booking experience and employee management. From the most basic to more advanced features, Trafft is your partner every step of the way.
Want to know more? Check out why Trafft is the perfect salon management software.
Other Powerful Salon Advertisements Examples
Besides Facebook and Google ads for your salon, there are other ad examples that can help you drive growth to your business.
Use hashtags on Instagram for every post
Experiment with salon hashtags at least once a month, and see which ones have the most engagement. The right caption and hashtag can make the page relevant for local followers.
Moreover, using hashtags reaches people even when they don't follow your page. With hashtags, you tag your salon, and Instagram places you in the right categories.
Experimenting with hashtags gets more people to visit your salon page and entices them to purchase services. What's more, Instagram allows 30 hashtags in a single post. But it's important to use the right hashtags. Never use random hashtags as they would likely be useless and would not reach potential clients either.
Work with micro-influencers
With these campaigns, it's not necessary for businesses to spend a lot of money. It would be best to partner with a new influencer, or with someone who has a lot of local followers.
Salons can offer free treatments, gift cards, products, or pay for salon advertisements. Then the micro-influencers can review the service or products on their social media account.
Take advantage of a local publication
When advertising, it is essential to know the target market. Instead of targeting millions of people in different regions, focus on the local area.
This approach has many advantages. Using a local publication can help with your salon's goal.
However, be cautious about spending too much on marketing. It can take up all the business budget.
Beforehand, grab a copy of the local press and see how they advertise companies. Read the entire publication to see what type of content they publish.
This will also reveal whether it reaches the desired target audience or not. You can do it by taking a look at the Distribution Area and the Readership Profile sections on their website.
Use enticing business cards and posters
Business cards are an essential tool for attracting new clients to your salon. They are also useful for following up with customers who recently visited the salon.
For marketing purposes, business cards are great to improve the salon's credibility. As the owner of the salon, remember to create business cards for the staff and team members as well.
Send newsletters
Newsletters are one of the online marketing techniques many entrepreneurs use. It can have a long-lasting excellent impact on your salon's branding and sales.
But there are a few things to keep in mind to make the newsletter content effective.
Here are the factors to consider when creating a newsletter:
Enticing headline

Easy-to-read

Easy-to-understand

Non-pitchy

Educational

Fun-to-read

Friendly approach
Sometimes, creating a newsletter can be tricky. It's hard to know what to include in the first part of the email.
4 Ideas for an effective newsletter:
Use a professional photo that represents the salon or the owner.

Share a brief, interesting story about the salon. The full details aren't necessary but give the buyer the information they need.
Tell them interesting things that happened in the salon. Include positive feedback from recent clients.
Include hacks or beauty tips, along with pictures to prove that these tips are effective.

Feature the products or services that most clients love, then explain the reasons why.
Things to Remember when Creating Salon Ads
Unlike before, creating salon ads now may seem challenging. But once you utilize these powerful salon marketing tools and techniques, we're positive everything will fall into place.
Here are the things to keep in mind when creating salon ads or improving the marketing strategy:
Don't be too hard on yourself, searching for a magic ad idea. Keeping ads simple will entice more people.

Don't be afraid to try new things if the original plan didn't work out.

Don't feel discouraged when the first salon ad doesn't work out. Keep on experimenting, and see which one works best for the salon.
Just as your salon takes care of its customers, you should also take care of salon ads to attract new customers.
Salon Ads + Trafft = Match Made in Heaven
Combining a stunning booking website tailored to your target audience and salon ads will fuel your growth and attract new customers to schedule appointments and buy your products. The end goal of every marketing effort should be to get new customers to book appointments. Because of that, a visually appealing and user-friendly booking website is a vital step and foundation for salon ads. 
Trafft offers you a chance to convert as many visitors into customers and transform them into repeat business by providing high-quality services. You can create a booking page in minutes with pre-made templates you can customize, and customers can see available slots, and services you offer and choose their favorite employee.
Sign up for Trafft for free, promote your booking page with salon ads, and watch your business grow!