Many businesses have turned to social media for marketing due to its growing popularity. One common marketing tool that social media sites provide is hashtags.
Using salon hashtags can get potential clients to engage with your social media page and increase traffic to your salon. What hashtags should a beauty salon use? Read on to discover the best salon hashtags to promote your business.
What are Hashtags?
A hashtag is a label used on social media sites. It was first used on Twitter in 2007 and now is a popular icon on all social media sites such as Instagram, Facebook, and Pinterest. A hashtag is a metadata tag that is prefaced with the hash symbol;"#".
Hashtags are a way to organize digital information into categories. They help social media users cut through the digital clutter and focus on a specific subject. After the hash symbol, hashtags can contain words, groups of words, numbers, and underscores. No other symbols and special characters are allowed.
There are several popular beauty salon hashtags. When a beauty salon uses popular hashtags, their posts get categorized on hashtag pages allowing users to find them easier.
Why Use Hashtags?
Hashtags are a necessary marketing and brand interaction tool on social media. The main reason to use hashtags is to expand the reach of your posts. Hashtags allow for those outside of your followers to see your posts. They also allow users to track online conversations.
Instagram users can follow hashtag pages that display posts with that specific hashtag. If you use a common hashtag on your post then different users can discover you and your page. Instagram also has a discovery page that displays posts they think a user will like. If a user is often looking at posts with beauty salon hashtags, your posts might appear on their discovery page.
Benefits of using hashtags include:
Reach target audience
Draw more users to your page
Reach out to potential clients in your local area
Most social media sites, including Twitter and Facebook, use hashtags. LinkedIn also now has some nice hashtag options, and Instagram provides real promise for acquiring new clients through hashtag marketing.
Instagram is a great place to showcase talent, promote products, and share before and after photos. With the right Instagram hashtags, these posts can be far-reaching.
How to Use Hashtags
Hashtags are a great marketing tool, but like any tool, they work best when used correctly. Beauty salons need a hashtag strategy to get their posts in front of the users that matter. The goal is to use the right hashtags so that those who have a good chance of becoming a new client see it.
Here are some hashtags rules to help you use the right beauty salon hashtags:
Rule #1: Make sure your posts are visible
Rule #2: Use relevant hashtags
Rule #3: Use local hashtags
Rule #4: Create a hashtag for your brand
Rule #5: Avoid bad hashtags
Rule #1: Make Sure Your Posts Are Visible
If you are using hashtags on Instagram, the most effective way to use them is to have a public account. If you have a private Instagram profile, users outside of your followers will not see your posts. Even if you use hashtags, your posts will not appear on hashtag pages and those not following you will not see them.
Another tip to keep in mind is that you can only put hashtags on your own posts and not on other people's Instagram posts. Also, you cannot put a space or special characters like "$" or "%" in a hashtag. If you do, it will break the hashtag and the post will not appear on the hashtag page.
Rule #2: Use Relevant Salon Hashtags
After posting a picture or video, social media sites use an algorithm to decide what people will see it. If you use relevant salon hashtags, users who are interested in salon posts will see it. So it is important to use relevant hashtags instead of random ones to get more viewers.
Here are some tips to create the best hashtags:
Keep it brief
A hashtag should not be a full sentence. If a hashtag is too long, it will be hard for people to remember and understand it.
Research trending and popular hashtags
Instagram shows how many people follow certain hashtags. Look up some hashtags that have to do with beauty salons and see which ones are more popular. Also, every day there is a new trending hashtag. Use the day's trending hashtags if you can.
Use industry-related words
When creating beauty salon hashtags, use words that are common in the industry. There are more opportunities for people to find your posts if you use common words.
Check hashtag analytics
There are many tools that can help with Instagram analytics to track the success and reach of hashtags. Use these tools to see how many viewers your salon hashtags are attracting.
Do not use banned or inappropriate hashtags
Social media sites have banned some hashtags because of overuse or explicit content. Make sure to avoid banned hashtags and inappropriate words.
Include hashtags that stand out
Relevant hashtags help your posts land on pages for a larger audience. It is also ok to include fun and unique hashtags that stand out. Users will be endeared to you through your hashtags.
Rule #3: Use Local Hashtags
Most of the clients of beauty salons are those living in the local area. So it is vital to use local hashtags in your marketing strategy. Local hashtags engage those in your specific location and have better odds at attracting new clients.
Here are a few ways to find the best local hashtags:
●      If you are using Instagram, research popular local hashtags. To do so, go to the search area of Instagram. Click on the search box and select Tags. Type in your state to find popular local hashtags. Look for beauty salon-related hashtags.
●      Search for more specific hashtags with the name of your city, town, or any nickname of your salon's location.
●      Look at the Instagram profile of other local businesses to see what hashtags they use.
●      Check out the Instagram page of other beauty salons. This will give you local hashtag ideas and introduce you to popular salon hashtags.
●      Save the hashtags somewhere so you can use them often.
Local Hashtag Examples
#[YOUR LOCATION]hairstylist
#[YOUR LOCATION]hair
#[YOUR LOCATION]hairsalon
#[YOUR LOCATION]hairdresser
#[YOUR LOCATION]hairandmakeup
#[YOUR LOCATION]bride
#[YOUR LOCATION]nailsalon
#[YOUR LOCATION]nails
#[YOUR LOCATION]manicure
#[YOUR LOCATION]pedicure
#[YOUR LOCATION]manicureandpedicure
#[YOUR LOCATION]beautysalon
#[YOUR LOCATION]blonde
Rule #4: Create a Hashtag for Your Brand
An advantage of hashtags is that anyone can invent one. Beauty salons can create a hashtag to identify their brand. Then if users search for your salon or product, they will find your page.
Tell your clients to use that hashtag when they post pictures of their new look. This will help your salon build a portfolio on social media with little effort.
Some tips when creating a hashtag for your brand:
●      Keep it simple. Users will not type in a long hashtag.
●      Make it memorable. Create a brand hashtag that users can remember and is relevant to your salon.
Rule #5: Avoid Bad Hashtags
There are some hashtags that every account on social media should avoid,  including beauty salons. They are hashtags that beg for followers and likes. Such hashtags include #tagsforlikes, #like4like, #followme, #follow4follow, etc.
These types of hashtags attract spammers and bots. They are also off-putting to genuine followers and might repel your target audience.
Get more bookings with the right tool for the job
Staying organized has never been easier.
You can now manage your business and grow your brand with a single, powerful software that keeps all of your appointments in line, your clients organized and your business booming.
Trafft is the perfect salon scheduling software for business owners who need to streamline their booking experience both for their staff and their clients.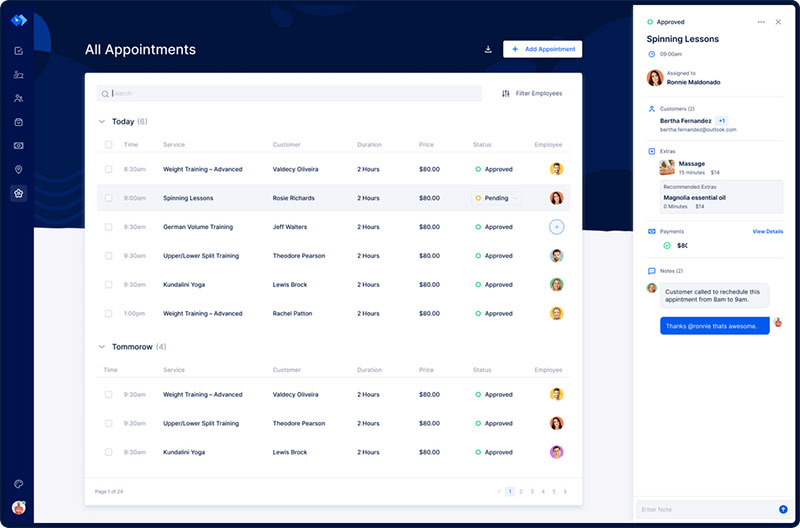 Trafft handles everything for you, even sending automated email or SMS reminders to your clients. No-shows? Not anymore!
The Trafft booking software adapts to different industries for a blissful online booking experience and employee management.
Want to know more? Check out Trafft's awesome features to see what you are missing.
The Best Beauty Salon Hashtags
| | | |
| --- | --- | --- |
| Beauty Salon Hashtags | Nail Salon Hashtags | Hair Salon Hashtags |
| #beautysalon | #nails | #picoftheday |
| #beauty | #nailart | #hairoftheday |
| #salon | #nailsofinstagram | #haircare |
| #skincare | #nail | #instahair |
| #beautycare | #nailsdesigns | #instahairstyle |
| #spa | #manicure | #hairtutorial |
| #makeupartist | #instanails | #colorexpert |
| #transformation | #naildesign | #hairofinstagram |
| #makeover | #nailstyle | #hairstylist |
| #beautyaddict | #nailsoftheday | #hairshaftsalon |
| #beautytip | #nailsart | #Hairideas |
| #instabeauty | #nailtech | #hairgoals |
| #beautycommunity | #pedicure | #behindthechair |
| #beforeandafterhair | #nailsaddict | #hairgoals |
| #cosmetics | #nailsalon |  #hairinspo |
| #healthyskincare | #nailpro | #hairenvy |
| #healthyskinbeautifulskin | #nailartist | #hairgoals |
| #fashion | #nailsnailsnail | #hairtransformation |
| #instagood | #nailsmagazine | #hairjourney |
| #beautytherapist | #nailaddict | #hairbrained |
| #wakeupandmakeup | #lovenails | #balayage |
| #muanation | #nailfashion | #ombrehair |
| #makeupaddict | #gelnails | #unicornhair |
| #makeupjunkie | #nailsonfleek | #mermaidhair |
| #makeupartistsworldwide | #nailswag | #longhair |
| #makeupgoals | #acrylicnails | #blackhairstyles |
| #makeupporn | #glitternails | #rainbowhair |
| #makeupartist | #nailpolish | #longhair |
| #makeupcollection | #gelpolish | #bronde |
| #instabeauty | #glitter | #brunette |
| #beautician | #christmasnails | #blondehair |
| #skin | #coffinnails | #hairpainting |
| #beautyclinic | #ombrenails | #haircolor |
| #beautycenter | #longnails | |
| #makeup | #naturalnails | |
| #lashes | | |
| #waxing | | |
| #eyelashextensions | | |
| #massage | | |
| #eyelashes | | |
| #Glowingskin | | |
| #facials | | |
| #skintreatment | | |
| #brows | | |
| #volumelashes | | |
| #lashlift | | |
| #spraytan | | |
| #christmas | | |
| #relax | | |
| #tanning | | |
More Tips for the Best Salon Hashtags
The best way to find ideal hashtags is to research which hashtags have more success in the local area and in the beauty salon field. Here are some additional tips on how to best use salon hashtags:
Keep track of hashtags with a spreadsheet
Try out different hashtags each week. Keep track of the average reach of each post to see which hashtags are working.
Mix up the type of hashtags you use on a post
You do not have to use all high-ranking hashtags. Use high-ranking, local, and niche hashtags in the same post for a good balance and to appeal to the most people.
Do not hashtag every single word
Hashtagging every word of your post looks bad and will not attract any new clients.
Do not use the same hashtags for every post
Do not copy and paste the same hashtags for every post. Instagram might see that as spam and not give your posts the amount of exposure you want. Also, it is a good rule of thumb not to have too many hashtags on a single post. Try to limit yourself to using a few hashtags for each post.
Create a hashtag for an event or a promotion
If you have a loyal following, creating a special hashtag for an event will generate excitement and get more people to come into the salon.
FAQs about salon hashtags
1. What are some popular hashtags used by salons?
The hashtags #hairgoals, #beauty, #hairstyles, #salonlife, #haircolor, #hairsalon, #nails, #makeup, and #skincare are a few that are frequently used by salons. These hashtags give salons a way to advertise their offerings and draw in potential clients who are looking for information on wellness and beauty.
2. How many hashtags should a salon use in its posts?
A salon should utilize no more than 10 to 15 hashtags for each post. A post's trustworthiness can be damaged by using too many hashtags, which can make it appear spammy. In order to enhance their presence on social media, salons should pick hashtags that are pertinent to their business and services.
3. How do you create a hashtag specifically for your salon?
It's simple to make a hashtag for your salon. Choose a memorable and distinctive phrase to describe your company's name and products. A hashtag like #GlamourHairGoals, for instance, may be created by a salon called "Glamour Hair Studio". Use the hashtag consistently in your social media postings after you've generated it to help it become well-known and recognized.
4. Should you use location-based hashtags for your salon?
Absolutely, using location-based hashtags to promote a salon's services can assist the business draw in local clients. In order to reach those looking for beauty services in New York City, a salon there might utilize hashtags like #NYCSalon, #NewYorkHair, or #NYCNails.
5. What are some creative ways to use hashtags for your salon?
Salons can use hashtags ingeniously by branding them for their offerings, hosting hashtag competitions, or working with other companies to develop joint hashtags. They can also use seasonal hashtags, like #SummerBeauty or #HolidayGlam, to attract customers who are looking for specific services during certain times of the year.
6. Should you use generic beauty-related hashtags or ones specific to your salon's services?
Salons can utilize both general and niche hashtags to draw clients. While specific hashtags like #balayage or #acrylicnails can draw customers looking for those particular services, more general hashtags like #beauty or #makeup can help salons reach a wider audience.
7. What is the purpose of using hashtags for a salon's social media presence?
In order to boost the exposure of their material and draw potential clients who are interested in beauty and wellness content, salons using social media should use hashtags. Salons can engage with their target market and create a community around their business by using hashtags.
8. How do you know which hashtags are the most effective for your salon's social media strategy?
Salons may track the effectiveness of their hashtags and determine which ones are most beneficial by using social media analytics tools. Additionally, they can look up the hashtags being used by their rivals and influential people in the sector to include them in their plans.
9. What are some do's and don'ts of using hashtags for your salon?
Use location-based hashtags, brand your hashtags, and use relevant hashtags to draw in local customers. Don't use too many hashtags, utilize unrelated hashtags, or use banned hashtags that can affect your account's trustworthiness.
10. Can using the right hashtags really increase engagement and reach for a salon's social media content?
Absolutely, the engagement and reach of a salon's social media material can be considerably increased by employing the correct hashtags. Hashtags can assist salons in attracting prospective clients who are interested in their services, creating a brand community, and enhancing their visibility on social media platforms.