In creating a beauty salon, interior design should be your priority. Salon designs are crucial in presenting generous beauty businesses. After all, you are marketing style and beauty when you set up a beauty salon.
The salon design is the staple of your creativity that presents how you interpret beauty. Likewise, beauty salon designs serve as your expression of the art.
The field of beauty and hairdressing revolves around appearance. In other terms, the quality of your beauty salon relates to its surface look. With the social platforms, maintaining a well-decorated beauty salon also pays off.
Salon designs help in defining one's brand and services. Aside from establishing your salon's brand, great salon designs also attract more clients. More customers visit your salon whenever they see outstanding interior designs in advertisements.
This article will give you an insight into the top hair salon interior designs. This list will aid you in finding ideas for your future beauty salon renovation.
Steps in Creating Your Salon Design
Salon designing can be challenging, especially when you have no idea where to start. Not all salon owners have a background in designing. Moreover, finding resources to use can put you in a challenging situation.
Well, for beginners, it is necessary first to be familiar with the basics of designing. Owners of businesses should be clear of their goals and priorities. You can also seek the help of a professional interior designer to ensure your project.
A well-thought design should cater to both the owner and the customers' needs. The best plan should be attractive, comfortable, and practical. Several guiding principles are available to help you in creating your salon design.
The key to achieving the best design is maintaining harmony. There should be balance and coordination on all the elements present in the salon. A good interior design aims to coordinate the details current in the beauty salon.
Here are the different guiding principles to help you in creating your salon design.
Start by Choosing a Theme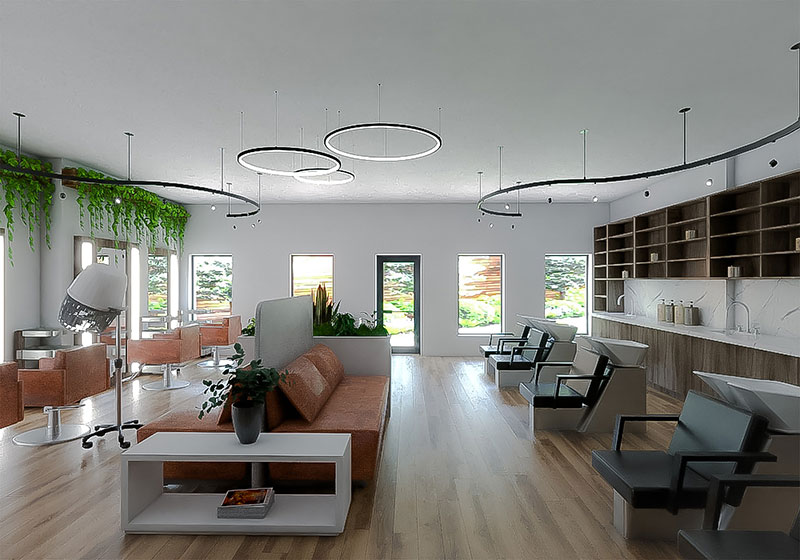 You can start creating your design by choosing a theme for your salon. The theme will be the basis of the furniture and the overall design of your salon. When selecting articles, it is essential to keep in mind your target clients.
The theme should be according to the taste and preference of most of your clients. The decorations, color, and music should also align together. For example, bright ecstatic colors go with music that is hype and lively.
Coordination will help you establish the atmosphere you want to achieve more quickly. Here are the famous salon themes you can use.
Simplicity is Beauty
Some beauty salons prefer a simple edgy style. A simple minimalist theme can give a clean impression. The key to a simple technique is maximizing the use of geometric shapes.
Good architecture prevents overwhelming furniture in the salon by promoting simplicity.
Try Country-Style
If you want your salon to give a warm atmosphere, then a country-style theme is perfect for you! The key to designing a country-style theme salon is to use natural elements as much as possible. You can use wood furniture, flowers, and handcrafted fabrics to give a homey feel.
Take it Back to Retro
You can also use a retro theme if you want to be more creative. Accentuate your beauty salon with old pieces of vinyl, records, and images of the past.
Some beauty salons include pictures of famous glamour icons to add a vintage feel. Using fancy chandeliers and subtle feminine elements can contribute to the classy look.
Fit for Royalty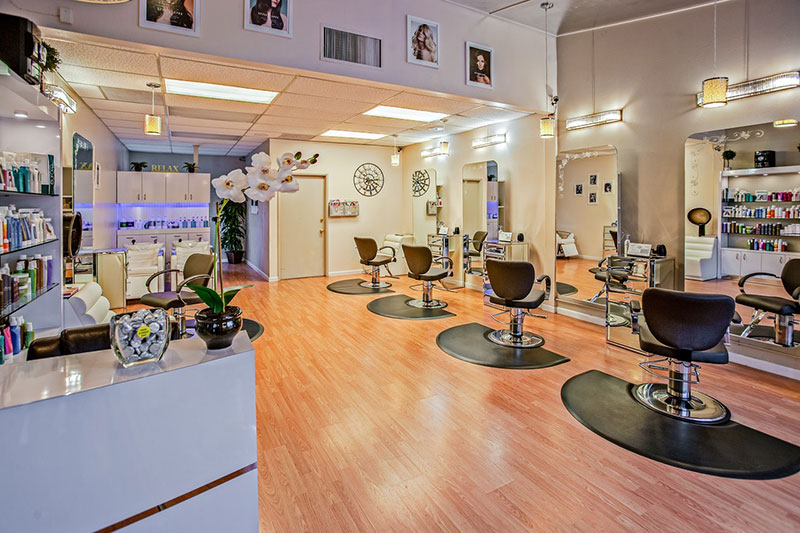 Make your beauty salon fit for royalty! Clients enjoy pampering, and they will enjoy with indulgence your royalty-themed salon. Royalty themes project high quality and exclusivity.
You can design your salon by using velvet curtains and fabrics with gold and silver accents. Using glitter and crystals to add sparkle to your salon is also a good idea.
Upgrade Your Waiting Area
It is vital to upgrade your waiting area, which is also known as the reception area. This zone is the first section of every beauty salon, so it is essential to leave a good impression. Ensure that there are no clutters lying around.
You can maximize the reception desk by putting hidden drawers for better storage. Floor leveling helps in defining various areas as well. Use the right colors that would maximize space.
Positioning your reception desk and leading retail separately can increase sales. Customers are more likely to browse through products that have separate compartments.
Modify the Color Palette and Lighting
The right choice of color palette can go a long way. Most new customers prefer beauty salons with color palettes that are catching to the eye.  It is part of human nature to choose a color to which they identify.
The sense of familiarity plays a significant role in attracting more customers. Of course, it is essential to remember not to put all colors at once. Numerous colors give overwhelming distraction and a cheap look. It is recommendable to use only two to three primary colors.
You can move around the palette of the primary colors but always stick to them. The color palette is not only for the color of the walls. You can apply the color palette to the lighting, furniture, and design items.
To make the design better, you can also add flowers that go along with the scheme. In choosing a color palette, take note of these considerations:
Opt for colors reflecting your brand and its beliefs.
 Select colors aligned with your salon's theme.
 Go for colors that differ from your competitors.
Pick colors that blend well with your present color.
Choose colors that your target clients prefer or relate better.
What Would the Client Prefer?
Put yourself in your clients' position. Ask yourself what things you want to see.
What are the things you prefer in a salon? What do you expect when you enter a beauty salon? Keep these questions in mind when considering what elements to put.
An embracing front desk
A warm relaxing environment
A bright, calming area with natural lighting
Updated Stocks in the Shelves
Pampering basins for relaxation
Soft and comfortable chairs that promote rest
Entertaining magazines for hairdressing ideas and reading
It is crucial to have a mini pantry for products. Having this section can increase your sales and overall revenue. Keep your shelves aligned with the salon's theme. Ensure that you have enough space to present all your products in stock.
Top Salon Designs
Hair Salon in New York by BoND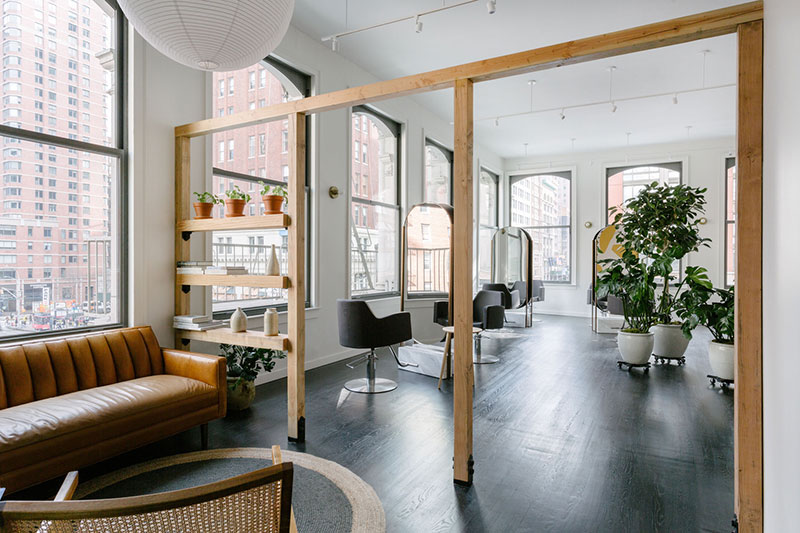 Located in Chelsea, New York, BoND has a minimalist style with natural wooden accents. BoND was formerly a loft in a landmark building, which underwent upgrades into a hair salon. Architects Noam Dvir and Daniel Rauchwerger used plants and natural lighting for accents.
Harajuku Beauty Salon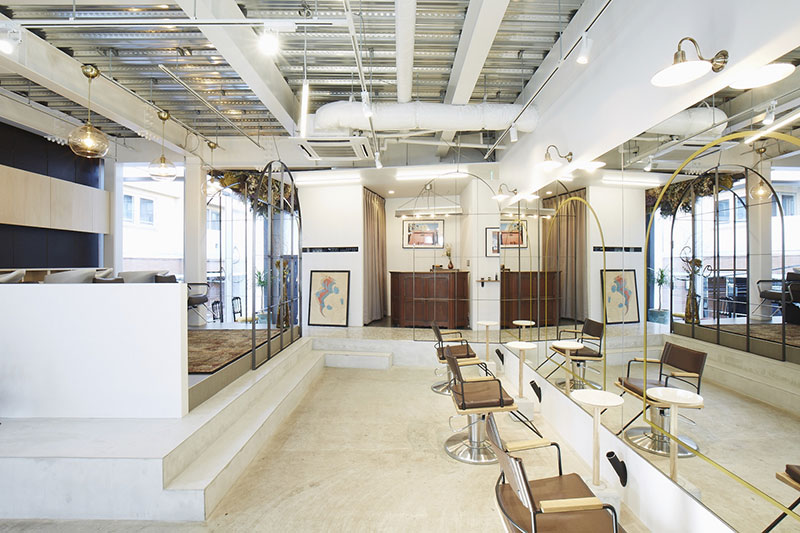 Located in Meiji-Dori, Harajuku, Harajuku Beauty Salon is a salon you would not want to miss! The salon presents a minimalist style. The design focuses on light colors with wooden accents.
It is on the second floor, that is why it gets the maximum amount of natural lighting. Given its narrow alley, you will be far from the city noise. This atmosphere gives clients more chance to relax and enjoy the salon.
Akihiro Beauty Salon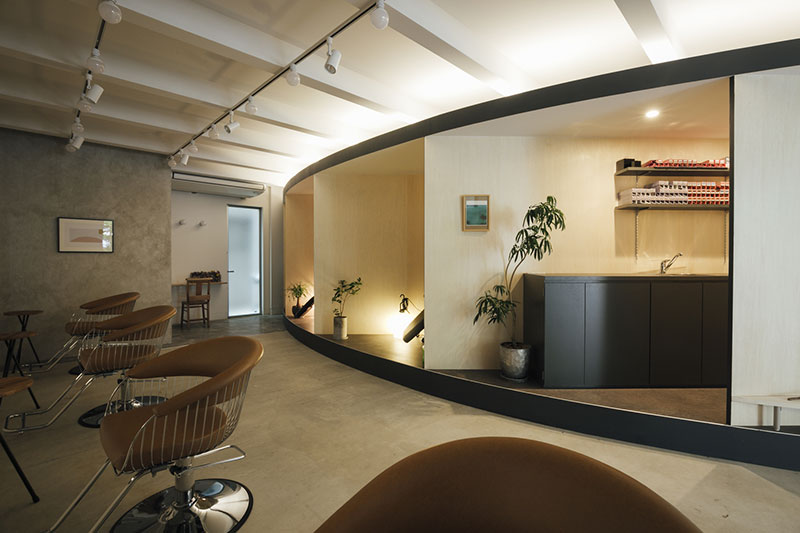 This salon is located in Enokimachi, Hiroshima City's trains street. It offers a warm atmosphere to its clients.
The salon uses dim lights, warm tones, and natural plants for accents. Customers will get to enjoy seeing the seasonal gardens nearby.
Soft, comfortable chairs are also available for customers. Clients will also see a unique shampoo booth. Hence, this booth separates the salon's areas and accommodates more natural light.
Kapo Patio 24 Salon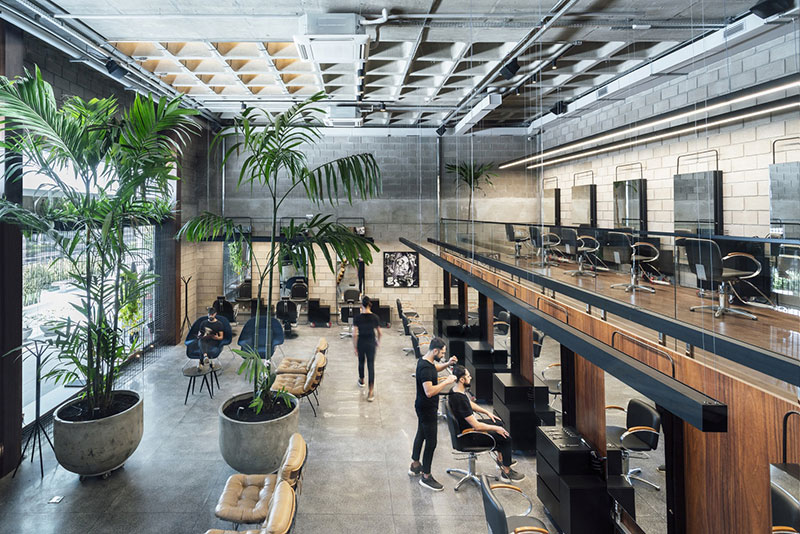 This salon is located in Porto Alegre, Brazil. It uses concrete mixed with grey and black motifs for interior design.
The use of natural plants and wood accents is also prominent. The plan's goal is to mimic the old headquarters and give customers a familiar sense of the new salon.
Say No Mo Salon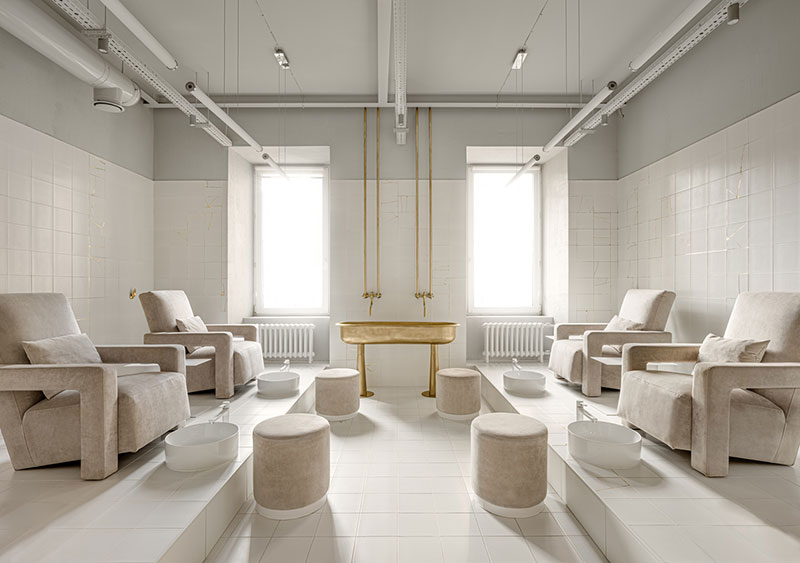 Say No Mo presents an all-white, simple, monotone interior design. The design is a modern contemporary take on the traditional beauty salon design. Finally, the designers placed a bar that caters to cocktail receptions and beauty services.
LAND Salon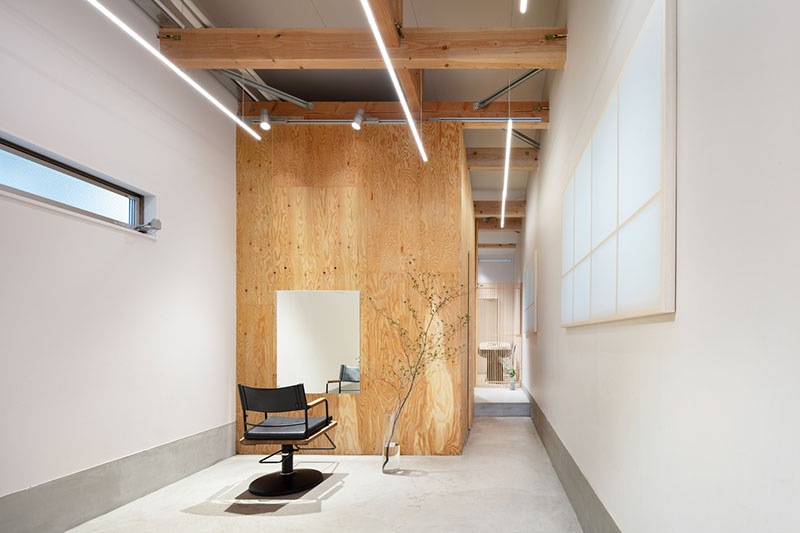 LAND Salon takes inspiration from an old-style Japanese Nagoya row house. The simplistic design uses wood and subtle plants to add a natural touch to the salon. Additionally, minimal natural light comes in, so artificial lights are more prominent.
Clients will appreciate the custom passageway built with a long line of sight. The designers also placed tiers to put definitions in each area.
Thompson Hess House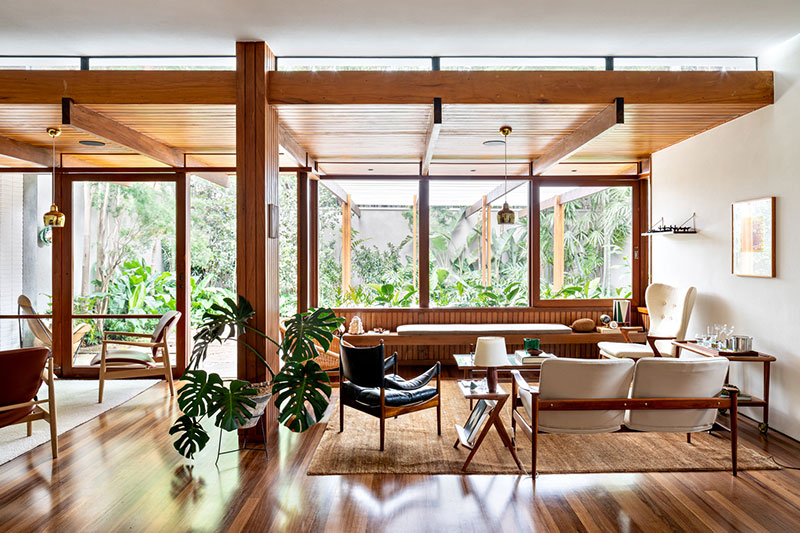 In 1957, architect RodolphoOrtenblad designed the house for him and his family. This house underwent renovation. Today, it prominently uses wood and natural lighting for its design.
The salon uses large plants for accents. The atmosphere that the designers want to achieve is to mimic a homey afternoon.
OBJECTO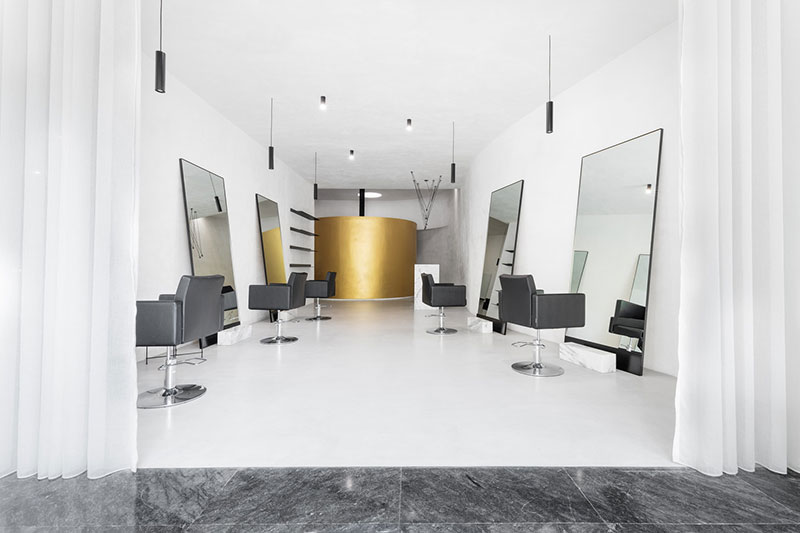 Located in Lisbon's center, this hairdressing salon presents a mostly white motif. The salon uses contrasting colors for the chairs, mirrors, and lights. It adds a contemporary and sleek touch to the overall look.
There are five areas located inside OBJECTO. First is the waiting area located in the first part of the salon. Meanwhile, other rooms are the cutting area, the make-up room, and the washhouse.
Lastly, the cabinets and the technical regions for storage are also available.
CorreiaRagazziarquitectos
CorreiaRagazziArquitectos uses wood patterns to maximize salon space. The salon was formerly bare and damaged. Now, the salon is contemporary and bright, giving it more advantages than other salons.
Salon O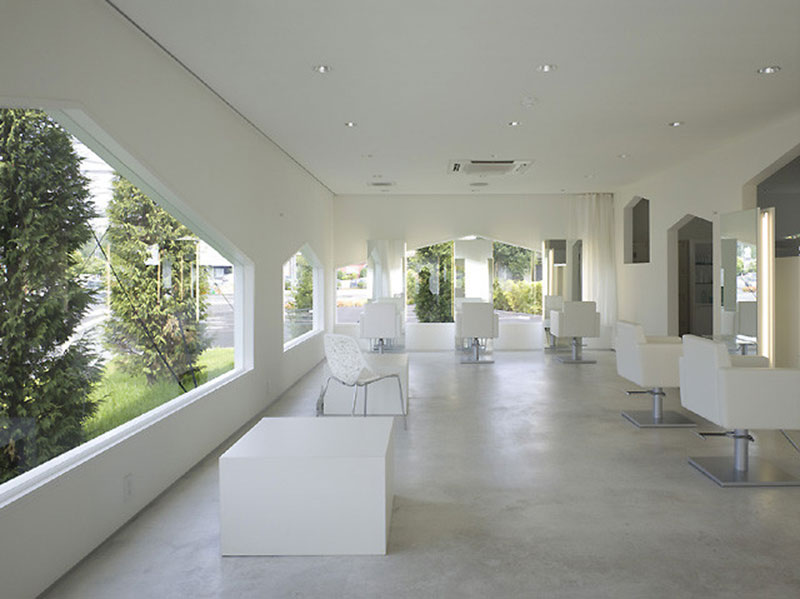 Salon O under Takao Shiotsuka Atelier presents a minimalist design. It is also close to nature. Clients will find that the salon has many walls cut out to allow more natural light.
Since its location is in the suburbs, a mountain type design fits perfectly.
Hair Salon in Nakazaki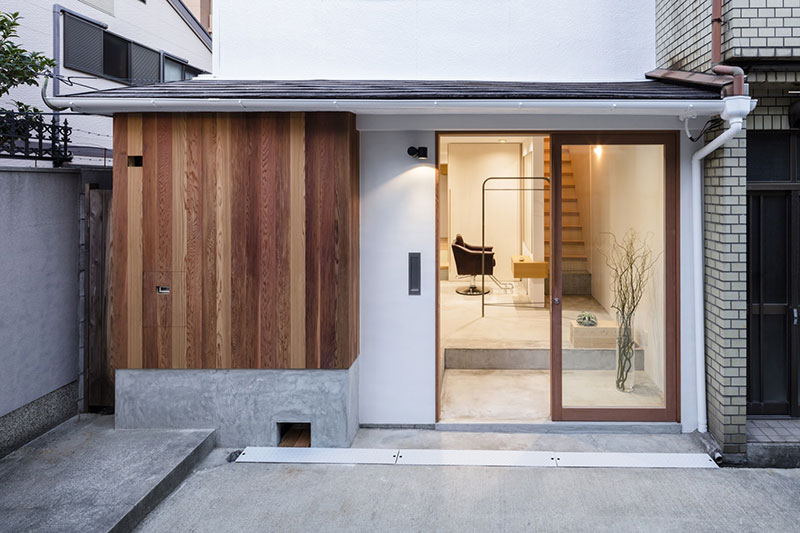 Rainbow Arches Energy Salon

NICE Salon

Rowen esaka Salon

Hair Very Salon

Mook Salon

Lily Nails Salon

Lecinq Hair Salon

Hair Salon Slundre

Salón Inés Pose

Atelier Toiro Salon

Cure Salon Monsieur

Carley Hair Salon

Narcisse Beauty Salon

Kaze Hair Salon

The Klinik Hair Salon

Equip Hair Salon

PRIM4 Hair Salon

Roji Salon

Westory Hair Salon

Shokrniya Beauty Salon

Mành Mành salon

ARKHE Beauty Salon

Anfrum Hair Salon

How Fun Hair Salon

Beijing Space of Lace Pattern

QOL Hair Salon

Barber Shop

blue mist

FLUX

GLAMY Beauty Spot

Ending thoughts on these salon designs
Interior design is a priority in building salons. Salon designs define your brand and services. Moreover, it helps attract more customers, so it requires careful planning.
Use the guiding principles to help you in creating your salon design. Remember that coordination on all the elements should be present in the salon. A good interior design aims to achieve a harmonious balance in the aspects of a beauty salon.
Get more bookings with the right tool for the job
Staying organized has never been easier.
You can now manage your business and grow your brand with a single, powerful software that keeps all of your appointments in line, your clients organized and your business booming.
Trafft is the perfect salon appointment software for business owners who need to streamline their booking experience both for their staff and their clients.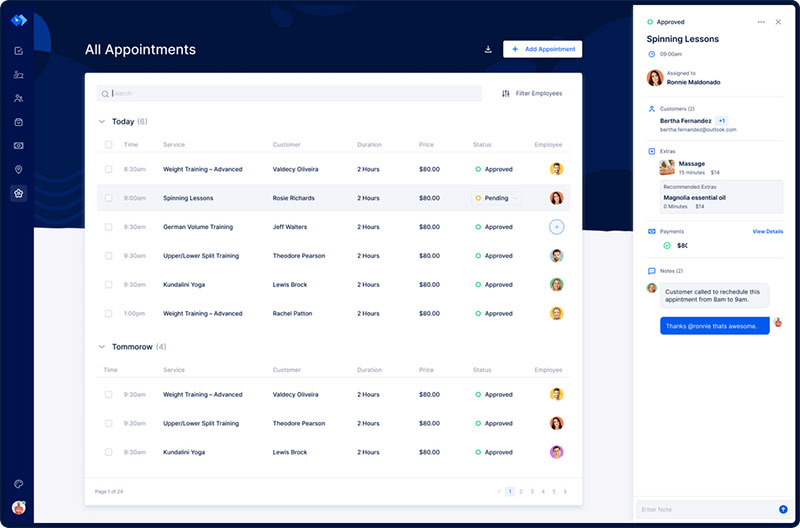 Trafft handles everything for you, even sending automated email or SMS reminders to your clients. No-shows? Not anymore!
The Trafft booking software adapts to different industries for a blissful online booking experience and employee management.
Want to know more? Check out Trafft's awesome features to see what you are missing.
If you enjoyed reading this article about salon designs, you should also read this one about salon slogans.
We also wrote articles about similar subjects like salon mission statements, salon hashtags, beauty salon logo examples, salon marketing ideas, and about writing a salon price increase notice.