Salon Slogans are important for the expansion of your business. Beauty and hair salons and spas abound and the best slogans will help you distinguish your business. Maintaining distinctiveness in this industry is crucial.
To get established in the beauty and haircare industry and develop your business, it is essential to set yourself apart from all your competitors. Using a catchy marketing phrase will not only be inspiring and alluring but will also help draw customers to your business.  The goal is to develop business slogans that capture attention and draw clientele.
A unique salon slogan is well thought out, highlighting the company's message and product taglines. It will intrigue the customers while establishing a solid marketing concept.
If you are creating a salon slogan for a beauty and hair salon, nail salon, or spa, this article is designed for you. This section will focus on salon slogans that will achieve the desired goal. It will not only attract attention but also maintain a dedicated customer base.
Herein you will find a compiled slogan list for business.
This list is designed to assist beauty professionals when branding their salon slogan, by providing an updated list of mottos and taglines.
Writing a Winning Salon Slogan
Salon Slogans are an effective way to draw attention to the beauty salon and their hair salon ads. Slogans have been used in marketing campaigns for years.
A good salon slogan will reduce competition by using catchy phrases while informing the customer of the benefits of the product or service.
Below are useful guidelines for creating a great business slogan:
Keep it short and make the tagline simple
Make a salon slogan with rhythm, catchy quotes, and a ring.
Be consistent
A slogan should be trendy and meaningful
Include catchy phrases in the slogan
Be creative
Focus on distinctiveness
Highlight the salon motto
Be honest and don't overpraise yourself
Evaluate your customer base
Use rhyming slogans for a positive vibe
Use catchy selling phrases
Be believable and guarantee your service
Memorable Stylists and Salon Slogans
Memorable salon slogans will embody both the mission and image of the hair salon and will set your salon apart from the rest. The salon slogan will impart confidence to the clients and assure them the salon will exceed their expectations. Careful attention must be given to developing the perfect slogan.
Below are salon slogans that make a bold statement:
Your hair is our canvas!
Beautiful hair with beautiful care
Let's talk about hair!
Your hair at its best.
Where haircuts are fun!
Curl Up and Dye
Where hairdressing comes alive…
Beautifying the neighborhood, one haircut at a time.
Love your hair, love yourself.
Behind every beautiful woman is a hairdresser that loves her!
Big hair, big dreams.
Complete hair transformation.
Your Best Hair Affair
We will DYE for You
We can style your hair how you like it.
Not just for blondes.
Hair And Beyond
Hair can be red, hair can be brown, come on in and we'll change your crown.
Hair Dot Comb.
You're never fully dressed without great hair!
The Hair State Of Mind.
The science of beautiful hair.
Your hair is our best advert.
Your Hair Beauty, Our Duty
Gone with the Hair salon.
A Cut Above the Rest!
We cut any type of hair.
Beautiful hair in professional hands.
The cure for bad hair days!
A Reason To Dye.
Life is too short to have boring hair!
Cut From The Heart
Your hair is our masterpiece!
Catchy Beauty Salon Slogans
When choosing a business slogan, consider the diversity of the clientele. Maintain class and style and avoid phrases that appear outdated. Appeal to everyone by using good taglines that reflect beauty and style. Consider the following suggestions:
We'll style while you smile!
Share your style.
Where we love to exceed your expectations.
Beauty is our duty.
Get prim and proper with us.
We manufacture beauty
Beauty doesn't have to be painful
Live your best life.
Beauty pronounced.
Because being beautiful should never harm you.
Because you're beautiful.
Passionate about Beauty
Feel the best
All you need to feel better
Blossom into a new you.
Bringing out the beauty in you.
Chic. Creative.
Taking care of all of your needs.
New stylist. New life. New you.
The salon that gives you style.
A good style changes the mood
Oh it's so amazing
We get it done.
Everyone is beautiful, we just make it obvious!
Treat yourself to great service.
Try a new trend with us
Start the day with great style
Shine from head to toe.
Styles from the city, service from out of this world.
Be proud, be you.
Changing the world one person at a time.
Beauty from head to toe.
Treat yourself to great service.
Winning Spa Salon Slogans
Most worthy of consideration is the spa slogan. The opportunities for business in the spa industry can be very lucrative. Intriguing spa sayings often denote relaxation and pleasure. Grand opening advertisements can attract a steady stream of dependable clientele.
Brand image and a good slogan are vital to the business owner and should be given careful attention.
Salon slogans are both unique and memorable:
Release. Rebalance.
Look your best, feel even better.
A stress-relieving experience
Take off the heat
Natural, healthy, and professional.
Unwind. Indulge.
Keeping organic cool.
The place that leaves you feeling great.
The soul of a woman.
More than you expected
For the perfect glow up
A Brilliant hand of Caring
Where experience matters.
Working beauty from the inside out.
Revive. Restore.
Revitalize your beauty. Revitalize your soul.
Because you need time for yourself.
Look good. Feel good.
Look well. Feel well. Be well.
Unwind, entwine, enrapture.
Adding you in Yourself
A wonderful Place to Be Wonderful
Feel natural, Feel You
Spa for your Style Fitness
Sparkles to your Shine
Let's Adorn the Dreams
The Spa which you Love
A Natural Lifestyle of joy
Get Gorgeous, be Gorgeous
Get A Bliss for your Body
Relaxing is new Fun
Making You More Stylish
Adorn your Style Wings
Pampering makes people happy.
Let your Body Meet your Soul
Dignify your Body with Soul
A new beauty of Perspective
Shine with perfection
A Spa with a Lifestyle Experience
Satisfying your beauty Needs
Beyond your Imagination
Relaxation in your Budget
Beauty and Indulgence at Same Place
Helping You to Look Great
Get more bookings with the right tool for the job
Staying organized has never been easier.
You can now manage your business and grow your brand with a single, powerful software that keeps all of your appointments in line, your clients organized and your business booming.
Trafft is the perfect salon appointment software for business owners who need to streamline their booking experience both for their staff and their clients.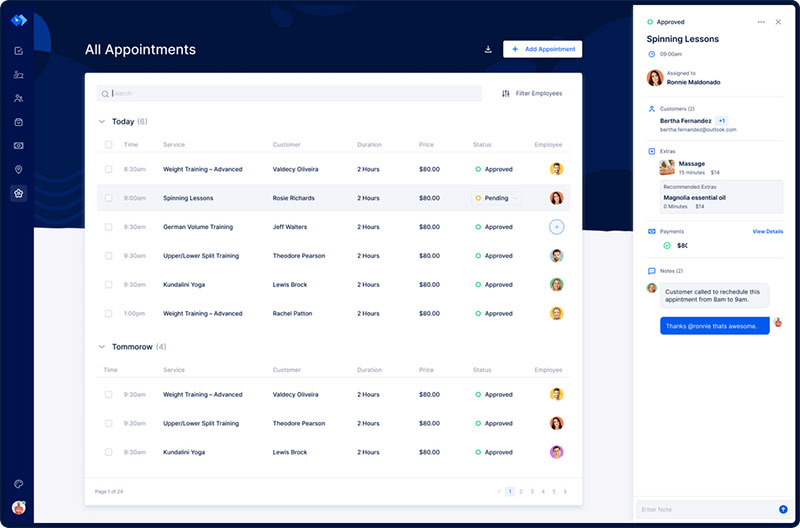 Trafft handles everything for you, even sending automated email or SMS reminders to your clients. No-shows? Not anymore!
The Trafft booking software adapts to different industries for a blissful online booking experience and employee management.
Want to know more? Check out Trafft's awesome features to see what you are missing.
FAQs about salon slogans
1. What is the purpose of a salon slogan?
A salon's tagline encapsulates its identity, mission, and core values in a brief and memorable phrase. The main goal of a salon tagline is to build a strong brand identity that appeals to potential clients and sets the salon apart from rivals.
2. How can a salon slogan help attract customers?
By communicating the salon's distinctive value proposition and forging an emotional bond with potential customers, a well-crafted salon tagline can aid in attracting clients. A memorable, snappy, and evocative tagline may promote word-of-mouth advertising, improve consumer loyalty, and assist establish brand identification.
3. What are some tips for creating an effective salon slogan?
Keep it short and simple, make it memorable, emphasize the salon's USP, use emotionally charged language, and match it with the salon's overall brand identity are some suggestions for writing a successful salon slogan.
4. How long should a salon slogan be?
A salon's motto needs to be succinct and direct. Whilst some effective slogans are longer than 7-8 words, this is the ideal length. The important thing is to make sure it is memorable and simple to recall.
5. Should a salon slogan be catchy or informative?
The ideal motto for a salon should be both memorable and educational. It should be distinctive and emotionally appealing while capturing the essence of the salon's brand identity, values, and unique selling proposition.
6. What are some examples of successful salon slogans?
Successful salon slogans include "Beauty starts here," "Empowering your style," and "Because you're worth it," to name a few (Ulta Beauty). These catchy slogans are brief, memorable, and cause consumers to feel something.
7. Can a salon slogan be used in advertising campaigns?
To support the salon's brand identity and messaging, a slogan might be employed in advertising campaigns. Salons may develop a unified and consistent brand image that appeals to clients by incorporating the phrase into advertisements, social media posts, and other marketing materials.
8. Is it important for a salon slogan to reflect the salon's brand and values?
The brand and ideals of the salon must be reflected in the motto, yes. To ensure that the tagline accurately captures the salon's brand identity, it should be in line with the salon's mission, values, and distinctive selling offer.
9. Should a salon slogan be updated periodically?
A salon motto should be reviewed and updated on a regular basis to make sure it is still applicable and consistent with the salon's evolving brand identity and messaging. Therefore, it might not be necessary to update a phrase if it has gained popularity and client recognition.
10. Can a salon slogan be trademarked?
Indeed, if certain conditions are met, a salon motto may be registered as a trademark. The phrase must be unique, not generic, and unlikely to be mistaken with other trademarks in order to qualify for trademark protection. A trademark lawyer can advise salons on whether or not their tagline qualifies for protection.
Ending thoughts on stylists, spa, and salon slogans
The best salon slogans will be simple but memorable. When evaluating choices, include catchy phrases, a good business motto, timeless wording, and clear product advertising that appeals to everyone. The guarantee of quality and your mission should be the focal point of your salon slogan.
Use the suggestions above for creativity and inspiration as you embark on your journey and make it memorable.