A mission statement summarizes a business's desired achievements and the aim of the company. It is prudent of any new business owner to think first and document what they want to achieve in such a statement.
This is true for any kind of market, including hairdressing and beauty salons. It is vital in the competitive world of business.
This article explains in detail what a salon's mission statement is and how to write one. It provides mission statement examples from different types of existing salons.
It provides the reader with a framework on which to develop a mission statement for a beauty company, a small beauty business, or a salon. Knowing how to do this can help a business to move in the right direction.
What is a Mission Statement?
A mission statement summarizes the reason for the existence of the salon, what its goal is, and how this goal will be achieved. So, a good salon mission statement identifies the uniqueness of the salon.
It includes the organization's values and philosophies, its competitive advantages, and vision.
It is an important part of a business plan, serving as a frame of reference when making decisions.
With the preparation and adherence to the statement, the correct message is passed on to all involved in the business. It will help to make sure that everyone on the team is thinking and working toward the same objectives.
Why Have a Salon Mission Statement?
The mission statement has a bearing on the continuity of a salon. It also functions as a communication tool for anyone who has dealings with the business.
When the purpose of the business is identified and documented, so too will be the goals and the roads needed to reach them.
Starting up a business is stressful and involves many tasks. Often, the owner can get caught up with the amount of work and forget why they are actually doing it.
By defining the salon's mission statement, the owner ensures that every decision receives the attention it merits. It allows the business to develop towards a defined goal.
It is important that the owner knows exactly what is the mission, and that. everyone else involved in the business knows, including employees and providers.
If they know also what the statement entails, they understand why things are done in a certain way. They also know in what direction they and the company are going.
Knowing the purpose and direction makes a huge difference.
How to Write a Salon Mission Statement
A beauty or hair salon has the objective to make clients look and feel good. This is true for any salon, so including that in a mission statement is not enough. The salon's mission statement must show what makes this salon unique, similarly to its slogan but more precise.
So, before sitting down to write, identify what makes this salon stand out. Always start with your aptitudes. These are the strengths and abilities that will make this business different from the competition.
Do not focus here on one small thing, but include things that are applicable to a range of services. Examples could be if the salon uses only organic products, or if the staff has special experience or training. This is what can make a difference in the clients' decision-making.
Include the answer to the following questions:
Why do I do what I do? Why do I want to own a beauty salon? Why did I start my own business?
Who are my prospective customers? What are their priorities in choosing my salon? What do they like about my business? What kind of relationships do I want to maintain with them?
What is the image that I want to create? What is the branding that I want to use? How do I use social media to present my salon?
How does my business differ from all other similar businesses in the market? What are my business advantages? What about the competitiveness of my prices?
What is the level of quality I supply? Are they the highest available or do I have to make some compromises to be able to offer more competitive prices?
What is my relationship with my employees? What leadership style do I want to use to lead my team?
How do I use my capital? What are my spending priorities? Do I invest in new marketing, products, supplies, or technology?
After gathering the answers to these questions, combine them into a full statement. The recommended length of a mission statement is around three to four sentences.
Avoid general nondescript statements, like "provide the best quality service to the clients." These kinds of expressions apply to any business. In these few sentences, the unique character of the salon should shine through.
Writing an attractive mission statement is not very difficult. The hard part is to write a statement that is both well written and brings out the unique nature of the business; something that is realistic and gives a true representation.
It is a good idea to read back the written statement and see if you believe what it says. Change anything that does not sound right, or that you do not agree with. Never leave false promises in the salon's mission statement.
Points to Consider
A good mission statement should contain two to four statements. The maximum length is 100 words.
Of course, within these 100 words, the point should be clear. It must include the way customers and employees will be treated and how the business objectives will be met.
Describe What Your Salon Does
Straightaway you should describe what the company does. In this sentence, a customer should see why they should come to this salon. The objective is not to sell a person, but what the place has to offer.
An example could be sustainable practices. This is something that attracts customers. Never undersell the business.
Define Your Brand
When defining a brand, the focus is on the customers and what message is conveyed to them. What kind of experience does the salon offer?
Branding is often associated with appearance and the colors on a website. All these things are part of the definition of the brand.
Branding, however, goes further. It is about the feeling the customers get when thinking of the salon.
Focus on the Market, Not on Products or Services
Focus on the salon's unique qualities and on how they satisfy the client's needs.
What is the perfect target customer? What kind of work do they do? Where do they live? Often do they need your services? What hobbies do they have? What do they do in their free time?
When it is clear who the target audience is, it becomes easier to direct the course of the company. This is also important information for putting together a social media campaign.
Be Unique
Be realistic with the salon mission statement and do not copy the statement from another salon.
No two salons can have the same mission statement. Compare the changes in business objectives with the mission statement.
The main point is this: stand out as new and different from your competitors. Adjust the core competencies according to that.
Motivate and Inspire Employees
A mission statement does not only appeal to customers but is also directed at (prospective) employees. The success of a company depends on the quality of the employees and how well they work together.
The company's culture should be an integral part of the statement. A positive and uplifting mission will attract and inspire workers that will contribute to the success of the salon.
Clear, Concise, and Focused
Writing something condensed and concise is not easy. Sometimes it is easiest to write it in point form first. When all points are written down and grouped in the right order continue with writing the actual statement.
Apart from being concise, it should be easy to read and not complex.
If possible, make use of the expertise of a friend or colleague with writing or editing experience. They can help with putting the words on paper, or check the document after finishing. If the budget allows, the services of a professional business writer can be sought.
Take Some Time Away
It may sound strange, but take some time off to get away from the business to attain objectivity. It can help to get the ideas for the statement clear.
The routine of the business can be a distraction from developing clear ideas about what the business policy should be. You can also try to imagine yourself as a prospective customer of the salon. What do they actually see, versus what they want to see?
Edit the Text You Have Written
After putting together the text, check for wordiness and remove any filler words, buzzwords, or hyping.
Make sure the statement applies to the business and not to the market in general. Ask if every statement is true and if you believe it.
Beauty salon mission statement samples
Writing a mission statement is not trivial, especially when new to the business. It is okay to get some inspiration from the statements of similar businesses.
Here are some mission statements that convey uniqueness, but are still generic enough to be useful. These statements can give ideas for spas, beauty parlors, and hand and nail salons.
"We want to deliver the quality that is unbeatable in this area. Our principle is to focus on the constant training of our employees, so they are always up to date with the newest trends and techniques. We want to be known for being the ultimate professionals. We believe in strong management and continuous self-development."
"To use my talent, skills, and education I will assist and inspire my guests to realize and enhance their own beauty."
"To enhance the inner beauty and confidence in our clients by using state-of-art practices and superior quality products."
"Our mission is to provide one of a kind service and promote confidence and self-worth."
"To grow the best, most profitable, and most creative hairdressing company on the planet, where people love to work and clients love to be."
"To be a leader in improving the health and wellness of our community by providing inspired treatments, teaching our clients healthy practices, and fostering wellness education."
"Located at Twin Park's Centre, Lucinda's Hair & Beauty salon provides you a range of highly trendy hair cuts and styling, makeup, hair coloring, waxing services, spray tanning, and facials. It was established in the year 2005 and has a team of highly skilled and experienced stylists."
"To serve customers with integrity by being loyal to them, the company, and ourselves. To give superior customer service consistently with a happy relentless attitude while standing within an affordable budget for families."
"We aim at providing the finest services to our clients at industry competitive prices. Giving back to society, using sustainable practices and eco-friendly products is our forte."
 "It is our goal to exceed your expectations. Come experience a family atmosphere where you come as guests and leave as friends. Our staff is highly trained with diversity in all aspects of Hair, Waxing, and Massage. We keep up on the latest trends in our industry by continually attending hair shows and education classes throughout the year. Come let us pamper you and provide you with quality services."
 "Established in the year 2009, The Roose Parlour & Spa is a popular salon in Downtown Phoenix. From haircut, styling to color and other hair treatments, and spa services, the salon offers numerous services for its clients."
"All our stylists share one common goal – to pay close attention to the little details of every service. We pledge to maintain the highest standard of hygiene and cleanliness within our facility, exceed your expectations, and keep you coming back for more."
"Whether you want to get a simple, classic hair cut or you want to get a personalized look from the stylists, Cinta salon is for you. They offer a range of services starting from hair styling, hair coloring, makeup, eyelash extensions to skincare, bronzing, hair removal and barbering."
"Salon Echo is an intimate and upscale extension and color bar with West Coast vibes in the heart of the Midwest. We focus on more than just hair. Here at salon Echo, we practice instilling confidence and mindfulness one hair flip at a time."
Get more bookings with the right tool for the job
Staying organized has never been easier.
You can now manage your business and grow your brand with a single, powerful software that keeps all of your appointments in line, your clients organized and your business booming.
Trafft is the perfect salon appointment software for business owners who need to streamline their booking experience both for their staff and their clients.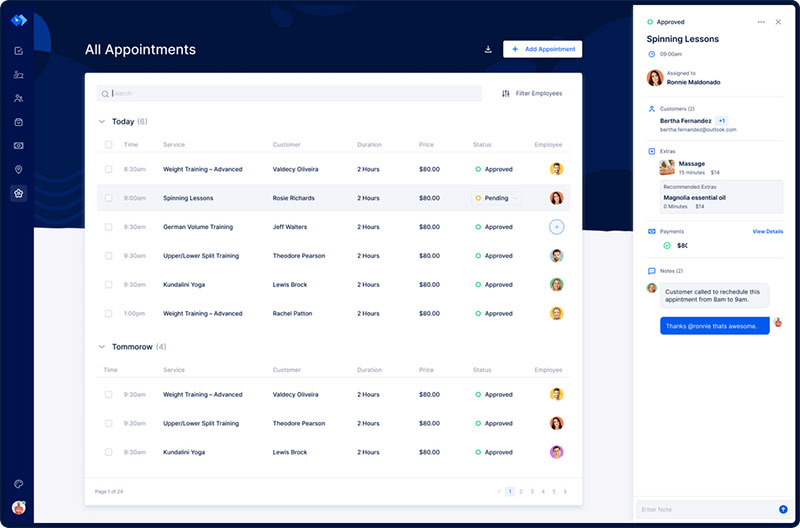 Trafft handles everything for you, even sending automated email or SMS reminders to your clients. No-shows? Not anymore!
The Trafft booking software adapts to different industries for a blissful online booking experience and employee management.
Want to know more? Check out Trafft's awesome features to see what you are missing.
FAQs about salon mission statements
1. What is a salon's mission statement?
A concise statement that describes the goals and core values of a salon business is known as a salon mission statement. It acts as the company's guiding philosophy and clarifies to staff, customers, and the general public what the salon is all about.
2. Why is having a salon mission statement important?
A salon's mission statement is crucial since it gives the company focus and direction. It aids in defining the company's values, objectives, and purpose and can be used as a planning and decision-making tool. A well-written mission statement can also aid in drawing in and keeping customers that hold similar values and views.
3. What are the key elements of a successful salon mission statement?
A succinct and clear statement of purpose, a description of the company's values and objectives, and an affirmation of the salon's dedication to providing high-quality services and client pleasure are the essential components of a successful mission statement for a salon. Also, it needs to stand out from competing salons on the market.
4. How do I write a salon mission statement that reflects my values and goals?
Start by establishing what's essential to you and your business so that you can produce a salon mission statement that matches your values and ambitions. Think about your objectives, your target market, and the perception you want to have in the industry. Avoid industry jargon and overly complex terminology and speak clearly and succinctly.
5. Can a salon's mission statement help attract and retain clients?
Certainly, a strong salon mission statement can aid in drawing in and keeping customers with similar values and views. Customers who identify with a salon's objective are more likely to stick with it, refer their friends, and use it again in the future.
6. Should a salon mission statement be shared with staff and clients?
Absolutely, staff members and customers should be informed of the salon's purpose statement. It is beneficial to share the salon's ideals and objectives with its staff so that they may work to realize that mission. When customers are aware of the mission statement, they are more likely to feel trusted and loyal because they believe they are supporting a company with a worthwhile goal.
7. How often should a salon mission statement be reviewed or updated?
The goals and values of the salon should be reflected in the mission statement, which should be periodically revised. If there are any significant alterations to the company's operations or direction, it should also be updated. Yet, since a mission statement should be a steadfast and constant driving principle, it is not required to alter it frequently.
8. Can a salon mission statement be too generic or vague?
Absolutely, if the salon's mission statement doesn't give clear and meaningful details about the company's values and objectives, it may come out as too general or unclear. A mission statement that is too general or ambiguous may fail to convey the distinctive features of the company and may not be well received by potential customers or workers.
9. How can a salon's mission statement align with the overall branding of a business?
By reflecting the same values and objectives stated through other branding efforts, such as logos, marketing collateral, and website design, a salon's mission statement should be in line with the overall branding of a firm. The mission statement's language and tenor should also align with the brand's overall voice.
10. Can a salon mission statement help guide decision-making within the business?
Certainly, a salon mission statement can aid in directing company decision-making by offering a clear framework for assessing options and actions. When presented with a choice, salon owners and staff can consult the mission statement to make sure their actions are consistent with the company's values and objectives.
Ending thoughts on your salon's mission statement
After writing the salon mission statement with the above guidelines, it will need to be published. Make sure that employees and clients have access to it.
It now can play a key role in overall business development. Now, all the focus can be put on the growth of the business. To do that successfully it is vital to have a good booking program.