Having complete certification in being a fitness instructor does not mean that you already have what it takes to be an in-demand trainer. That is especially true if you want to have a fitness club. However, asking the right and most relevant fitness survey questions is the key to getting your members' hearts.
It is daunting to recruit fitness club members as weight topics are sensitive to discuss. That may seem trivial, but asking and conversing with your members can bring many benefits. Ultimately, it can achieve higher brand loyalty to your fitness club.
The most relevant questions also help you gather all the information necessary while building a bond with you as the owner or instructor. But, survey questions might bring more harm if they appear to be offensive to the members if it is not well-written.
Thus, it would be best to remind yourself what appropriate inquiries you can tell and ask them. Otherwise, you would gain an unpleasant reputation. Don't fret! If you're an amateur fitness club owner, this article describes what fitness survey questions you can ask your members.
Tips on Formulating Survey Questionnaire
Like any business, you must familiarize yourself with your members' opinions and feedback. It will help you determine what you need to do and improve your fitness club. Choosing the appropriate survey maker is the first step to take before coming up with questions. Here are some tips and guides for you to effectively acquire the information you need.
Avoid Hesitations
It is a bit awkward to text, call, or email your clients regularly. But, never hesitate to ask more questions via fitness survey to gain more information about them while developing your trainee-trainer relationship.
The more information you get, the less time you need to allot with your client asking questions. This way, it will be easier to set up the most suitable fitness program for your members.
Be Decent
When doing a personal training questionnaire for clients, always remember that your survey's goal is collecting data. You also want to get an in-depth assessment of your members' health and fitness state.
Nevertheless, you must know your limits and avoid asking irrelevant and unnecessary questions. Additionally, asking about your clients' personal lives can be the worst decision. Be direct and specific.
For example:
Wrong: Do you exercise regularly?
Right: How many days per week do you exercise (on average)?
Start with close-ended questions with checkboxes, like demographic profile information such as name (optional for confidentiality request), age, sex, etc. Have ten to twelve questions that remain interesting but relevant to encourage your members to complete the form.
Be Clear and Concise
No matter how much you want to attain loads of information, do not forget to consider your club survey questions' length while maintaining clarity. It is crucial to avoid confusing your clients with too long and complicated interrogative statements that lead to insincere feedback.
Give an "Out" Option
Do not rule out the possibility of your clients being unable to answer some questions. They either haven't experienced it or don't know what and how they will respond. In these cases, always leave an option for a Does Not Apply or Not Applicable or Don't Know.
Questions You Need to Avoid on Fitness Survey
Given the decency, conciseness, and clarity, here are the question format constructions that you have to watch. These questions will help you avoid getting inaccurate results.
Questions that Lead to an Answer
This type refers to questions that suggest an answer that might lead to favor that side. Your members might get enticed with the option that you have stated in the question. For example:
Wrong: On average, people here in our gym work out three times a week. How often do you want to work out?
This inquiry might lead the members to respond "three times a week." This information gets retained in their memory instead of their real answers. Thus, be direct to the point and ask:
Right: How often would you like to work out in a week?
Questions that Assume
Loaded questions containing assumptions about the members are not recommendable as they might exclude responses. Your members could unconsciously refrain from stating their situations.
Wrong: Do you want a fitness program that helps you get to work in the morning?
This question assumes that the member works out in the morning.
Right: Do you want a fitness program that conditions your mood all day?
Questions that Need Too Many Answers
This question asks different things in a single response. Consequently, it might overwhelm the members or make them lazy in answering the questions.
Wrong: Do our programs meet your expectations for intensity, variety, and convenience?
This question asks three answers for intensity, variety, and convenience. Ultimately, the members might either get confused or provide vague answers. Separate them instead.
Right: Do our programs meet your expectations for the intensity of exercises?
Right: Do our programs meet your expectations for the variety of exercises?
Right: Do our programs meet your expectations for the convenience of exercises?
Fitness Survey Questions Types and Examples
Fitness evaluations are usually designed for a specific group of people aiming for general feedback to understand a member's characteristics. These assessments range from exercise survey, health and fitness questions, and facility survey questions to market survey forms. Surveys enable you to gather information for your fitness center's improvements.
Survey Questions for Market Research
Like other businesses, you must not neglect fitness market research and trends. It is an essential factor whether your fitness center has just started or has already grown. Market research is an integral part of establishing a business venture.
A market research survey template can help you determine how your new fitness club location. Aside from this, you can choose the right programs and new equipment to do well according to the recent market trend.
Aside from demographic profile questions, here are some examples of market research survey questions you can ask your potential customers:
How long do you spend commuting to a gym?
How much do you usually spend on monthly membership?
What workout programs and classes interest you the most?
Do you take health supplements?
Have you experienced having a personal trainer before? If yes, what activities do you enjoy the most?
Did you already undergo a fitness program before? If yes, what classes have you tried in the past to help you [lose weight, gain weight, etc.]? What workout did programs work well for you? What about those that did not work?
Survey Questions for New Fitness Club Members
Survey forms for new members allow you to gain information on whether your marketing strategies are working.  You can ask how they were able to know about your fitness club.
If they were from another fitness center, you could also determine why they left to avoid those flaws. Here is an example of a new member survey questionnaire.
Thank you for joining our fitness center! Please take time to answer these few questions to determine how we can help you achieve a healthier lifestyle!
How did you hear about our fitness club?
What makes you get convinced about joining us?
Do you have any specific fitness goals? If so, kindly list them.
Do you prefer an AM or PM workout?
Have you gone to another fitness center before? If yes, can you tell us who your gym provider was before us and why you decided to leave?
Do you prefer private sessions or group training classes?
Do you have any desired gym equipment? If so, please list them.
Would you like to have a free fitness consultation with one of our fitness instructors? If yes, please tell us your preferred date.
Survey Questions for Major Risk Factor Identification
This survey questionnaire is crucial for understanding and assessing your members' current health and condition to avoid risk factors. However, note that although you have the most standard Personal Trainer Certification, never implement a fitness program for a member with one or more Major Health Risk Factor(s).
If that is the case, each program you design must always have a medical physician's approval. Here are some questions you can use:
Do you have diabetes?
Do you have a history of high blood pressure?
Is body composition interfering with the performance of simple daily tasks? (i.e., clinically obese?)
Do you have a family history of coronary disease before age 50?
Do you?

smoke (and over the age of 35)
drink excessively (more than 1-2/day)
have poor sleeping habits (less than 8 hrs./night regularly)
Survey Questions for a Fitness Goals Assessment 
When a member has a specific goal in mind, whether it is to lose or gain weight, this type of questionnaire is an excellent option. This way, you can conveniently assess their goals and motivations.
The results will allow you to formulate a fitness program that suits their preferences while knowing the latest fitness trends. For instance:
In our fitness center, we want to ensure that you will reach your fitness goals at the end of the training. Please answer these questions to provide you the best and most suitable fitness program for your fitness goals.
What are your fitness, health, or well-being goals this year? (If none, please go to the next question.)
How long have you been contemplating before deciding to come here?
What are your preferred exercise types?
Can you tell us what motivated you to start working out?
What is your current weight?
What is your height?
How many times in a week do you go to the gym?
How long do you exercise per session?
Can you tell us about your routines?
When did you set your fitness goal?
Do you take fitness supplements?
Can you eat five portions of vegetables and fruits every day?
What would you say is your biggest obstacle to reaching your fitness goals?
What will your life be like when we've achieved [the goal] together?
Survey Questions for Teacher/Class Evaluations
These questions determine how your fitness environment does according to your members' perspectives. It is similar to customer service surveys, but it focuses on your gym's instructors and classes. Here are some questions that you can use:
How difficult is this workout routine?
Do you have any preferred classes aside from your current schedule?
Do you have any discomfort during your workout? If yes, please elaborate on it.
Have you noticed any progress since you started training with us?
Let us know what you think about our trainers.
Survey Questions for General Feedback
This type extends to different aspects inside your gym to assess your members' satisfaction while making them feel how you value feedback. Here are some example questions for a fitness general feedback survey.
To help us do better, let us know where we must start! Please give us time to fill out this survey for your feedback.
What other amenities would you like to see added to our locker rooms?
How would you rate our customer service?
Do you have any suggestions for our further improvements?
On a scale of 1-10, please rate the following in terms of satisfaction:

Cleanliness of gym equipment
Cleanliness of bathrooms
Locker room facilities
Cleanliness of changing room
Parking facilities
Overall environment

How often do you come to our gym in a week?
Please add any comments you think are appropriate.
Survey Questions for Cancellation 
No matter how hard it is to deal with leaving clients, you can still gain something from that experience. This type of fitness survey question can be your alas to learn more about your weaknesses and flaws upon knowing why your member is leaving.
The reason may be a personal one or an inevitable one. Nevertheless, it is still a chance for you to assess some factors that made their experience with you unpleasant. When members cancel their membership, ask them to provide feedback on your improvements.
Here are some departing members' questions:
Why did you decide to leave our gym?
What can we do to improve?
How are you meeting your fitness goals after canceling your membership?
What were your expectations with our facilities' prices?
Would you recommend our gym to a friend?
With these questions, you can take a critical deliberation on what you can do to avoid making the same mistakes. You might come to realize what your clients were looking for, may it be in amenities, facilities, or equipment.
That will make it easier for you to get straight to work after their gym session. Some may also want trendy and more updated fitness training classes either.
Meanwhile, if your former members merely lose their motivation, you can start thinking of how to upgrade your activities. You might also become inspired to be creative to encourage your members to pack their gym bags. It may include free trainer-led workout evaluations or member fitness challenges.
Various questions you might ask
How often do you exercise per week?
Depending on their fitness objectives, lifestyle, and availability, people may have diverse exercise routines. Some people might exercise every day, whilst others might only exercise sometimes. Aim for at least 150 minutes of moderate-intensity aerobic activity or 75 minutes of vigorous-intensity aerobic activity each week, according to general recommendations.
What type of physical activity do you prefer?
Depending on their fitness objectives, lifestyle, and availability, people may have diverse exercise routines. Some people might exercise every day, whilst others might only exercise sometimes. Aim for at least 150 minutes of moderate-intensity aerobic activity or 75 minutes of vigorous-intensity aerobic activity each week, according to general recommendations.
How many hours a day do you sit?
Many people have occupations or lifestyles that need long periods of sitting. Long-term sitting has been linked to poor health consequences, such as a higher risk of obesity and cardiovascular disease. It is advised to take regular breaks and fit physical activity into your day.
How long do you typically exercise during a session?
Depending on the person's fitness level, goals, and type of exercise, a workout's time can change. Shorter, more intense workouts may be the goal for some people, while longer, less intense sessions may be preferred by others. Aerobic exercise should last at least 30 minutes every session, however, this can change based on individual circumstances.
Do you have any health concerns that limit your ability to exercise?
A person's capacity to exercise safely may be impacted by specific medical problems or injuries. When starting a new workout regimen, it's crucial to speak with a healthcare professional, especially if you have any health issues already.
Have you ever worked with a personal trainer?
Many people may decide to engage with a personal trainer to assist them in reaching their fitness objectives. A personal trainer can make customized workout regimens, offer accountability and encouragement, and give advice on good form.
What motivates you to stay active and exercise regularly?
The desire to exercise can differ from person to person. The advantages of exercise for one's physical and mental health may inspire some people, while social support or competitiveness may inspire others.
Do you have any specific fitness goals you are currently working towards?
Several people can be working toward specific objectives like weight loss, better strength, or improved cardiovascular fitness. A workout routine might benefit from focus and inspiration from setting clear, quantifiable goals.
Have you ever participated in a fitness class or group workout?
These kinds of activities could be entertaining and inspiring to many people. While fitness programs can offer discipline and direction, group exercises can offer social support and accountability.
How important do you believe nutrition is to achieving your fitness goals?
For people to reach their fitness goals, proper nutrition is essential. To achieve fitness objectives and maximize physical performance, a balanced diet that offers the nutrients needed for energy and recovery is crucial. To create a specialized dietary plan, it is advised that you speak with a licensed dietitian.
Get more bookings with the right tool for the job
Staying organized has never been easier.
You can now manage your business and grow your brand with a single, powerful software that keeps all of your appointments in line, your clients organized and your business booming.
Trafft is the perfect gym management software for business owners who need to streamline their booking experience both for their staff and their clients.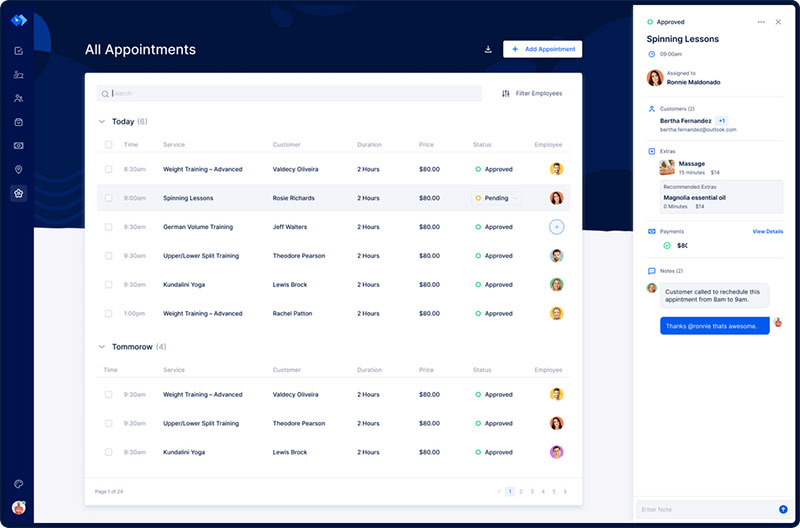 Trafft handles everything for you, even sending automated email or SMS reminders to your clients. No-shows? Not anymore!
The Trafft booking software adapts to different industries for a blissful online booking experience and employee management.
Want to know more? Check out Trafft's awesome features to see what you are missing.
Ending thoughts about fitness survey questions
As the fitness industry revolves around people and their bodies, surveys and questionnaires serve as its blood to make the business continuously flow. Asking the most relevant and appropriate questions unveils what your members think.  
Additionally, it can guide you in running your fitness club and choosing a member that suits your training programs. Besides fitness survey questions, having a reliable appointment scheduling system is also essential in providing quality member service.
If you enjoyed reading this article about fitness survey questions, you should read about the gym startup costs.
We also wrote about a few related subjects like health and fitness advertisements to inspire you, the digital fitness experience, how to increase gym membership, gym membership statistics, gym slogans, the average gym owner's salary, and gym mission statement examples and tips.
Do you want an app for that? We also selected the best apps for personal trainers, and the best group fitness app examples. We also wrote an article about the best gym camera to film training sessions with.