Having insights into fitness services demands is crucial in any related business. Gym membership statistics can be beneficial for budding entrepreneurs. Likewise, this information is always useful for personal training studios and fitness center owners.
Over the years, many famous American gyms have grown. Notably, these gyms' growth is due to the rise in fitness motivation. Additionally, more fitness centers align their vision and mission to target members' health goals.
Gym membership statistics focus on identifying target fitness gym members' preferences. This article will brief you on the critical aspects of gym membership statistics. Let's find more fitness information that you should know about.
Gym Membership Statistics on Expenses
Different rates come with using various types of gyms and there are many training routines. Likewise, the fitness center membership fees for using the gym can also vary.
Registered gym members have the liberty to choose their payment plan. They can choose to pay monthly, quarterly, semi-annually, or annually, depending on their preference.
IHRSA reports that 23 of 100 fitness club members have other gym club memberships. Ninety percent of boutique studio gym members use many facilities as well.
The statistics are different for non-members. Approximately 9 million fitness center goers use the gym for only 24 days in a single year. These people seldom visit gym studios or clubs, so they do not opt for a membership.
Famous American Fitness Centers
Here are the average monthly gym membership fees ranked from cheapest to most expensive:
$10 for Planet Fitness
$30 for LA Fitness
$39 for Anytime Fitness
$40 for Gold's Gym
$47 for 24-Hour Fitness
$50 for Snap Fitness
$100 for Lifetime Fitness
January as Peak Gym Membership Month
Statistics show that in January, gym membership increases by 12%. It is the highest point of gym application. Many people consider that fitness and change begin in the New Year. With this idea in mind, many people apply for gym memberships during the first month of the year.
Search engines have also noted that fitness and health searches increase in number. There are fresh membership faces accompanied by fitness goals in mind. Still, not everyone can maintain their fitness mindset. And generally, many set fitness goals but fail to achieve them.
Most new members quit at an average of five months. It is less than a year into a gym membership. A small fraction stopped even before reaching the second month of the year.
Statistics on Gym Membership Longevity
Gym members maintain or quit their membership. It can be because of different reasons and considerations. Moreover, statistical studies show that most gym members consider the center's location. It serves as a basis for retaining or giving up their membership.
The location of the gym determines some of the members' subscriptions. Some might quit because of a distant place. Likewise, others might keep it because of gym proximity.
Owners should choose the fitness centers' location since it impacts members' recruitment. Other gym members also consider membership costs. When prices get expensive, some will quit their membership. They may opt to find another option at a lower price.
Still, some gym members might stay despite the increase in membership prices and fees. That is because it gives a sense of exclusiveness. Other gym members consider their equipment preference. If a gym member finds equipment that fits her needs and wants, he is most likely to stay.
Gym Membership Statistics Considerations
Bain & Company says retaining members can maintain high fitness center profits. Here is the breakdown of what gym members consider the most in keeping their subscriptions:
50% think about the fitness center's location (MSISE)
46% weighs the gym membership costs (IHRSA)
38% consider gym equipment preference (MSISE)
Using the Gym for More Chances of Dating
Using dating apps is helpful to find dates. One way of increasing your luck in love and dating is by going to the gym.
If you are looking for chances to up your dating game, then the gym might be the place where you need to be. Kettler conducted a study with 2,000 participants asked to answer a gym and dating survey.
Half of the respondents admitted that they go to the gym to socialize and meet probable dates. Data shows that around thirty percent did not even exercise at all.
Nuffield Health performed a different study. Data indicates that around ten out of a hundred respondents live under the same roof after meeting at a gym.
Fifty Percent of Newbies Quit After Half a Year
Part of running a fitness center business is having some members quit along the way. Most fitness centers have fifty percent of their newbie left after half a year.
Every year, only a few fitness centers lose a minimal thirty percent. That is because most lose half of their total newbie members. It is an unfortunate event. Still, it enables fitness center owners to engage with their remaining members. And yet, there are ways to increase the chances of member retention.
IHRSA (2018) notes that classes for group fitness increase the chances of gym membership renewal.
Quitting Gym Members are Not Always Lazy
There are many reasons why some members choose to cancel their membership. Laziness is not the primary reason for doing so.
Quitting gym memberships can also be due to the recession. More and more gym-goers are saving and prioritizing necessities for their expenses. Some members consider the costs when it comes to why they quit their membership.
Gym Membership: Men versus Women
Based on gym membership statistics, women cancel their membership more than men. Men have leverage on gym membership use. Records show that more women suspend their subscription within a single year. Women had fourteen percent, while men had eight percent gym membership drop-outs.
Willingness to Spend for Gym Proximity
SmallBusiness.com suggests that members spend more on fitness membership fees. That is if the location of the gym is near their homes. Gyms nearby allow more consistent fitness schedules and routines. It makes health and fitness more convenient for the members.
Most members would opt for extra fees in exchange for a closer gym. Convenience is the key to fitness consistency.
Stagnant Gym Memberships
About six percent of America's total population have unused gym memberships. It amounts to $1.8 billion. With the decreased frequency of gym use and higher rates of wasted membership, many Americans lose fitness motivation and abandon paid fitness services yearly.
Peak Gym Time
The peak gym time is from eight to ten in the morning and four to seven at night. There are many people in the gyms on Tuesdays before and after work hours. On the other hand, college students prefer to work out at night.
Gym Participation Census
Colorado has the highest gym participation census, followed by the state of California. IHRSA reported that Alabama has the lowest gym participation census throughout America.
Reasons to Do Fitness Workouts
People go to the gym for different reasons. Kettler says 30% socialize rather than exercise while 50% look for dates in the gym.
Moreover, according to IHRSA, 12.5% have a personal trainer, 44% have a partner, and 40% enroll in group exercises. Walking is the most prominent activity, while strength training devices and treadmills are the most popular equipment.
Specialty Fitness for the Masses
Some centers offer specialty fitness for the masses aside from regular gym classes. Gym members can try out kickboxing and karate when they hit the fitness center.
Fitness and Gym Membership Amidst the Coronavirus
There is a twenty-five percent increase in workouts in 2020. That is because more Americans are becoming more interested in staying fit. Gym members agree that they feel safer in fitness centers with sanitary devices. They also prefer less gym capacity and temperature monitoring.
Ending thoughts on gym membership statistics
With the rise of the "new normal," gym owners must make necessary changes to keep up. It will take a while for the gym membership to be back to its usual pace.
Get more bookings with the right tool for the job
Staying organized has never been easier.
You can now manage your business and grow your brand with a single, powerful software that keeps all of your appointments in line, your clients organized and your business booming.
Trafft is the perfect gym management software for business owners who need to streamline their booking experience both for their staff and their clients.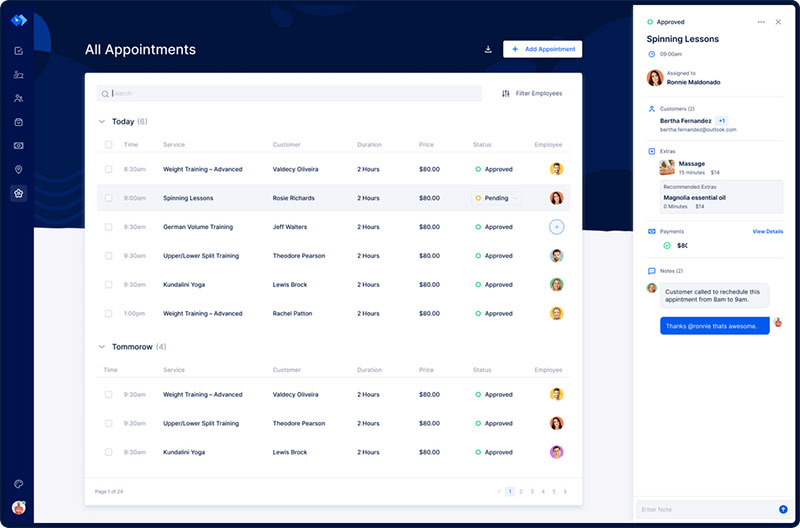 Trafft handles everything for you, even sending automated email or SMS reminders to your clients. No-shows? Not anymore!
The Trafft booking software adapts to different industries for a blissful online booking experience and employee management.
Want to know more? Check out Trafft's awesome features to see what you are missing.
If you enjoyed reading this article about gym membership statistics, you should read about the gym startup costs.
We also wrote about a few related subjects like health and fitness advertisements to inspire you, the digital fitness experience, how to increase gym membership, fitness survey questions, gym slogans, the average gym owner salary, and gym mission statement examples and tips.
Do you want an app for that? We also selected the best apps for personal trainers, and the best group fitness app examples. We also wrote an article about the best gym camera to film training sessions with.