Technology has provided ways to streamline business ventures, such as those seeking to be personal trainers. There are many apps and software available to assist personal trainers in managing their business, but which will make the best use of personal trainer certification?
A good personal trainer app effectively manages clients, workouts, and administrative tasks. Personal trainers have to track appointments, workouts, memberships, payments, and client progress. With every new client, these responsibilities become more burdensome. Apps help trainers organize and access all this information in one place.
Apps for personal trainers also save time when creating workouts and meal plans. They give personal trainers the opportunity to work online from anywhere in the world. With the help of software, personal trainers can take on more clients without compromising their time to focus on delivering quality services.
This article lists several apps for personal trainers that their clients will love and will also simplify their workload.
Awesome apps for personal trainers
Trafft
Trafft is the perfect personal trainer software for business owners who need to streamline their booking experience both for their staff and their clients.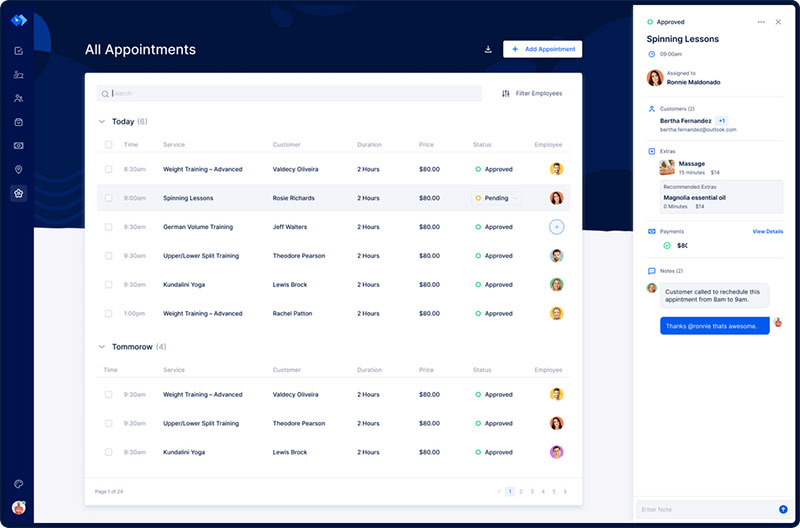 Trafft handles everything for you, even sending automated email or SMS reminders to your clients. No-shows? Not anymore!
The Trafft booking software adapts to different industries for a blissful online booking experience and employee management.
Want to know more? Check out Trafft's awesome features to see what you are missing.
Amelia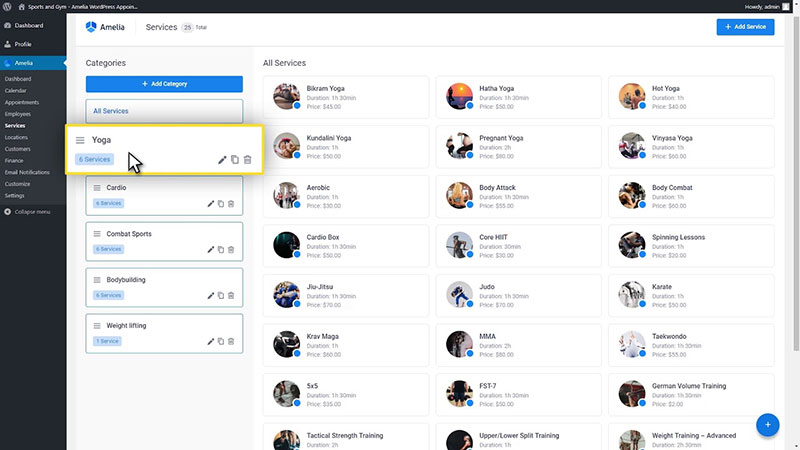 Amelia is a versatile booking plugin that adapts to different businesses, including gyms and personal trainers. This is one of the apps for personal trainers that facilitates booking and payments.
This app allows personal trainers to focus on their work and not be concerned with appointments or schedules. The plugin synchronizes appointments with Google Calendar. It also sends emails and text reminders of upcoming appointments to both the personal trainer and the client. The design is intuitive and does not require training to install and use. There is, however, detailed documentation on how to use it and assistance available.
For clients, this plugin uses the latest technology to create a smooth user experience. The design is simple and convenient so most actions do not take more than three clicks to complete.
Apps for personal trainers like this one help automate processes, save time, and attract more clients.
If you want to discover how Trafft and Amelia stack up against each other, delve into our in-depth Trafft vs. Amelia comparison.
PT Distinction
The main goal of PT Distinction is to help personal trainers save time, train more clients, and acquire better results. It is specifically designed for online personal trainers. It provides all software needed so that personal trainers do not have to use several platforms. It has tools to create automations that save the trainer's time. It assists with assessments and progress tracking.
Another great feature is enabling the personal trainers to build their own app with custom branding, also integrated with wearable trackers like FitBit and more. And it includes popular payment methods so trainers do not have to worry about getting compensated. PT Distinction does the heavy lifting so that personal trainers have time for themselves while running a successful business.
Practice Better
Practice Better was created to help health and wellness professionals with every aspect of their business. It is also an app for personal trainers that can help manage their business and track the progress of clients.
This app is cloud-based, meaning it allows personal trainers to track client progress on any device. Personal trainers can share dietary and lifestyle recommendations with ease. They also have the option to save recommendations on templates to share at later times and customize these recommendations for individual clients.
Clients can book appointments through this app, and it will synchronize appointments made on the personal trainer's website to prevent double-booking. This app also manages invoices, payments, and recurring payments.
With Practice Better, a personal trainer can save time and money to better their practice.
Team Up
The Team Up software assists fitness studios and gym owners by managing bookings and payments. It aids a growing class by making the booking process smooth. Clients can book or view their schedule wherever they are and re-schedule without having direct contact with the personal trainer.
Another benefit is that this app helps manage online classes. It has zoom integration, which allows businesses to continue functioning online. This app also automates repetitive tasks, like billing, to save time. Financials can be exported in PDF or CSV format to share with accountants. Data is kept in one place for personal trainers to measure the progress of their business. Customer service is readily available through calls or messages if any problems occur.
PTminder
PTminder was designed for personal trainers. It assists in personal training, group training, or online training. It is optimized for tracking client progress, appointments, and payments, including tools to build nutrition and workout plans. Clients can book appointments, view their schedule, and make payments, all from their mobile device. Personal trainers are able to collect payments online with the desired payment method.
By using PTminder, personal trainers will be able to focus on growing their business and giving clients the attention needed.
FitSW
FitSW powers personal trainers, coaches, and gyms worldwide to provide excellent fitness services. This software assists both in-person training and online training.
FitSW provides tools for trainers to create workouts and assign them to clients. Clients can enter results which then get tallied into charts and graphs. Personal trainers are able to create reusable templates and workout schedules for efficiency. Trainers can also track a client's body-fat, waist-line, bench-press max, and more.
FitSW makes online training more personal by using demo videos, instructions, and notifications. It also includes an interval timer to keep classes on schedule and many other features.
FitSW provides personal trainers with a continuously improving app that directs the trainers' focus on helping people.
Remote Coach
Remote Coach is all about remote, mobile training. Personal trainers can work from anywhere in the world. This app provides the tools to create a remote business so clients do not feel excluded from a personal training experience. Trainers can train clients with live and interactive videos. They can also monitor health data, like heart rate. Other features, like progress tracking and setting motivating goals, are also included.
It assists your business in scheduling and in-app payments. Personal trainers can train clients on either the web or iOS. They can create packages and an online store. This app for personal trainers is targeted to help build an online business with a focus on client experience.
True Coach
True Coach is another app for personal trainers fabricated for online training. Many personal trainers use spreadsheets, emails, YouTube videos, and more to manage their business. This app combines those functions into the same platform to manage administrative tasks momentarily. More so, this app provides a glimpse of each client so trainers know where to direct their attention. It also provides a view of past and future months so trainers can design workouts swiftly. Metrics log and track progress results.
These and other features enable True Coach to provide a platform that modernizes and personalizes training.
Trainerize
Trainerize helps with in-person, online, or group training. It provides useful tools for building an online business and enables personal trainers to access new revenue streams. This platform offers integration with popular and powerful fitness apps. It allows personal trainers to deliver customized workouts and nutrition plans. This personal trainer app enables clients to upload progress measurements and photos with ease. It also displays progress on graphs for easy comprehension.
My PT Hub
My PT Hub is a platform that aids coaches, gym owners, and personal trainers in managing clients. This platform includes an online webpage and mobile app. Trainers can create customized workouts and nutrition plans for each client as well as track achievements and progress. Payment can be received directly through the app and clients may access the hub at no extra cost. My PT Hub is compatible with Apple Watch so trainers can log and track clients' progress faster.
Virtuagym Coach
This platform allows personal trainers to be online fitness coaches at any place and time. It is suitable for fifty clients or less. It manages client details, including medical information. It also allows personal trainers to create customized workouts and track their client's progress. It assists with scheduling, payments, invoices, and more.
A unique feature is its inclusion of motivational features. Personal trainers can assign fitness challenges, and the app has built-in virtual reward badges to encourage clients to prevail. Although seeming like a minor feature, rewards make a difference in the client's motivation.
Training Tilt
Training Tilt is a platform for coaches who train for endurance sports, like running and swimming. It is useful for both in-person and online coaching. Garmin and Strava are integrated with this platform to map out training courses. It incorporates tools for trainers to create training plans for individuals or groups.
This app allows trainers to sell memberships and manage payments. They can also set up an online store to sell products or training plans. Other features include a training plan builder, events calendar, and training statistics.
Training Tilt offers a complete toolkit for trainers in endurance sports by providing interactive and comprehensive coaching.
The Training Notebook
The Training Notebook was created by a personal trainer to provide a platform that focuses on results. This app organizes client information so it is easily accessible. The workout plans, schedule, contact information, and assessments of each client are in one place.
Additionally, this platform offers an app for both personal trainers and their clients. This allows personal trainers to stay in touch with their clients and provide motivation and accountability. It has a clean and simple interface so it is user friendly and efficient.
It includes features like a questionnaire for new clients, body assessments, and an interval timer. With The Training Notebook, trainers can create new programs swiftly, keep contact with their clients, and have their data organized.
Nudge Coach
Nudge Coach is a platform created to help personal trainers manage and scale their business. It is a cloud-based software compatible with Android and iOS. This app includes many similar features of other apps for personal trainers such as tools to create fitness and nutrition plans as well as tracking client progress.
Nudge Coach prides itself on its messaging system. It provides an in-app messaging tool, enabling trainers and clients to communicate It supports group messaging and scheduled messaging. It also allows trainers to create social groups with their clients and generate supportive communities. Trainers can also create challenges for clients. This drives clients to stay motivated, ultimately benefiting the trainers as well.
EZFacility
EZFacility offers software that manages all aspects of a personal trainer's business. It facilitates the scheduling of appointments to enhance productivity and manages sales, memberships, and employees. It also aids with billing, invoices, and point of sale items.
This platform simplifies tracking the progress that a client makes. Trainers can enter the health and fitness details of their clients and add data after workout sessions. Then, the software will display data that tracks progress and identifies weaknesses.
Total Coaching
Total Coaching provides the complete package for an online fitness coach. With this software, personal trainers have the utensils to assemble workout and nutrition plans and deliver them to their client's mobile devices.
This platform includes a bank of more than 1,000 3D exercises and personal trainers can add their own. It contains  25,000 food items for trainers to build nutrition plans and recipes. It also provides nutritional analysis for a personal trainer to optimize a client's nutritional plan. Further features include messaging, feedback, and graphs to monitor progress.
Mint
Mint is an app that organizes financials. This platform brings together all of a personal trainer's accounts so they can manage their financials from one dashboard. Instead of having to alternate between receipts and spreadsheets, this platform categorizes expenses. It manages bills, balances, and credit scores. It also notifies when bills are due and alerts when more money is needed in an account. The results can be downloaded to file taxes quickly and smoothly. Mint also assists in building budgets and gives suggestions for better spending.
ClubWorx
ClubWorx offers software for gym management, martial arts, and yoga. The gym management software is directed to a smaller demographic than other apps for personal trainers and mostly geared to help those with a personal training studio. This software simplifies administrative tasks so training professionals obtain more memberships. Some helpful tools include automated emails, text messages, and payments. It also accommodates the creation of customized workouts and tracking the results.
ClubWorx offers a unique opportunity for personal trainers. A customizable website platform comes with the membership for those who do not already own a website. For those who do, ClubWorx can be easily integrated.
WorkoutLabs Train
WorkoutLabs Train emphasizes simplicity. Its interface is straightforward for both personal trainers and clients. This personal trainer app includes tools to create workouts in minutes. It has an incremental library of exercises that can be arranged in a sequence to build a workout plan. Clients can receive these workout plans on their mobile devices and print them out in PDF form. This app also provides trainers with effortless messaging and tracking of the client's progress.
Apotheo
Apotheo was designed for online nutrition coaches. This software helps coaches begin and grow a successful business. It saves nutrition coaches time to focus on providing quality services. Some features include macro tracking, food logs, and habit tracking. It also includes built-in messaging, reminders, and billing. Fitbit integration is also available syncing sleep, steps, and heart rate.
Coach's Eye
Coach's Eye is designed for athlete coaches but can be used by personal trainers to improve their client's form. This software lets trainers record clients while they perform their workouts. The video can then be played in slow motion and notes can be added. Clients can track their movements, see what they are doing incorrectly, and make improvements.
Ending thoughts on these apps for personal trainers
The above apps for personal trainers include several helpful features for in-person and online training. These apps streamline every aspect of a personal trainer's workload. For example, many assist with scheduling, reminders, and payments. Others provide features that facilitate the creation of workouts and nutrition plans as well as motivate and track client progress.
With any of these apps, personal trainers can maximize their potential, gain clientele, and manage their time.
If you enjoyed reading this article about apps for personal trainers, you should read check out these: