Social media is a valuable tool when it comes to connecting possible customers with your cleaning business, but this connection is easily lost. A business card allows you to share contact details, your official website, company name and logo without losing yourself in the big digital world of connections and followers.
For more than a century, business cards have helped people to market whatever they're selling. You can get the word out about your goods or services using just a small, accessible tool when meeting people.
Whether it's creatively interactive or you plant your card and flowers pop up a few months later, a first-rate business card will automatically give you an idea of the business's personality and what they do. It can make an impression you won't forget. So, how do you get your cleaning service business card to stand out from the rest?
We've surfed the net to put together a list of the most eye-catching cleaning service business cards just for you. You'll certainly find a spark of inspiration and get your creative juices flowing for your next cleaning business card.
Are you looking to update your business card or want to create a new design? Take a look at these 12 exciting design ideas.
Tips for Designing Cleaning Service Business Cards
Focus on Minimalism
Start with a minimalist concept—maintain a clean and straightforward design. Highlight only necessary information, your name, contact details, and logo. Cleaning services business cards should feature neat, sleek lines.
Integrate Your Logo
Your logo is tied to your brand, so it definitely needs a place on your business card. And if you haven't designed a logo yet, get started on it.
An effective logo is straightforward. Stay away from the overuse of color and busy patterns. You want your business card to make an impression—you can never go wrong with clean 'n classic.
Add the Correct Information
Both your name and that of your business should be on the card. The majority of cleaning service professionals include an email address, contact number and website address. Since most jobs are carried out in the field, you don't need to add a physical address to the business card.
Exploit White Space
Don't forget about white/negative space since a blank space keeps the eye exactly where you want it—on the details. Declutter your card if you want to make a memorable impression in the cleaning service industry, it's all about those clean spaces.
Take Into Account the Value of QR Codes
Nowadays, almost every smartphone can read a QR code. With just a tap , potential clients can access your official web page easily and without needing to type out a URL.
Let the Five Cs Guide You
Content
Color
Cut
Character
Creativity
The Most Appealing Service Business Card Examples
Use Cleaning-Related Images
Pictures are a powerful way to grab attention. A photo of you performing a cleaning-related service shows people exactly what it is you do. It's obvious, yes, but this makes it easier for others  to find you  when going through a heap of cards  looking for a cleaning industry.
Simple Clean Business Card
Cleaning business cards get to the point and highlight relevant information. Here we have an example of a straightforward business card design that does this well. Contant numbers, physical and email address, along with other necessary info can be included.
Schwimmer Pool Service
This clever and interactive business card lets customers know exactly what this pool cleaning service company can do for you. The card itself is made using pH testing paper. Just dip it in your pool and find out when it's time to contact Schwimmer Pool Service.
Follow Through with your Brand Colors
Cleaning service business cards with design elements that work along with the brand keeps their marketing and image consistent. If someone visits your social media accounts, they should be able to pick out which cleaning services business cards are yours.
Elegant Business Card Design
Using business card templates such as this one, you could create house cleaning business cards that double up as a mini resume. A concise paragraph introduces both you and your services, and on the flip side, you can showcase your trendy logo.
Manipulate the Links Between Images
What pops into your mind when you think of the word 'cleaning'? Water? Detergents? Design elements influenced by water would enhance your business card. In this example, the backdrop features a drop of water with a simple logo and font.
Empire Service Company
An image of the Empire State Building creates a link to the company's name. This cleaning business successfully lets customers know that they operate in the commercial building sector.
Get more bookings with the right tool for the job
Staying organized has never been easier.
You can now manage your business and grow your brand with a single, powerful software that keeps all of your appointments in line, your clients organized and your business booming.
Trafft is the perfect cleaning business software for business owners who need to streamline their booking experience both for their staff and their clients.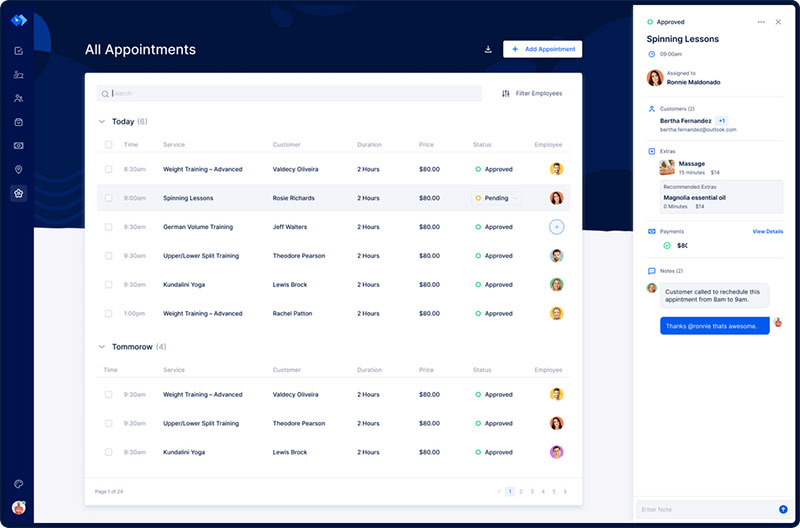 Trafft handles everything for you, even sending automated email or SMS reminders to your clients. No-shows? Not anymore!
The Trafft booking software adapts to different industries for a blissful online booking experience and employee management.
Want to know more? Check out Trafft's awesome features to see what you are missing.
Let Them See You
Let potential customers know who you are by using a photo of yourself. Psychology claims we trust faces we know and recognize, so bridge that gap between your business and your clientele and use your winning smile to reach your target market.
Captain Clean & Crew
Cleaning service business cards like this one find ways to promote their brand by working along with their name and slogan, "Keeping Home & Office Ship-Shape!" An appealing way to make an impression on possible customers.
Mess Around with Color Blocking
This color scheme design element enables you to set opposing colors side by side in a way that is both eye-catching and practical, since you can draw attention to important details such as contact details.
Cleaning Services Folded Business Card
Just like plantable business cards, folded cleaning service business cards are one-of-a-kind. They present a unique template for the cleaning industry since you can include additional information on the inside of the card. Description of services and cleaning packages along with pricing can be printed. A QR code gets potential clients to the website where they can find out more , make a cleaning service appointment or request a quote more quickly.
Try a Bold and Geometric Design Concept
Perhaps you've carried traditional-looking business cards around with you since you started your business. Now you're looking to shake things up and stand out in a crowded cleaning services industry. Using a geometric layout creates an interesting visual element that provides an attractive background for your text and logo. If you want to make sure your business card doesn't disappear in the slush pile, then be bold, go geometric!
Cleaning Service Business Cards Can Boost Your Business
Which cleaning service professional doesn't like recurrent customers? Not only is that a boost for your profits, but it boosts your confidence as a service provider. Customize your business card to reflect your brand and mission and it will create more opportunities for this to happen. Once you've completed a job well done, why not hand your customer a unique cleaning business card?
Make it your signature at work. This article was written with the intention of guiding you on your journey to creating standout cleaning service business cards. Use these suggestions and tips to leave your mark in the cleaning industry with a modern yet classic business card.
If you enjoyed reading this article about Cleaning Service Business Cards, you should read these as well: