Cleaning businesses can be very profitable. But they also have to deal with high levels of competition.
A cleaning business doesn't cost much to set up and training of staff members doesn't need to be extensive. Because of this, there are many cleaning businesses to compete with.
To get ahead of the competition marketing needs to be well planned. One way to market a business is by using flyers.
Flyers should catch the eye of potential customers and promote your business.
A flyer's main purpose should be to grab a customer's attention. It should also provide the information they need to contact you.
A good flyer will have a healthy conversion rate. This means that a high percentage of people who see it will take action.
Because of the positive impact a flyer can have, it is important to know what to put on a cleaning service flyer. Businesses should also consider what type of flyer to use.
Because there is a minimal amount of time to keep a customer's attention flyers should be clean and to the point.
What to Put on a Cleaning Service Flyer
Headline
Most people won't stop to read every flyer. The time they will spend reading a flyer may amount to a few seconds.
Because of this, make sure the headline is a short sentence or phrase. The headline should tell readers what the flyer is about and grab their attention.
Business Name and Contact Details
Once a reader is paying attention they will need to know where to go for more information.
This doesn't need to be the main focus of the flyer. But it is important to state the name of the business and how customers can make contact.
A Description of The Cleaning Services
Flyers are only so big, which means there is a limit to the amount of information they can hold. One vital element to include is a description of the services you provide.
Make sure the description is concise. A long description makes the flyer look crowded and most customers will lose interest if it is too long.
Graphics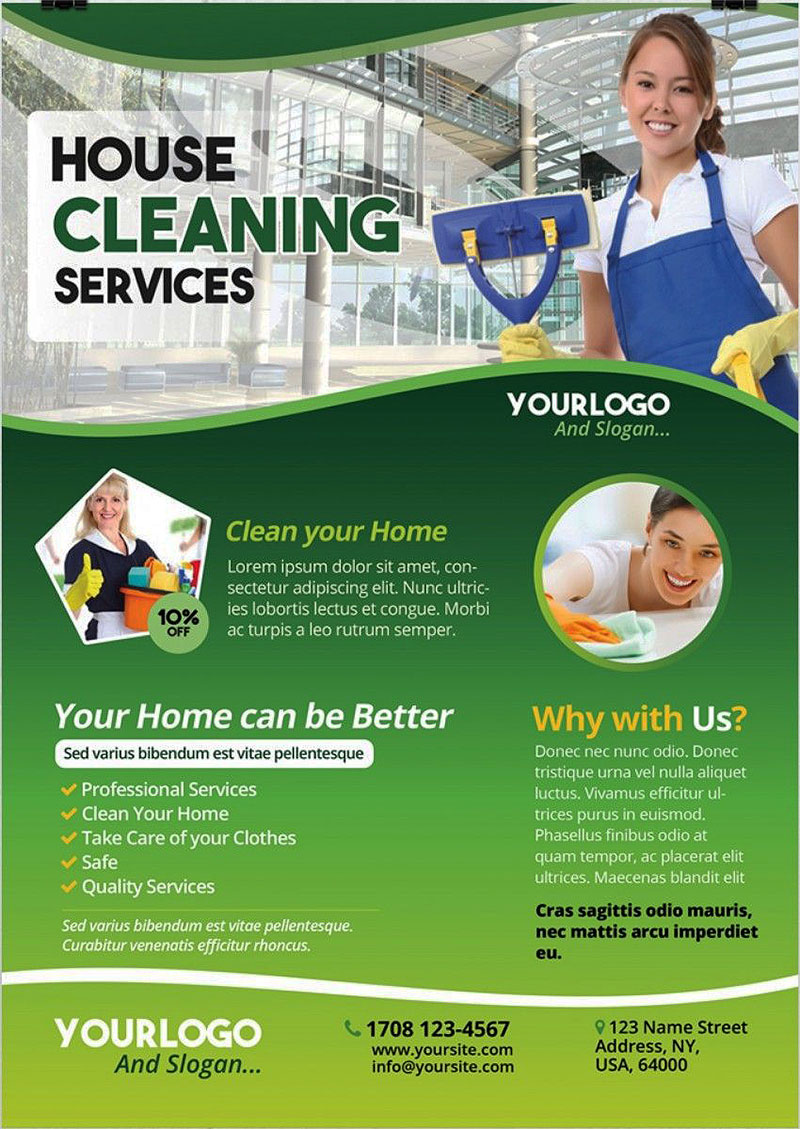 The main way of getting a person's attention is by using high-quality graphics. These could include color schemes, illustrations, photographs, infographics, and various patterns. A quick tip: We recommend using a Mega Creator to find free cleaning illustrations for your flyer.
Graphics can make a flyer stand out but they could also make it busy and difficult to read. For a graphic to work, the design needs to be well thought out.
Specifics
The aim is to help readers establish what makes this company different or better than others. The use of short, pronounced phrases tells a person why they should choose your services.
Call to Action
Another goal is to encourage potential clients to make contact as soon as possible. One basic way to prompt action is to include special offers.
These can be available for customers who take in the flyer or reference a special code on the flyer. Other ways to call customers to action are displaying things like:
Protection
It will give customers peace of mind to know they are protected by any insurance policies you own. Insurances can help cover customers against things like damage and theft.
Knowing that the business has insurance cover makes customers feel secure. They will feel more comfortable allowing you to clean their homes or other buildings.
If you have insurance, state on the flyer in clear lettering that the business is "bonded and insured".
Pricing and Discounts
The business may have various pricing options depending on the types of services. A flyer only needs to include basic pricing information.
The flyers could also advertise a discount to new customers. This will attract more clients and allows you to monitor interest levels.
Specialization
Tell customers what makes this business different.
Does it specialize in certain types of cleaning services such as move-in/move-out services? Or is the focus on using eco-friendly cleaning products?
Your flyer should highlight all the unique selling points. This will help the business stand out from the competition.
How to Design an Effective Flyer
Having looked at what to include on the flyer, there are a few things to consider to make it more effective.
Know Your Customers
It is important to know what your ideal client needs from your services. This helps businesses get the best result from their flyer marketing campaigns.
Knowing the customers will help to determine what to put on a cleaning service flyer.
A student could need help because they might lack the motivation to do their own cleaning. A business owner needs to focus on their work so may require assistance with cleaning.
A single mother might need help as she is busy looking after her children. In general, people use a cleaning company because they don't have the time, energy, or motivation to do the cleaning themselves.
Knowing why a client needs this service will help to word the flyer in an appealing way. If the target audience is older keep it simple and use traditional designs and fonts.
With a younger target audience such as students, make the flyer colorful and modern. A good tip is to include humor in the message to grab their attention.
Have an Irresistible Offer
Some people may already have a cleaning service provider. Some won't have one but might be looking for one. Others won't have one and aren't looking for one.
It is possible to appeal to all of these people with the flyer. One way to do this is to include an irresistible offer.
Make sure the offer stands out from the offers of other cleaning companies. One way to appeal to all three categories of people is to offer an introductory rate or discount.
Make The Flyer Easy to Scan
A flyer should tell customers what the business is, what services it offers, and how they can benefit. This should be a priority when deciding what to put on a cleaning service flyer.
Having gained their interest it's more likely that they will read the rest of the information.
Using a variety of fonts helps to prevent the information from looking too daunting. It's best to use three different but similar fonts.
In this way, the flyer will look professional but not too wordy.
Be Concise
Flyers need to be concise. Because customers only spend a small amount of time reading it, the message needs to be short and to the point. With flyers, less is always more.
Display the most important information at the top in large bold text. The rest of the flyer should only contain essential information.
The flyer design should initiate a two-step process.
First, it needs to grab a person's attention. Then it should persuade them to take action (contact the business).
You can include social media links and website information, which some customers are more inclined to use.
Use a Photo
Show photos of you and your employees doing good work or providing good customer service. Make sure there are plenty of smiles.
This will impress new customers with feelings of accessibility and friendliness. Adding descriptions or other small sections of text can make the flyer more readable.
Make sure the image is of professional quality. Don't use selfies, get another person to take the picture for you.
It's not necessary to hire a professional photographer as long as the quality of the image is good. Hiring models for the photographs is also unnecessary.
However, do ensure that any photos used portray professionalism and approachability.
Use Bulleted Lists
Bulleted lists are easy to read and quick to scan. They are easier to understand than a paragraph of text.
Instead of listing services and customer benefits in a paragraph, try using a bulleted list. Bullet points allow customers to pick out particular benefits that may apply to them.
This information may have been less obvious if contained in a paragraph. Bullet points highlight the personal benefits and can encourage customers to make contact.
If possible, change long and boring sentences to accessible and informative lists.
Great Flyer Examples
It is important to design a flyer well. This involves including all the necessary features and ensuring that it is effective.
The main things to consider when designing a flyer are:
It should be eye-catching to get a person's interest and entice them to find out more.
Keep the target audience in mind. Make sure the design and message of the flyer are appealing to the target audience.
The flyer should provide customers with information about the services offered. It should also outline how they can contact you for more information.
Aim to move readers to action. Be convincing and motivating by showing how the services can benefit them.
When it comes to visual design and being informative it is a good idea to have a balance. Too much information will make the flyer busy and unappealing.
Too much focus on graphics and design will detract from the details. The information should be concise and the design should be eye-catching.
Below are some examples of effective cleaning services flyers. Businesses can use them as a guide when deciding what to put on their cleaning service flyer.
Carpet Cleaning Flyer Template

Eco-Friendly Cleaning

Carpet Cleaning Flyer

Cleaning Company Flyer Template

Postcard Example

Window Cleaning Services

House Clean Company

Cleaning Services in Town
Cleaning Service Flyer Template

Tearaway Cleaning Service Flyer

Dark-Mode Service Flyer

Judy's Cleaning Services

Generating Leads With Cleaning Flyers
After deciding what to put on the cleaning service flyer, you might focus on using one type of flier. Or you might want to use a variety of styles to appeal to different target audiences.
The goal should always be to attract new leads.
It isn't necessary to spend a lot of money if the budget is tight. Try different styles and target different audiences to see what works best for you.
Once new business leads develop, it is important to keep on top of any new bookings.
Get more bookings with the right tool for the job
Staying organized has never been easier.
You can now manage your business and grow your brand with a single, powerful software that keeps all of your appointments in line, your clients organized and your business booming.
Trafft is the perfect cleaning business software for business owners who need to streamline their booking experience both for their staff and their clients.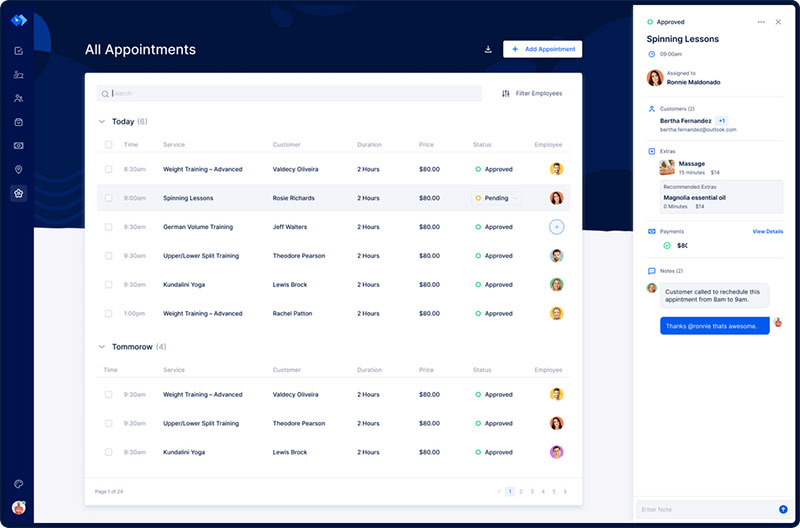 Trafft handles everything for you, even sending automated email or SMS reminders to your clients. No-shows? Not anymore!
The Trafft booking software adapts to different industries for a blissful online booking experience and employee management.
Want to know more? Check out Trafft's awesome features to see what you are missing.
FAQs about what to put on a cleaning service flyer
1. What information should I include on my cleaning service flyer?
Basic details like your company name, services provided, and contact information should be included when making a cleaning service flyer. Also, you want to emphasize your distinctive selling qualities, such as same-day service or environmentally friendly cleaning supplies. It can also be useful to include pricing information, but be sure to keep it clear and concise. Finally, including client endorsements or evaluations can assist establish credibility and trust with potential customers.
2. How can I make my cleaning service flyer stand out?
Use eye-catching colors, powerful language, and high-quality photographs to make your cleaning business flyer stand out. Emphasize the advantages of your service and your unique selling proposition. Think about providing a unique deal or discount to attract new customers. Make sure your flyer is eye-catching and simple to read. Also, you can hand out your fliers in busy places like coffee shops, libraries, and community centers.
3. What are some effective marketing techniques for cleaning services?
Building a referral program, having a strong online presence on social media, running specials or discounts, and delivering promos are some efficient marketing strategies for cleaning services. Think about producing instructive content for your target audiences, such as blog posts or social media updates, that offers helpful cleaning advice. You can also increase your clientele by collaborating with similar organizations like real estate brokers or property management firms.
4. Should I include pricing information on my cleaning service flyer?
It can be beneficial to include pricing information on your cleaning service leaflet but keep it clear and concise. Think about emphasizing your most sought-after services and the associated costs. Potential customers may also be drawn in by special offers or discounts. Note that clients don't just choose a cleaning service based on price; emphasize your special selling points and advantages as well.
5. How can I showcase my cleaning service's unique selling points on my flyer?
Consider emphasizing your eco-friendly cleaning supplies, same-day service, customized cleaning programs, or satisfaction guarantee on your flyer to highlight your cleaning service's distinctive selling characteristics. You can also include client endorsements or reviews that make explicit reference to these selling elements. Use appealing language to evoke a sense of urgency and be careful to explain why customers should choose your service over those of rivals.
6. What are some tips for designing an eye-catching cleaning service flyer?
Use striking colors and high-quality, pertinent photographs when creating an eye-catching cleaning service flyer. Make sure you use attention-grabbing headlines, precise information, and calls to action. Use bullet points to break up the text into easily consumable chunks, and keep the layout simple and easy to read. Before printing and distributing your flyer, be careful to proofread it to check for problems.
7. Is it important to include customer testimonials or reviews on my cleaning service flyer?
Indeed, it's crucial to include client endorsements or evaluations on your cleaning service flyer because they assist establish credibility and trust with future customers. Choose endorsements or evaluations that point out the advantages of your service, such as dependability, meticulousness, or superior customer service. To boost the credibility of the testimonial, be sure to include the customer's name and photo (with permission).
8. What should I consider when choosing images to use on my cleaning service flyer?
Consider utilizing high-quality photos that are pertinent to your business, like before-and-after pictures or photos of your cleaning crew in action, when selecting images to put on your cleaning service flyer. Avoid using clip art or poor-quality photographs and make sure the images are clean and professionally done. Choose photos that reflect your company's image and distinctive selling propositions, such as same-day service or environmentally friendly cleaning solutions.
9. How can I make sure my cleaning service flyer targets the right audience?
Consider your ideal client and adapt your messaging to their unique wants and pain areas to ensure that your cleaning service flyer reaches the proper audience. For instance, if you're going after active professionals, emphasize your flexible schedule alternatives and dependable service. Be sure to stress the safety of your eco-friendly cleaning products if you're going after families with young children. If you want to reach your target demographic, consider distributing your fliers in places like residential neighborhoods or community centers.
10. What is the ideal size for a cleaning service flyer?
Depending on who you are trying to reach and how you want to distribute the flyer, different audiences may require different sizes. The typical flyer size is 8.5 x 11 inches, which provides for a ton of content without being overly large. If you intend to distribute your flyers via direct mail or in high-traffic locations, you might want to think about a smaller size. While selecting the size of your flyer, be sure to take printing and delivery costs into account as well.
If you enjoyed reading this article about what to put on a cleaning service flyer, you should check out this one with cleaning service agreement templates. 
We also wrote about similar subjects like cleaning business success stories, how to advertise your cleaning business, and how to run a successful cleaning business.