Your cleaning business must have an attractive name. After all, this is how potential clients become aware of your brand.
A company name is vital, and it must be carefully considered when creating your plan. Catchy cleaning business names grab people's attention. Also, they communicate your purpose and propagate your values.
Keep in mind that a cleaning business is subject to the same conditions as any other business. In other words, it works the same as a restaurant, a retail store, or a tech company.
Now that we've established the importance of naming your business, let's look at some examples. The commercial cleaning industry is fiercely competitive. So, look at these cleaning service business names that will help you stay on top of your niche market.
What to Consider When Naming Your Cleaning Business
Cleaning services are in high demand, that's why your cleaning company must have a catchy name. Make sure you choose an option that represents your cleaning services as honestly as possible.
A good approach is to make a list of your favorite name ideas. As you go along, you will narrow the list down and find the best options.
The following checklist presents some tips that will help you choose the right name for your cleaning business.
Good business names must meet the following conditions:
They must be relevant to your services and products. If you try to be too smart, clients won't be able to figure out what you offer.
Your cleaning service business name must reflect the brand's personality. It's important to be creative. However, make sure that you can stand behind what your name represents.
Think about how you want your clients to feel when they engage your cleaning services. Then, create a company name that engenders those feelings. Some effective words to use might be: spotless services, trust, and care.
Your cleaning company name must be easy to pronounce and understand.
Make sure the name of your cleaning business is easy to spell. Thus, customers will be able to find it in their phone directory and Google searches.
Make sure people don't confuse it with other businesses in the industry. Your business should stand out among the competition.
Think about your business name as the face of your company. Make sure it reflects your company's spirit.
Come up with a flexible business name. Thus, you'll be able to add new services and products in the future.
If you want to choose a funny name for your cleaning business, make sure that other people don't take it as rude.
Before making the final decision, check if the domain name for your cleaning business is available.
Note: Being creative is always a plus, but don't stray too far from traditional paths. In other words, customers should be able to easily disseminate the services you provide from your company name. For example, words like vacuum, wipe, clean, and dust will make people think of cleaning services.
Catchy Cleaning Business Names to Kickstart Your Imagination
The following are some catchy cleaning service business names from which you can glean inspiration:
Nork and Crowlling Cleaning Co.
Ready-Maid Services
Cleaning with Trust
Eco-Friendly Cleaning Business
Design Cleaning Business
Specialist Cleaners
Sparkle and Shine Cleaning Services
Get-Away Cleaners
Anchor Cleaning and Maintenance Contractors
Best Friends Cleaning Business
The Clean Thumb Cleaning and Maintenance
Blue Cleaning Business
Consider it Clean
Blue Sky Cleaning Services
Twinkle Little Cleaning
Swept Away Cleaning Services
We Clean, We Mean
Flash Cleaning Business
Cleantastic
The Ultimate Cleaning Team
Affordable Maid Services
Cleaning Fairies
Helping Hands Cleaning Business
Honest Maid Service
Eco Cleaning Business
Sparkle Cleaning
Dusting Divas
Classic Maid Service
Floor-to-Ceiling Cleaning
Dust to Shine
Your Dust Best Buddies
Any Mess
The Sparkling House Cleaning
It's Shine Time
Dirt-Free
Blue Cleaning
Maid Service
Deep Clean Team
Meticulous Cleaners
Fresh Start Home and Office Cleaning
All-Star Maids
Maid in Heaven
The Bliss
Bubble Cleaning Business
Caliber Cleaning
24/7 Maid in Heaven
The Grout Doctor
Sunshine Cleaning Business
Round-the-Clock Cleaning
Cleaning Angels
Dazzle Cleaning and Maintenance
Kompletely Klean Services
Delightful Cleaning Business
Putting Dirt Away
Reflections Maid Company
Easy Breeze Cleaning Service
New Day
Clean Green Maid Company
Essential Home Cleaning
Squeegee Cleaning Business
Grade-A Maid Services
Gleam Cleaners
Washed-up Cleaning Service
Cleaning Business with Helping Hands
Under a new light cleaning business
Immaculate Collection of Cleaners
Wall-2-Wall Cleaning Business
Innovate and Clean
Keen Clean
House Stars Maids
MagiClean
Inside and Out Cleaning Business
New Cleaning Crew
Magic Rags Cleaning Company
Sparkle Time Services
Ever-Clean Maintenance
Sweet Maids
Discreet Maid Services
We've Got Cleaners
White Gloves Maintenance and Cleaning
Cleaning Bee Cleaning Service
Maintenance Solutions
Drip and Dry
Squeaky Cleaners
Dust Detail and Shine
Happy Houses, Content Owners
Home Sweet Home House Cleaning
Neighborhood Cleaning Services
Glisten and Gleam
Filth Fighters – Cleaning and Maintenance
Dust be Gone Cleaning
Cleaning Services Business Names that Are Funny and Cute
The process of naming your cleaning business doesn't have to be boring. Brainstorming can be fun if you combine relevant contrasting words or concepts. You'll find that sound or letter repetition is a great tool. Thus, you can choose a name for your cleaning business that is both catchy and funny. Check out the following cleaning company name examples:
Clock, Clean, and Everything in Between
Down and Dirty Cleaning Service Drip
Turn Rags to Riches Cleaning Service
Ann Jhonson's Maid Service
House Cleaning Spouses
Ultimate Hygiene
Maid Rental
Two Girls and a Bucket
Fuzzy and Wuzzy
Dirty Fingers Maintenance and Cleaning Business
Dusty Bunnies
The Feather Ladies
Bippity Boppity Boo Express Cleaning
Dirt Busters
Game of Soaps
Custom-Maid
In the Groove Cleaning Services
Scrub-a-Dub-Dub Cleaning Services
Choosing a Cool Name for Your Cleaning Business
Any of the following examples will provide a special touch to your company name:
Advanced Cleaning Service
Bright Home Cleaning Services
Cardinal Cleaning
Choice Janitorial
Cleaning Your Conscience
Cleaning by Default
Daisy Cleaning
Groove Cleaning Service
MagiClean
One-Minute Cleaning
Hands and Knees Cleaning Services
House Stars Maids
New Cleaning Business
TipTop
Unblemish
Down to Earth Cleaning Business
Hot Mops Janitorial Services
Love and Clean
Mint Cleaning Service
Big League Cleaning Service
Continental Janitorial Services
Diamond Shine
Shining Time Maids Service
Revolution Cleaning Service
Fantastic Cleaners
Flourished Floors
Sterilized House Cleaning
No Germ Cleaning Service
The Clean Clan
Fresh Glow
Diamond cCleaning Service
Master Cleaning Service
Vanguard House Cleaning Service
Stratus Cleaning Solutions
Natural and Clean
Nimble Cleaners
Organic Cleaning Services
The Cleaning Taskforce
The Cleaning Patrol
Clean and Shiny
Clean Like You Mean It
Pristine Maids Services
Polish and Shine House Cleaning
The Queen's Cleaning Service
Ready Maid Maintenance Services
Ready, Set, Clean
Speedy Cleaning Services
Shiny Star Janitorial Services
Sunlight
Sweep Feet
The Sweepers
The Tidy Patrol
Twinkle House Cleaning Service
The Queen's Cleaning Patrol
Breathe Easy Office Cleaning
Home Sweet Home Commercial Cleaning
Get more bookings with the right tool for the job
Staying organized has never been easier.
You can now manage your business and grow your brand with a single, powerful software that keeps all of your appointments in line, your clients organized and your business booming.
Trafft is the perfect cleaning business software for business owners who need to streamline their booking experience both for their staff and their clients.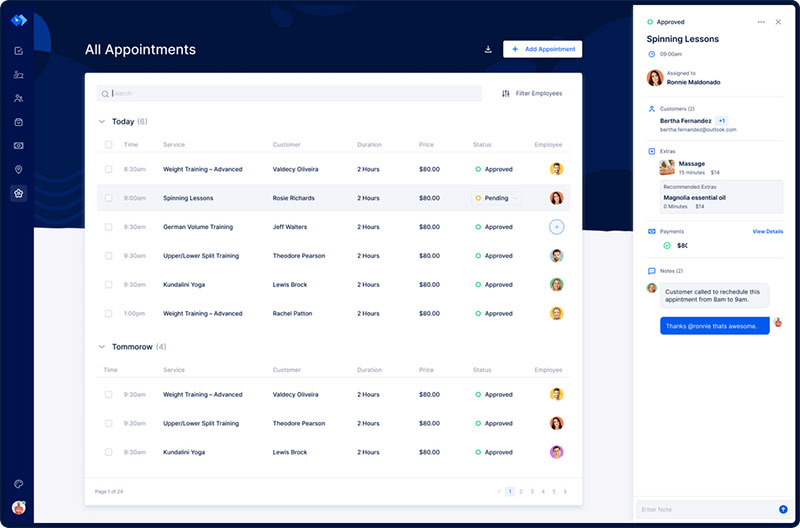 Trafft handles everything for you, even sending automated email or SMS reminders to your clients. No-shows? Not anymore!
The Trafft booking software adapts to different industries for a blissful online booking experience and employee management.
Want to know more? Check out Trafft's awesome features to see what you are missing.
Using Personal Names for Your Cleaning Company
If you run a family cleaning business, you want your last name to stand out. Also, you can include your name and still have some catchy cleaning business names.
As long as you convey professionalism, personality, and reliability, you're good to go. Here are some business name ideas that will inspire you:
Johnson Family All-Star Janitors
Cassidy's Cleaning Services
Tom's Window Cleaning
Kimberly Pro Maids Services
Sharon's Maids
Aaron's Fresh Cleaning Center
Lola's Luxury House Cleaning
Margaret's Cleaners
Laura's Cleaning House
Stanley Steemer
Tim's Floor Maintenance
PJ's Polishing
M and M Window Washing
Maggie's Cleaning Service
Charlie's Mighty Maids
Charlie's Rug Cleaners
SG Maid Services
Choose Your Business Name Based on Your Location
Some of the best cleaning service name ideas come from location. Including the name of your city not only sounds great but also helps you draw customers from your area.
Choose characteristics or slogans that identify your city and play around with the words. Before you know it, you'll have a great cleaning business name.
Vegas Cleaning Fairies
Dry Tulsa, Inc.
SwedeMaids
The California House Cleaners
Denver Clean Services
Louisiana Cleaning and Luxury
Spotless Services New York
Boston Janitor's Club
EuroClean Dreams
Vegas Cleaning Wizard
English Sparkles
Vegas Maids
Maid in Chicago
San Antonio Cleaners
Nevada Cleaning Services
New Jersey Clean Up
American Maids
Maid in the U.S.
Establish an Emotional Connection with a Catchy Business Name
Creating an emotional bond is the most effective of all marketing strategies. Make people feel part of your cleaning company, and you'll have several loyal customers.
Words that remind us of travels and interesting experiences trigger emotions. This is why they can be great business names. Check out these cleaning service business names that will help you connect with your audience:
Satisfaction Guaranteed Cleaning Services
Clean and Happy
Happy House Cleaners
Deeper Clean Maid Service
Deep Clean Office Team
Cute Cleaning Company
Happy Homeowners
Sweet Dreams Maids Services
The Peaceful Cleaning Fairy
Clean Free
Heaven Maid
Deep Connection Janitors
Happy Marriage House Cleaning Services
Celebration Cleaning Services
New Beginnings Cleaning Services
The Clean Queen
Forever Clean
Lemon Fresh Cleaning
Glass House Cleaners
FAQs about cleaning service business names
1.  How can I come up with a unique and catchy name for my cleaning service business?
Consider using puns or wordplay, or explore terms or phrases associated with cleaning or organization, to come up with a distinctive and memorable name for your cleaning service company. Ensure that the name is simple to say, spell, and remember. To help you come up with a name, you may also think about employing a name-generating service or engaging a branding firm.
2. Should I include keywords such as "cleaning" or "maid" in my business name?
Your company name may benefit from using words like "cleaning" or "maid" to assist people comprehend the services you provide. But, use caution when choosing a name because it could be challenging to distinguish your company from rivals if it is too generic. Use words or phrases that highlight the distinctive qualities of your cleaning service.
3. Is it better to use a simple or a more elaborate business name for my cleaning service?
Customers could find it simpler to recall and associate your cleaning service with a straightforward business name. A more creative company name, however, might make your brand more distinctive and memorable. While deciding on the complexity of your company name, take into account elements like your target market and the impression you want to communicate.
4. Should I use my own name in the business name, or should I come up with a separate name?
Using your name in the company name can give it a more personal touch and increase brand recognition. But, adopting your own name may restrict your options if you intend to grow your company or sell it in the future. A distinct business name can give you greater freedom for expansion and growth in the future.
5. How important is it for my cleaning service business name to be easy to spell and remember?
Potential clients may find and remember your business more easily if you have a cleaning service business name that is simple to spell and remember. Avoid using words with unusual spellings or complicated words that can be hard for individuals to remember or spell. Keep the name short, to the point, and simple to say.
6. Can a creative or humorous business name work for a cleaning service, or is it best to stick with something more professional-sounding?
For a cleaning service, a quirky or comical company name might be effective as long as it still exudes dependability and expertise. While choosing a name for your company, take into account its tenor and branding. While a professional-sounding name could be more acceptable for a high-end or specialist cleaning business, a comical name might work for a more informal cleaning agency.
7. Should I research existing cleaning service business names to avoid any potential legal issues or trademark infringements?
You can prevent any potential legal problems or trademark infringements by researching already-existing cleaning service business names. Check for trademarks and other legal constraints on the name you chose for your cleaning service to make sure it is not being used by another cleaning service or business.
8. How long should my cleaning service business name be? Is there an optimal length?
Although the ideal length for a cleaning service company name might vary, shorter names are typically simpler to recall and more effective for branding. Avoid choosing words that can be difficult for people to remember and aim for names that are between two and four words long.
9. How can I make sure my cleaning service business name accurately reflects the services I provide?
Consider utilizing descriptive terms or phrases that highlight the particular services or advantages your business provides to ensure the name of your cleaning service business appropriately reflects the services you offer. For instance, "Eco-Friendly Cleaning Solutions" or "Sparkling Clean Maid Service" can present a certain image and message to potential clients.
10. Should I consider geographic or location-specific elements in my cleaning service business name, such as including the name of my city or neighborhood?
The name of your city or neighborhood, or other geographical or location-specific aspects, might aid customers in finding your cleaning service business and connecting it to a particular locale. But, if you intend to grow your company beyond that particular place, a more generic company name would be preferable. When choosing a name for your location-based business, take your long-term objectives and target audience into account.
Final Thoughts on the Best Cleaning Service Business Names
Check out these ideas when you decide to name your cleaning company. Choosing the right name for your cleaning business is undoubtedly one of the key aspects of its success. Your brand is a reflection of your business, and it will be present all along the way. Here's to hoping this list of cleaning service business names will inspire you to find your own.
If you enjoyed reading this article about cleaning service business names, you should read these as well: