How To Run A Successful Barber Shop In A Few Steps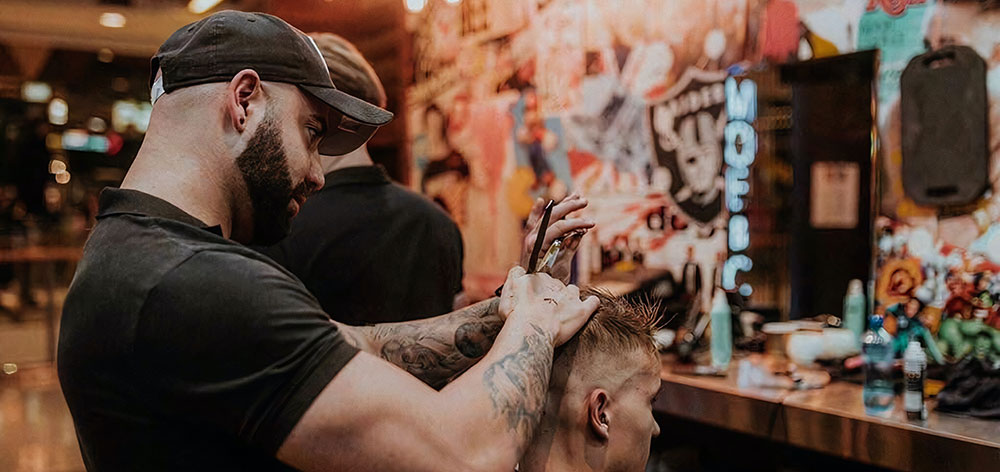 The barbershop business is becoming more and more popular nowadays. It brings to life the nostalgic feeling of going to a barber shop in the past. Old barber shops offered all sorts of services next to the classic beard trim and close shave.
Running your own barber shop these days is quite the money maker, as long as you do it right. A successful barber shop is not an easy task to undertake, and you need to invest time and effort to do it properly.
How to run a successful barber shop?
We will level up with you here and tell you right away that the barber shop business is not an easy one. The idea on its own is fantastic, but you need to learn a lot before you jump on the bandwagon.
Let's help you with some tips and best practices we've gathered from the masters of this skill.
Get a cloud-based booking system
In the beginning, every barber shop business is about great customer service. You should make it as easy for customers as possible to find you online and book your grooming services. If you are old-school and make appointments only by phone, you will miss a large number of customers.
Barber shop scheduling software makes it easy for customers to see when you are available, and to manage appointments on their own. You can stay on top of your schedule, and identify potential issues that could improve your barber business.
Manual work should stay where it belongs – in the past. If you have an efficient barbershop software, you can automate tasks other than appointment scheduling. Trafft, for instance, is a successful scheduling tool that can make your work much easier.
This is why you should consider it:
Clients can book appointments straight on your website, and complete their payments there
The SMS notifications and automated emails reduce the number of no-shows
Customers are guided to the rights appointments and experts for their needs
The app also has the following features:
A custom pricing plan tailored to your barber shop business
Management for more than one business location
Management of multiple schedules for all your employees
A responsive and appealing booking page
Automated payments and appointments
Realtime notifications
Provide great customer service
This may be a no-brainer, but you can't run a successful barber shop or excel in the barber industry if customers don't feel good in your salon. Their experience should be memorable all along, the same as the service they get.
This means that the barber shop should be nice and clean, and there should be great offers and bonuses that make people want to come back. This doesn't happen spontaneously.
Talent, of course, will be the most important part of the job. Yet, you will be surprised how effective some extra attention can be. By such, we mean coffee or a small snack, or even a complimentary cut for most loyal customers.
Keep learning
The service industry is competitive, so stay ahead of the game. Keep learning, train your employees, and get certifications. The better your skills are, the higher the standards you offer to customers. Before you know it, the cash register will be full.
Indeed, customer loyalty depends foremost on consistent and reliable service. Yet, that doesn't mean this is all you should offer. Keep developing, and acquiring talented employees that support your mission.
Work with professionals
Your most important personal assets are your employees. The more qualified they are, the better your barber shop will get. Next to quality education and investment in skills, you should choose people who love what they do just as much as you.
First of all, every employee should know how to shave and style beards and cut hair. At the same time, pay attention to how adaptable and friendly they are, and which values they stand for. The competitive edge is that they are creative, and want to keep learning and upgrading themselves.
The more competent your employees are, the less personnel turnover there will be. This is another precondition for a successful barber shop.
If you are working in the barber shop as well, build a team that plays along, and helps you run and grow the barbershop business. If you don't, all the heavy lifting will remain in your hands.
Personalize the services
Your barber shop's reputation depends on how you position yourself towards the customer. Let them know what you can do for them, and fight to prove you are right. Isn't solving problems the core of entrepreneurship? Isn't this why people keep coming back?
A barber shop is not a place where we randomly spend time and money. The barber business helps people look nice and feel better about themselves. This is exactly what is at stake, and what you are promising.
Pull out your tricks and show customers why you are better than the competition. Make sure the service is worth their money, and all expectations are met. This is exactly what differentiates successful barbershop owners from nonsuccessful ones.
Do the job right
Don't settle on anything but absolute quality. You've got the tools – there is your talent, your creativity, and your artsy side. All you need to do now is to put those into action and invite customers for a treat. Statistically speaking, most barber shops are average in this aspect, and you have plenty of opportunities to stand out.
Don't be modest about your skills. If there is something you are best at, be loud and proud about it. Keep customer experience on a top-level, and you won't need to ask them for referrals. Everyone will know what a successful barber shop you are running.
Last but not least, be responsible. Open in time, and honour every request even if this means staying around a bit longer. Your business bank account will appreciate this.
Stay in touch with customers
Customers prefer a barber shop where they are heard and understood, so use this to your advantage. Get to know them, pay attention to their style, and have them tell you what they dislike.
Where possible, ask them how they heard of your barber shop and what went wrong with their last one. You can only provide great customer service if you know what their expectations are. Use the conversation to tell them more about the salon, and keep them informed on special offers and promotions.
Another salon cliché that works pretty well in a barber shop is to take an interest in customers' lives. Think of it as a way of building trustworthy relationships and providing information in exchange. A friendly approach is simply irreplaceable.
There are many ways to keep customers in the loop even after the appointment. You can create newsletters, organize events, plan incentive programs for each referral, or much more. This way, you will keep current customers aboard and bring in new ones at the same time.
Don't forget marketing
If the barber shop is new, make sure everyone hears about it. You can advertise in the local press, create posts for social media platforms, or even run your blog. You can even go a step ahead and create a business website where all information is available.
You can gain further business credit by establishing yourself as an expert. A blog or asocial media post where you educate customers on hair care will give you the social proof you need. Let them know in just a few words that you know what you are doing.
Summing up, don't forget the referrals. The best business credit comes from recommendations and shared experiences. You will get an extra customer for each customer whom you've given the best haircut of their lives.
Share your best works
In the barbering industry (and pretty much in everything else nowadays), actual reviews play an essential role. If you put your favourite work upfront and have satisfied customers praise you, the target market will be yours in no time.
The best way to make your business name heard is to optimize your website with success stories. You can create these stories yourself, rather than spending a fortune on a marketing agency. You can even build a website of your own if you get a tool for non-technical users.
Make sure your website displays your business logo, location, and all necessary contact data. Display all great haircuts in a gallery, and your customers will already be intrigued.
Get acquainted with the basics of branding
The design of your business website and the shop itself must be in line with your brand. Keep all marketing efforts aligned, and start planning this strategy before the shop is even in business.
Think of what makes you authentic, and invest in your authenticity. There is no reason to fit in or be like everyone else – customers are tired of having a unified, solid, and boring experience.
Remember – branding is not something you do once and never again. It is an ongoing effort to make customers' lives better. Keep in line with the trends, and be everywhere your customers are. This is the longest, but also the safest way to success.
Final thoughts on how to run a successful barber shop
The barbering industry is large and competitive, perhaps even more than you think. Quite often, you will get discouraged by competition or challenged to drop out, but don't do it. Remain patient and true to what you are doing – making customers' lives better.
Authenticity matters, so do things your way. Tik Tok may not be your favorite app, but your presence there is critical. Working with quality tools may be too much of an investment, but it pays off. Everything will make sense once you are known for what you do.
Most importantly, always remember that you got in this industry because you love it. It will be a rewarding experience!
If you enjoyed reading this article about how to run a successful barber shop, you should check out the following on how much barbers make.
We also wrote about similar topics like how to start a barbershop, barbershop names, barbershop logo design, and salon cancellation policy examples.