A logo is a symbol used to promote the recognition of a business or product. It can be an abstract design or include text. Using a logo for a barbershop is vital to building trust in clients and for recognition.
The barbershop pole itself is a good example of how important a logo is. When someone hears the word "barbershop", they picture the barbershop pole. Likewise, when someone sees a white, red, and blue pole they immediately connect it to a barbershop. Even though that icon was invented many decades ago it still represents and is recognized as a symbol for barbershops.
Creating a good logo can do the same for your business. Clients will be able to recognize your business instantly. A barbershop logo should also display the style and skill offered in your shop.
To start the process of designing a barbershop logo, look at the logo design of other barbershops. As you do, think about how you can distinguish yourself from those logo designs. Consider how you can advertise your brand's personality through your logo. Then look to this article to learn about the fundamentals of barbershop logos.
Why have a Barbershop Logo?

Image source: Wade Ryan
The logo is the first interaction a barbershop has with potential clients. Whether they see it on the window of the shop, from a business card, or on the internet, it must attract them. A logo should impress so that potential clients become paying customers. A logo also fills the important role of encouraging regular customers to be loyal to the barbershop.
There are four main reasons why a barbershop logo is important. First, it makes a good first impression to attract new customers. Second, it helps a barbershop create a brand identity and encourages brand loyalty. Third, clients will remember the business better if it has a good logo. Fourth, it distinguishes one barbershop from another.
This is why it's essential to think of an eye-catching logo that fits your brand prior to opening your barbershop.
Fundamentals of a Barbershop Logo Design
Fundamental #1: Branding
Image source: Kirill Kodochigov
A logo is part of branding. Branding is a consistent style, color scheme, and font for all things related to a business. Whether using printed business cards, a website, social media, or something else, the branding style should be the same.
The branding of a business gives a potential customer an impression of what the company stands for. It also provides consistency so customers can recognize the company with a glance. The logo is the first part of the brand that customers will see.
To design a barber logo that is consistent with your brand, first decide what branding style you want for your business. Then, you can design a logo to fit the style of branding.
Fundamental #2: Appeal to the target audience

Image source: raul sigala
The most appealing logos are not the flashiest ones. They are the ones that resonate with your target customer. A barbershop is where men and boys get their haircut and their beards shaved. The logo design should appeal to that target audience.  When looking over the next fundamentals of a barbershop logo, remember the target audience and think about how to appeal to them.
Fundamental #3: Icons
Image source: Zvucifantasticno
A logo can contain icons, drawings, or even text. The icon should represent the service that the barbershop provides and its environment. For example, barbershops located in urban areas will have a different logo design to those in suburban areas.
Common barbershop icons include:
A man with a beard
A skull with a beard
A razor
Scissors
Combs
The barber pole
A mustache
The company's first initial
A popular barber logo is a vintage design with bold letters and curves.
An important aspect to keep in mind when designing a logo is that the icon should be versatile. It will appear on the internet, in profile pictures, in printed form, and more. The icon you choose should be resizable and still look clear no matter where it appears.
Fundamental #4: Typography
Image source: Pants Pantsley
If you decide to include text in your logo then choosing the right font is important. A barbershop is a place for men and boys and the font should reflect that. A good rule of thumb is to use a font that people can read at a glance.
Some good fonts to use for a barbershop logo include:
Calibri
Helvetica
Clarendon
Candida
Sans-serif fonts are more modern and would fit well with a barber who offers high fashion hairstyles. A more vintage font would present a more classic look thus be better suited to a traditional barber.
Fundamental #5: Color
Image source: AkumaOne
The color scheme of a logo is more important than it may seem. The color of a logo has to do with more than an aesthetic appeal. Colors have an impact on the emotions of humans. Psychological associations accompany each color.
Here are the effects different colors have:
Yellow and orange are playful and energetic.
Purple represents royalty
Red is a bold color that evokes excitement and energy
Black is a formal and elegant color
Gold is associated with luxury and pampering
Common colors seen in barbershop logos are black, white, red, and blue. Some use a black and white design to denote elegance. Black and white are also good colors for a logo that is displayed in a window. Other barbers use a white, blue, and red design associated with barbershops because of the familiar barber pole.
Some things to keep in mind while choosing a barbershop logo color scheme are:
Make sure the color scheme of the logo reflects the personality of the barbershop and represents your brand.
Remember your target customers are men so choose a color scheme that appeals to that target audience.
Decide how you want customers to feel when they look at your logo. Then research the psychological effects colors have on people.
Limit the color scheme to two or three colors.
Do not let the colors overpower the logo, instead, they should complement it and be relevant to the design
Fundamental #6: Keep it simple
Image source: LANE PORTER
The main purpose of a logo is to be memorable and recognizable. A complex logo is hard on the eyes and hard to remember. Customers should recognize your logo as a trusted brand in the haircutting industry. Simple barber logos accomplish that goal.
The best logo designs in the world are simple and uncomplicated. For example, think of the Apple logo or the McDonalds logo. They are very simple and very memorable. A simple logo design will make your barbershop logo memorable, versatile, and timeless.
Fundamental #7: Create a distinctive logo design
Image source: Joel Messner
Looking to other barbershop logos and drawing inspiration from trends is a starting point for designing a logo. However, the goal of a logo is to stand out from the competition. When creating your barbershop logo design, make sure that it is unique and distinguishes you from other barbershops.
Barbershop Logo Design Examples
Krasimir barber
Image source: Yuri Kartashev
Barber Shop Logo
Image source: Noah Langworthy
Borough Barber
Image source: Gregory Grigoriou
barber shop
Image source: Yuri Kartashev
Barber Buds
Image source: Linus Kindstrand
Hell's Barber Logo
Image source: Michal Petergáč (.eu)
OBOB Barbershop
Image source: maDNA Design
Barber Shop
Image source: Maxim Temchenko
Barber Logo
Image source: Avoss
Barber Shop Logo
Image source: Sandi Caranovic
Woodman (barber shop)
Image source: Yuri Kartashev
Barbershop Logo Design
Image source: Tutul Hossain
Chopshop
Image source: Michael Browning
Macho
Image source: Yuri Kartashev
Vienna Barber Shop
Image source: Alexandra Necula
Barber Shop
Image source: matthieumartigny
Hillside Barber Shop
Image source: Defaced
Rocketman Logo
Image source: Leo
Knife&Pole
Image source: Max Iskra
Barbershop "Borodach"
Image source: Logo machine
Barkbershop
Image source: Gregory Grigoriou
Barbershop logo
Image source: Sara Dam
TB Barbershop
Image source: Mario Milojevic
The Sharp Razor
Image source: Federico Vaccarezza
Razor King Logo
Image source: Kim Hanson
Hairacle
Image source: TalgatNurdinov
Abalvi Barber Shop
Image source: Mooral
Old Train
Image source: Yuri Kartashev
The Flying Barber Shop
Image source: jumjum
Lighthouse / barber shop
Image source: Yuri Kartashev
Ending thoughts on these barbershop logo designs
A haircut is all about style and helps people look their best. A barber's logo should reflect that. A good barbershop logo incites trust in customers and establishes a barbershop as a trusted business.
The logo complements and highlights the brand of the barbershop. So while choosing icons and colors for the logo, make sure they relate to the overall aim of the brand. Use icons that appeal and resonate with your target customer of boys and men. Make any text you have in your barber logo readable.
Above all, keep the logo simple, memorable, and distinct from the competition. By following the above barbershop logo design fundamentals, you can create an eye-catching logo that attracts customers and encourages brand loyalty.
Get more bookings with the right tool for the job
Staying organized has never been easier.
You can now manage your business and grow your brand with a single, powerful software that keeps all of your appointments in line, your clients organized and your business booming.
Trafft is the perfect barbershop software for business owners who need to streamline their booking experience both for their staff and their clients.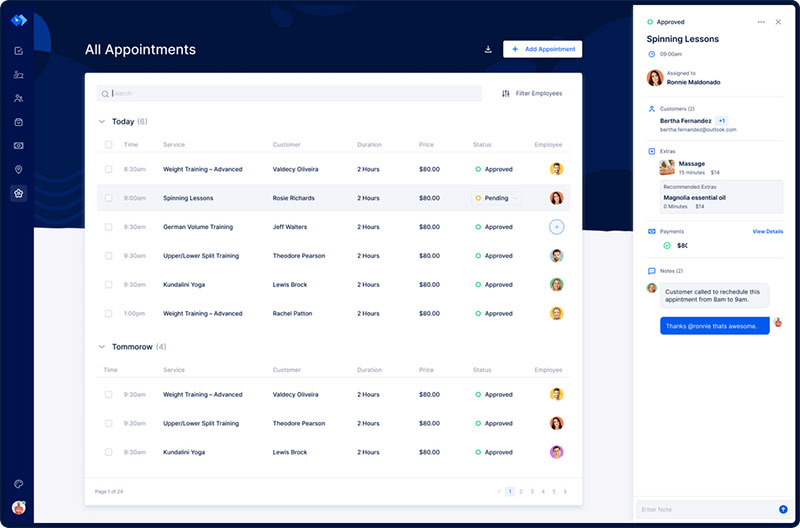 Trafft handles everything for you, even sending automated email or SMS reminders to your clients. No-shows? Not anymore!
The Trafft booking software adapts to different industries for a blissful online booking experience and employee management.
Want to know more? Check out Trafft's awesome features to see what you are missing.