Wanna know how to start a barbershop?
It's not easy, we can tell you that, but it's worth it.
Let's dive in.
"A true entrepreneur is a doer, not a dreamer". That quote shows that creating a business starts with a dream but takes hard work.
Deciding how to start a barbershop, what first step to take, can be overwhelming. Whatever the reason for starting a barbershop, know that it takes time and effort.
Starting a barbershop is more than registering a business with the government. This detailed guide on how to start a barbershop provides the information needed to create your dream barbershop.
It will also ensure that the barbershop is well-planned and legal.
Write A Business Plan
The first step in how to start a barbershop is to write a business plan. Every successful business starts with a plan.
A business plan is the foundation of the barbershop. It is a step-by-step guide of every stage of starting, running, and growing the business.
It is like a roadmap that will guide owners to success.
More than that, a business plan is vital to get partners or funding. Investors want to be sure that they will see a return on their investment.
They want to know that there is a detailed plan on how to run and grow the business that will get them their money back. The business plan will show them whether the barbershop will be successful or not.
So creating a business plan is an important first step of starting a barbershop. But what goes into a business plan?
There are two types of business plans. The first type is the traditional business plan and the second is a lean startup plan.
A traditional business plan is more detailed. To gain investors, partners, and funding a traditional business plan is necessary.
Here are some things that go into a business plan:
An Executive Summary
The executive summary tells the reader why the business will have success. It should contain information such as:
The mission statement
The service or products offered
Information about the leadership, the team, and employees
Financial information
Growth plans if asking for financing
Company Description
The company description is next on the business plan. It provides specific and detailed information about the barbershop.
Write in the company description:
The name
Location
Legal description
Owner's names
The competition
Market Research and Analysis
To succeed owners need to have full awareness of the industry and market. Research the barbershop industry at a local and national level.
Answer these questions in the market research:
Who is the competition?
What are their strengths?
What do they do that works?
Why does it work?
Can you do it better?
Where is the industry going?
What are the average revenues and margins of a barbershop?
Other Aspects Of A Business Plan
Further aspects of a business plan include:
The structure of the company
A detailed explanation of the service
Marketing and sale strategies
Funding requests
Financial projections
An appendix to provide supporting documents
Tip: The business plan should highlight how you are going to compete and bring in business. For example, many have been starting hybrid barbershops.
Hybrid barbershops have a waiting area with a coffee shop or with clothes and products for sale.
Some barbershops include skincare and create a relaxing environment. Or there is the traditional barbershop with quick service.
Decide how you are going to stand out from the competition and write it in the business plan.
Form a Legal Entity
It is essential to include in a business plan the legal structure of the company. So first, owners must decide what legal structure they want.
This decision will affect the way you pay taxes, fund the business, and manage finances. Common business structure types in the United States are:
Sole Proprietorship
If filing as a sole proprietor, any income from the barbershop will go on the owner's personal tax return.
C-Corporation or S-Corporation
A c-corporation operates as a separate entity from the business owner. This protects personal assets from any business financial obligations.
An s-corporation works in a similar way, but the owner reports the income of the barbershop on his personal tax return.
Limited Liability Company (LLC)
This is a common business structure for barbershops. An LLC entity protects shop owners from being personally liable in the event of a lawsuit against the shop.
Tip: There is an option of purchasing a barbershop franchise.
Purchasing a franchise eliminates the process of creating a business model and structure. The only thing the owner needs to take care of is the location and funding.
State Board Requirements for Barbers
Moving along in the how to start a barbershop guide, the next step is to become a licensed barber. First, find out the State Board requirements for a licensed barber and strive to meet them.
In the United States, every state has different requirements. Research what your specific state requires.
Contact the Barber Regulatory Authority to learn the requirements for a licensed barber.
Again, this varies from state to state. But some general requirements are:
You are a legal adult
You have a high school diploma or higher
You have cut hair for a substantial amount of time (at least 1,000 hours)
Next, fill out the barber license application and submit it with the required fee.
To include work experience, attach a letter from the licensed barber who trained you. Also, include your barber school degree.
A Board of Cosmetology or Barber Examiners Board sets the licensing requirements. They work with the state's Department of Public Health to inspect and ensure that barbershops meet state regulations.
Barbershop regulations include:
Owners have a completed Barbershop Owner application
Proof of ownership or lease of a business location
Proof you are a licensed barber
Proof of a city or county business license
They will also make sure that the physical shop meets certain requirements such as:
Hot and cold water
Public bathrooms
Containers for trash
Drinking water
Storage containers for barber tools
Barber chairs are the required square footage apart
Business Licenses and Permits
Having obtained a barber license, owners now need a business license. The barber license allows the holder to work as a barber but the business license allows them to operate a business.
Licenses and permits needed to open a barbershop are:
State cosmetology or barbering license
Business operating license
Certificate of Occupancy
Fire department permit
Building permit
Get an EIN and Register for Taxes
The next step of starting a barbershop is to register for taxes. In the United States, there will be both state and federal taxes.
To register for taxes a barbershop business needs an EIN.
EIN
An EIN is an employer identification number. It is also known as a federal tax identification number or a federal employer identification number.
It is a nine-digit number assigned to the business by the IRS for tax reasons. An EIN is necessary to receive licenses and permits, file taxes, open bank accounts, hire employees, and more.
The structure of the barbershop business determines how it is taxed. Also, there are different taxes for every state.
Research what state taxes apply to your business.
Tip: Businesses have to file taxes at least once a year and some have to file every quarter. Consider hiring an accountant to help you set up and file taxes the right way.
This will get the business off to a good start and prevent overpayment on taxes. Keep records of sales, invoices, product orders, and other expenses.
Funding
To set up a barbershop business, shop owners need a sizable amount of money. They need to buy equipment including barber chairs, clippers, scissors, and much more.
Plus, they need to rent, lease, or buy a shop. Money to start the business can come from a financial backer.
There are a few options:
Debt Financing
Debt financing is something that government programs, banks, and money lenders offer. The shop owner will have a set amount of time to pay back the loan with interest.
Equity Financing
Equity financing raises capital by having investors buy a stake in the business.
Grants
Sometimes private organizations and governments offer grants. They might be research grants or grants for small businesses in general.
Tip:
Financial backers will want to know details about the business before investing.
They will want to know the location, services offered, expenses, earnings, and more. Make sure the business plan contains this information to convince them to invest.
Location, Location, Location
Everyone knows that the location of a business is very important. So the next step in starting a barbershop is finding a good location.
Finding the best location poses a challenge. The space needs to accommodate sinks and several haircutting stations.
It should also be accessible and encourage walk-in customers. Rental costs vary from town to town and also depend on the size and retail area.
Here are some things to think about while looking for the best barbershop location:
Think about the target market
Who is the target customer? Make sure that the location of the barbershop is near where they work or live.
Budget
An important aspect of choosing a space to rent, buy or lease is the budget. Analyze what is feasible to pay each month without breaking the bank.
Easy to find
The best place for a barbershop is somewhere with a lot of foot traffic. A location in a retail area will generate walk-in customers and build brand awareness.
But places in high traffic areas cost more. Another option is to choose a location that customers will find with ease.
Fits the nature of your brand
Choose a location and space with characteristics that fit the brand style. The space should adapt to your plans to create an appealing atmosphere.
This will boost brand awareness, attract customers, and increase the chance of growth.
Good condition
It is also important that the space is in good condition. All the plumbing, electricity, heating, and cooling should be reliable.
The space should be clean and well maintained. You do not want to have to spend money fixing the place before starting a barbershop.
Meet the requirements of the state cosmetology and barbering board
The State and Barbershop Board have specific requirements for a barbershop. Know what these requirements are in your state and make sure to choose a place that complies with them.
Make sure there is enough parking
Studies show that a barbershop should have at least three parking spaces for every thousand square feet of the shop. Also, keep in mind that some cities and counties have local guidelines for the parking lot of a business.
Safe location
Another important thing to keep in mind is how safe the neighborhood is. Owners do not want to be at risk of a robbery or lose clients because they fear the neighborhood.
Marketing Plan
Every business needs a marketing plan, throughout the duration of the business. There are various marketing tools available today.
These include:
A Website
A website is important because it helps reach a larger audience. It offers information about the barbershop like location, contact info, and booking options.
It can display portfolios to attract potential clients. It also allows clients to book an appointment from their home.
A professional barbershop website should have quality photos, contact details, services, and prices.
Social Media
Social media is another invaluable marketing tool. Post new pictures each week and use hashtags to reach more people.
Customer Review Sites
Many potential customers look at review sites such as Yelp before deciding to try a new place.
Barbershops need to give great customer service to receive reviews. They can also ask clients to leave good reviews.
Local Ads
Another marketing tool is to purchase ads in a local newspaper, TV station, or radio station. Prices vary for ads depending on the place and the type of ad.
Word of Mouth
Barbershops can give incentives for their clients to refer more customers to them. Often word of mouth marketing is one of the most effective methods.
Employees
A barbershop owner can act as the sole barber. But to expand the business it will be necessary to hire employees.
Finding skilled barbers that have good people skills is key. Consider the level of professionalism, talent, and customer service a barber offers.
Building a talented team of barbers can get the business humming with clients and increase profits.
Hiring employees will take some forethought and bring extra expenses. Expenses include salaries, workers' compensation insurance, paid time off, extra equipment, and more.
As an alternative, some barbers rent out their chairs to other barbers. This guarantees rent money each month.
It also frees the owner from paying salaries and workers' compensation insurance. But it limits the control the barber has of the rented space.
Whether hiring employees or independent contractors, look for these qualities:
Reliable
Have experience
Attended barber school
Knowledge of the industry
Good personal hygiene
Punctual
Good social skills
Honest
Booking System
The next step in how to start a barbershop is to get a booking system. Having a booking system is essential to a barbershop.
It helps to keep clients coming in and provides order and organization to the business. Before technology, barbers would use a physical booking calendar to schedule appointments.
A physical booking calendar works fine, but an online booking system works better. A booking app saves time and increases appointments because clients can book online.
A booking app reduces no-shows and improves punctuality by sending reminder messages. It also keeps track of income.
Get more bookings with the right tool for the job
Staying organized has never been easier.
You can now manage your business and grow your brand with a single, powerful software that keeps all of your appointments in line, your clients organized and your business booming.
Trafft is the perfect barbershop software for business owners who need to streamline their booking experience both for their staff and their clients.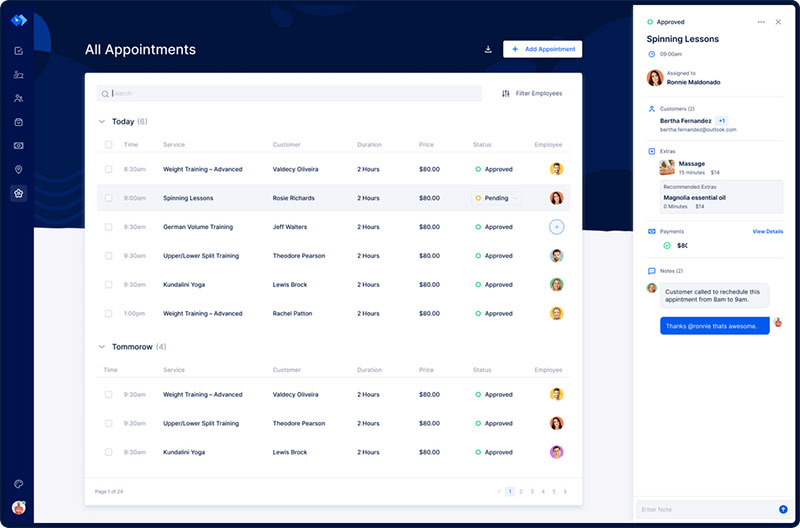 Trafft handles everything for you, even sending automated email or SMS reminders to your clients. No-shows? Not anymore!
The Trafft booking software adapts to different industries for a blissful online booking experience and employee management.
Want to know more? Check out Trafft's awesome features to see what you are missing.
Costs
The cost of starting a barbershop depends on many factors. Things that affect the cost of opening a barbershop include:
business model
price of rent
government fees
licenses and permits
equipment and other supplies
The cost of starting a barbershop can range from $80,000 to $200,000 or more. This price includes the following items:
$5,000-$10,000 for barber school
Various prices to rent, lease, or buy a shop
Construction costs to renovate or build a shop
$1,000+ for registration fees
$3,000+ for license and permit fees
$2,000+ for insurance
$50,000+ for furniture, equipment, and supplies like chairs, scissors, clippers, brushes, etc
$3,000+ for marketing materials
$1,000-$3,000 for a website
$25,000 for franchising fees if investing in one
Further Tips to Start a Barbershop
Opening a barbershop takes careful planning. Take time to think things through and don't overlook essential steps.
Start with a solid business model and a growth plan. Other barbershop owners offer the following advice for a successful business:
Get experience in the industry before starting your own business
Start small. Do not invest too much but rather build as you grow
Before renting a space research the area to see if it is a good location for a business
Try to set up the barbershop in a location with lots of foot traffic and ample parking
Set the hours of operation based on what suits the clientele best
Ending thoughts on how to start a barbershop
Opening a new barbershop is an exciting yet nerve-racking prospect. It takes a lot of careful planning and organizing.
For those who are passionate about being a barber, there is no doubt that the venture will be worthwhile.
This guide on how to start a barbershop will help you make the first steps towards making your dream a reality.
If you enjoyed reading this article on how to start a barbershop, you should check out the following on how much barbers make.
We also wrote about similar topics like how to run a successful barbershop, barbershop names, barbershop logo design, and salon cancellation policy examples.